I would probably describe my living room as rustic chic with modern pieces here and there – a mix of feminine and masculine that I absolutely love. But, a flawlessly designed living room doesn't happen overnight. It takes skill and great attention to detail to accomplish. If you're having trouble creating a cohesive design, try these five tips for coordinating décor and living room colors!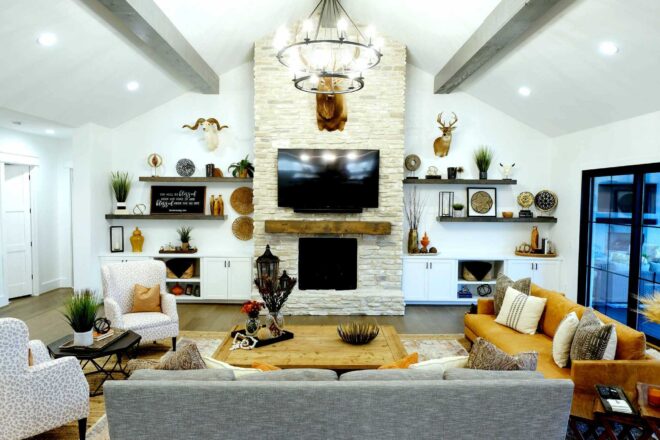 Image Source:  Our Farmer House
Tip 1:  Incorporate Décor With Complementary Features
You've probably heard the saying, "keep it in the family" before. I like to take this same approach when it comes to decorating. For example, in my living room, I have a lot of natural hues: gray, beige, tan, white, and orange. Everything definitely isn't just one color, but they are similar earth tones to keep them cohesive.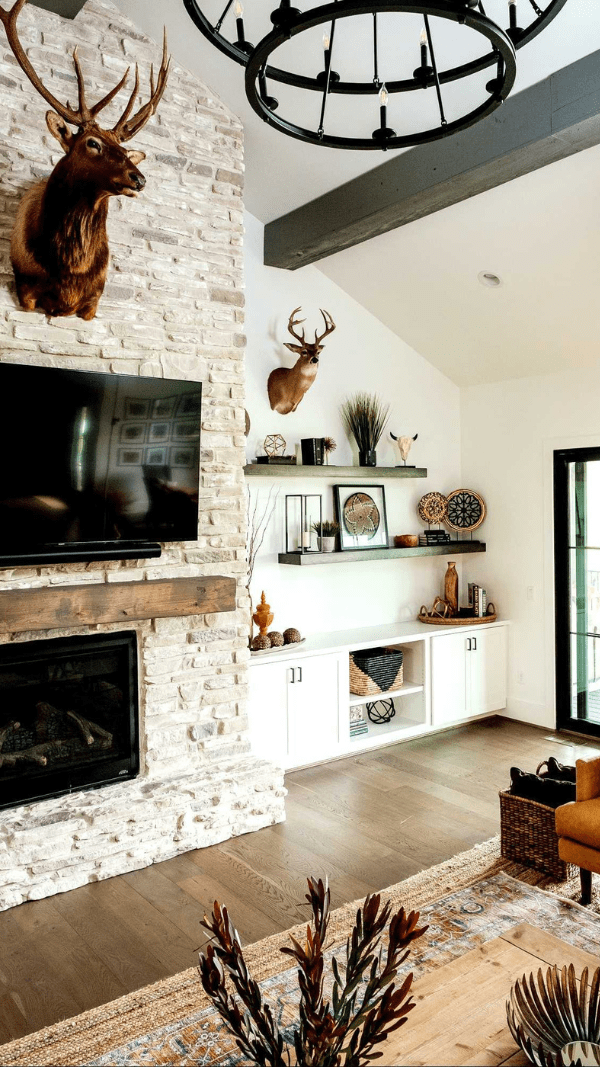 Image Source:  Our Farmer House
I also mix more natural materials – fur, wood, and wicker, with a metallic pop like gold. The gold is just another hue (with a luxury feel) that fits well into my color palette. When shopping for new décor, keep this idea in mind. Search for those complementary tones or materials. Ensure all aspects make the room feel cohesive, whether it's the color or the style.
Tip 2:  Use the Same Color Sparingly
To go further with color tips, when purchasing furniture or décor of a bold color, make sure the color appears in the room minimally. Too much of one hue can demonstrate a poorly executed monochromatic look. Sometimes, it can develop a bothersome feeling in a space that's designed to provide comfort.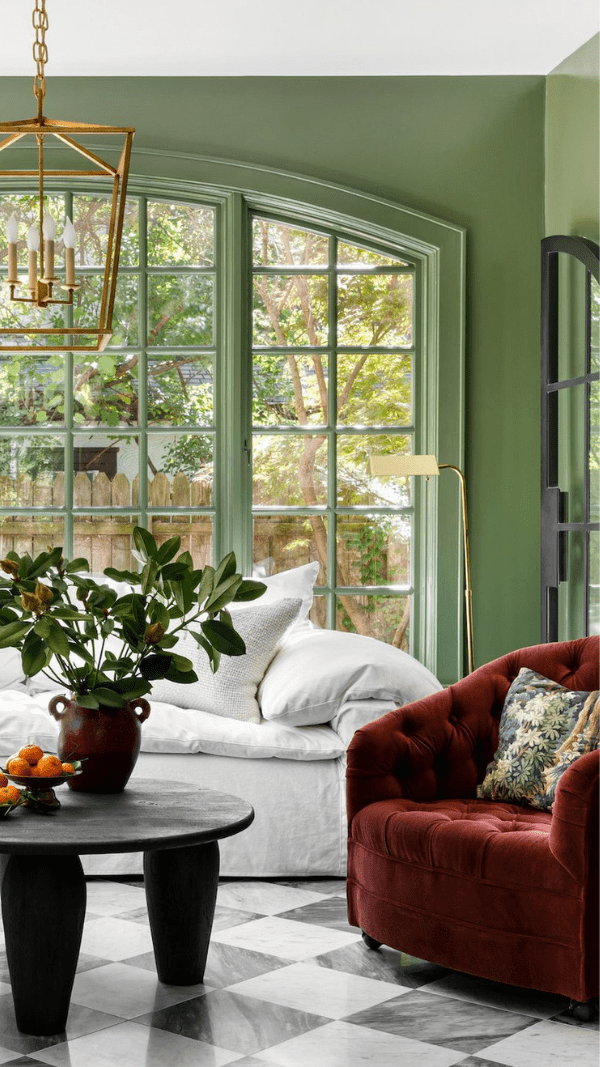 Image Source:  House Comfort
The living room above uses a burgundy chair against green walls. The vase on the table is also a similar tone to the chair, but everything else in the room is quite neutral. If the burgundy chair and vase were also the same shade as the green walls, you may not see them at all. Or, vice versa – if everything in the room was burgundy, it would be overwhelming. The designer of this space used just the right amount of neutrals and pops of color to be interesting and beautiful.
Tip 3:  Choose Décor and Furniture That Makes the Room Feel Open
My third tip for coordinating decor and living room colors is an important one. A cluttered room with ample furniture can overpower a space. It shrinks the size of the living room and limits the available open space to move around. Not all rooms have substantial capacity for numerous pieces of furniture and additional extensive décor. Even if they do, a lot of rooms don't need them!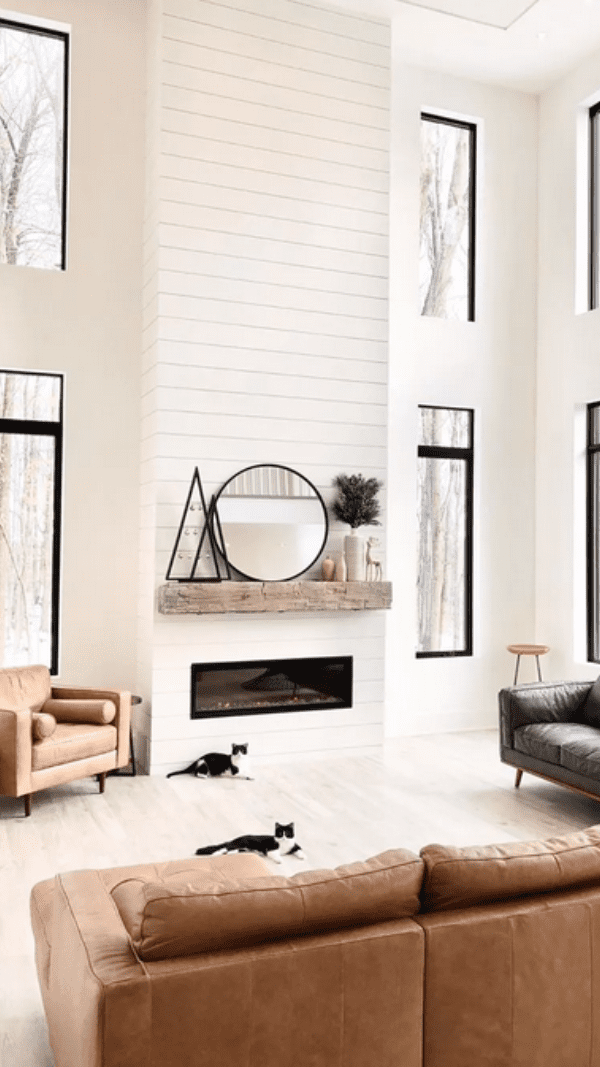 Image Source @ahousewebuilt
Too many items can clutter the room. Instead, I like to use my favorite items and maximize their presence. First, I learned how to pick the best sofa for the living room to fit the available space perfectly.
I also like to determine which pieces resting on the shelves or fireplace mantle no longer serve a purpose. I only keep the décor that supports the design. Now, I value each piece rather than putting up with the plethora of items that cluttered the space.  What I love above the design above (besides the cats – ha!) is the open and airy vibe of the room. The designer is really letting the windows and the view do the talking. Even the items chosen for the mantle are pointing up towards the vaulted ceiling.
Tip 4:  Pick One or Two Accent Features
A complex design may establish a crowded and stressful space. Another tip for coordinating the décor and color in the living room is to choose one or two accents to brighten the room.  Whether it's wallpaper and paint or pillows and art, having one or two focal points in a room make it easier for the eyes to digest.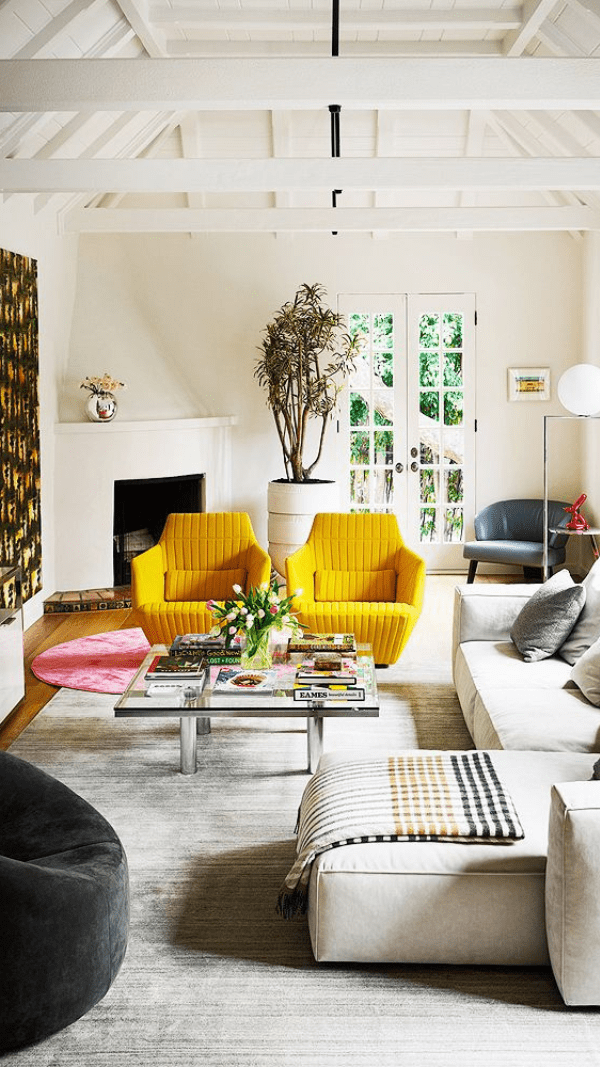 Image Source:  Romanek Design Group
It's a good rule of thumb to remember that neutral items and colors are the foundation for your accents to build upon. The yellow chairs in the image above wouldn't stand out nearly as much if they were surrounded by objects that are just as bold.
Tip 5:  Decorate With What Makes You Happy
Many homeowners think they must stick to one aesthetic. This expectation can limit creativity and happiness in the home. Remember that it's your space. You have the power to decorate as you please! Add the photos you love. Display the art that makes you smile from ear to ear. Get weird if that's who you are. At the end of the day, you're the one who needs to love it.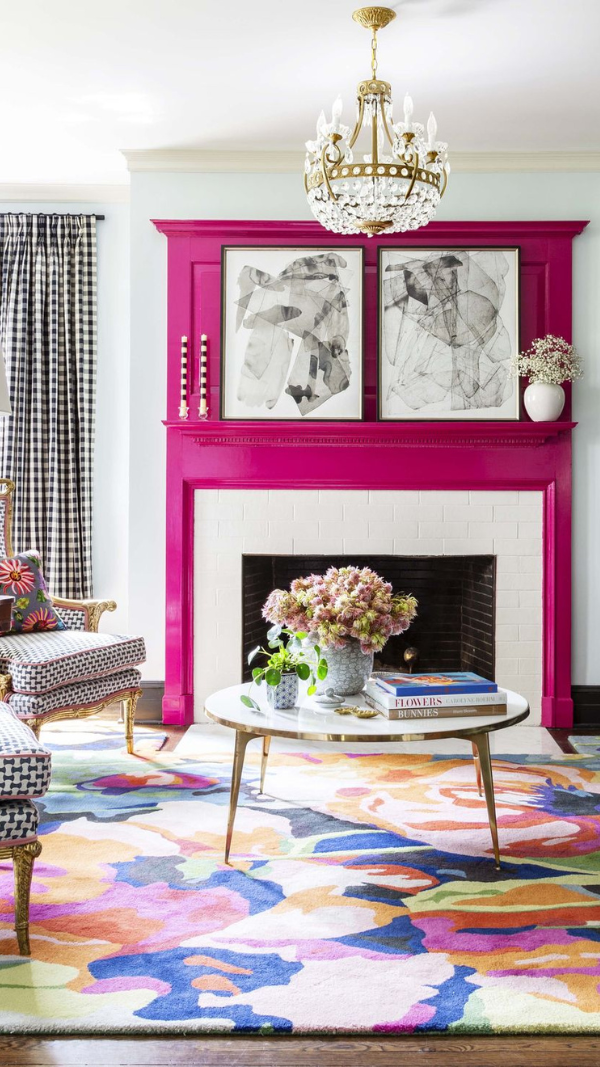 Image Source:  House Beautiful
Daron and I have worked together to create spaces that we love separately within our home. For example, my office is much more feminine than the rest of the house. But, because it's for me and where I spend time, he helped me create a space that I feel good in even if it feels a bit different than our overall home decor.
What has your experience decorating your living room been like? Do you have any additional tips that I missed and you'd love to share? Let us know your thoughts in the comments below and follow us @ourfarmerhouse for more decorating ideas!
XOXO,