Easter is always a special time at Our Famer House! Especially now that Daron and I are out at the farm and settled into a slower pace of doing life together with the kids. I'm especially looking forward to this Easter as I'm hosting my family and we are doing some of our favorite holiday traditions including worship, an egg hunt, a big Easter dinner, and feeding the farm animals some holiday treats.  This will be our first Easter getting to celebrate together at the farm and I can't wait.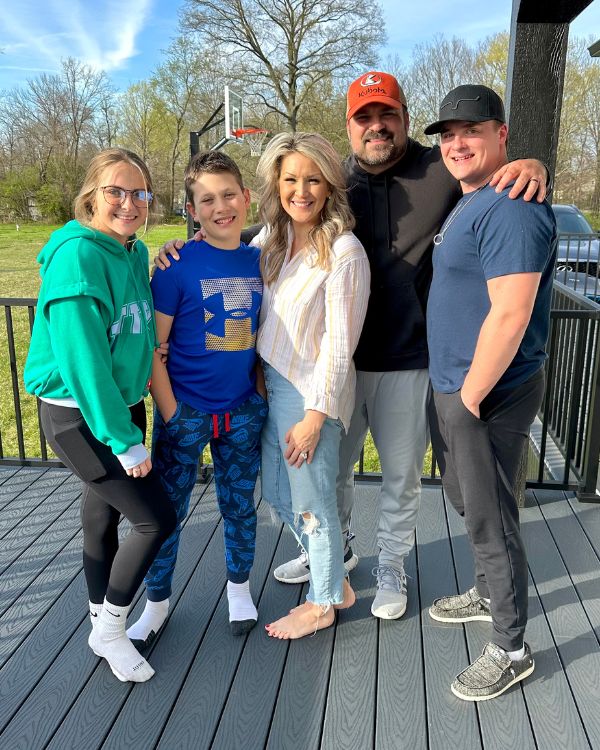 But while planning for the festivities this weekend, I took a little trip down memory lane and put together this Easter Scrapbook blog. It's just a small collection of some of my favorite photos and seeing these pics brings back all the memories and so much joy.
Who knows–they might even encourage a new family tradition at your house or give you a reason to pause and reflect on your own special Easter memories. Happy Easter!
Brooke's Easter Scrapbook Blog
Since he was a toddler, one of the activities that he has always looked forward to is hunting Easter eggs! I can actually remember hiding plastic Easter eggs in the house for him to find almost year-round because it was something he enjoyed so much.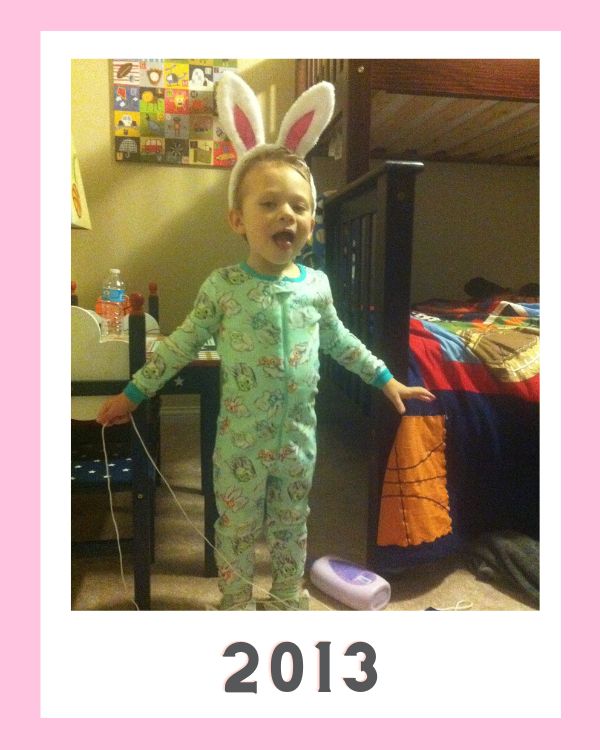 This photo of Easton brings back all the memories including his sweet face of joy when waking up to see if the "Easter Bunny" had left him a special basket. I still remember buying him these Easter footed pajamas and he wore them almost every night leading up to the holiday!
Am I the only one that looks at Easter photos and thinks the bunny costumes are kind of scary? Haha. Seeing this pic helps me understand why most kids cry when they come face to face with the Easter Bunny.  This pic was taken at our church Easter Egg hunt.
Daron is with the kids in Texas for Easter. At this time, I was still just dating Daron, and our days were filled with lots of Facetime calls and sending pics of the kids back and forth.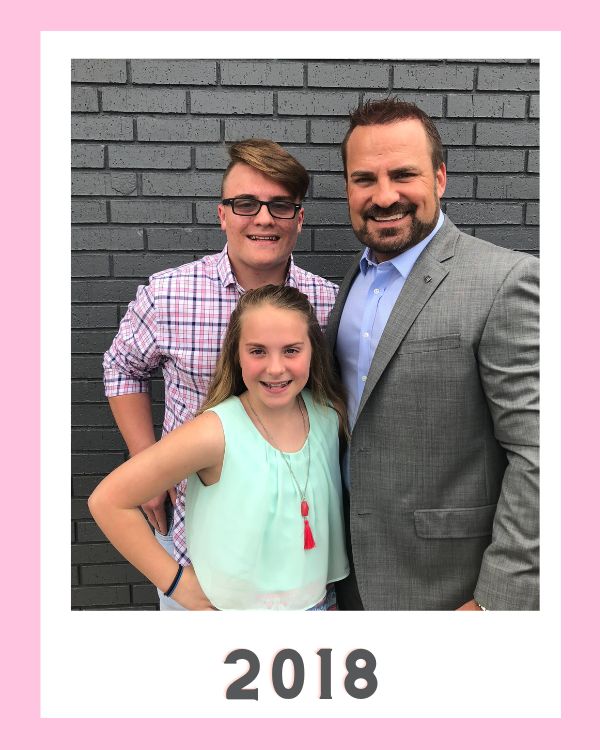 This was the picture of Easton that I sent that same day to Daron as I wished him a Happy Easter. He had just lost his second front tooth a week before.  He was thrilled that not only had the tooth fairy paid him a visit and left money but now the Easter Bunny was also coming to bring him special treats and suprises.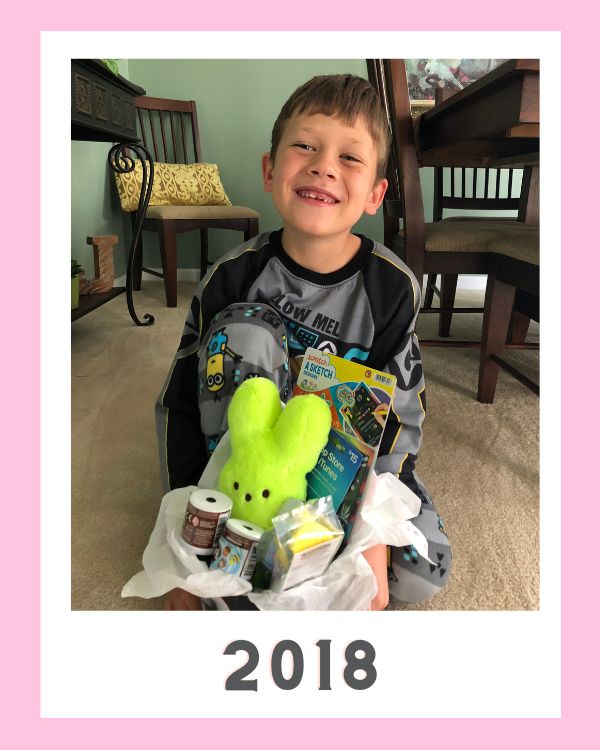 Easter Scrapbook Blog: Celebrating Family Easter Together
Our First Family Easter together as a Blended Family. We had just moved to Cincinnati and remodeled our first home together. I don't even think I cooked Easter dinner this year as we were still in the middle of getting settled. I can remember life feeling like a whirlwind during this time of transition and adjusting to our new norm.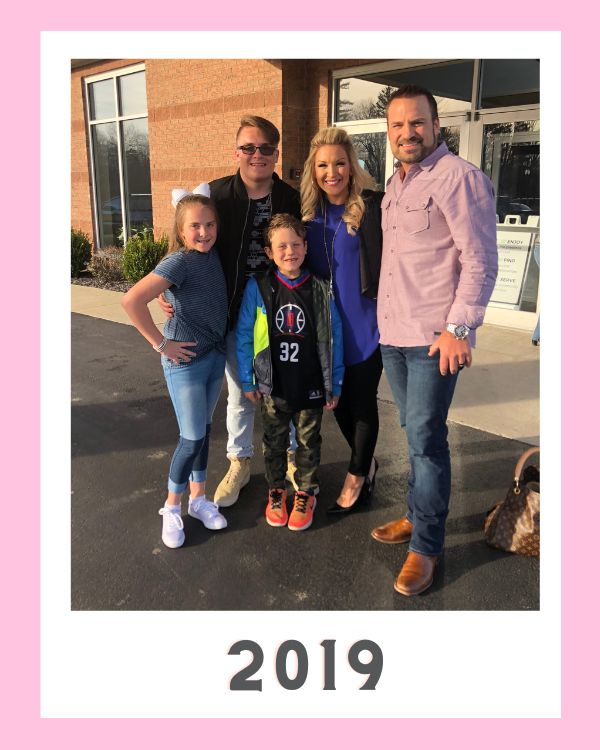 This was our stay-at-home Easter during the middle of Covid-19. We did worship as a family at home and I cooked a big Easter brunch filled with our some of our favorites like chocolate chip pancakes, eggs, and bacon. We ate brunch out on the patio in our PJs.  I don't think any of us could have ever imagined that we would wake up on Easter morning and not be able to go to church, see family, or eat at a restaurant.  Even in the midst of the uncertainty we did our best to make sure the kids were able to celebrate some of our favorite traditions.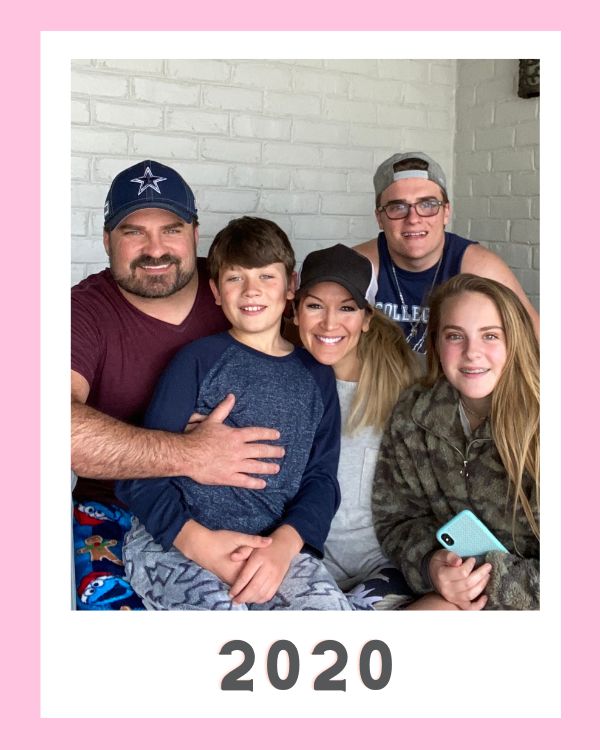 All dressed up for church on Easter Sunday. Daron and the kids helped lead worship. We ate Easter dinner out that year as we were living in my parent's RV while building the farmhouse.  Even though we were in a new time of transition as we had sold our home and everything we had was in storage. I can remember we are all excited as we watched our farmhouse being built and looked forward to being able to move in soon.  I actually went out shopping the night before this photo to pick us up new clothes to wear because I couldn't dig through the boxes to find anything else!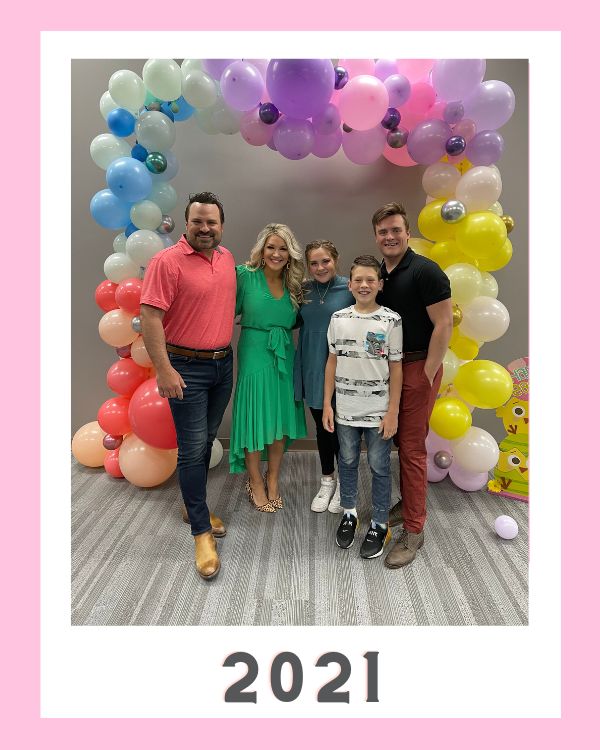 We took the kids to Nashville and celebrated Easter Sunday at church at the Belonging Co and did dinner at one of our favorite steak houses with friends.  This was a memorable Easter weekend for all of us.  Daron surprised the kids with an Easter egg hunt inside the hotel room which they loved!  Then getting to do church at the Belonging Co and worship with some of our favorite friends was so special.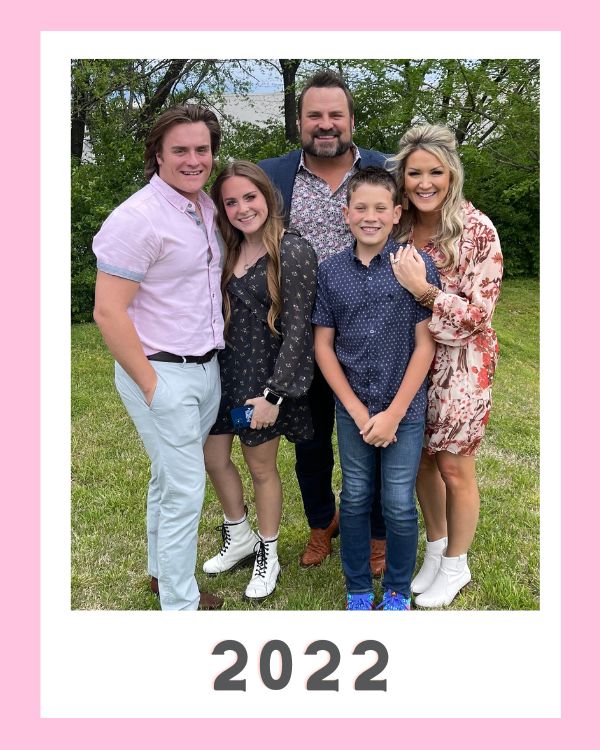 What plans do you have for Easter this year? Share in the comments below! And don't forget to share what you're cookin' too.  Can't wait to hear from you.
XO,