If you are looking for the perfect last-minute dessert, you need a trifle recipe!  In this post, I am going to teach you How to Make a Trifle Recipe with this Red, White and Blue Version.  It's perfect for the Fourth of July or Memorial Day!
A trifle is an easy layered dessert that is typically loaded with your favorite antioxidant-rich fruits, cake, and custard.  This recipe is going to become a go-to last-minute option for serving guests!  If you are looking for another dessert recipe for your summer BBQ, try our
Fruit Star Pizza Recipe
as well.
Ingredients for a Trifle Recipe
For this Red, White, and Blue version of a trifle recipe, here's what you'll need:
angel food cake
strawberries
blueberries
cream cheese
sugar
heavy whipping cream
vanilla extract
How to Make a Trifle Recipe
A trifle recipe is such a great dessert.  If you don't have time to create something special, a custard trifle makes a beautiful display with only a few ingredients and very little time.  It can also be made with a wide variety of options keeping it simple and super tasty.  You can make a different version every time you make it!
The layers in a trifle are made from fruit, custard, and a sponge cake that is sometimes soaked in a flavored syrup. Then, it's usually topped with whipped cream.  Occasionally, the cake is soaked in wine or sherry as well.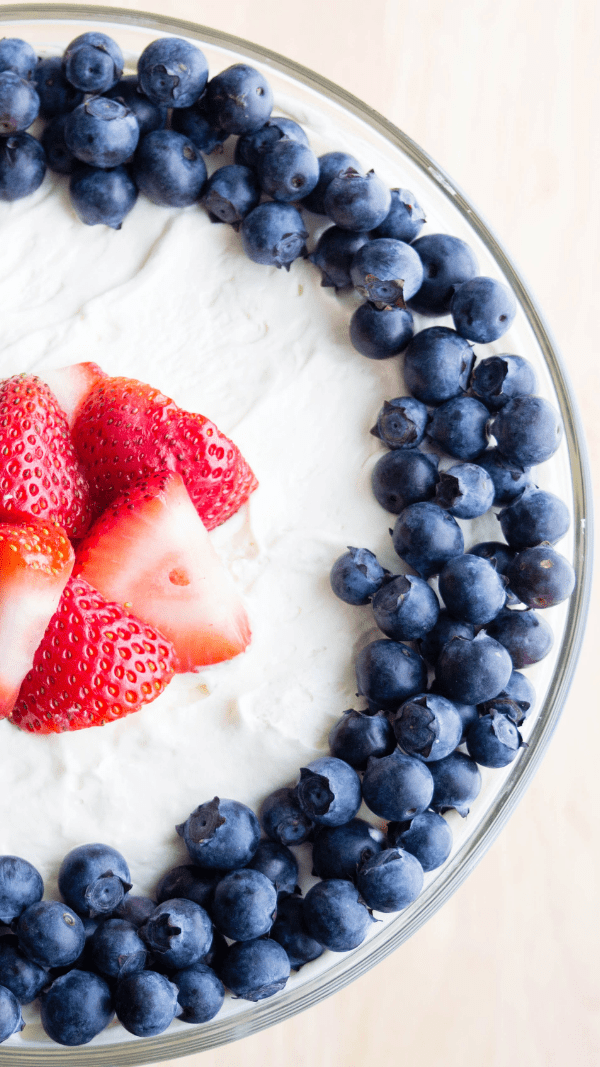 Can I make a custard trifle a day ahead?
While it will vary from one custard trifle recipe to another, usually, they are best when made the day before.  This gives the flavors a chance to come together.  However, if you do not have time to make it the day ahead, it will still taste amazing.  That is why it also works well as a last-minute dessert!
What do you put in a trifle cake bowl?
A trifle bowl is a glass bowl that sometimes has a pedestal and lets everyone see how delicious the dessert looks with its individual layers. Normally, you will put the layers of cake that absorb flavors well (such as an angel food cake), custard or pudding, and then various fruits in your trifle bowl. The dessert can then be topped with whipped cream or more of the custard mixture and decorative fruit, creating a delicious dessert with different flavors and textures.
How long does trifle recipe with custard take to set?
For some recipes, the custard will become soft-set in about 30 minutes. If you want the custard to be firmer, you may want to let the custard set for several hours or overnight.  I'm using a cream cheese based custard, so mine is pretty much ready to go out of the mixer!
How many layers does a traditional trifle recipe have?
Oftentimes, a traditional trifle is made up of 4 layers.  A layer of cake, a layer of fruit, a layer of custard, and then it is all topped with whipped cream.  You can soak your cake layers as I mentioned above, but the 4 layers in my recipe are already packed full of flavor.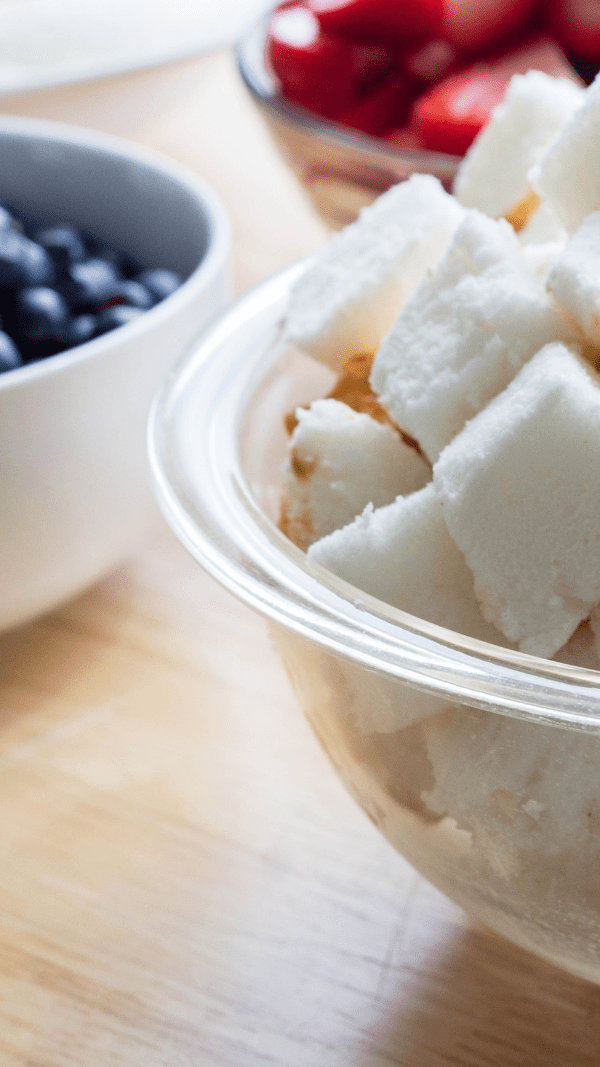 How Long Does a Trifle Last
When you make this recipe, you will need to store it in the refrigerator.  Make sure that it's covered well using the lid that came with the trifle bowl or plastic wrap.  It will usually last about 3 days before it starts to go bad.  Even though the dessert will still be good after 3 days, the custard will start to get watery and the cake will get mushy.  After 3 days it will likely start to not taste very good or look unappetizing.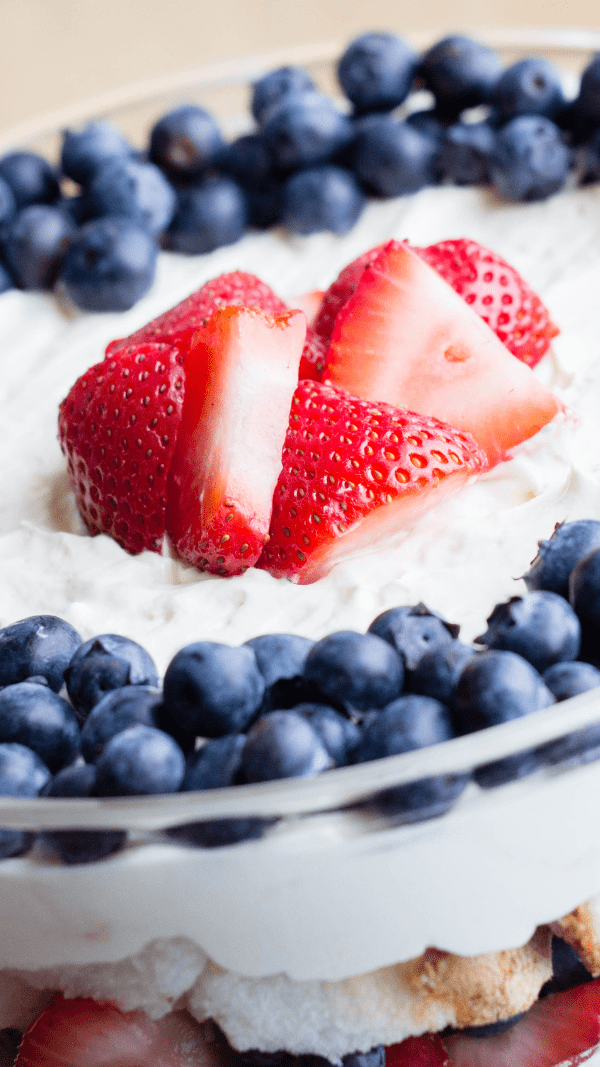 More Incredible Dessert Recipes
If you are longing for a special dessert, but you still want to stay within the parameters of your healthier diet plans, below are some incredible choices that are packed with flavor.  Dessert isn't an evil word in your vocabulary.  Just use the right ingredients and enjoy in moderation!
Recipe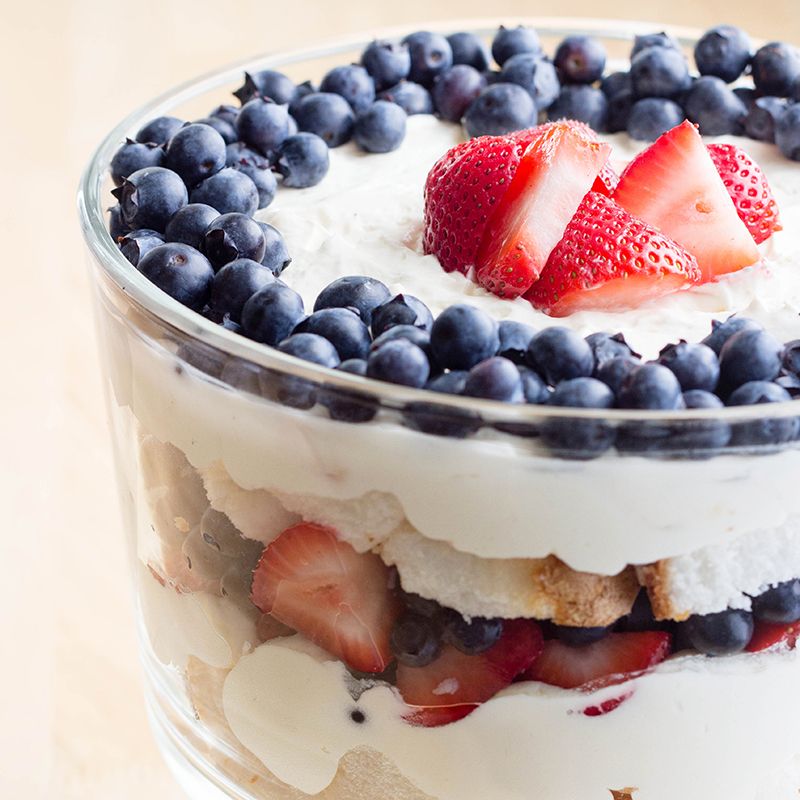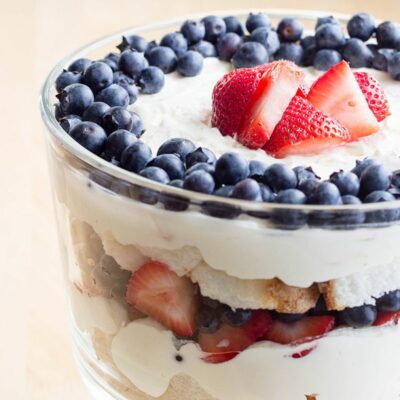 Recipe
click the stars to rate!
How to Make a Berry Trifle
Check out this easy to follow tutorial for making a trifle. This delicious dessert is a great last-minute option that is easy to customize for your preferences!
Ingredients
13

ounce

prepared angel food cake

1

pound

strawberries

hulled and sliced

1

pound

blueberries

2

8 ounce

packs of cream cheese

softened

3/4

cup

sugar

2

cups

heavy whipping cream

1

tsp

vanilla extract
Instructions
Cube the prepared angel food cake into 1-inch cubes. Please Note: You may need 2 angel food cakes depending on the size of your trifle dish!

Hull and slice your strawberries.

Beat together the cream cheese and sugar with the whisk attachment on a stand-up mixer on medium speed until creamy and smooth, scraping the bowl a few times.

With the mixer on, pour in the heavy cream and turn mixer to medium/high and continue beating until cream is whipped and fluffy. Add vanilla and beat until incorporated.

Assemble in a trifle dish: Place 1/3 of the angel food cake cubes in the bottom of the dish.

Then, top with 1/3 of the blueberries and sliced strawberries.

Repeat layering with the remaining angel food cake cubes and pudding, and fruit, holding some fruit back for the very top.

Finally, top with any decorative fruit left over for display.
Nutrition
Calories:
403
kcal
|
Carbohydrates:
52
g
|
Protein:
11
g
|
Fat:
18
g
|
Saturated Fat:
11
g
|
Polyunsaturated Fat:
1
g
|
Monounsaturated Fat:
4
g
|
Cholesterol:
59
mg
|
Sodium:
521
mg
|
Potassium:
326
mg
|
Fiber:
2
g
|
Sugar:
37
g
|
Vitamin A:
754
IU
|
Vitamin C:
31
mg
|
Calcium:
232
mg
|
Iron:
1
mg