Looking for a delicious fresh garden pesto recipe? Want to know How to Make Pesto? The combination of basil, pine nuts, and olive oil alongside Parmesan cheese brings about the classic flavors that satisfy your tastebuds.  This is one of the easiest pesto recipes you can find.  With so few ingredients and fast preparation time, this will definitely become a regular recipe in your menu rotation.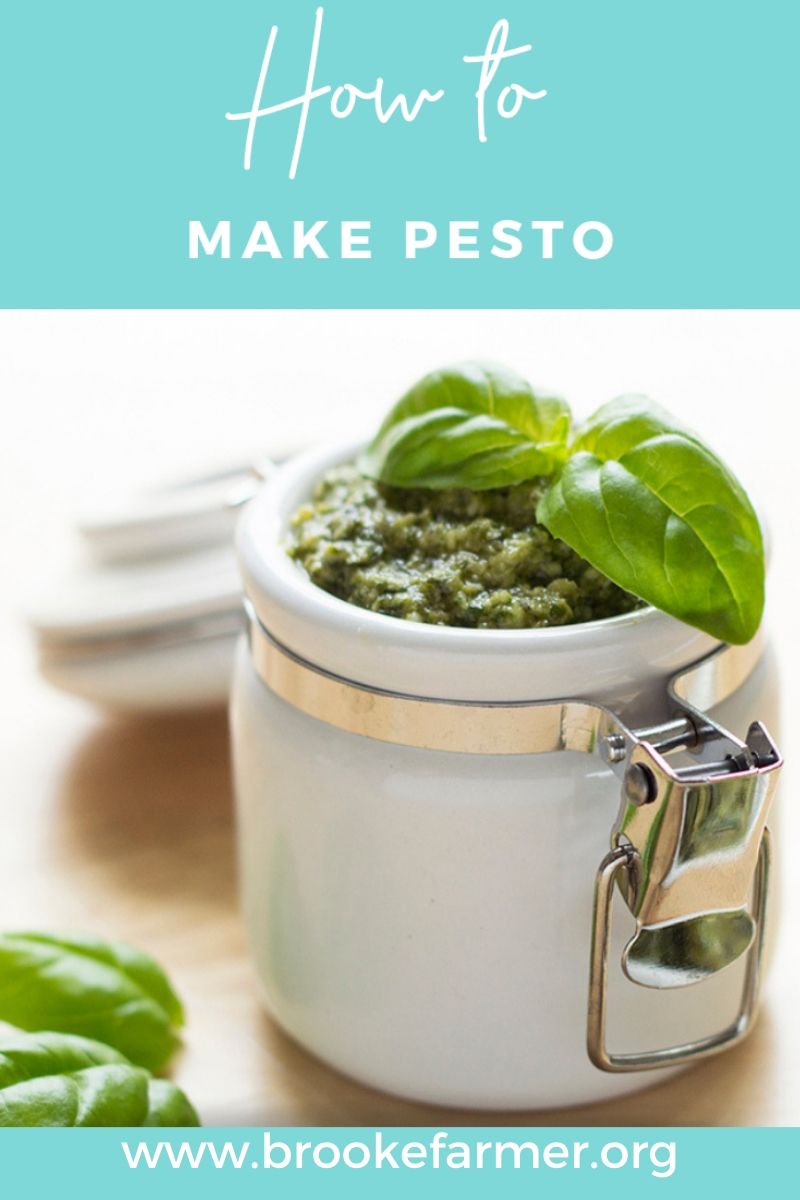 If you find that you have a lot of extra basil in your garden this summer, pesto is a great way to use it. It's a very easy sauce to create and it tastes great in many dishes.
When to Make
Pesto is a great tasting sauce that can be used in many ways. I like to make it when I have an abundance of basil, even when I can not use it all at once. Simply make it fresh, then freeze for delicious pesto anytime. Freeze it in ice cube trays. Once it is frozen, simply pop it out and store it in a freezer bag. This is great for using only the amount of pesto you need per recipe.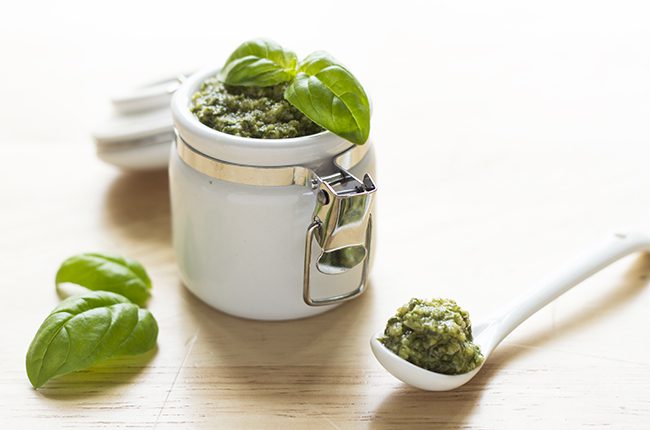 What to Serve with Pesto
Since I like to keep pesto on hand, it makes it easy to grab it whenever I want a recipe that needs a little or a lot. Some of my favorite ways to use pesto are:
Delicious Heirloom Pesto & Tomato Tart Recipe
Served over pasta and even served over vegetables.
Variations to this Sauce
While this is traditionally made with basil, there are other ways to change the recipe. You can use:
Parsely and Cilantro: This is a very tasty combination. The flavors complement each other well and work well in many basil pesto recipes.
If you are partial to basil pestos but want to give the recipe a little variety, consider doing part basil and part arugula. Another choice is to make the basil pesto with kale.
If using kale, you can use the stems, however, you want to blanch the stems first.
Ingredients in Pesto
Fresh Basil
pine nuts
reduced-fat Parmesan cheese
extra virgin olive oil
water
garlic
salt
black pepper
How to Make Pesto
Place basil, pine nuts, Parmesan cheese, olive oil, water, garlic, salt, and pepper in a food processor.
Pulse a few times, then process until fairly smooth, or to the desired consistency, scraping down the sides occasionally.
Store in an air-tight container.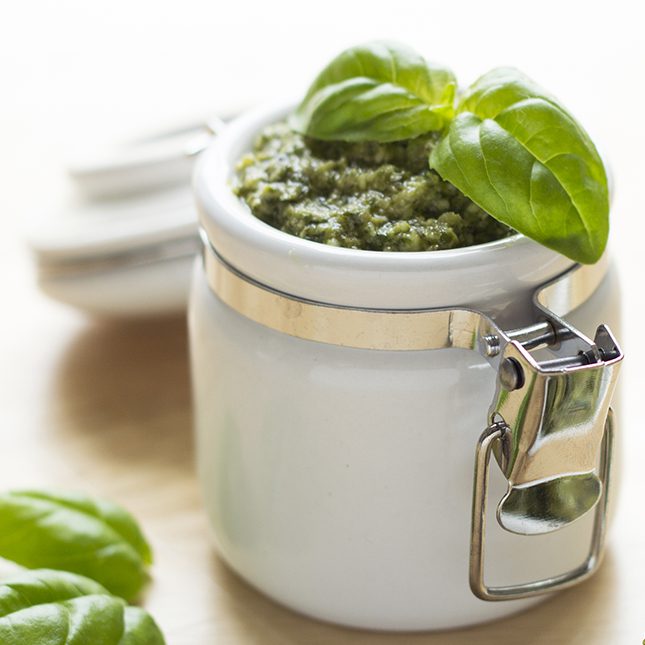 WP Recipe Maker #21352removeBasil Pesto Prep Time: 5m Cook Time: -25747194m Servings: 10 servings Author: Brooke – 2 cups packed fresh basil leaves (2-3 bunches) – ¼ cup pine nuts – ¼ cup reduced-fat Parmesan cheese – 3 tablespoons extra virgin olive oil – 2 tablespoons water – 1 large clove garlic minced – ½ teaspoon salt – ½ teaspoon black pepper 1) Place basil, pine nuts, Parmesan cheese, olive oil, water, garlic, salt, and pepper in a food processor. 2) Pulse a few times, then process until fairly smooth, or to the desired consistency, scraping down the sides occasionally. 3) Store in an air-tight container. Smart Points: 2 serving_size 2 calories 65 carbohydrates 1 protein 1 fat 7 saturated_fat 1 cholesterol 2 sodium 147