When I think of Mother's Day desserts, I think of elegance, classic flavors, and simplicity.  Why not help mom celebrate her day in the sweetest way possible?  But, dessert doesn't need to be difficult.  Try out these 10 Delicious & Easy Mother's Day Desserts to sweeten her day!
No Bake Banana Split Cake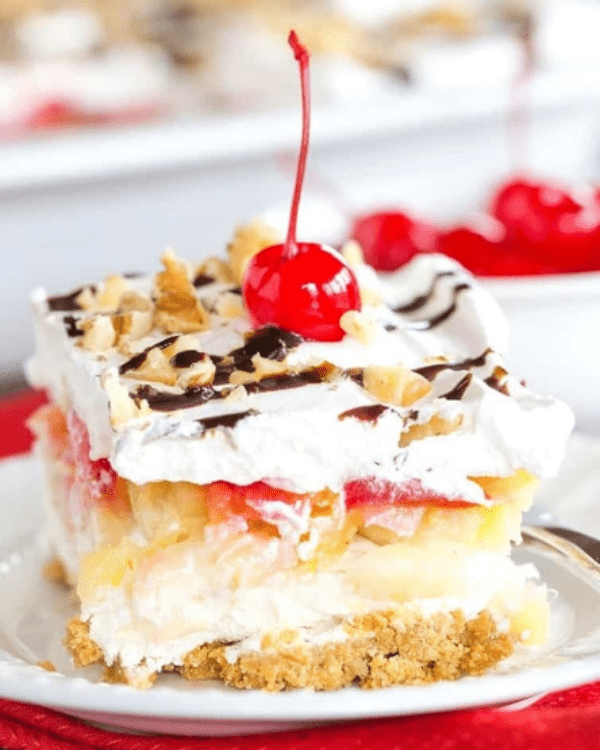 Recipe & Image Source:  Brown Eyed Baker
There is nothing easier than a no-bake dessert and this one is just that!  If your mom loves the ice cream version of a banana split, give this cake recipe a try.  The cake is layered with graham cracker crust, cream cheese mousse, banana, pineapple, and strawberries.  Then you add the classic banana split toppings – whipped cream, nuts, chocolate, and maraschino cherries.  This dessert takes about 30 minutes to prep and 4 hours to chill.
Mini Pineapple Upside Down Cakes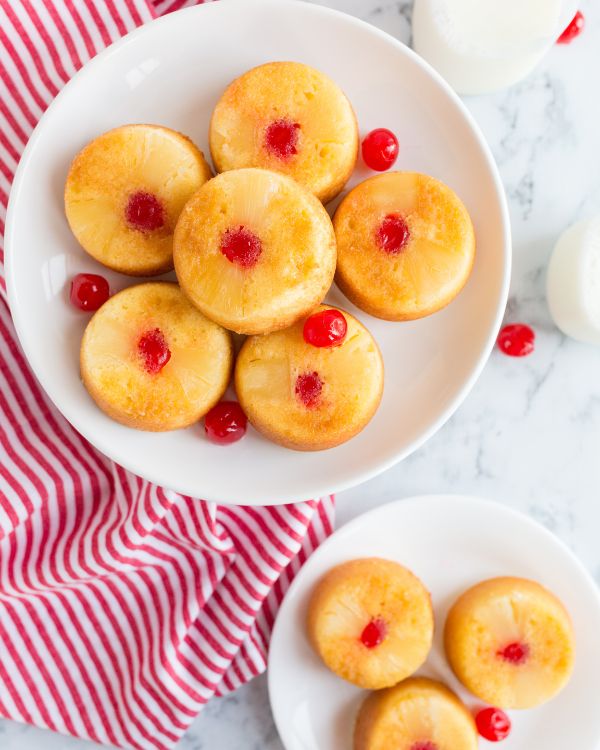 Recipe & Image Source:  Our Farmer House
This is one of my personal favorite recipes.  I make these all summer long for my family, and I know mom will love them too.  These are mini, individual cakes that are sweet, sticky, and tasty. These individual cakes are packed full of the rich pineapple flavor you would expect in a full-sized cake.  Twelve servings are ready in about 30 minutes.
Delicious & Easy Mother's Day Desserts: Apple Hand Pies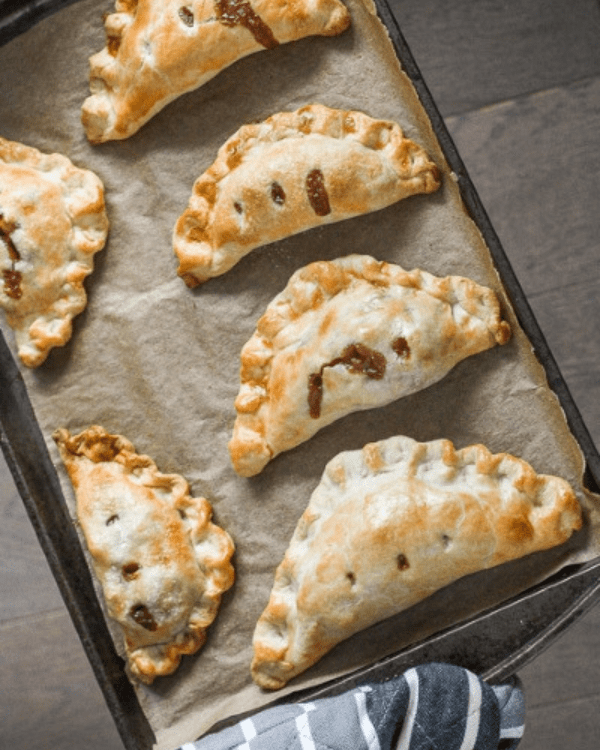 Recipe & Image Source:  Ahead of Thyme
This recipe can be as easy as pre-bought pastry dough and pre-bought apple pie filling if you'd like it to be!  Or, you can make the dough and apple pie filling from scratch if you prefer.  The hardest part is folding the dough and filling them properly – not too little, not too much.  You can make this recipe ahead of time and pop the hand pies out of the freezer when you're ready to bake them.  They can also be stored fully prepared for 3-4 days in the refrigerator.
Our Farmer House Mini Pecan Pies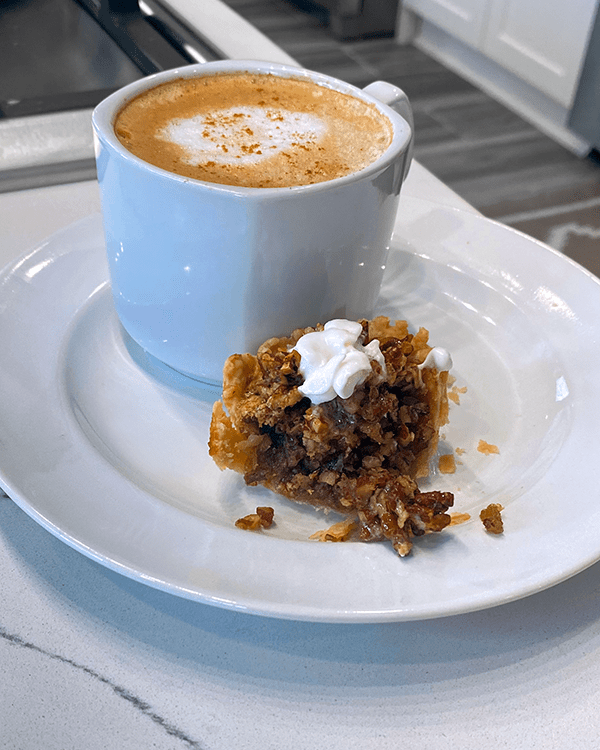 Recipe & Image Source:  Our Farmer House
Pecan Pie is my mom's absolute favorite dessert and Daron's too.  They always fight over the last piece, so I got the bright idea to make mini bite-sized versions instead of one big pie!  This southern classic is incredibly easy to make into minis.  With only 8 ingredients and 10 minutes of prep, you'll be devouring this dessert in 30 minutes or less!
Strawberry Shortcakes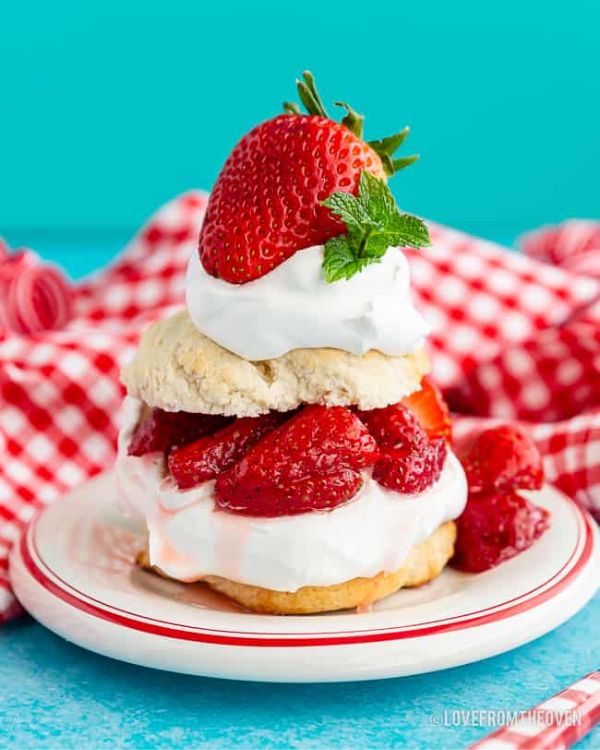 Recipe & Image Source:  Love From the Oven
This is definitely a delicious and easy Mother's Day dessert!  Using Bisquick as a shortcut, this recipe can be prepared in 15 minutes and cooked in twelve.  Once assembled, you'll have 6 servings of perfect strawberry shortcakes.  It's also waistline friendly at under 450 calories each.
If you or mom love strawberry desserts, my Cheesecake Stuffed Strawberries are also a Mother's Day favorite.
No Bake Coconut Cream Pie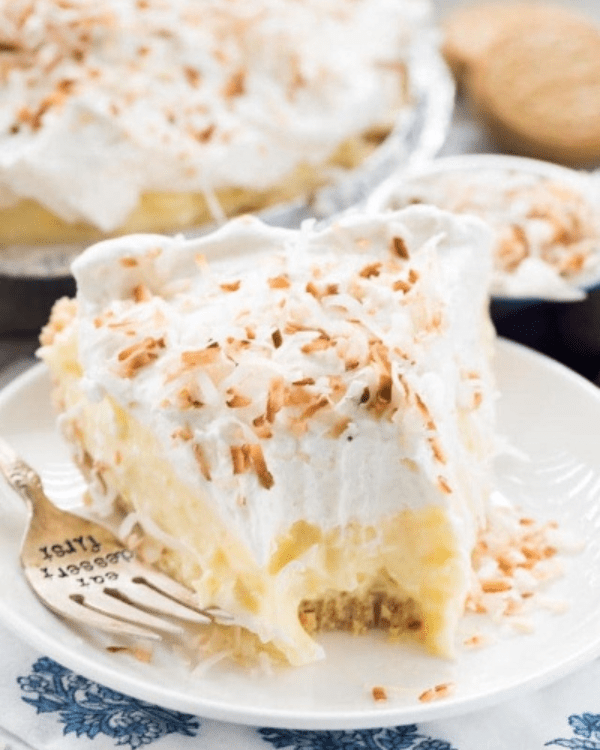 Recipe & Image Source:  Crazy for Crust
I absolutely love a coconut cream pie – especially one as easy as this.  Simple shortcuts like store bought graham cracker crust and instant coconut pudding will have this dessert chilling in the fridge in 20-25 minutes.  Leftovers can also keep up to 3 days, but I doubt there will be any for long.
Our Farmer House Light & Easy Fluffy S'more Dip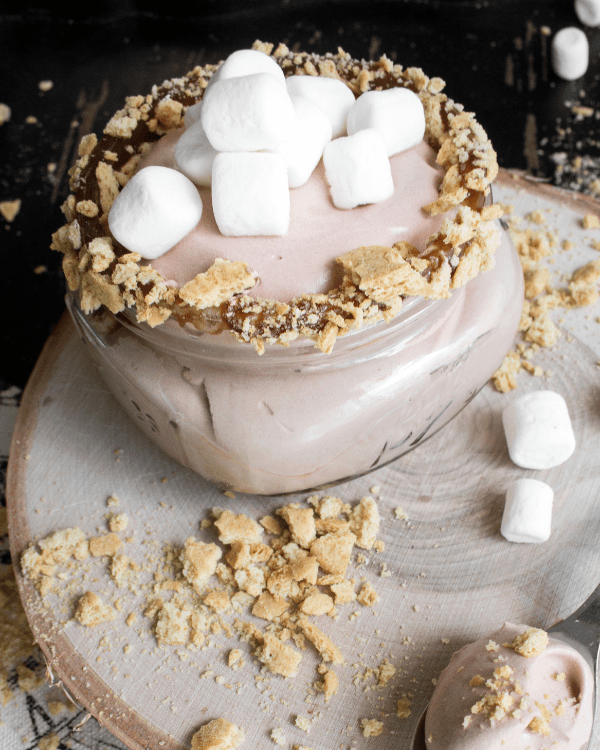 Recipe & Image Source:  Our Farmer House
This Fluffy S'more Dip recipe is a no-brainer for me.  It's ready in 10 minutes, sweet, decadent and calorie friendly.  I can honestly say it's mom-approved because I am one and I love it!  Serve it with graham crackers, cookies or strawberries for dipping.  Even campfire marshmallows would be delicious.
If you love dipping desserts, my Pumpkin Cheesecake Dip recipe is worth a look!
No Bake Vegan Thin-Mint Cookies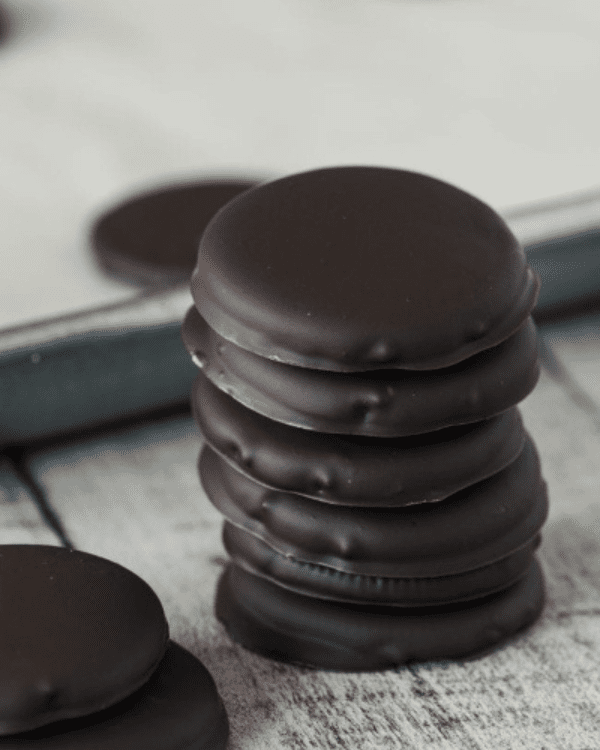 Recipe & Image Source:  The View From Great Island
Another delicious and easy Mother's Day Dessert – no bake vegan thin mint cookies!  This recipe is super simple and utilizes Oreo's as its base.  You basically dunk the cookie halves into peppermint flavored chocolate and let them set.  It really doesn't get easier than that.  If mom loves thin mints, this is the recipe for you.
Delicious & Easy Mother's Day Desserts:  Salted Caramel Coconut Macaroons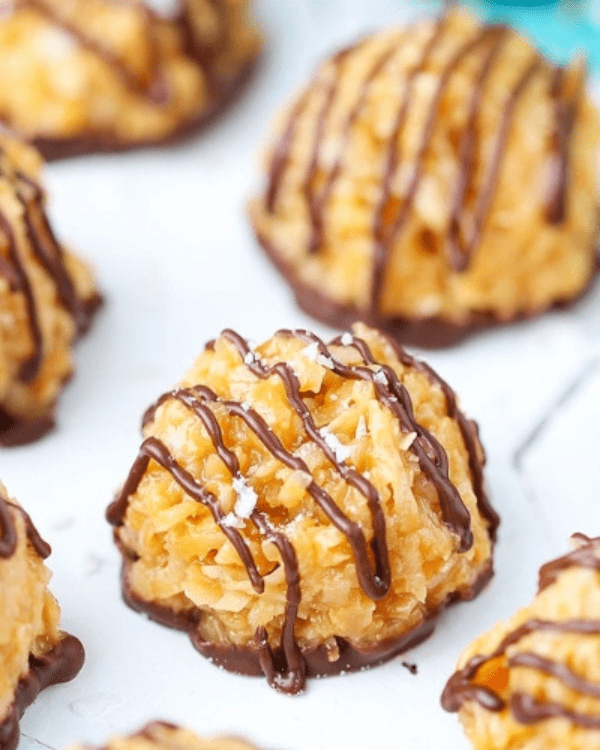 Recipe & Image Source:  Life, Love & Sugar
Another Girl Scout Cookie dupe, these salted caramel coconut macaroons are similar to the classic Samoa cookie.  This recipe takes about 15 minutes total so it's perfect for a last minute addition to Mother's Day dinner.  Coconut and chocolate always pair well together, but adding caramel and sea salt takes these simple ingredients to the next level.
Our Farmer House Apple Nachos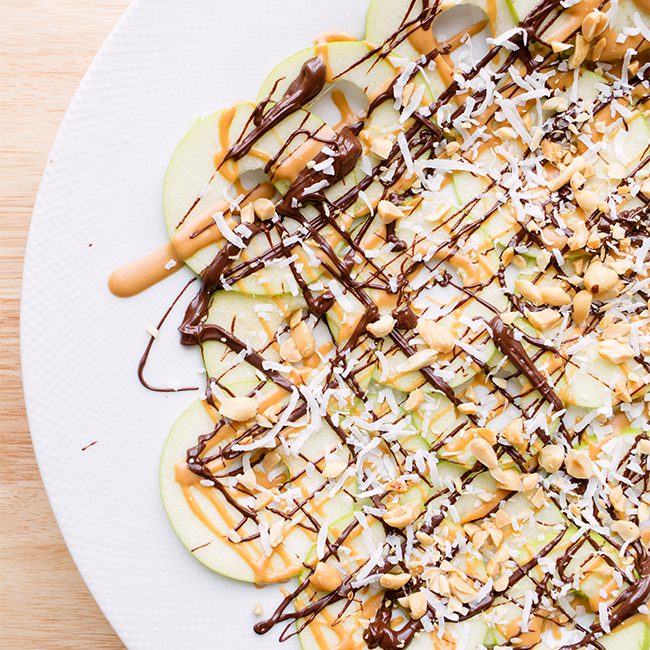 Recipe & Image Source:  Our Farmer House
Last but not least, this recipe can be made from ingredients that you probably already have in your home.  It's easily customizable to your mom's favorite flavors and it's a lighter alternative to most cakes and cookies.  The combination of sweet and tart keeps everyone coming back for seconds without the heaviness of too much butter and sugar.
I hope these 10 Delicious & Easy Mother's Day Desserts have inspired your dinner table.  Mother's Day truly is a special day to celebrate all the moms in our lives.  Shower them with sweets and show them how much you love them with each bite.
XOXO,