Labor Day is bittersweet for me – it's saying goodbye to summer, but also saying hello again to fall. It's the last official grill out and pool day of the season! So, let my Best Labor Day Party Menu bridge the gap between those refreshing summer recipes we all love and the start of savory fall flavors that we can't get enough of.
Labor Day Party Menu Proteins
Every Labor Day Party Menu needs proteins and main dishes. I like to choose multiple options depending on the size of the the party, but I always opt for at least two. Most people like to have a variety, and I am no exception! I also like a combo of items that can be grilled with others that don't need to be. This ensures there's enough space on the grill or in the kitchen to get everything done at similar times.
Copycat Chipotle Barbacoa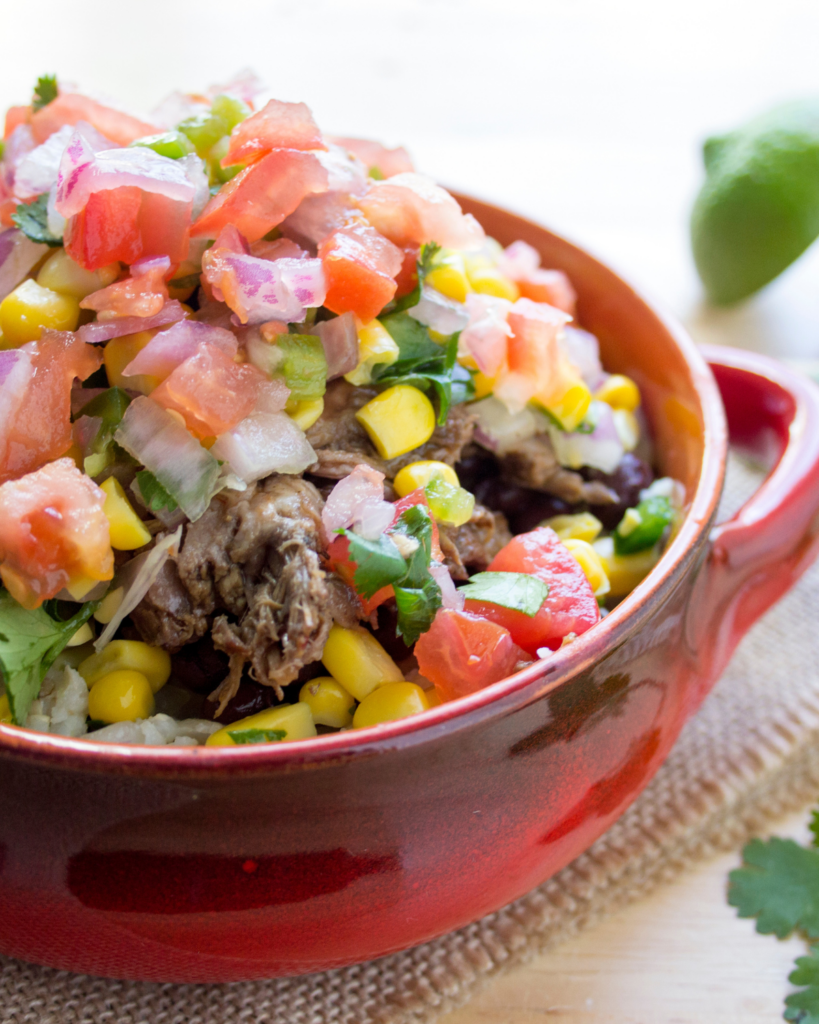 I love this recipe because it can be made in advance using a slow cooker. This not only allows you to make several servings at once, but it also frees you up to prepare other dishes as this one cooks. And, who doesn't love a copycat Chipotle recipe?! My family asks for Chipotle at least once a week so it's a guaranteed crowd-pleaser.
Turkey Club KabAbs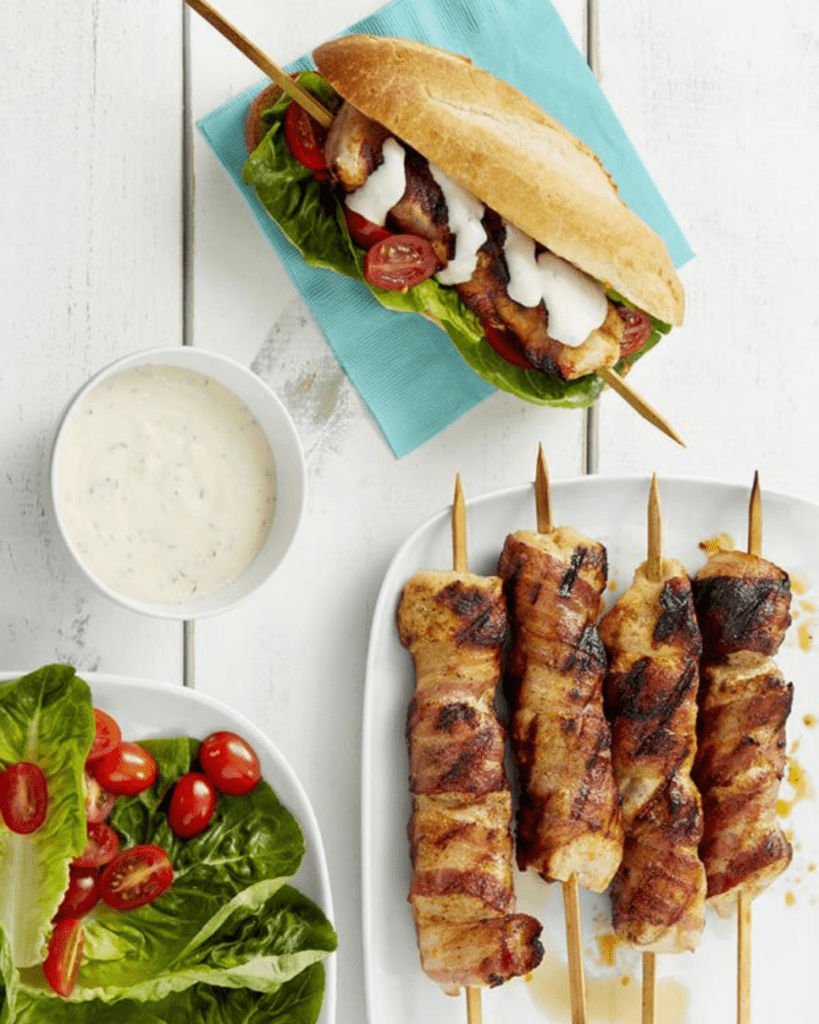 Kababs are always fun at a grill out or party. They're relatively easy to put together and kids typically will eat them as well. These Turkey Club Kababs can be served on bread or enjoyed straight off the stick. If you like the idea of a kabab, but can't find turkey breast readily available, give my Chicken Kebabs a try instead. They're just as easy and flavorful!
Black Bean Rice Burgers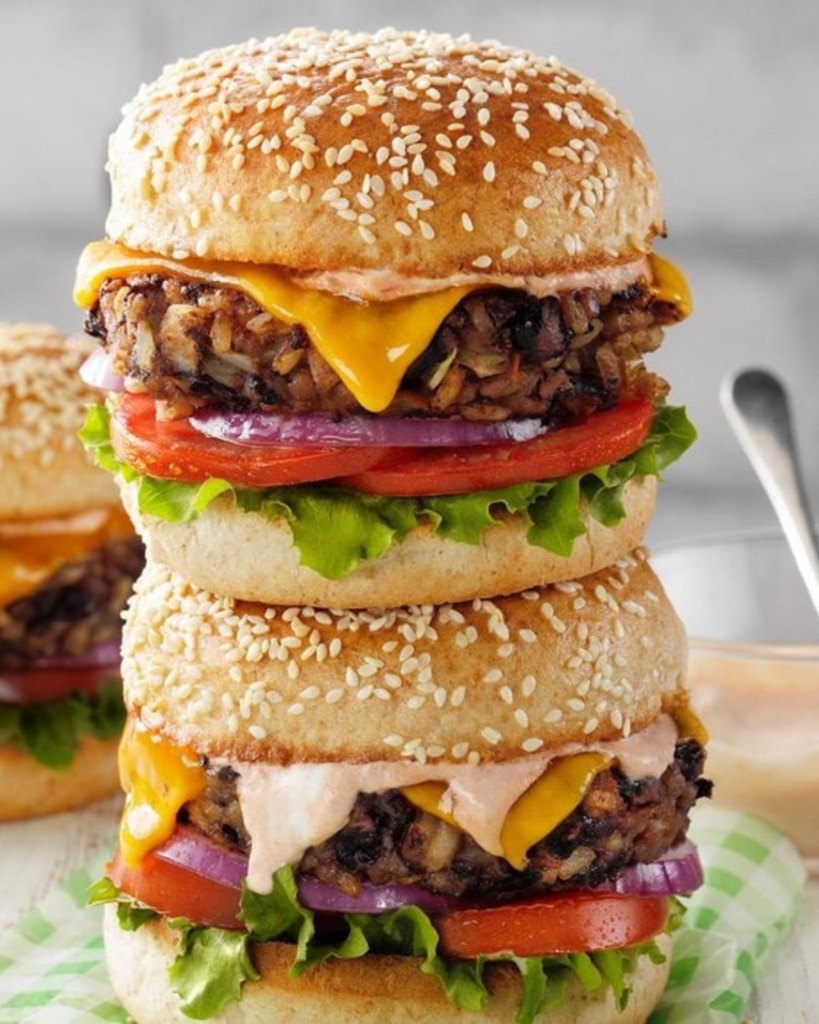 A lot of people are fond of plant-based recipes these days, even if they aren't vegetarian or vegan. This delicious Black Bean Rice Burger is sure to satisfy the taste buds and the need for a protein-rich meal. I recommend doubling the recipe to 8 servings, and to save time, you can absolutely use microwavable rice! Make the patties up and pop them in the refrigerator overnight, or mix it up on the spot in about 15 minutes.
The Best Labor Day Party Menu: Sides
I am a "sides" girl through and through! They are easily my favorite part of any meal, and I love to serve up several at a time. Here's where we start to bring in those fall flavors and mesh our two seasons.
Butternut Squash Mac and Cheese
This Butternut Squash Mac and Cheese is divine! I'm not going to lie, this recipe takes a good amount of prep time, but it is easy to reheat if you use a cast iron skillet on the grill or in the oven. The bacon topping adds a salty crunch and the butternut squash gives it just a hint of sweetness. The kids might not even know it has added veggies! I also make a yummy Slow-Cooker Mac and Cheese if you prefer the regular version.
Parmesan Scalloped Potatoes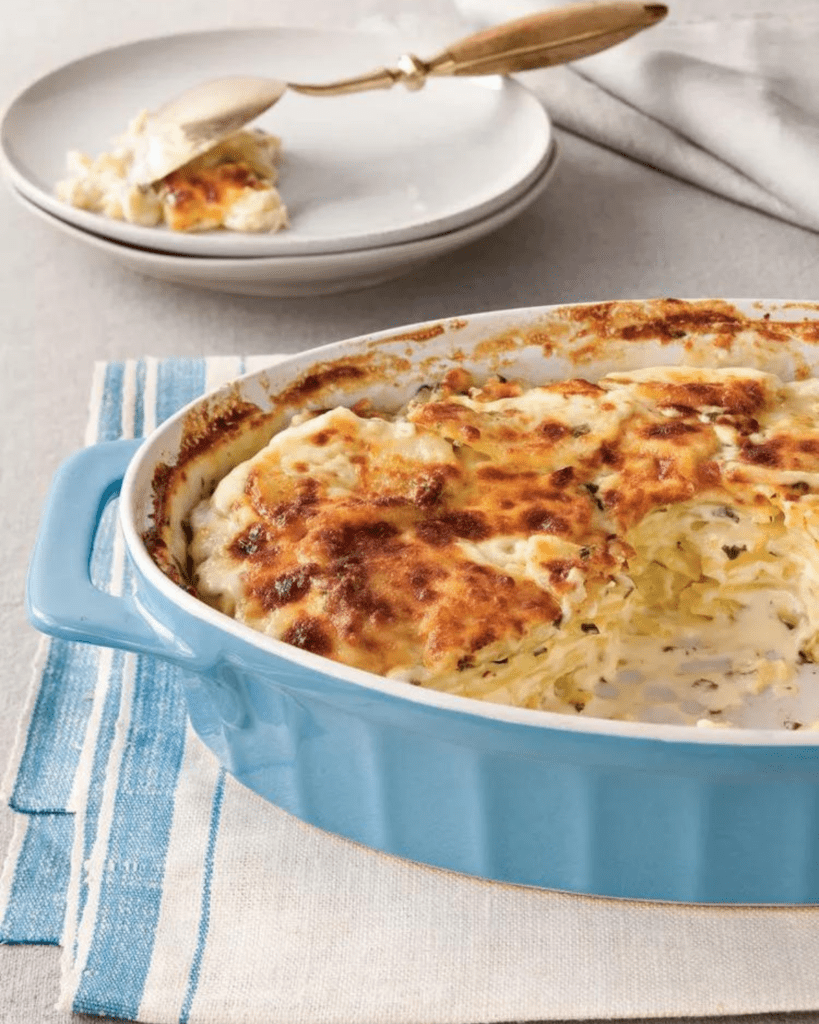 Who doesn't love scalloped potatoes? That's why they're on my Best Labor Day Party Menu! These Parmesan potatoes are cheesy and easy, and they serve 8-10 people at once. Whip up two batches for a larger party if needed – they reheat well if you need to travel with them.
Autumn Harvest Salad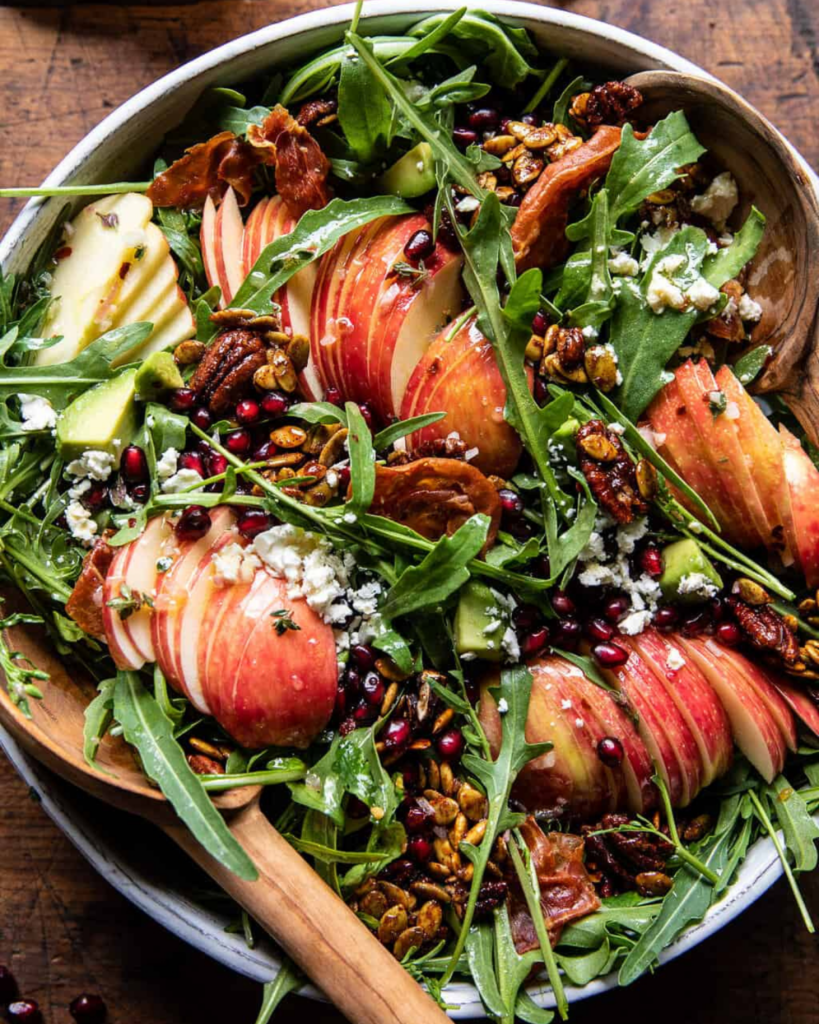 The combination of refreshing honeycrisp apples with the fall flavors of roasted pecans and pumpkin seeds is a definite hit. This salad is beautiful, healthy, and it serves six. The salty prosciutto can be omitted for our vegetarian friends, but it blends perfectly with the feta to complement the sweet and tangy dressing.
Mexican corn on the cob
My Mexican Corn on the Cob recipe is one of my favorites for a Labor Day party menu. Just a few simple ingredients and less than 30 minutes on the grill and this will become one of your go-to's. It's the perfect at-home side dish with that sweet corn flavor and a hint of spice. My Corn Casserole recipe is also a favorite if you don't have the grill space!
Labor Day Desserts
Labor Day is just as good a reason as any to make dessert. We love chocolate at the Farmer House so I always have something along those lines, but not everyone is a fan of decadent desserts. I like to provide at least two options if I'm hosting so everyone gets a little something sweet that they like.
Ooey Gooey Nutella Chocolate Chip Bars
You heard that right! Nutella and Chocolate mix into this ooey gooey butter cake recipe effortlessly. I like to top mine with fresh strawberries or raspberries, but you could easily drizzle it with melted chocolate or caramel topping. This recipe is decadent, so one cake definitely goes a long way.
Coconut Tres Leches Cake with Tropical Salsa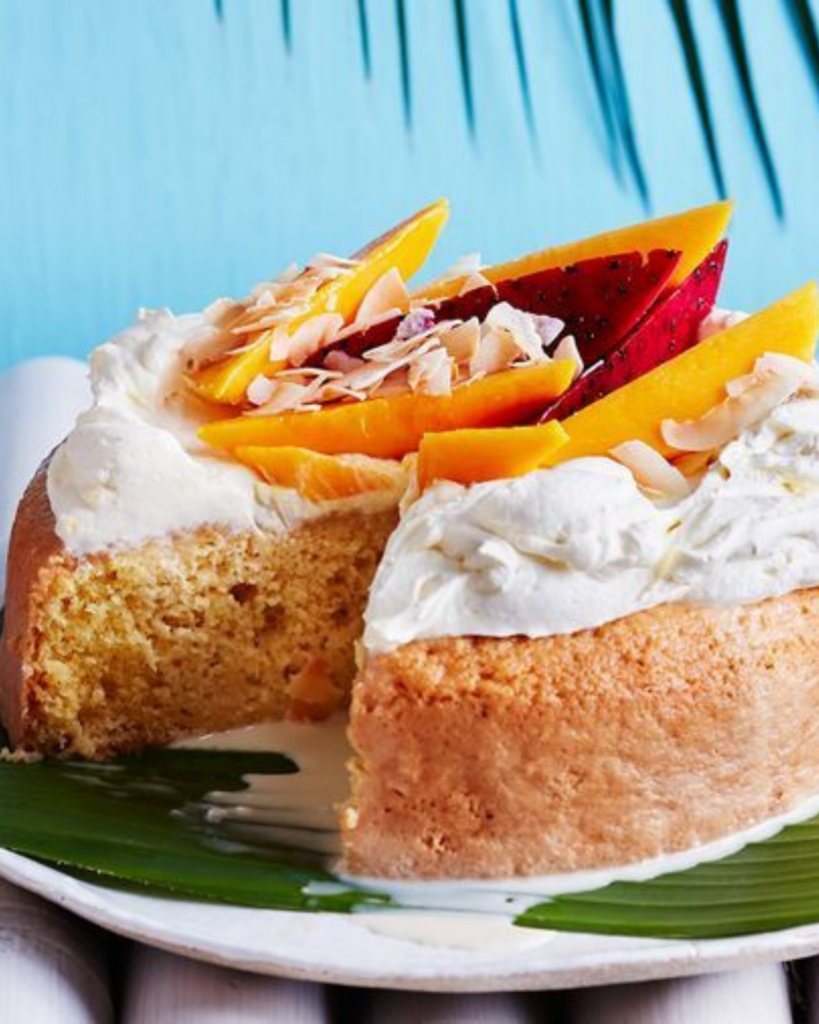 What better way to say farewell to summer than by eating all the tropical fruits at once? This Coconut Tres Leches Cake is definitely sweet, but the tropical fruit salsa gives it a tart and tangy balance, while also being quite beautiful. Shorten your serving time by using store-bought whipped cream! If you like coconut, I also have a delicious Lemon Coconut Cake you should try.
Brown butter & Maple pumpkin cookies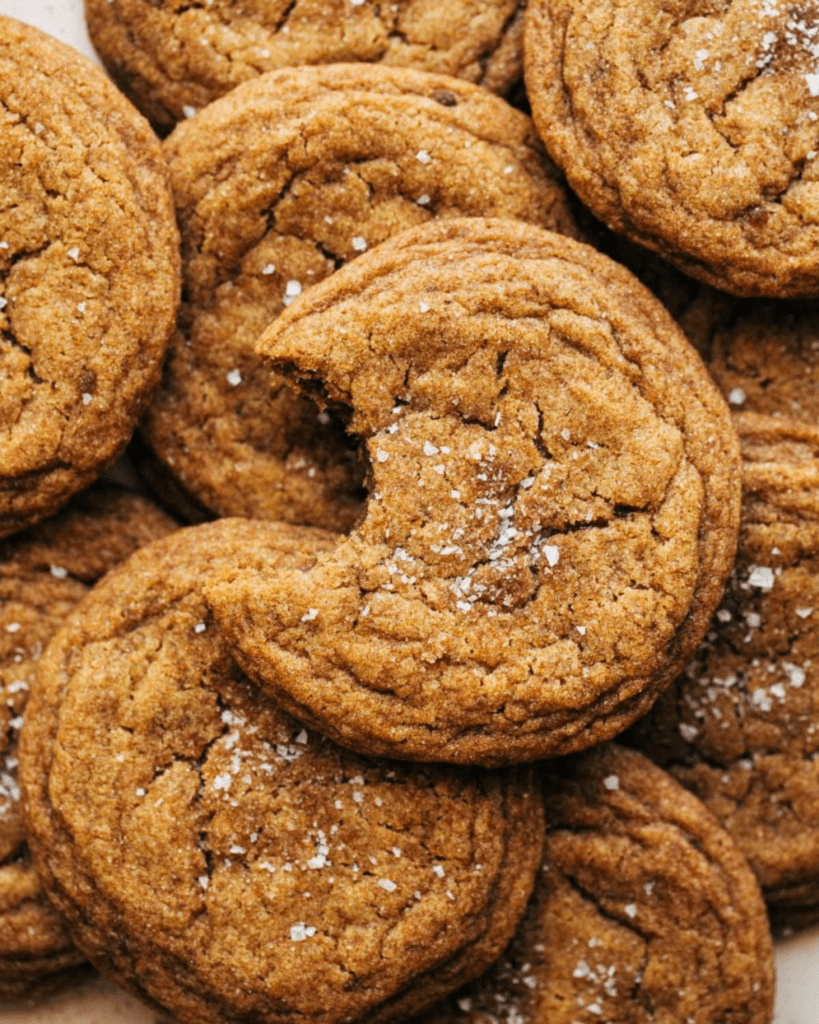 These brown butter, maple, and pumpkin cookies are a chewy delight. They are the perfect cozy cookie recipe to kick off the fall baking season! Kids love these handheld treats and adults will love the sophisticated flavor and texture. The brown butter process takes a little patience, but they are definitely worth it.
Happy Labor Day!
Will you be trying any of the recipes in my best Labor Day party menu? I would love to see them if so! Tag me on Instagram or Facebook, and let me know in the comments what you think.
XOXO,