Have you ever wondered How to Make a Tomato Ketchup Recipe?  This easy low-sugar ketchup recipe is a simple homemade option that tastes absolutely incredible.  Using tomato paste, vinegar, a few spices, and just a small hint of sugar or sweetener, this is a healthier version of the most popular condiment.
This recipe takes only 5 minutes to make and one serving contains just 2 grams of sugar and 54 mg of sodium. A serving of Heinz ketchup contains 4 grams of sugar and 160 mg of sodium!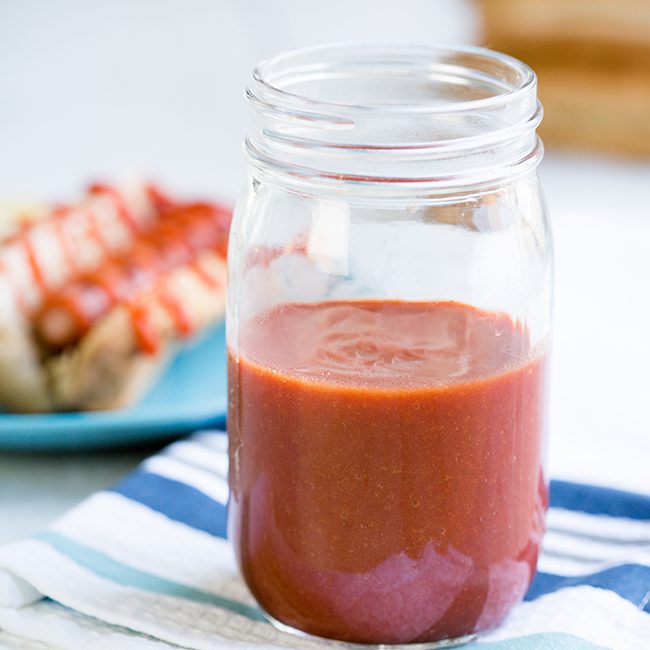 Tomato Ketchup Recipe
I never thought I would make homemade ketchup.  It's so inexpensive and easy to find in grocery stores, why would I go to the trouble of making it myself?
As someone who desires a healthier lifestyle and body from the inside out, it is important that I notice what is in the food I eat.  The result is my desire to make more and more homemade items.  This is just one of many recipes I have developed that brings flavor to foods without guilt.
Why Make Homemade Low Sugar Ketchup? 
If you have ever looked at the back of a bottle of ketchup, you will notice just how high on the ingredients list corn syrup or sugar is listed.  As someone who prefers to have less sugar in my diet, this is alarming.  Why should I continually eat something loaded with more sugar than is necessary?
By making my own homemade tomato ketchup recipe, I am able to control not just the amount of sugar, but also the flavor.  Ketchup can be loaded with flavor and this recipe includes both garlic and onion powder to bring out a richness we love.  Another favorite thing about making homemade ketchup is that I never run out!  These ingredients are always in my pantry, so it only takes a few minutes to whip up another batch.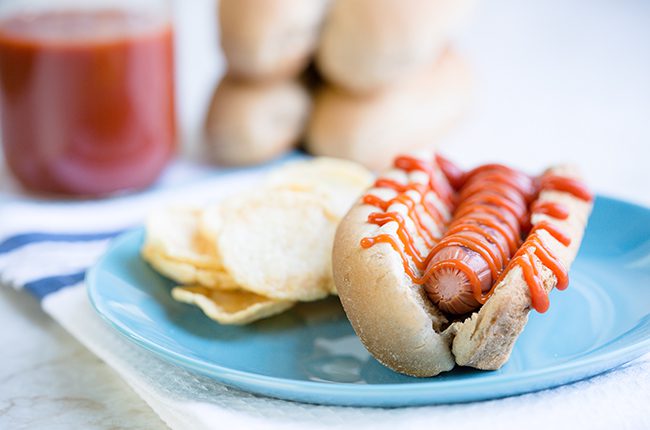 How Long is Ketchup Good For in the Refrigerator? 
While a jar or bottle of ketchup is safe to leave out on the table or counter, homemade ketchup does not contain the same preservatives.  It should be stored in the refrigerator for safety.  A glass mason jar is a great way to store this ketchup.  Whatever you choose, make sure it is an airtight container.
Store this homemade tomato ketchup recipe in an airtight container for up to 3 weeks in the refrigerator.
More Homemade Condiments, Sauces, and Dips
As I have gotten more interested in fueling my body with healthy foods, I have begun making more items from scratch.  So many things are easy to whip up at home in a few minutes rather than paying for already made in-store. The recipes below are just a few more of my favorite homemade options that I know you will want to add to your recipe box.
Making more items from scratch can be a wonderful start to controlling what foods you allow into your body.  These recipes and more are excellent for beginning your healthier journey.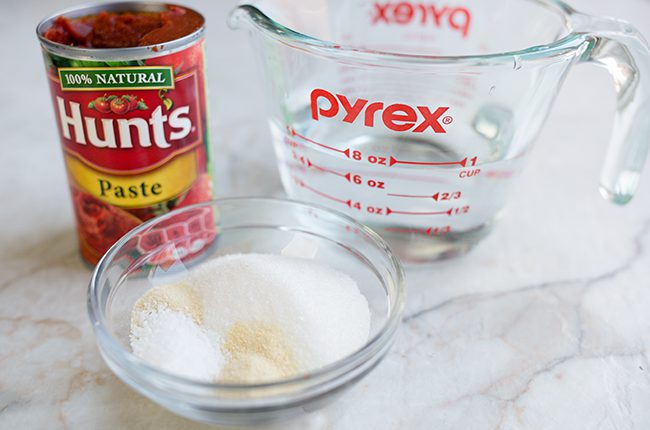 Ingredients for Tomato Ketchup Recipe
Tomato Paste
White Vinegar
Water
Salt
Garlic Powder
Onion Powder
Sugar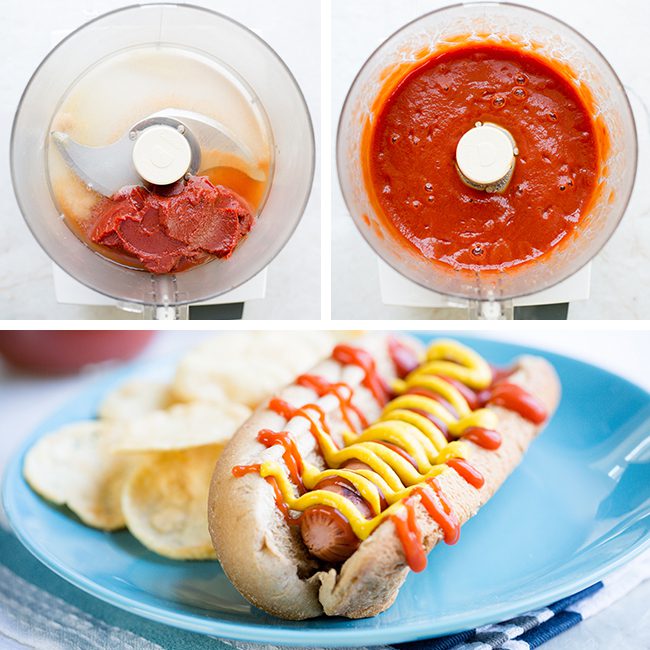 How to Make Ketchup from Scratch
To make a homemade tomato ketchup recipe, you really only need to grab the ingredients, measure them, and blend.  Once everything is mixed together, you should store in a bottle or jar in the refrigerator as mentioned.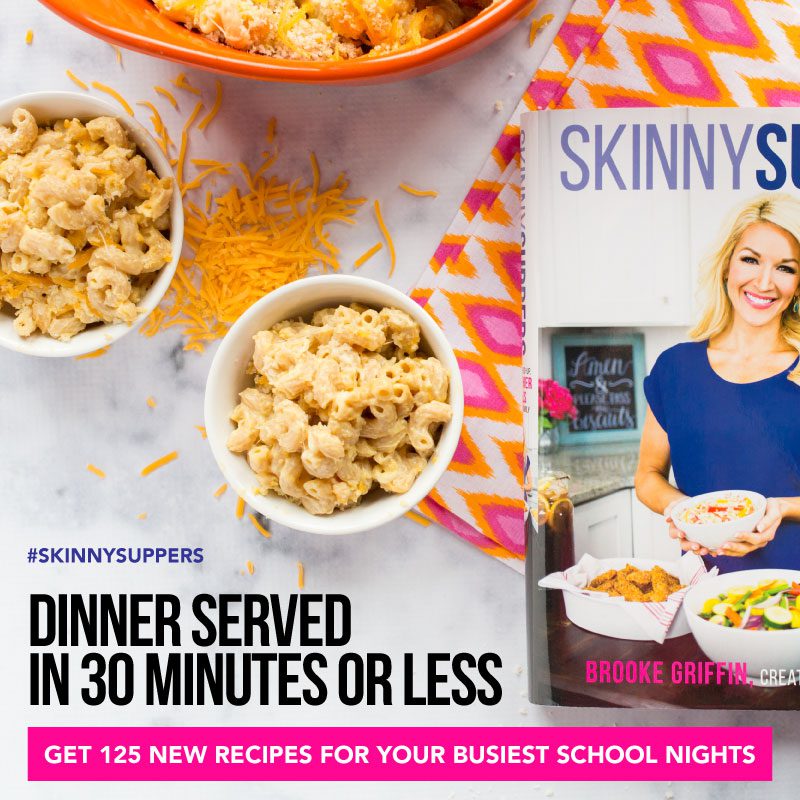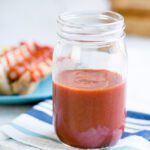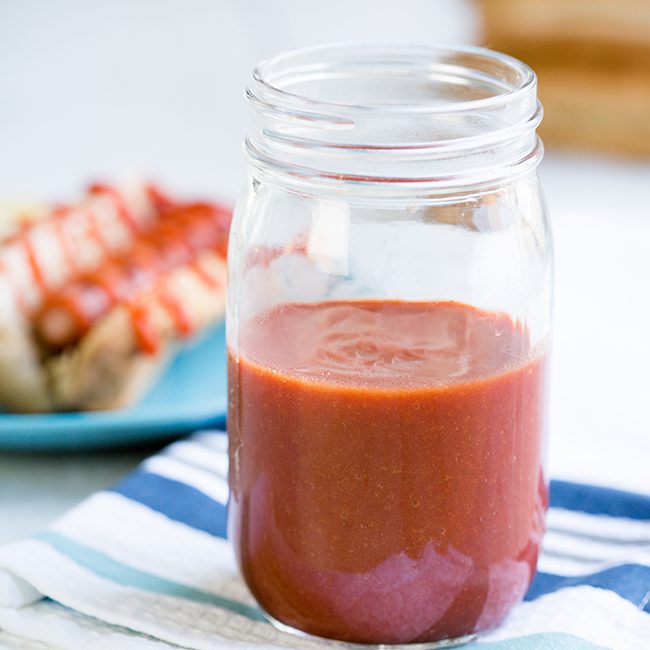 Print Recipe
How to Make a Tomato Ketchup Recipe
This Tomato Ketchup Recipe teaches you How to Make Homemade Ketchup in just a few steps. Tomato paste, vinegar, and spices make delicious ketchup.
Servings: 10
Calories: 13kcal
Ingredients
6 oz tomato paste
1/2 cup white vinegar
1/4 cup water
2 tbsp sugar or preferred sweetener
1/4 tsp garlic powder
1/4 tsp onion powder
Instructions
Place all ingredients in a blender or food processor, and blend until smooth.

Store in a squeeze bottle or a glass jar with a lid for up to 3 weeks.
Nutrition
Serving: 1tbsp | Calories: 13kcal | Carbohydrates: 3g | Sodium: 54mg | Fiber: 1g | Sugar: 2g