Greek Yogurt Ranch Dressing is the perfect way to enjoy your classic salad without the guilt.  When it comes to eating healthy, many people turn to salads. If you decide to begin eating salads more often, you will want to use a healthy salad dressing.  Since Ranch dressing is a favorite for many people, creating my version using Greek yogurt and a special spice blend is a great way to have a healthy salad dressing.
Use some of this homemade ranch in my yummy healthier broccoli salad recipe as another veggie-packed healthy side dish.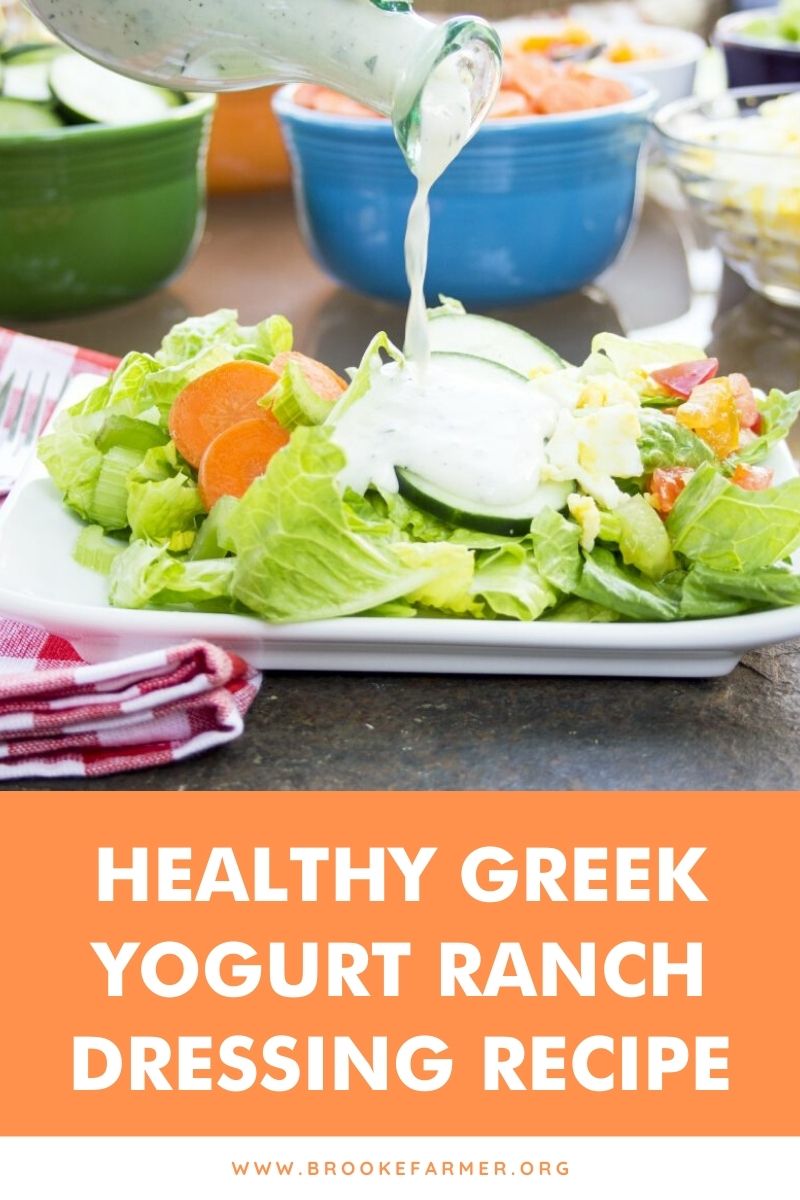 Greek Yogurt Ranch Dressing
Ranch dressing is a favorite for most people. It is their go-to salad dressing. With a few small changes, a traditional ranch dressing can become a Greek yogurt ranch dressing and it is a much healthier option. It has all the same great taste of a traditional ranch dressing but it a healthy salad dressing option.
Like this? Check out my Honey Mustard Dressing as well!
Why should I use Greek yogurt in my dressing recipe?
By using Greek yogurt when making ranch dressing, you are able to create a lighter, healthier version. This makes eating those loaded salads easier to manage, and have a lot less guilt than before. That's not all that I love about Greek yogurt.  There are so many great benefits! 
Greek yogurt adapts easily to any flavor and is less sour than mayonnaise or sour cream in this recipe.  So, you have a smooth flavor that highlights the flavor of your fresh herbs instead of the background ingredients.
The best benefit of Greek yogurt though has to be the higher protein.  Protein is something we need in our daily routine, and this is just a simple way to add more to your salad without adding a lot of bulky fat or calories to the meal.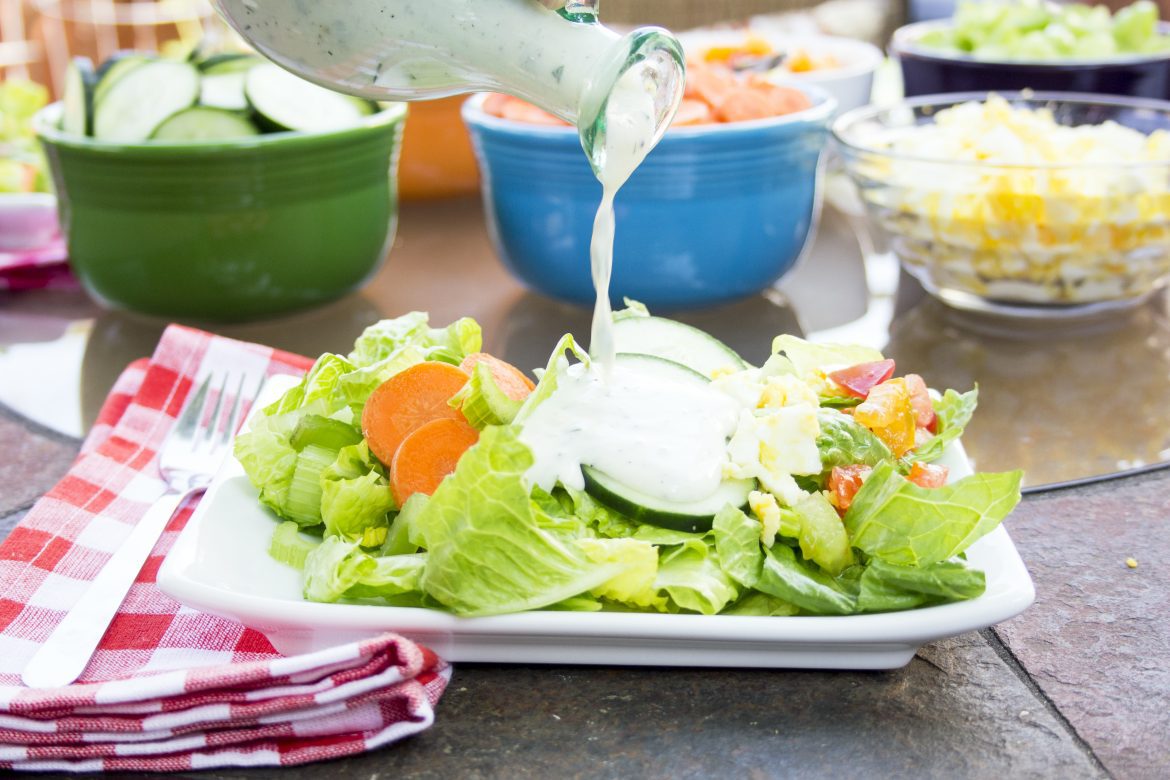 Variations to a Healthy Ranch Dressing
The key to any recipe is being able to change it to fit your tastes. When looking for ways to change this recipe, consider:
Add more seasoning. If you like a stronger taste to your ranch dressing, consider adding more of the herbs.
If you do not have buttermilk on hand, you can make your own. Add vinegar to milk and wait a few minutes for it to sour. Once it sours, you have buttermilk!
Mix in a tablespoon of grated Parmesan cheese.
Replace the fresh dill with fresh basil.
Mix in a teaspoon of chili powder, or 1/2 teaspoon red pepper flakes for an extra kick
Mix in 1 tablespoon sriracha
Ingredients
low-fat buttermilk
non-fat plain Greek yogurt
light mayonnaise
fresh parsley
dill
chives
white vinegar
garlic powder
onion powder
salt and black pepper
How to Make Greek Yogurt Ranch Dressing
This is such an easy recipe to make!  You really just have to blend everything together until it is the texture you prefer.  I like using my food processor so everything is the same size, but you can leave the herbs roughly chopped or minced for a chunkier texture.  Do what you prefer, and enjoy this with vegetables for dipping or on your favorite salad.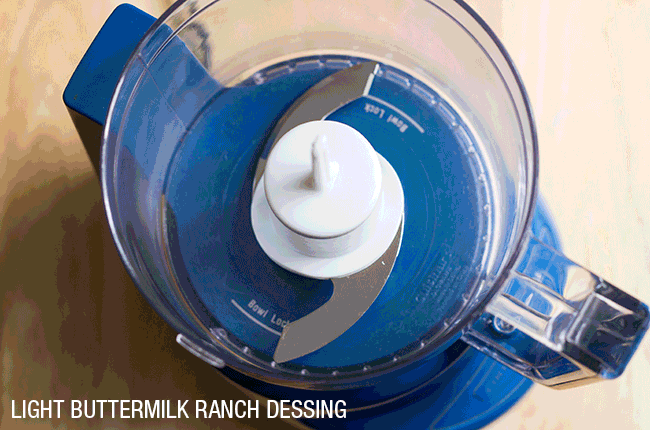 This recipe must be refrigerated and can be stored in an airtight container for 5-7 days in the refrigerator.  A Greek yogurt ranch dressing does not freeze well, so make in smaller batches so it will not spoil before use.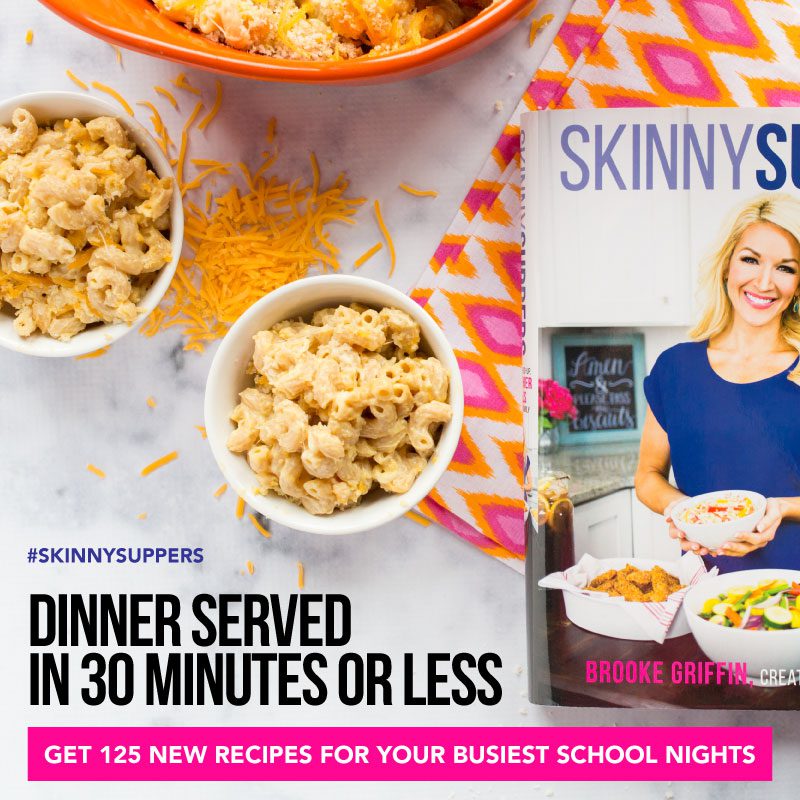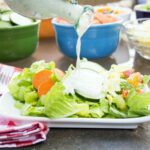 Print Recipe
Greek Yogurt Healthy Ranch Dressing
Lighten up your favorite ranch dressing recipe with this Greek Yogurt Ranch Dressing Recipe. It's light, packed full of herbs and super simple to make.
Servings: 8 servings
Calories: 44kcal
Ingredients
1 cup low-fat buttermilk
½ cup non-fat plain Greek yogurt
⅓ cup light mayonnaise
2 tablespoons fresh parsley
2 tablespoons fresh dill
1 tablespoon fresh chives
1 tablespoon white vinegar
2 teaspoons garlic powder
2 teaspoons onion powder
salt to taste
black pepper to taste
Instructions
Combine all the dressing ingredients in a food processor and mix until smooth.

Store leftovers in the refrigerator in an airtight container for up to 1 week.
Nutrition
Serving: 3tablespoons | Calories: 44kcal | Carbohydrates: 4g | Protein: 1g | Fat: 2g | Cholesterol: 3mg | Sodium: 108mg | Potassium: 88mg | Sugar: 2g | Vitamin A: 160IU | Vitamin C: 2mg | Calcium: 57mg | Iron: 0.1mg