My Homemade BBQ Sauce Recipe is a family favorite.  Perfect for serving on all of your favorite grilled items, used as a dipping sauce, or even as a pizza sauce with grilled chicken and onions, it is going to wow your tastebuds!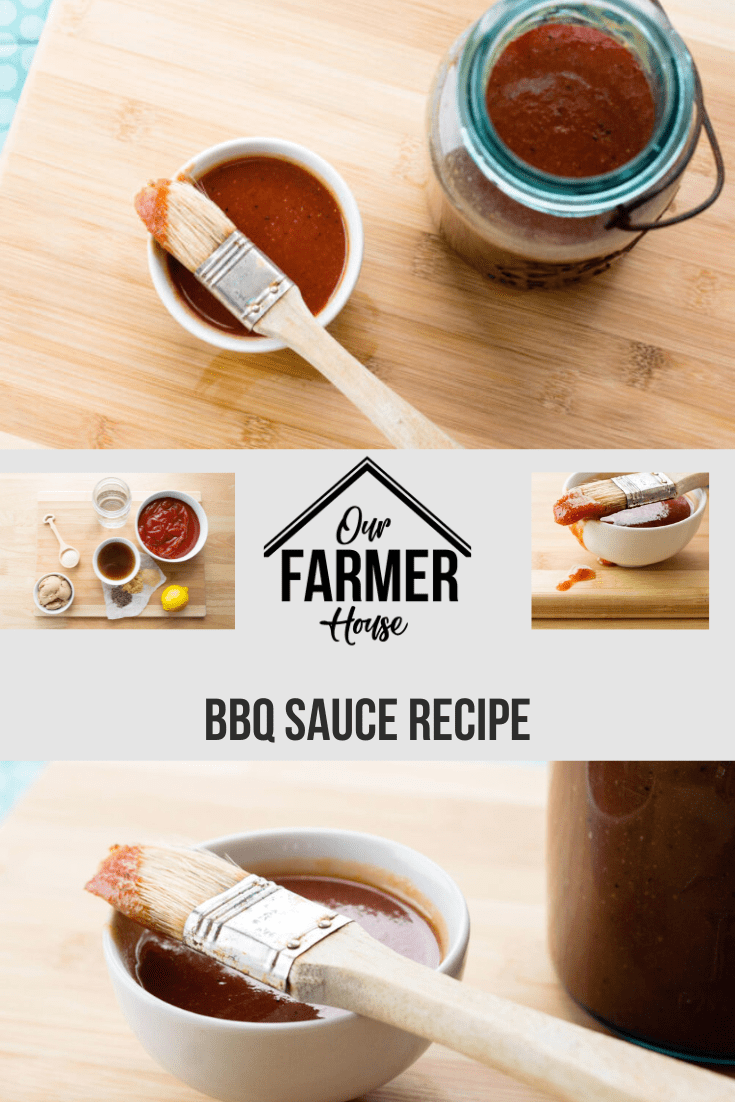 Homemade BBQ Sauce Recipe
I almost always grabbed bottled barbecue sauce in the past, but once I found out how easy it was to make my own homemade bbq sauce recipe, I haven't looked back!  This simple recipe has a nice mild flavor, but you can pep it up easily with the addition of extra chili powder or even cayenne pepper if desired.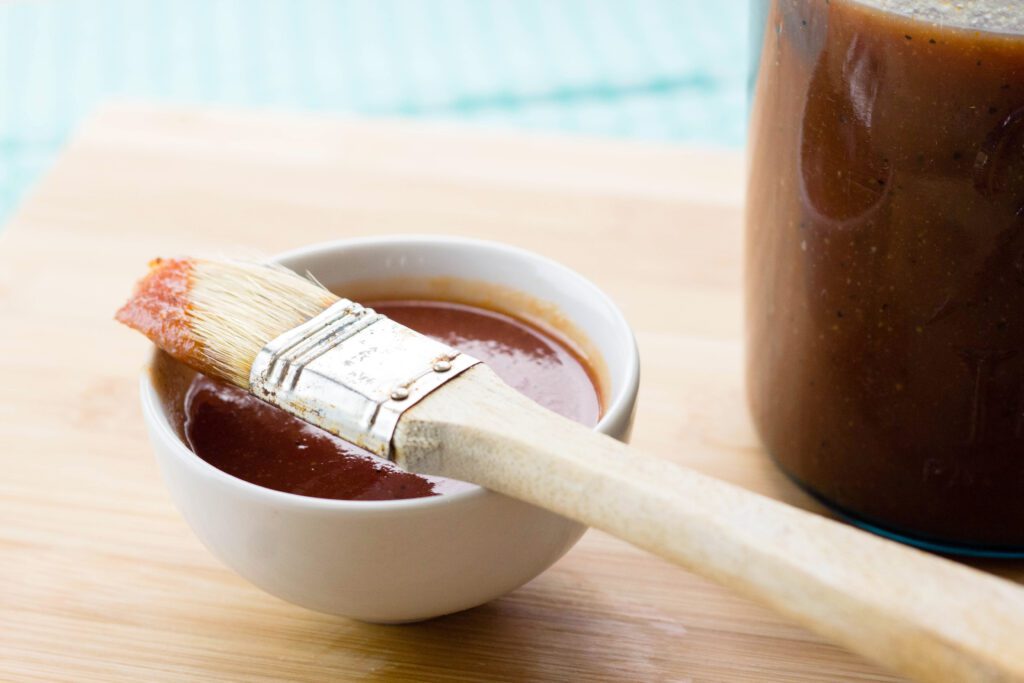 How to use a Homemade BBQ Sauce
Of course, we all love this on any number of grilled meats, as a dipping sauce, or my personal favorite, as a sauce on a pizza with lean meats and veggies.  You can, however, use it in place of any barbecue sauce in a recipe.  Below are a few of my family-favorite recipes for you to try this recipe out on!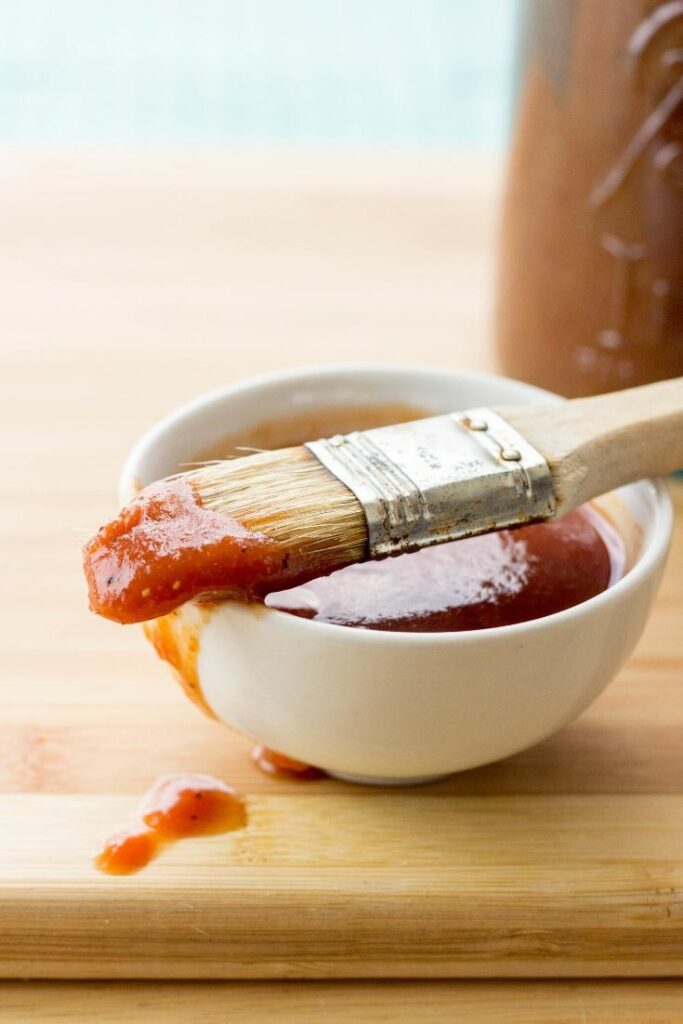 What's in BBQ Sauce?
The ingredients vary but most include some variation of vinegar, tomato paste, mustard, ketchup, or mayonnaise (or a combination thereof) as a base, as well as liquid smoke, onion powder, and sweeteners such as sugar or molasses.
How long will Homemade BBQ Sauce last?
Homemade BBQ Sauce will last 3-6 months as long as it is stored properly in an air-tight sealed container in the refrigerator.  So, don't hesitate to make a larger batch for use in your menu over the next few months!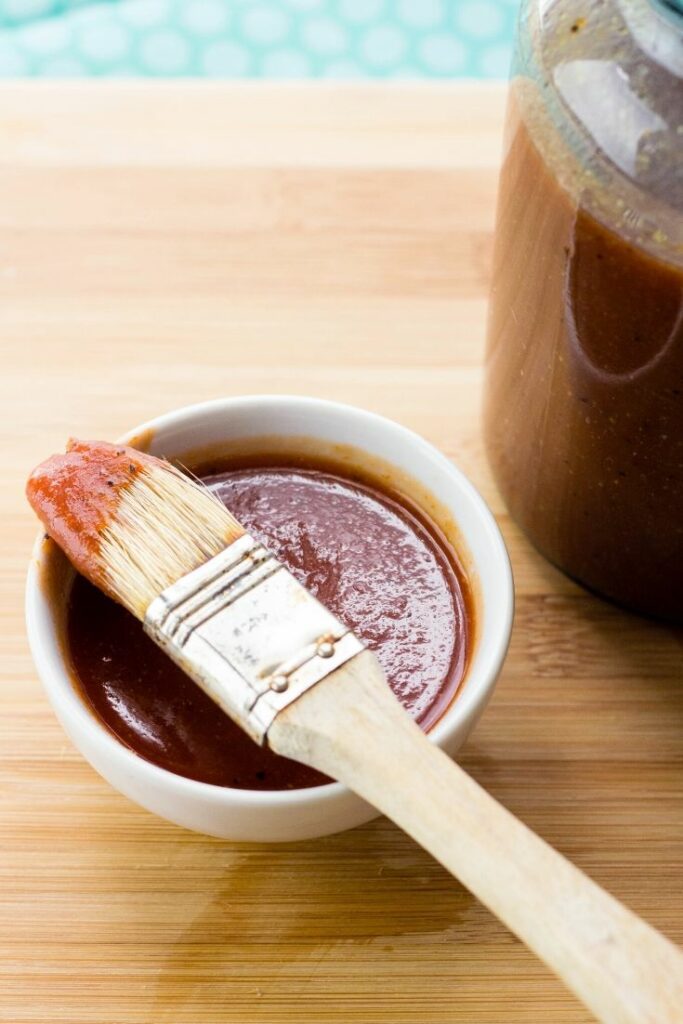 Variations of this BBQ Sauce
If you don't have char broil seasoning, replace it with another favorite grilling seasoning.  There are many blends in the spice aisle that can add a unique flavor to this sauce recipe.  
Instead of using ground mustard, you can easily add in regular prepared mustard, spicy brown mustard, or potentially even a stone ground or dijon mustard.
For a sauce with more heat, mix in hot sauce, chili powder, cayenne pepper, or red pepper flakes.
Ingredients for Homemade BBQ Sauce Recipe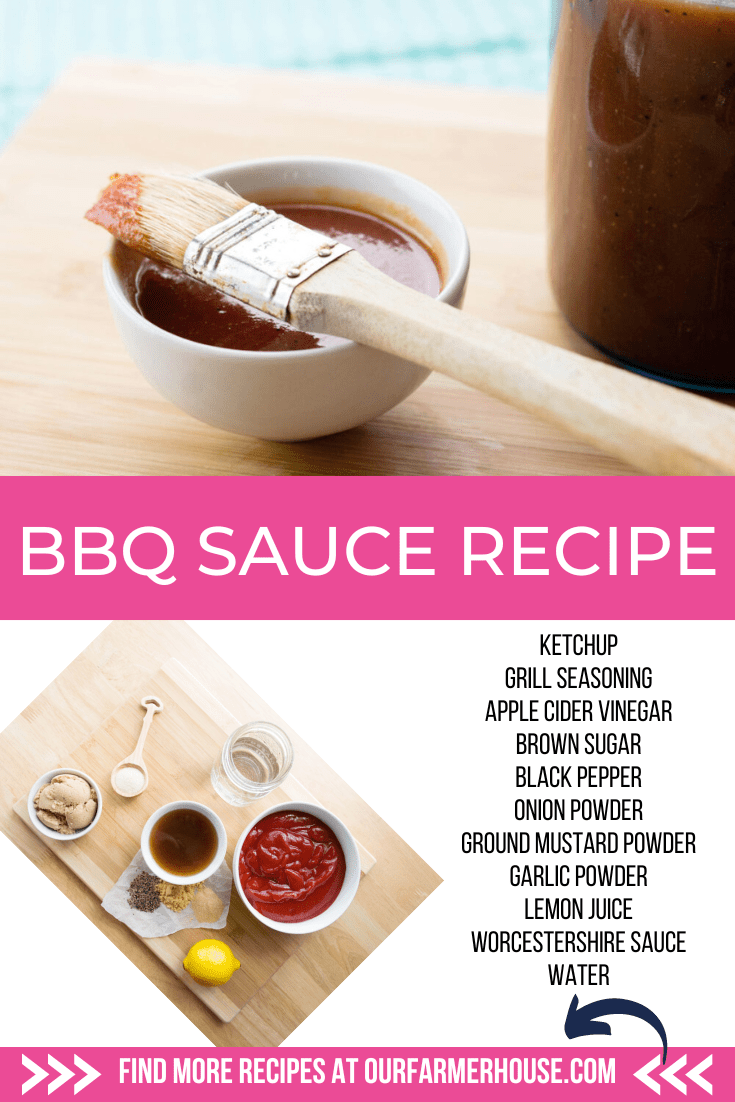 Ketchup
Grill seasoning
Apple cider vinegar
Brown sugar
Black pepper
Onion powder
Ground mustard powder
Garlic powder
Lemon juice
Worcestershire sauce
Water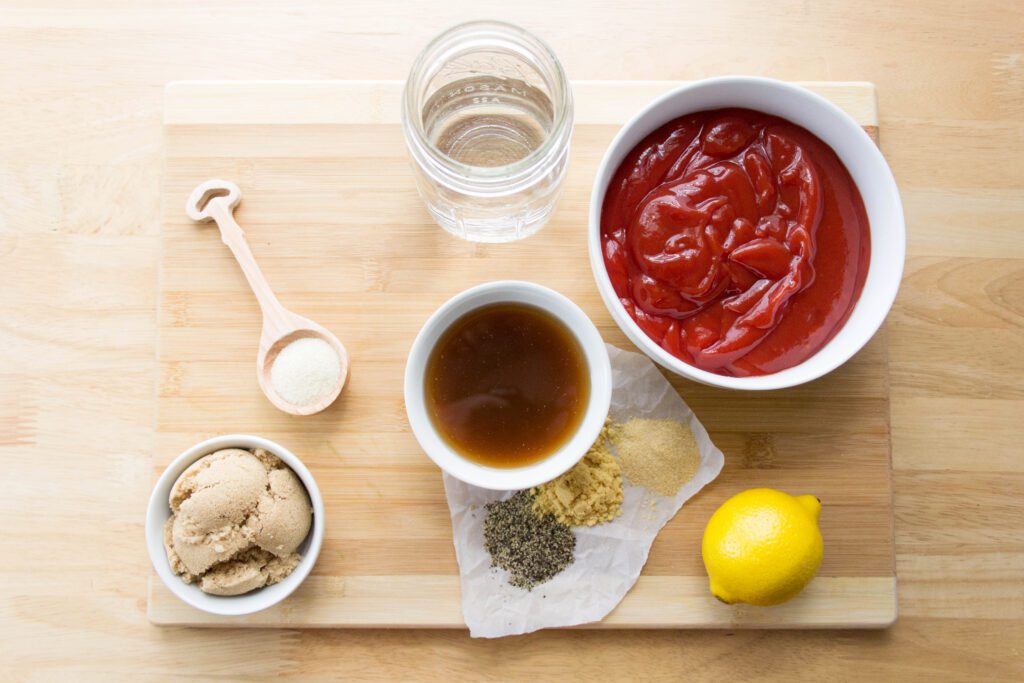 How to Make Homemade BBQ Sauce Recipe
This recipe is super easy to make.  You simply throw all of the ingredients into a saucepan!
Bring the mixture to a boil, then reduce the heat and allow it to simmer for about 15 minutes, or until it is the thickness you prefer.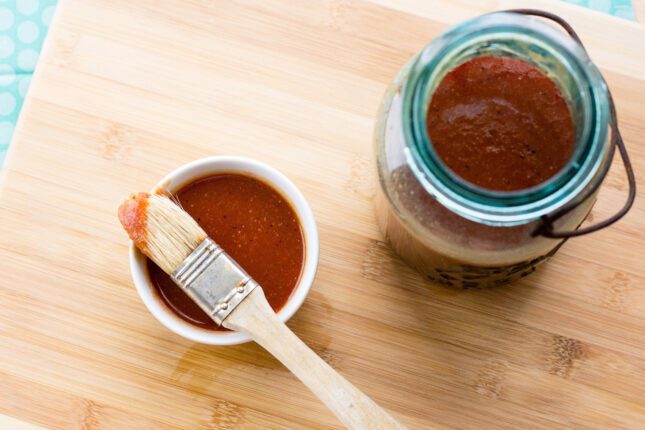 You may want to stir regularly while cooking, just to prevent any burning or sticking – especially when using sugars in the recipe.
This sauce can be served immediately or stored in an airtight container in the refrigerator.
Check out these sauce recipes: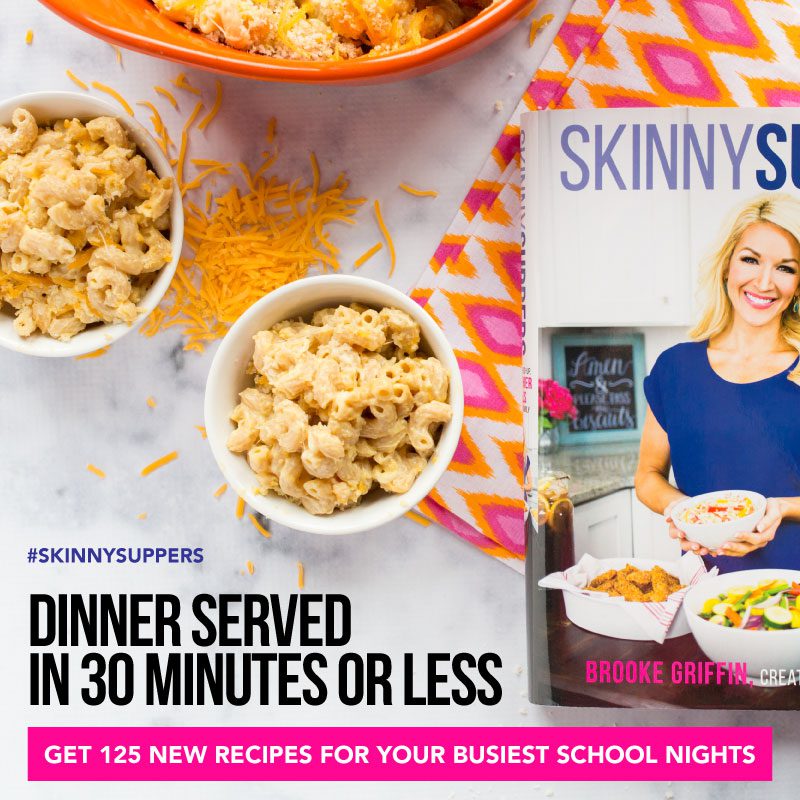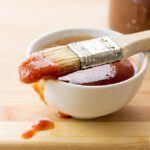 Print Recipe
Best BBQ Sauce
There's nothing that says family cookouts better than a great barbecue, and every great barbecue starts with the Best BBQ Sauce.


Servings: 12 servings
Calories: 64kcal
Ingredients
2 cups ketchup
1 cup water
1 tsp char broil and grill seasoning
½ cup apple cider vinegar
5 Tbsp light brown sugar
½ Tbsp ground black pepper
½ Tbsp onion powder
½ Tbsp ground mustard
1 tsp garlic powder
1 Tbsp lemon juice
1 Tbsp Worcestershire sauce
Instructions
In a medium saucepan, combine all ingredients.

Bring mixture to a boil, and then reduce heat to simmer.

Cook uncovered, stirring frequently, for 10-15 minutes or until desired thickness.

Serve immediately or store sauce in refrigerator or freeze for later use.
Nutrition
Serving: 1/4 cup | Calories: 64kcal | Carbohydrates: 17g | Sodium: 512mg | Sugar: 16g