Most store bought beverages are loaded with extra sugar, additives, and preservatives that you don't really need. When you make your own juice or drinks, you have complete control over the ingredients that go into them. You can choose fresh, whole fruits and vegetables, which are packed with vitamins, minerals, and other important nutrients. Now that warmer weather has arrived, I wanted to share my favorite summery and refreshing drinks. Here are 6 Easy Summer Sips you can make at home and why it's important to do so.
Reasons To Make Your Own Juice & Beverages:
While I generally love making recipes from scratch on a weekly basis anyway, there are several reasons I like to make my own drinks:
Customizable: Making your own beverages allows you to customize the flavor to your liking. You can experiment with different combinations of fruits, vegetables, herbs, and spices, and adjust the sweetness or tartness to suit your taste.
No added preservatives or additives: Store-bought juices and drinks often contain added preservatives, sweeteners, or artificial flavors. When you make your own, you can avoid these additives and create a healthier, more natural beverage. I like to think they also taste better!

Cost-effective: While the initial investment in a juicer or blender may be expensive, making your own juice or drinks can save you money in the long run. You can buy fresh produce in bulk, and you won't have to pay for the premium price of pre-made juices.
Sustainable: Making your own juice or drinks can be more environmentally friendly than buying pre-made beverages. You can help reduce single-use plastic bottles, and compost the leftover pulp or peels. And, if you have a garden, this is a great way to feed your vegetables that will eventually feed you.
Now that we've laid out why making our own beverages is beneficial, let's get to my favorite easy summer sips recipes!
Refreshing Cantaloupe Cooler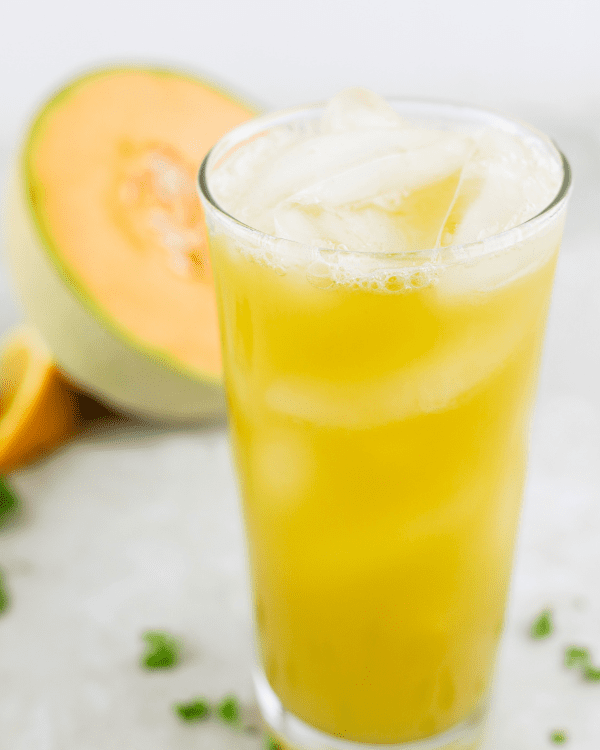 Refreshing Cantaloupe Cooler Recipe
Made with cantaloupe, apples and other fruits and herbs, this juice is unique and fresh. I love it on a hot summer day and often prepare it a few hours in advance of a pool party or other family gatherings. The apples, orange, and cantaloupe sweeten the flavors of the cucumber and parsley, while the mint gives it a cool summery finish.
Easy Summer Sips: Kale-Tastic Green Juice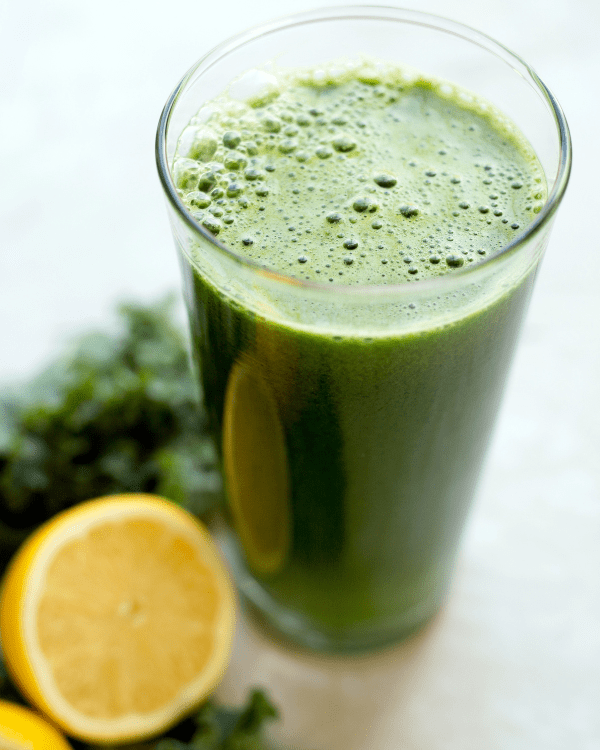 Kale-Tastic Green Juice Recipe
It might look green and earthy at first glance, but this kale-tastic green juice is actually quite tasty. Ultra-healthy and hydrating, this easy summer sip is just 5 ingredients and packed full of nutrition.  Juicing produce is one of the best ways to have all your daily servings of vegetables and fruit in one delicious cup! Pro-Tip, cut up a granny smith apple for additional sweetness if you need it.
Fresh Start Juice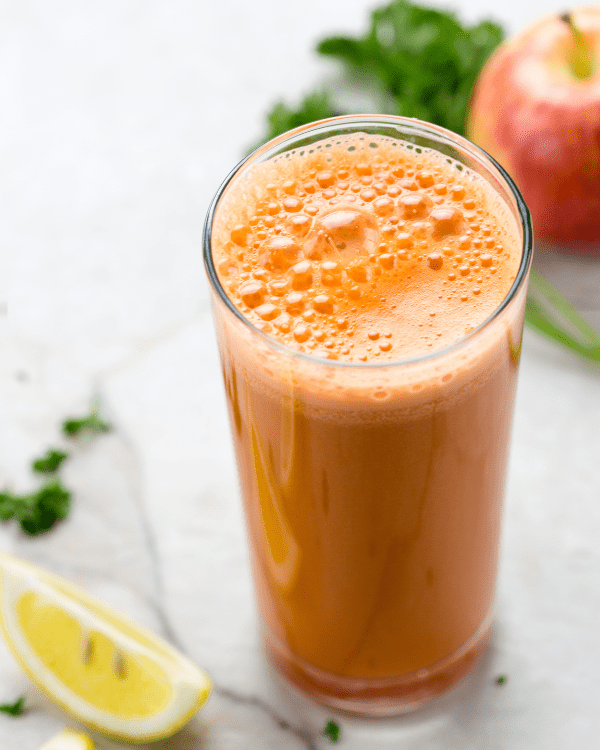 Fresh Start Juice with Carrots, Apples & Ginger Recipe
I call this recipe "fresh start" because it's so nutritious to drink in the mornings! It's perfect if you're on the go or again for a summer party. The beautiful orange color from the carrots is so much fun to serve up and guests love it. On a hot summer day, I like to prep this with enough time to let it chill in the fridge for a bit, but it's also great to add ice to if needed.
Easy Summer Sips: Cherry Limeade Slushy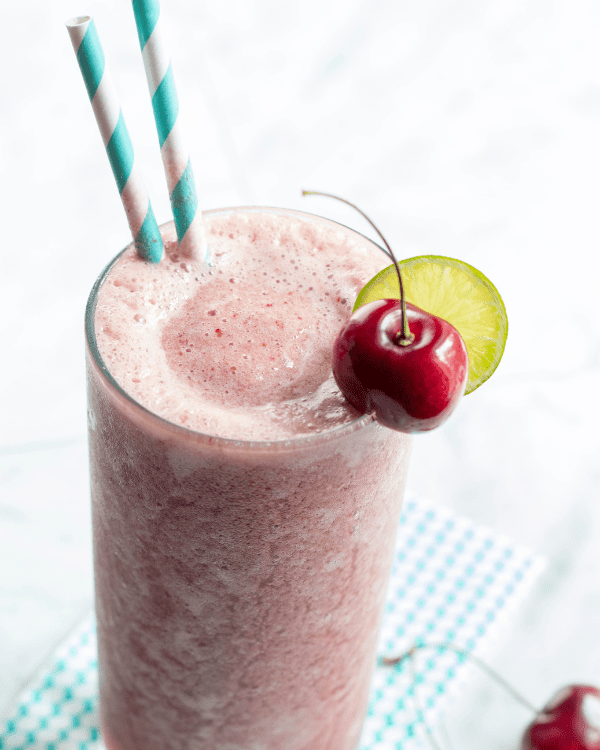 Cool and icy, cherry and limey… A match made in heaven if you ask me. Kids especially love this slushy drink, but adults love it too! It is a sweet and tart, yet creamy drink that is so refreshing on a hot day. Using frozen cherries and frozen vanilla yogurt, this drink stays cool for quite a while.
Strawberry Kiwi Detox Water: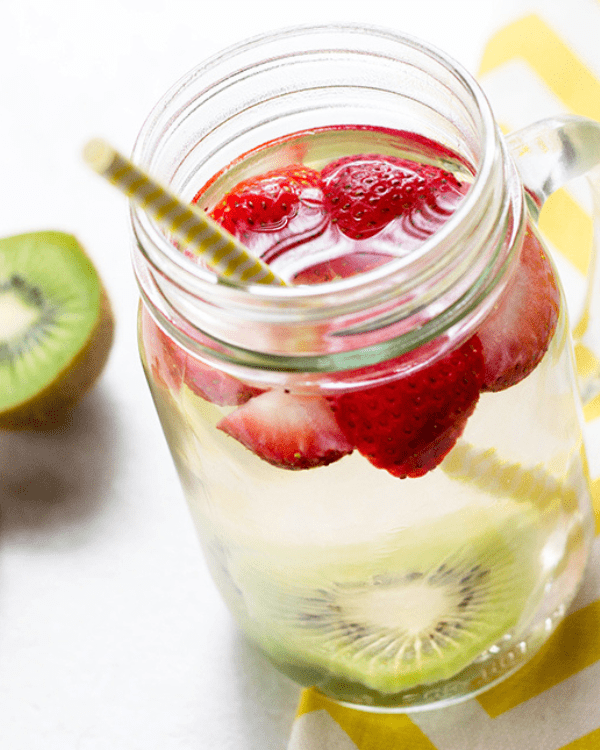 Summer Strawberry Kiwi Detox Water Recipe
Don't let the name fool you. Detox water probably sounds bland, but this mixture of strawberries and kiwi is divine! You'll want to let this recipe chill for at least 1-2 hours so the water can soak up the delicious strawberry and kiwi flavors. It also lasts in the refrigerator for 1-2 days or until the fruit starts to taste bitter. Pro-Tip: You can use sparkling water instead of flat for some extra sparkle!
Want another Strawberry Kiwi Recipe for a hot day?  Try out these Homemade Healthy Popsicles!
Easy Summer Sips: Green Weight Loss Juice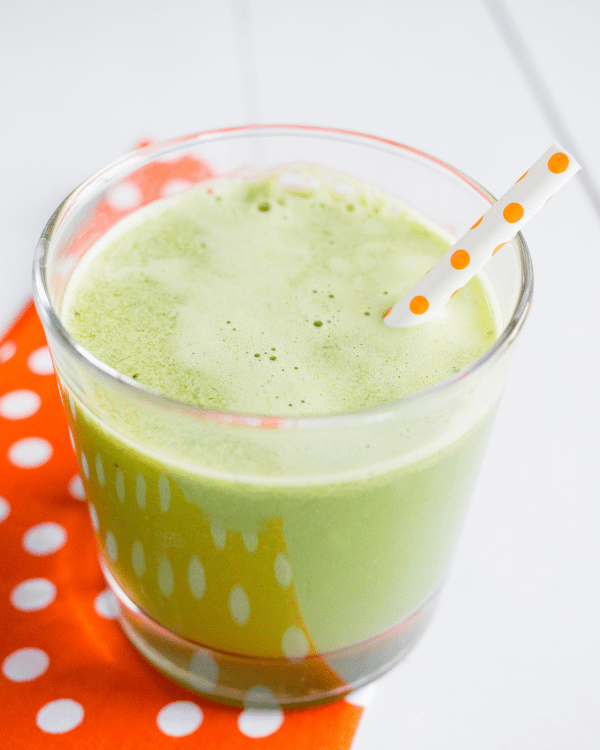 Green Weight Loss Juice Recipe
This is another green juice that's bright and refreshing with a ton of hidden veggies. The pineapple, cucumber, and fresh mint help mask the kale, spinach, and broccoli (yes, I said BROCCOLI!). This easy summer sip is packed full of nutrition you can feel good about. I recommend adding ice after juicing to give it a cool boost.
Do you plan on trying any of these Easy Summer Sips this season?  I know I'll be at the pool with one of these beautiful and nutritious drinks in hand.  The hardest part is deciding which one to make!  If you do try one of my recipes, I'd love for you to tag me @ourfarmerhouse.
XOXO,