Slow Cooker Mashed Sweet Potatoes are going to become your favorite holiday side dish.  They are simply the easiest side you can imagine making.  Classic sweet potatoes, a hint of almond milk, and maple syrup to sweeten, and you have light and fluffy sweet potatoes everyone loves.  These will disappear from your holiday table in minutes!
If you like this recipe, then I know you'll love my twice baked sweet potato idea!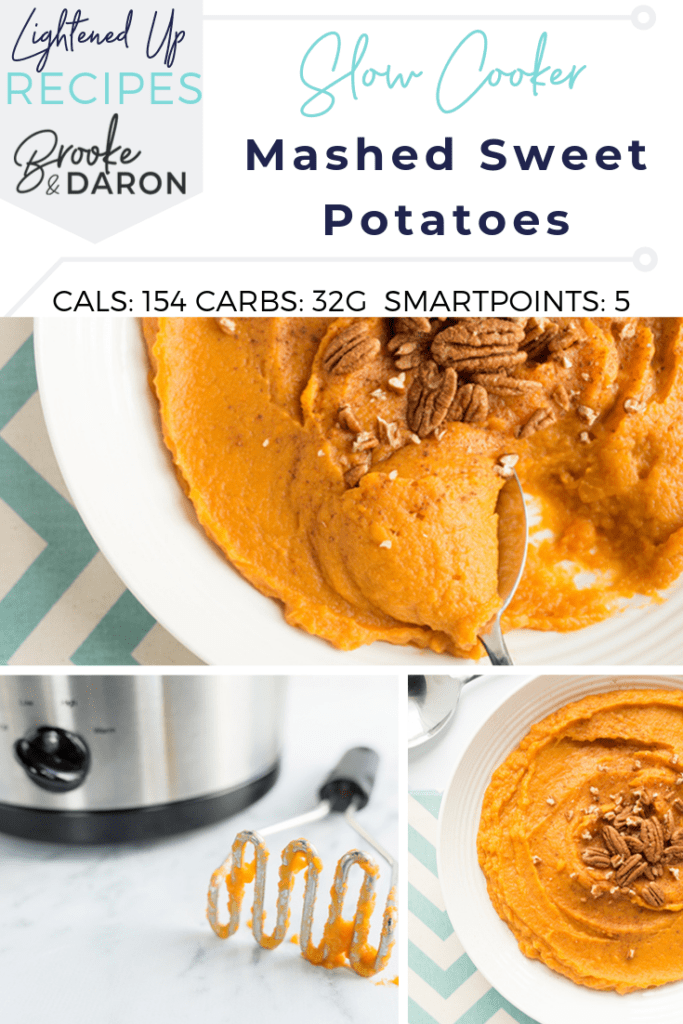 Mashed Sweet Potatoes
Sweet potatoes are one of my favorite starches.  Even though they are potatoes, they are a much healthier version.  Full of antioxidants and Vitamin C they are one of those perfect foods that I keep on hand always.  This recipe for mashed sweet potatoes made in the slow cooker has become a go-to easy side dish in my house.
These are a perfect side to go alongside my Thanksgiving turkey, apple chutney with cranberry, fresh green bean casserole, and healthy cornbread muffins at the holidays!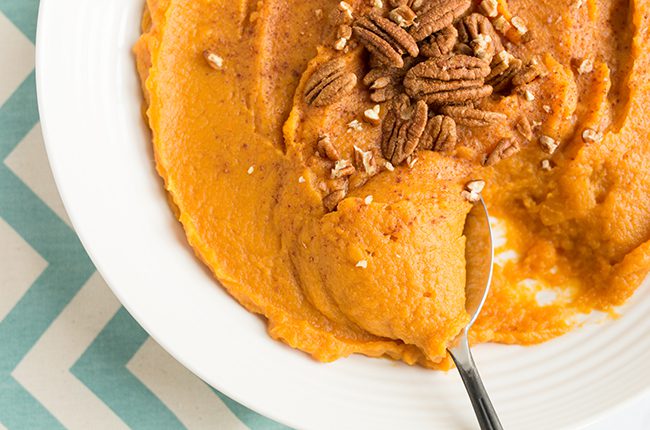 Are Sweet Potatoes and Yams the Same Thing? 
No, they are not the same thing.  Yams and sweet potatoes are very similar, and often interchangeable in recipes.  The main noticeable difference is in the texture of the pulp, and the thickness of the skin.  Yams tend to have a thicker more bark-like skin, while sweet potatoes skin is closer in texture to a traditional potato.
There are several varieties of both sweet potatoes and yams.  For this recipe, you could easily substitute in any color or type of sweet potato, and most common yams found in stores.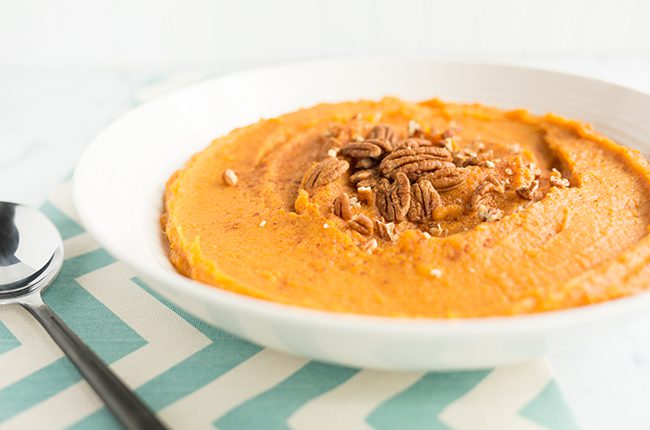 Do I have to use the sugar-free syrup in these mashed sweet potatoes? 
No, if you are sensitive to sugar substitutes, you can use traditional maple syrup.  Just make note of the difference in calories and SmartPoints if you are following the latest WW plan for your diet. Another option is to use real sugar in a small amount, and a dash of maple flavoring.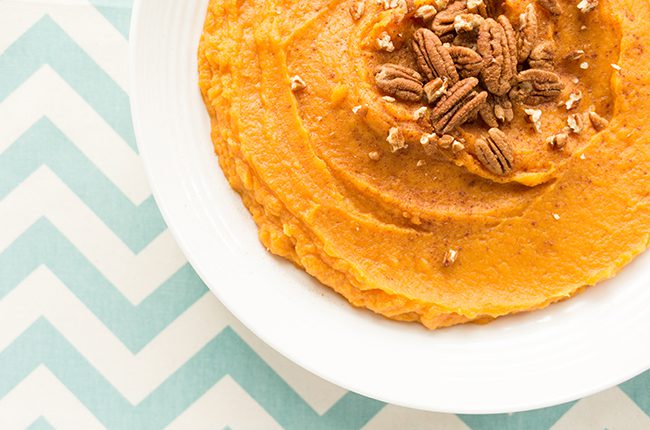 Ingredients
Sweet potatoes
Almond milk
Butter
Sugar-free maple syrup
Cinnamon
Salt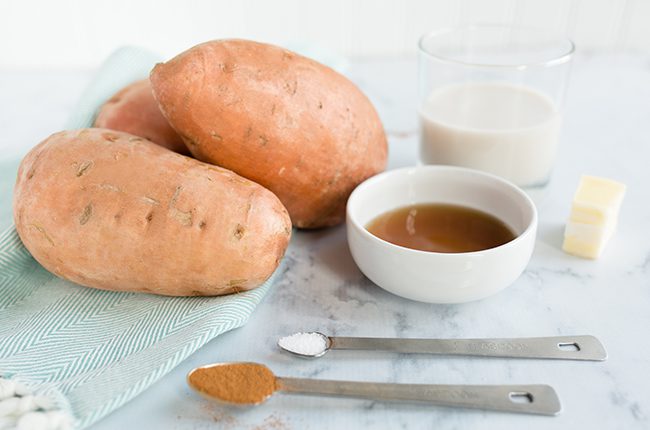 How to Make Mashed Sweet Potatoes
Wash, peel, and cube your sweet potatoes.  I like to cut them into 1″ pieces, but you could cut them slightly larger if easier.
Cover with the slow cooker lid, and cook as directed.
Once the potatoes are cooked through and soft, add in the remaining ingredients and mash until desired texture.  I used a potato masher, but you could also use a hand mixer if preferred.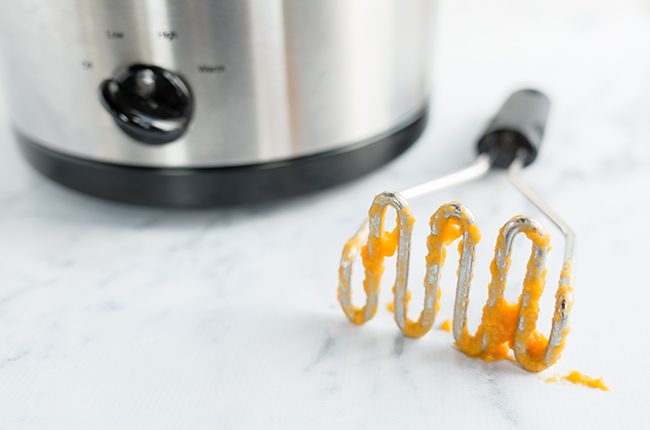 Tip: You can leave these in the slow cooker on warm until ready to serve.  Just stir well before dishing up on your plate.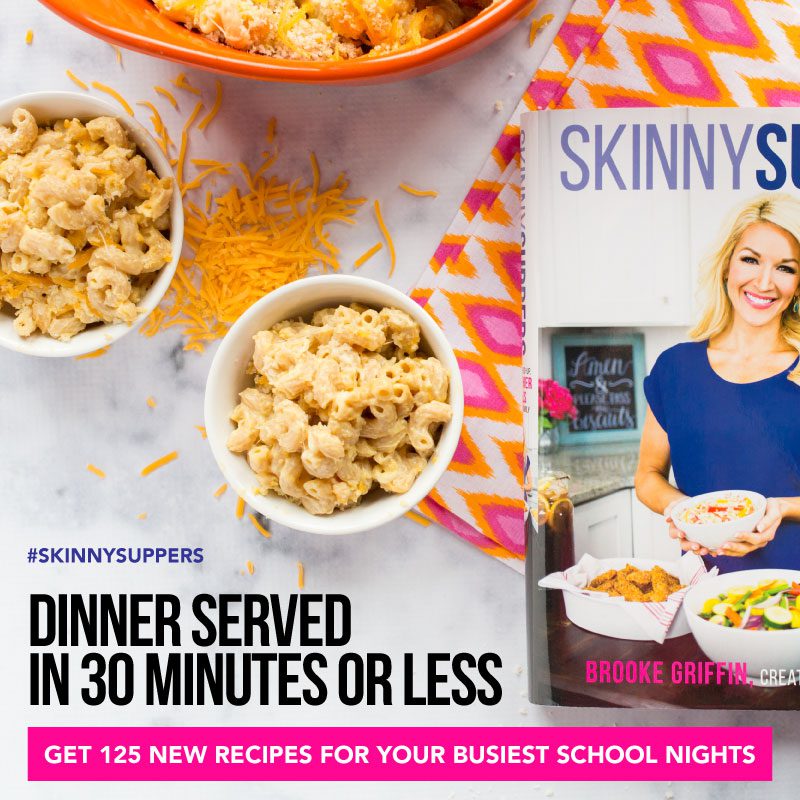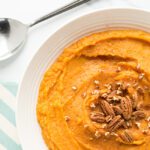 Print Recipe
Slow Cooker Mashed Sweet Potatoes
Slow Cooker Mashed Sweet Potatoes are an ideal maple syrup sweetened side dish for any meal, but especially holiday meals!
Servings: 6 servings
Calories: 154kcal
Ingredients
2-3 large sweet potatoes peeled and cubed into 1-inch pieces (2 pounds)
½ cup unsweetened almond milk
1 tablespoon unsalted butter
2 tablespoons sugar-free maple syrup
½ teaspoon cinnamon
⅛ teaspoon salt
Instructions
Place cubed potatoes in the slow cooker with the milk. Cover and cook on high for 2 hours, or low for 4 hours, until the potatoes are very soft.

Add the butter, syrup, cinnamon, and salt to the slow cooker. Mash the potatoes in the slow cooker with a potato masher or a hand mixer to desired consistency.

Keep the slow cooker on warm while serving.
Nutrition
Serving: 1/2 cup | Calories: 154kcal | Carbohydrates: 32g | Protein: 3g | Fat: 2g | Cholesterol: 5mg | Sodium: 154mg | Fiber: 5g | Sugar: 7g