This Southwest Breakfast Casserole with Ham is one of my family's favorite recipes.  Prepare the night before so you just pop it into the oven, this recipe is loaded with ham, veggies, wheat bread, and tons of cheese.  It is a one-dish meal that can be topped with avocado, salsa, and served as a complete meal alongside juice or coffee.
Our best green smoothie is a great option to have alongside this casserole for a super healthy antioxidant-rich breakfast!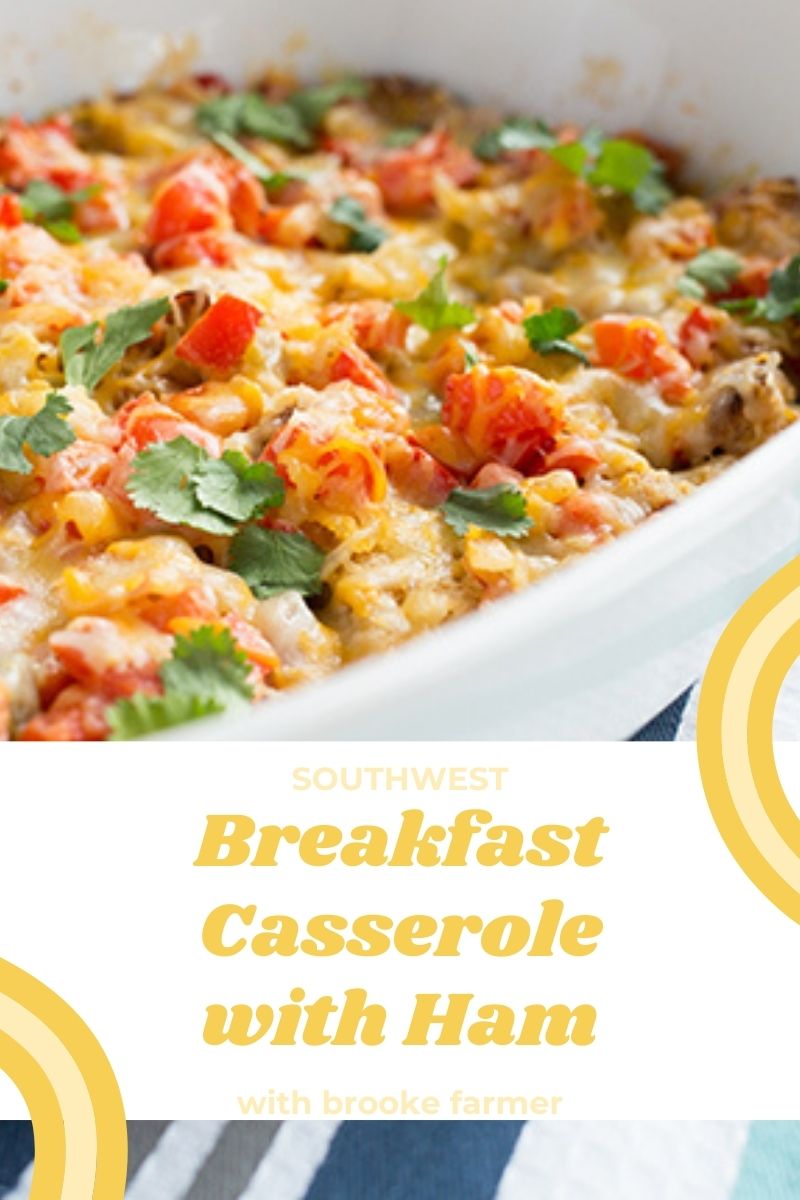 Breakfast Casserole with Ham
I love waking up and being able to pop something in the oven for breakfast that is ready by the time I have grabbed a shower and had my first cup of coffee.  This is especially true on busy weekends, or Sunday mornings when getting out the door to the church is always hectic.  This breakfast casserole with ham, eggs, veggies, and cheese is a family favorite meal.
Using whole wheat bread alongside some nice Southwest style spices helps make this a flavorful breakfast that is easy to serve.  The bread gives it a denser texture and makes it a lot easier to cut into servings that are more satisfying.
If your family prefers a sweeter breakfast, you might want to try my French toast sticks with pumpkin spice flavor, or even these yummy red velvet donuts.
Can I make this Southwest breakfast with sausage or bacon? 
If you prefer to use bacon or sausage in this breakfast, you certainly can.  I find that ham is less expensive but also healthier overall, so it tends to be my go-to option for breakfasts like this one.  If you prefer, you can substitute in lean turkey bacon or turkey sausage to keep it a healthier meal overall.
Just remember that if using bacon or sausage, it will add to the preparation time as you will need to cook it before mixing it into the casserole.  Alternatively, you can sometimes find pre-cooked varieties that would work as a substitute in this dish.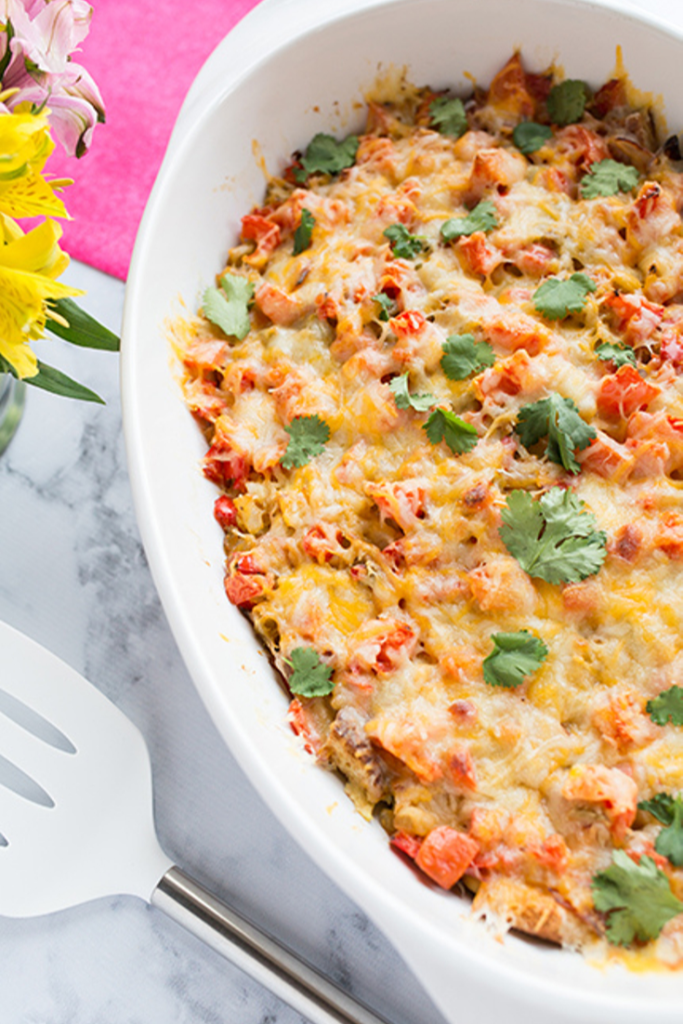 What if I don't have diced green chiles? 
Green chiles really add that traditional Southwest flavor to this breakfast casserole.  If you don't have any on hand or don't care for their flavor, that s easy to fix.  For this recipe, you can easily substitute any salsa you prefer in equal amounts.  You could also use diced jalapenos, or hatch chile if you prefer to go a fresh route for a more distinct flavor.  A nice green salsa or Verda sauce is another yummy choice in place of plain green chiles.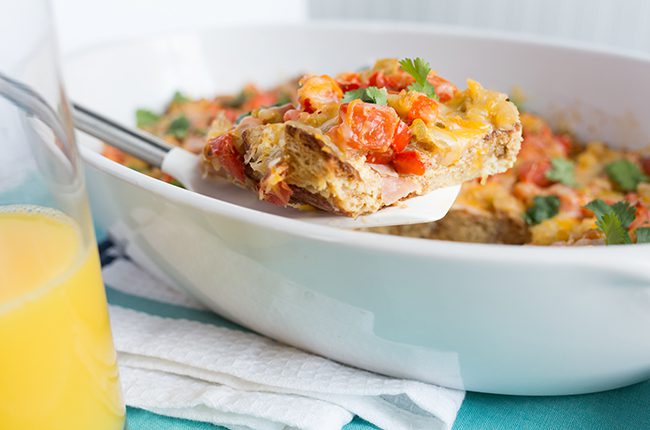 Does this breakfast casserole with ham freeze well?
One of my favorite things about this casserole is that it definitely freezes well both cooked and uncooked.  When I know I want easy breakfasts on busy days, I will make this ahead, portion, and freeze for later.  I've also been known to make this in the springtime when eggs are on sale after Easter in bulk and freeze uncooked in disposable baking trays.  All I have to do is pop it into the refrigerator the night before, then into the oven the morning we want to eat for breakfast.
As with freezing any meal, make sure you wrap this.  Date and label the container so you know how long it is good before using it. This lasts up to 4 months in the freezer.
Ingredients for an overnight breakfast bake
Olive oil
Bell pepper
Onion
Green chiles
Tomatoes
Eggs
Deli ham
Mexican cheese blend
Milk
Whole grain bread
Garlic powder
Chili powder
Red pepper flakes
Salt
Black pepper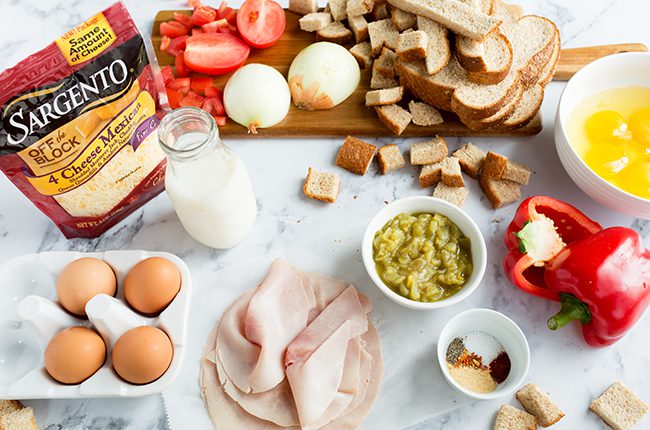 How to make a breakfast casserole with ham
Measure and prepare your ingredients before you begin mixing the casserole.  This helps save time as you work.
Next, you will cook down the vegetables until they are softened and set aside. Once these are all tender and seasoned, you will layer the bread in your prepared baking dish, top with the ham, then vegetables.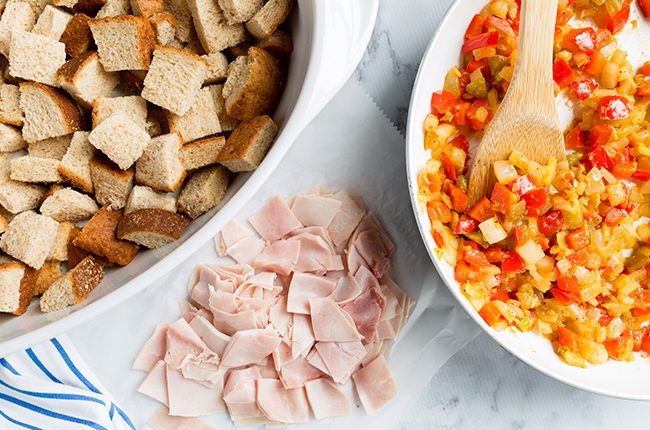 You will combine the eggs and milk to make a nice frothy mixture to then pour over the bread and vegetable layers.  Top with cheese, then store it covered in the refrigerator until ready to bake.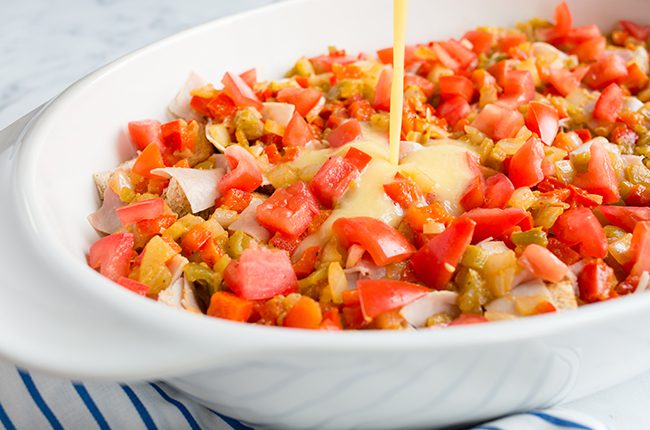 Once baked, serve with your favorite fresh fruit, salsa, guacamole, and other egg toppings.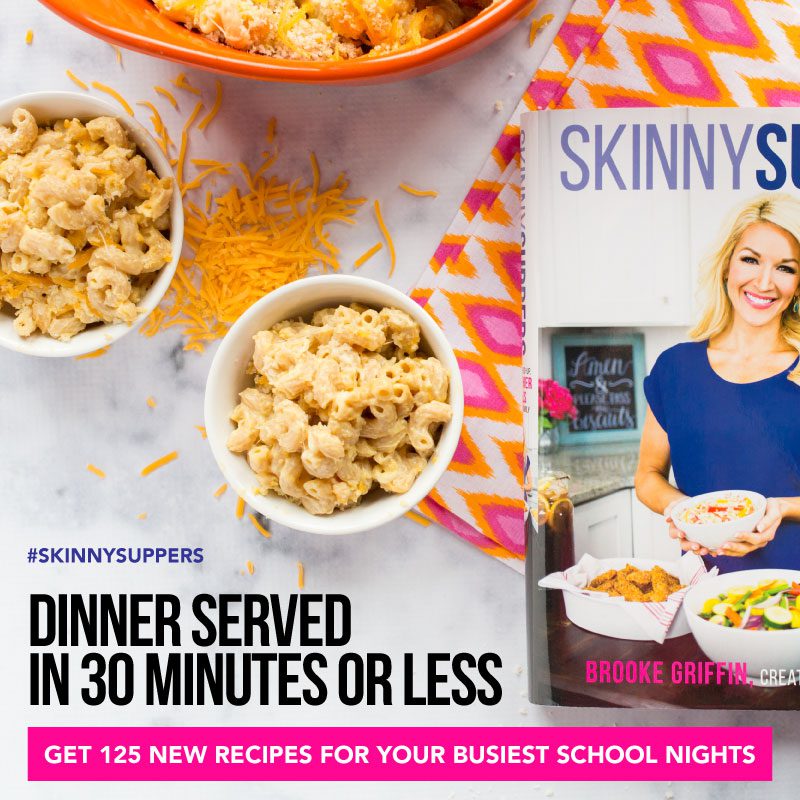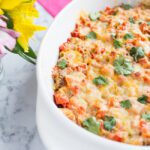 Print Recipe
Healthy Southwest Breakfast Casserole with Ham
This breakfast casserole with ham is a delicious blend of eggs, vegetables, green chiles, and your favorite cheese blend in a perfect casserole makes an ideal make-ahead breakfast!
Servings: 9
Calories: 168kcal
Cost: $5
Ingredients
1/2 tbsp olive oil extra virgin
1 bell pepper diced
1 onion diced
4 oz green chiles
1/2 tsp garlic powder
1/4 tsp chili powder
1/8 tsp red pepper flakes
5 eggs
4 egg whites
1 cup skim milk
1/4 tsp salt
1/4 tsp black pepper
10 slices whole wheat bread
1/2 lb deli ham
2 Roma tomatoes
1 cup Mexican cheese blend
Instructions
Grease a 9x13-inch casserole dish with cooking spray and set aside.

Heat a large skillet over medium-high heat and add the oil, bell pepper, and onion. Cook until they begin to soften, 4-6 minutes.

Reduce the heat to medium-low and add the diced green chilies, garlic powder, chili powder, and red pepper flakes, cooking for an additional 1-2 minutes. Remove the skillet from the heat

In a large mixing bowl, or in the bowl of a stand mixer with the whisk attachment, whisk together the eggs, egg whites, milk, salt, and pepper.

Slice the bread into 1 to 2-inch cubes and place on the bottom of the prepared casserole dish.

Spread the ham, cooked vegetables, and tomatoes over the bread. Pour the egg mixture over the casserole and tightly cover the casserole dish with foil. Store in the refrigerator for several hours, to overnight.

When ready to bake, preheat the oven to 350°F. Top the casserole with the cheese and bake uncovered for 35-40 minutes, or until the eggs are set.
Notes
5 SmartPoints per 1/9th of casserole 5 PointsPlus per 1/9th of casserole
Nutrition
Calories: 168kcal | Carbohydrates: 17g | Protein: 15g | Fat: 7g | Saturated Fat: 2g | Cholesterol: 109mg | Sodium: 534mg | Fiber: 5g | Sugar: 5g | Vitamin A: -1IU