Fresh green bean casserole with potatoes is the best comfort food side dish you will make this year.  Loaded with crisp green beans, soft red potatoes, and a creamy sauce that brings the flavors together, this is a perfect balance of health and flavor.  Topping this with a few breadcrumbs gives a bit of crunch you are used to without tons of added calories.
Make sure to check out my other best green bean recipe that is country style, but also delicious as a healthy side.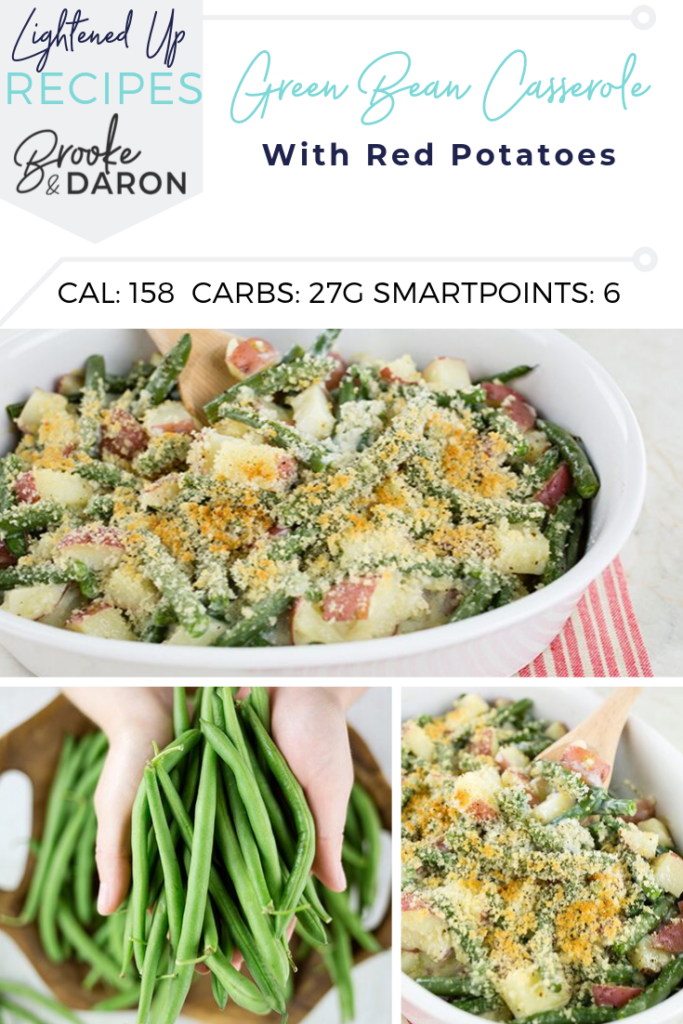 Fresh Green Bean Casserole with Potatoes
Green beans have long been my all-time favorite vegetable.  There is just something about how simple and flavorful they are, while also being versatile.  You can saute them in butter and garlic, mix them together with onions and ham, or in this case, make them into a casserole.  I've even made healthy green bean fries before that are amazing as a snack.
Green bean casserole is one of those classic comfort foods you want at the holidays, but it definitely tends to be higher in fat.  This remake cuts the fat but keeps the flavor.  Plus, using fresh green beans definitely adds a better texture you will love.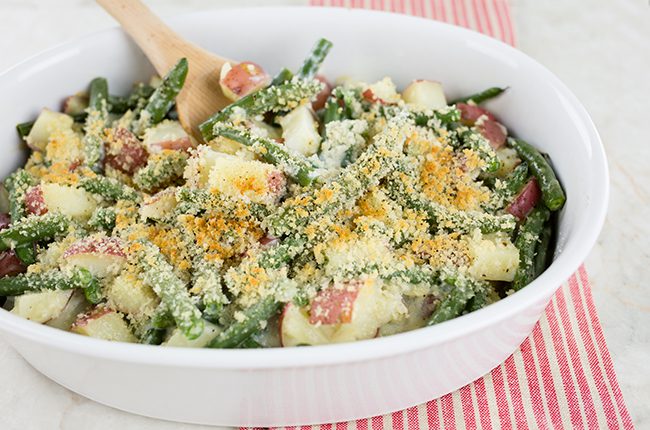 What if I can't find fresh green beans for this homemade green bean casserole? 
Sometimes fresh green beans are hard to find in the winter months.  If you want to make this fresh green bean casserole for the holidays or just because, and can't find fresh beans, that is okay.
Don't use canned beans in this recipe, as they are mushy and lacking in flavor.  Instead, look for flash-frozen green beans.  Depending on the brand/type of beans you find, you may not need to blanch before mixing into the casserole.  Others, you may want to blanch for just 1 minute longer if frozen when you begin cooking.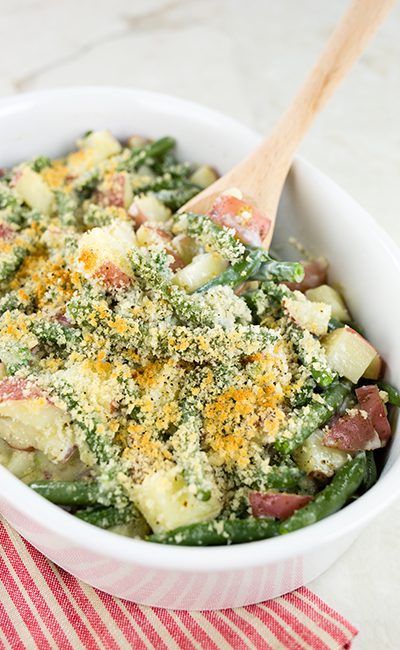 Do I have to add mushrooms to this casserole? 
No, you don't.  I love mushrooms in my green bean casserole, but I know many individuals who aren't a fan of mushrooms.  You can substitute in more green beans, diced onion, or nothing at all in their place.
Note:  If you are making this as an all in one meal with the mushrooms as part of the protein, you can instead add sliced almonds on top of the casserole for a boost of crunch and protein.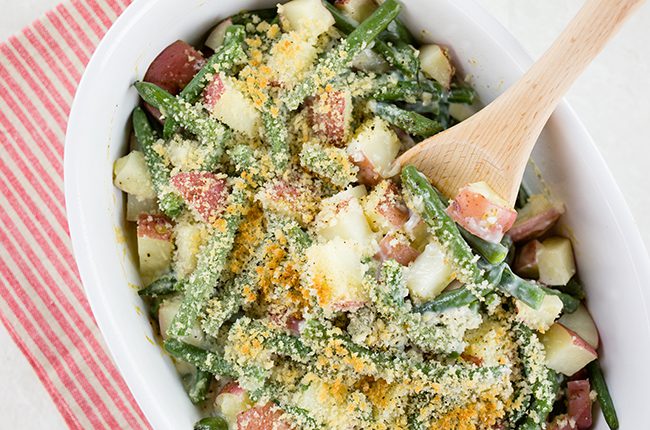 Ingredients for the best green bean casserole
Green beans
Red potatoes
Mushrooms
Onion
Garlic
Unsalted butter
Whole wheat flour
Skim milk
Chicken brother
Salt
Black pepper
Panko breadcrumbs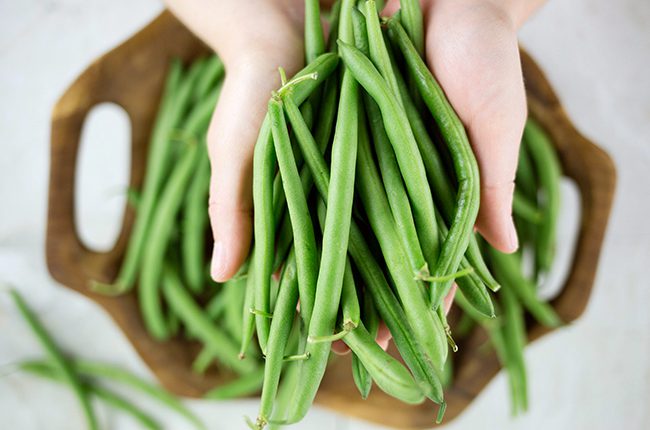 How to make fresh green bean casserole
Begin by gathering and measuring all of your ingredients.  I also take the time to clean, chop, and prepare my vegetables before I start the cooking process.  Once you have everything ready, you can preheat your oven, and spray your casserole dish with non-stick cooking spray.
The first step is to blanch the green beans and set them aside.  You want them to be slightly softened, but not overly cooked as they will cook more in the oven.
Next, you will par-cook your potatoes and set them aside.
Your final step before assembly is to create your sauce.
You will saute the vegetables as directed, then create a roux in the pan drippings.  Once your roux is ready, you'll stir in the liquid and simmer until the consistency you want, before tossing with your prepared green beans and potatoes.
Instead of topping this dish with fried onions, I sprinkle a bit of Panko across the top before baking.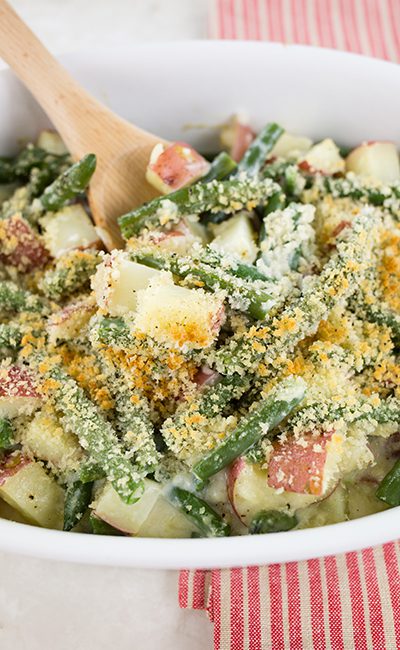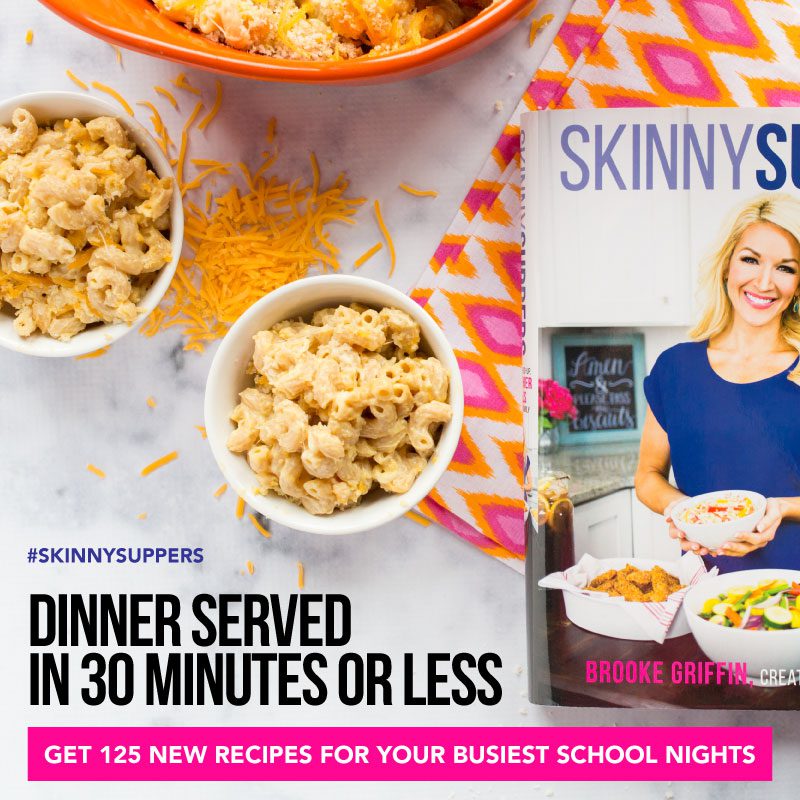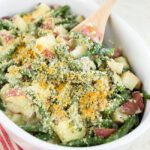 Print Recipe
Fresh Green Bean Casserole with Potatoes
This fresh green bean casserole with new potatoes and mushrooms has a rich creamy sauce without all of the added calories of the traditional recipe!
Servings: 6
Calories: 151kcal
Cost: $5
Equipment
Casserole dish

Saucepan

Stockpot
Ingredients
1 pound green beans fresh, trimmed
6 new potatoes diced
2 tbsp butter unsalted
1 small onion diced
4 oz baby Bella mushrooms minced
1 tbsp garlic minced
2 tbsp white whole wheat flour
1/2 cup skim milk
1 tsp salt
1/2 tsp black pepper
1/4 cup Panko breadcrumbs
Instructions
Preheat the oven to 350º F. Spray a 9x9-inch baking dish with nonstick cooking spray and set aside.

Bring a medium stock pot of salted water to a boil. Blanch the beans in the water for 5-7 minutes, until tender-crisp. Transfer them to a bowl of ice water and set aside.

Bring the water back up to a boil, and par cook the potatoes for 4-6 minutes, until they begin to soften and a fork can easily be inserted into them. Drain and set aside

In a small saucepan over low heat, melt the butter with the onions, mushrooms, and garlic for 6-8 minutes, until the onions become translucent and the mushrooms are very soft. Stir in the flour and cook for about 30 seconds. Over medium heat, stir in the milk and chicken broth, bringing to a boil and stirring frequently. Season with salt and black pepper.

Drain the iced green beans and place in a large bowl with the drained potatoes. Add the sauce, and fold them all together.

Transfer the green bean mixture to the prepared baking dish and top with ¼ cup Panko bread crumbs. Spray the bread crumbs generously with nonstick cooking spray. Bake at 350º F for 25-30 minutes.
Notes
WWP+: 4
SmartPoints: 6
Nutrition
Serving: 1cup | Calories: 151kcal | Carbohydrates: 25g | Protein: 5g | Fat: 4g | Saturated Fat: 3g | Cholesterol: 11mg | Sodium: 459mg | Potassium: 609mg | Fiber: 4g | Sugar: 5g | Vitamin A: 682IU | Vitamin C: 25mg | Calcium: 75mg | Iron: 2mg