Love Country-Style green beans?  You will love this Country Style Best Green Bean Recipe with all the southern flavors, just like my granny used to make. I've also provided Skinny Swaps throughout the recipe if you want to cut back on calories and fat.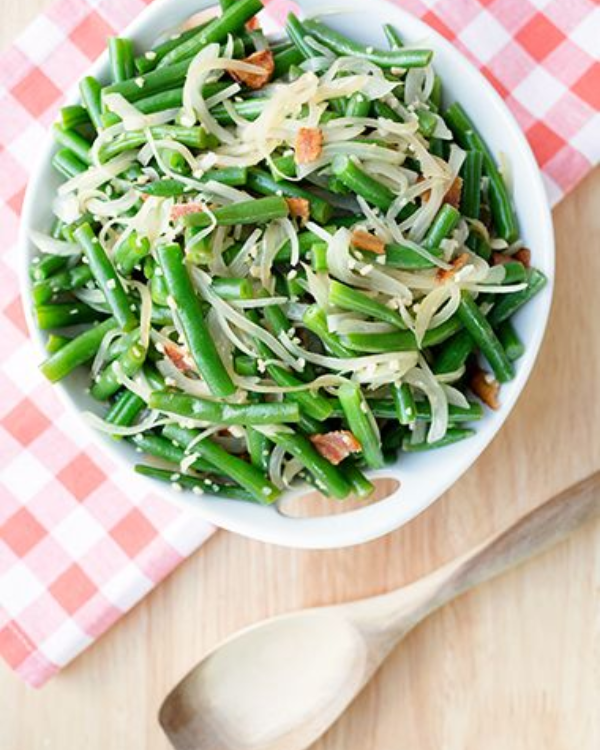 Simple to Make Skinny Country Style Best Green Bean Recipe
Southern-style green beans have always been one of my favorite side dishes. This recipe is just as delicious as my Granny's and is easy to make. I've also added a few options for Skinny swaps to make this recipe lower in fat and calories. I hope y'all love this side as much as I do!
Can I use frozen green beans?
I like to use fresh green beans in this recipe. I feel like it gives the best flavor and texture to the green beans; however, you can use frozen green beans if that is all you have access to. Sometimes, finding affordable fresh green beans can be hard, especially in the off-season. When making frozen green beans in this recipe, you will want to check the cooking time because the texture and firmness are different between frozen and fresh.
Can I use Turkey Bacon for This Easy Green Bean Recipe?
Nothing beats the taste of regular bacon. This recipe uses real bacon because it gives a country-style flavor. However, if you want to use turkey bacon, you can. It will change the flavor slightly, but the green beans will still taste amazing.
What to Serve with this Recipe
If you making these green beans, you will need something to go with it. I love how easy it is to make with so many recipes. Here are a few recipes I think will go great with this green bean recipe.
Ingredients for the best fresh green bean recipe
center cut bacon
fresh green beans
olive oil
yellow onion
garlic
butter
salt and pepper
How to make an easy fresh green bean recipe
Preheat the oven to 400° F. Line a rimmed baking sheet with foil and place a cooling rack on top of the foil.
Lay the bacon strips on the rack, and bake until desired crispness, 10-15 minutes
Prepare an ice bath by filling a large mixing bowl with ice cubes and water. Set aside
Bring a large pot of water to a boil. When the water comes to a boil, carefully drop the green beans and boil for about 2-3 minutes. You want the beans to have a slight crunch and still be bright green.
 If working in batches, remove the beans with a slotted spoon and transfer them directly into the prepared ice bath. If not, drain the hot water and quickly transfer the beans to the ice bath.
Drain the green beans from the ice bath once they are cooled, and set aside in a colander to dry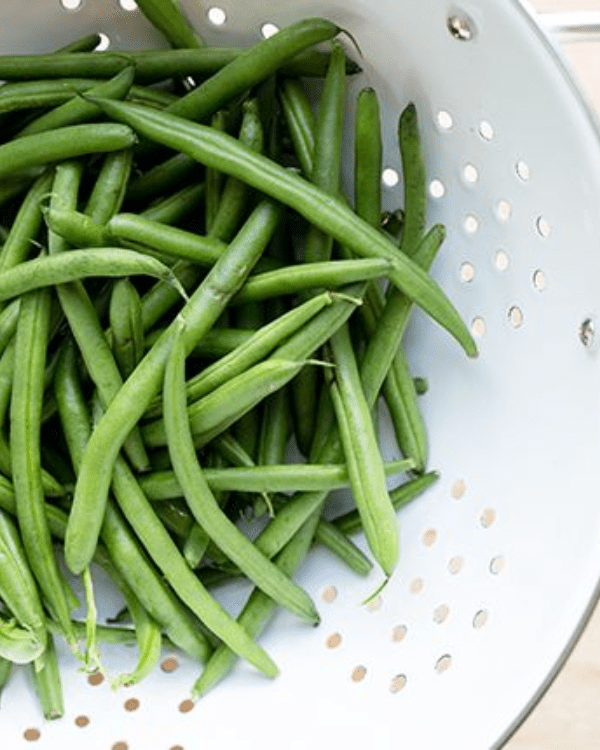 Heat a large skillet over medium-high heat and add the oil, baking grease, and onions. Cook until the onions begin to become translucent, 4-6 minutes
 Add the minced garlic and drained green beans, and cook for 2-3 minutes, moving the beans around frequently.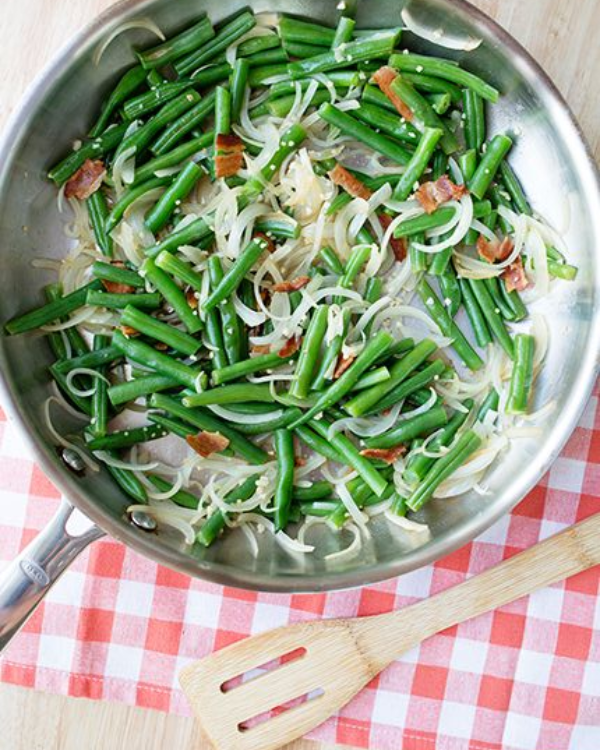 In the last minute of cooking, add the butter, salt, black pepper, and bacon crumbles. Toss gently to combine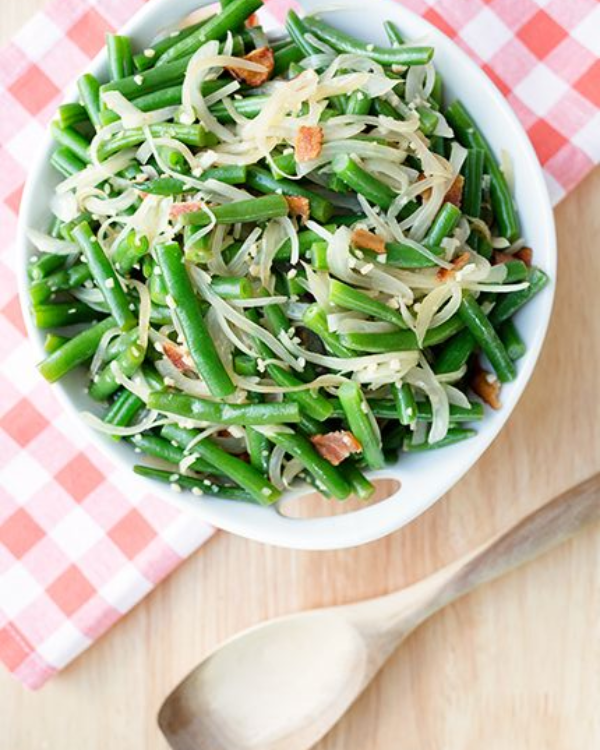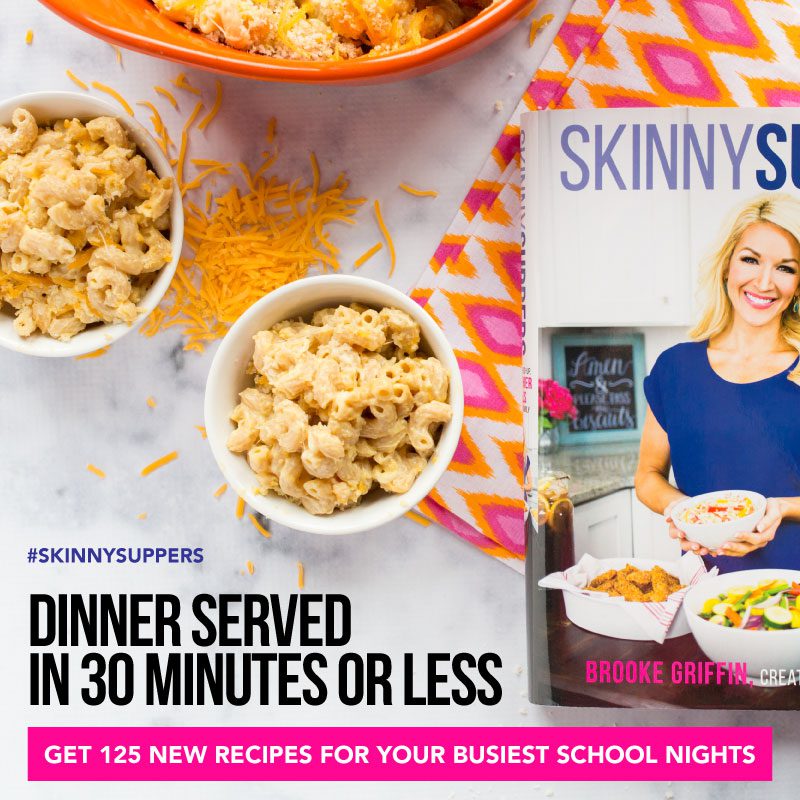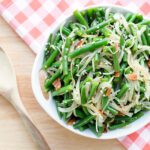 Print Recipe
Country Style Best Green Bean Recipe
Love country style green beans? Want to make them healthier? You are going to love this Country Style Best Green Bean Recipe that has all of the southern flavors without all the fat and calories. 

Servings: 5
Calories: 78kcal
Ingredients
4 slices center-cut low-sodium bacon + 2 teaspoons baking grease from cooking baked and crumbled (Skinny Swap only use 2 Slices and omit baking grease)
1 pound fresh green beans ends trimmed and cut in half
1 tablespoon extra virgin olive oil
1 small yellow onion sliced
1 tablespoon minced garlic
2 tablespoons butter omit for Skinny Swap
1/2 teaspoon salt to taste
1/2 teaspoon black pepper
Instructions
Preheat the oven to 400° F. Line a rimmed baking sheet with foil, and place a cooling rack on top of the foil

Lay the bacon strips on the rack, and bake until desired crispness, 10-15 minutes

Prepare an ice bath by filling a large mixing bowl with ice cubes and water. Set aside

Bring a large pot of water to a boil. When the water comes to a boil, carefully drop the green beans into the water and boil for about 2-3 minutes. You want the beans to have a slight crunch and still be bright green

 If working in batches, remove the beans with a slotted spoon and transfer directly into the prepared ice bath. If not, simply drain the hot water and quickly transfer the beans to the ice bath

Drain the green beans from the ice bath once they are cooled, and set aside in a colander to dry

Heat a large skillet over medium-high heat and add the oil, baking grease, and onions. Cook until the onions begin to become translucent, 4-6 minutes

 Add the minced garlic and drained green beans, and cook for 2-3 minutes, moving the beans around frequently

In the last minute of cooking, add the butter, salt, black pepper, and bacon crumbles. Toss gently to combine
Notes
Nutrition Information was calculated using Skinny Swaps and Lighter Ingredients provided. Smart Points: 3
Nutrition
Serving: 1cup | Calories: 78kcal | Carbohydrates: 11g | Protein: 5g | Fat: 4g | Saturated Fat: 1g | Cholesterol: 5mg | Sodium: 311mg | Fiber: 5g | Sugar: 6g