This Oven Fried Chicken recipe is going to become a family favorite. While it isn't identical to a deep-fat fried version, it still packs amazing flavor and crunch on tender chicken breast tenderloins. No messy oil frying, and so much healthier than traditional fried chicken, this is an easy and yummy choice for classic American comfort food!
Serve these alongside my slow cooker mashed sweet potatoes for a perfect meal for your weeknight dinner.
Oven Fried Chicken
I love making a big batch of this crispy and flavorful oven fried chicken. The combination of tender juicy chicken with my favorite spices and crunchy coating make it a mouthwatering recipe you will want on a regular basis.
I love that this easily replaces full-fat fried chicken in our menu. Since it's so good, my kids can't even tell a difference! They love this slightly spicy version of a classic fried chicken.
If you like this chicken recipe, then I know you'll love my baked fried green tomatoes. In fact, they are a perfect side dish or appetizer that fits in great with the chicken's flavor profile.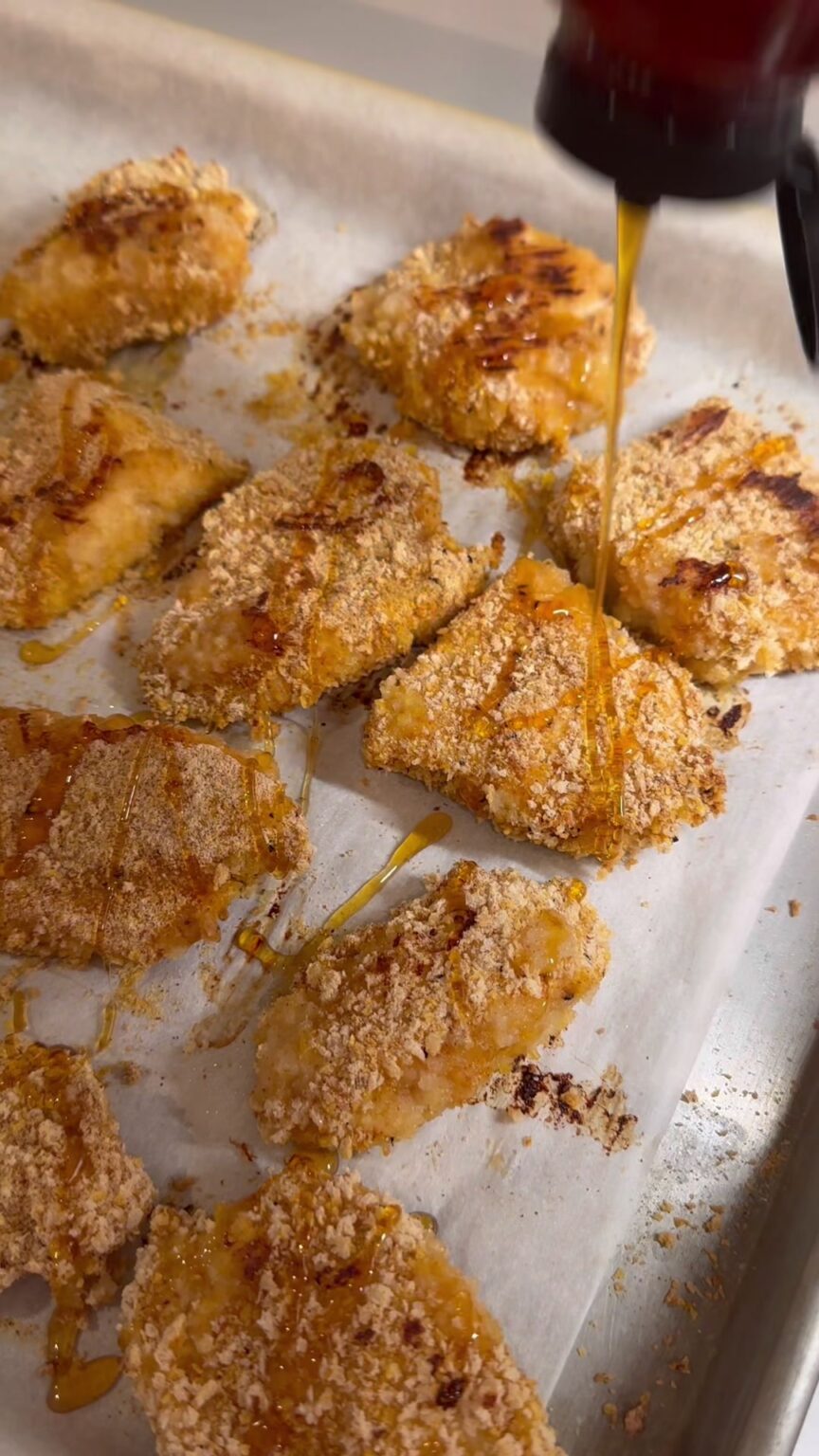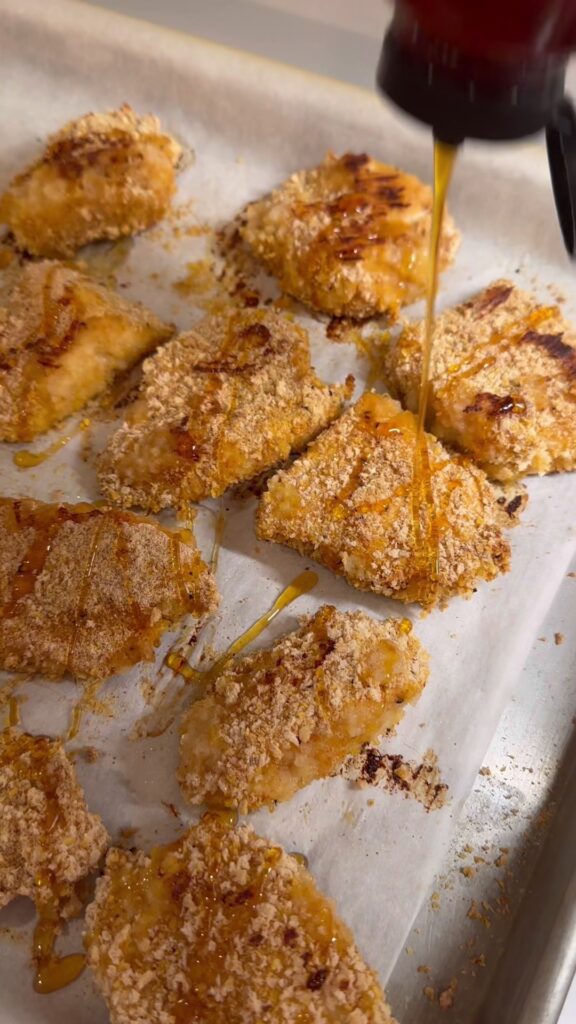 How do you make this baked chicken crunchy?
With traditional fried chicken, the crunch comes from the breading and the oil. Once you have breaded the skin of the chicken, it's typically pan-fried or deep-fried to cook everything and make it crispy.
With my version of healthier fried chicken, the crunch comes from a combination of seasonings, cornflakes, and panko bread crumbs. Cooking at a higher temperature crisps the coating well while making sure your chicken is cooked through to a safe temperature.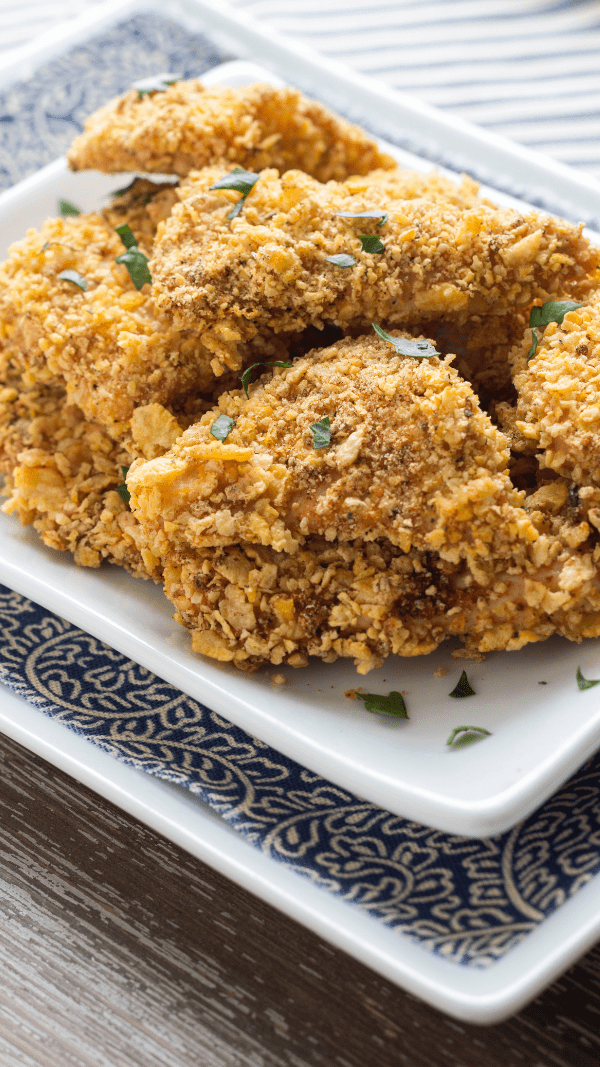 Is this a buttermilk fried chicken recipe?
You can use buttermilk with this healthier oven fried chicken recipe if you prefer the flavor. While it's typically used as a marinade or soak prior to breading and frying, you can use the same method for baking. Just substitute buttermilk in place of the milk in the wet step of coating this chicken before baking.
Brooke's Tip: You can make your own buttermilk by adding about a tablespoon of vinegar to the milk!
Variations to this recipe
While it is hard to alter crispy fried chicken, there are some changes you can make to create a slightly different taste:
Marinade the chicken overnight in buttermilk. As mentioned above, it tastes great and when you make your own, it keeps with the healthier version of crispy fried chicken.
Add more heat. While this recipe calls for a little Frank Red Hot Sauce, it is only for flavor. You can add more and increase the heat in the recipe.
Add additional spices. If you want to change up the flare of the fried chicken, try additional seasonings. Make it taste a little more southwest by adding cumin and chili powder. Add oregano and parmesan cheese to the coating for a different taste. The possibilities are endless.
Ingredients
Chicken breasts

Milk

Eggs

Frank's RedHot sauce

Cornflakes

Paprika

Salt and black pepper

Panko breadcrumbs
How to Make Oven Fried Chicken
Begin by preparing the chicken. If you find thin-sliced tenderloins on sale, grab those. Otherwise, you can use regular boneless skinless chicken breasts and simply pound them down with a meat mallet or rolling pin. I usually cut them into smaller chunks or pieces for this recipe.
Once the chicken has been prepared, you can add it to the milk and hot sauce mixture and marinade. This should sit in the refrigerator for at least 4 hours, but I prefer to do this the day before I plan to cook them.
When you're ready to begin cooking the chicken, you will preheat your oven and prepare your baking sheet.
Next, you will create your coating by blending or processing the ingredients until they are a fine crumble. You can also hand mix the breadcrumbs and spices, and then simply crumble the cereal by hand and stir together for larger pieces of the coating.
Beat the eggs and set aside in a medium bowl.
Pour the breading into a shallow bowl, and then place the chicken breasts into the eggs mixture, then into the breading mixture, turning and coating all sides.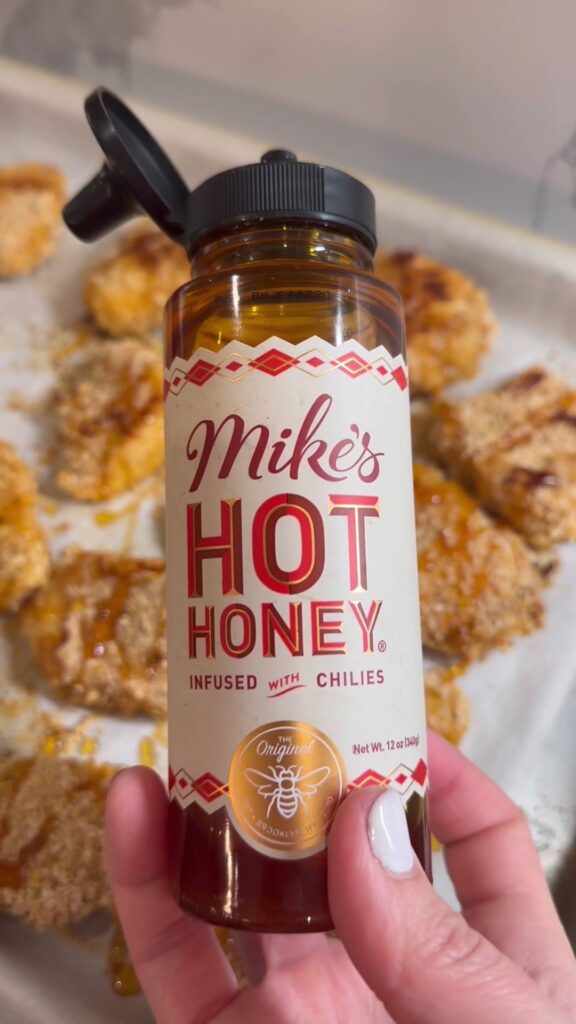 Lay the chicken breasts that have been coated in a single layer on a baking sheet about 1/2″ apart from each other to allow plenty of air to move around them to crisp all sides.
Bake, as directed until the chicken, is cooked through. Serve with your favorite sides.
Recipe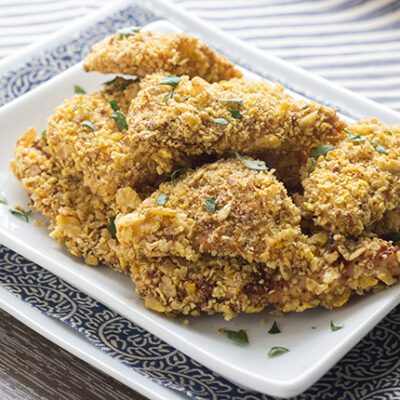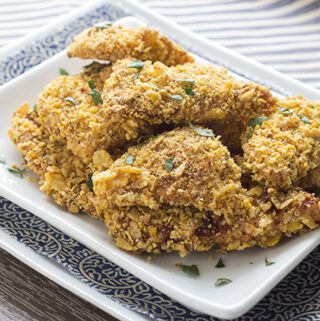 Recipe
click the stars to rate!
Healthier Crispy Oven Fried Chicken
This is a healthier version of your favorite cripy oven fried chicken recipe! Who said you have to give up "fried" chicken while eating healthy?
Ingredients
1

lb

boneless, skinless chicken breasts

¾

cup

milk

1

tablespoon

Frank's RedHot sauce

1

cup

cornflakes

crushed

1

teaspoon

paprika

1

teaspoon

salt

1/2

teaspoon

black pepper

1

cup

panko bread crumbs

2

large

eggs
Instructions
Place the chicken breasts between 2 pieces of wax paper and gently pound with flat side of meat mallet or rolling pin until the breasts are about ½ inch thick. Slice each breast into 3 equal pieces.

In a medium bowl, whisk together the milk and hot sauce.

Place the chicken pieces in a large resealable bag and pour in the milk mixture. Squeeze out excess air, seal the bag, and marinate in the refrigerator for at least 4 hours and up to overnight (depending on how much time you have).

When you're ready to cook, preheat oven to 400° F. Coat a baking sheet with cooking spray or line with parchment paper.

In a medium shallow bowl, gently beat the eggs and set aside.

In a food processor, combine the cornflakes, the paprika, salt, and pepper. Pulse until the cornflakes become crumbs. Pour them into a shallow baking dish and stir in the panko.

Remove the chicken pieces one at a time from the marinade and dip into the egg wash and then place into the cornflake breadcrumbs and generously cover. Place chicken pieces onto the baking sheet and repeat with remaining chicken.

Bake for 15 minutes at 400 degrees and then reduce the oven temperature to 350 degrees, flip chicken over and continue to cook for 5-10 minutes longer until chicken is crispy.

Optional: Drizzle with Hot Honey or Honey before serving
Nutrition
Serving:
3
pieces of chicken
|
Calories:
279
kcal
|
Carbohydrates:
19
g
|
Protein:
31
g
|
Fat:
8
g
|
Saturated Fat:
2
g
|
Polyunsaturated Fat:
1
g
|
Monounsaturated Fat:
2
g
|
Trans Fat:
0.02
g
|
Cholesterol:
171
mg
|
Sodium:
1042
mg
|
Potassium:
579
mg
|
Fiber:
1
g
|
Sugar:
4
g
|
Vitamin A:
616
IU
|
Vitamin C:
3
mg
|
Calcium:
106
mg
|
Iron:
4
mg