This Chicken Alfredo Casserole with bacon is a wonderful all-in-one meal that is going to become a favorite weeknight dinner.  This is a  combination of pasta, chicken, tomato, turkey bacon, avocado, and a creamy sauce. With such a rich flavor, you will be shocked at how this is a lightened-up pasta dish.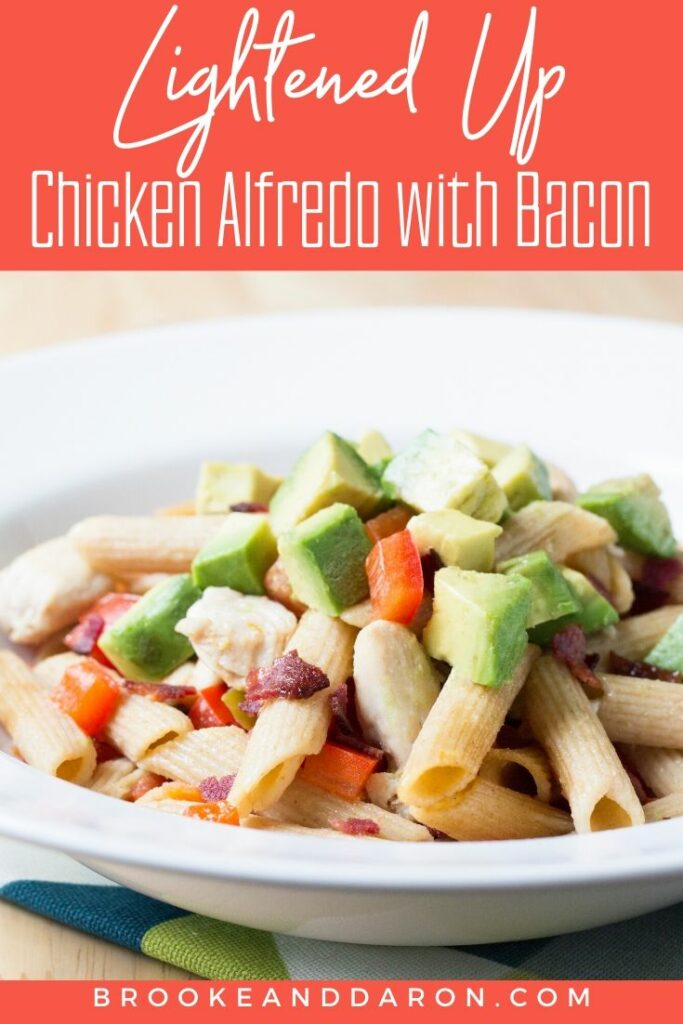 Chicken Alfredo Casserole with Bacon
In the past, I have referred to this as my "chicken bacado" recipe. The chicken alfredo, bacon, and avocado flavors combine into something I didn't know could be so delicious.  For this recipe, I use lightened cream sauce, and turkey bacon to cut calories.  I do keep the avocado chunks as they are a wonderful healthy fat that helps keep you satisfied longer.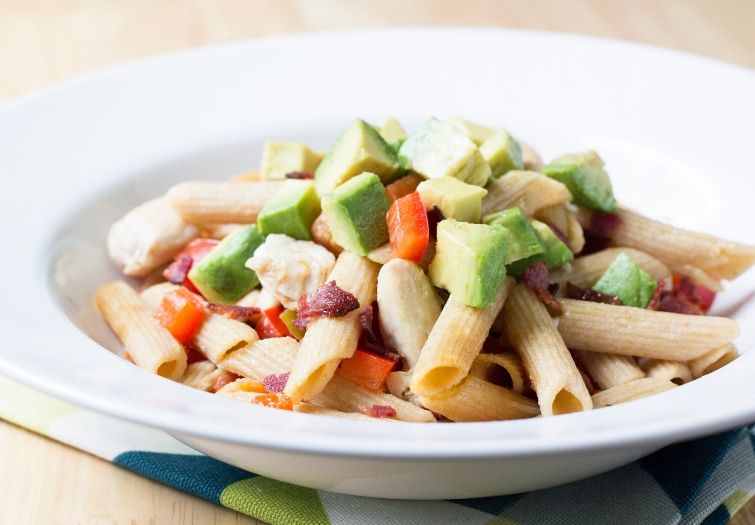 More Chicken Casserole Recipes
I love a good casserole, and I know they truly are a mom's best friend.  Any time I can throw together delicious ingredients and serve it up in one dish is a good day.  Below are a few of my best chicken casseroles for you to add to your meal plans.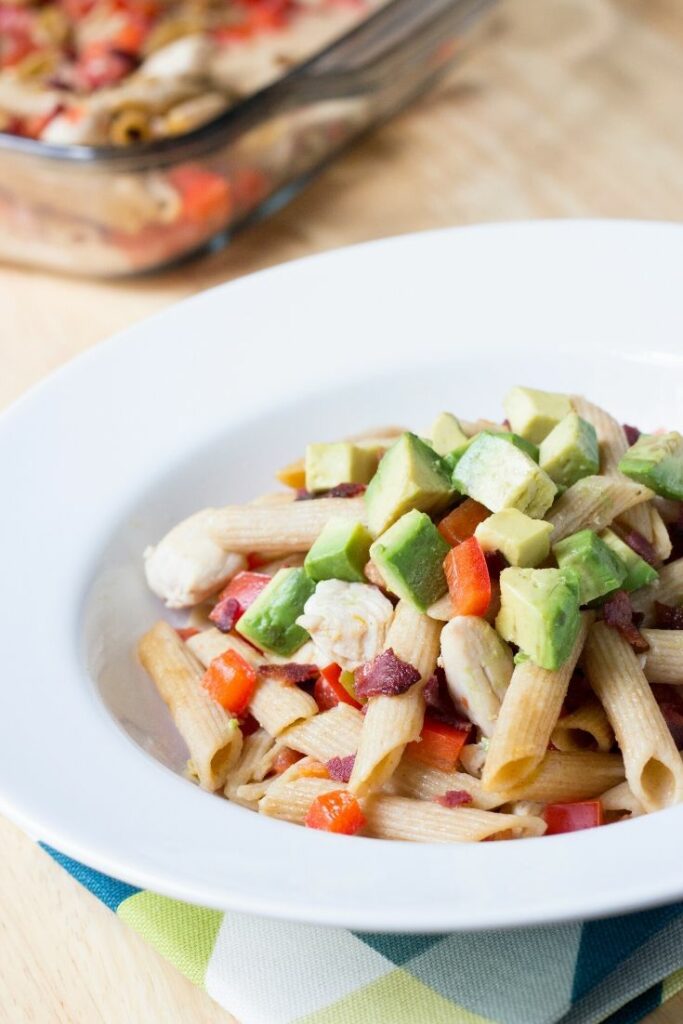 How Do I Know My Avocado Is Ripe? 
When adding avocado to any recipe, you want to make sure it is ripe.  An avocado that is too ripe or not ripe enough can ruin the flavor and texture you are looking for in a recipe.
To identify the best avocado, you will look for ones that have darker green skin.  Additionally, you will want to squeeze them gently and feel a bit of softness, but not mushy.  It shouldn't be rock hard but should be slightly soft.
Can I Add Mushrooms to This Recipe? 
Yes!  One of my favorite additions to any creamy pasta recipe has to be fresh mushrooms.  In this recipe, you can saute diced mushrooms when you cook down your onions, and simply mix them into the recipe before baking.
You can mix up the vegetables you add to this recipe as you prefer.  While I love the addition of onion and bell pepper, you may prefer to make it deeper in flavor with caramelized onion, garlic, and mushroom.  Green peas or broccoli could also pair well with these flavors and sauce.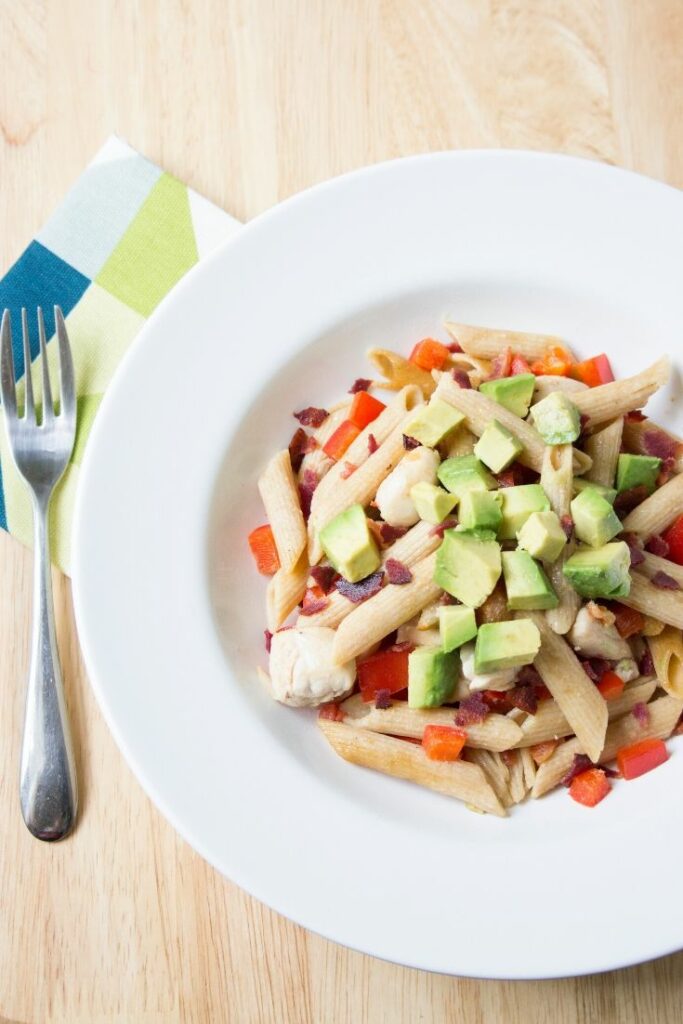 Ingredients
Whole wheat pasta
Chicken breast
Red onion
Red bell pepper
Garlic
Turkey bacon
Ro'Tel tomatoes
Chicken broth
Reduced-fat sour cream
Onion powder
Salt
Black pepper
Avocados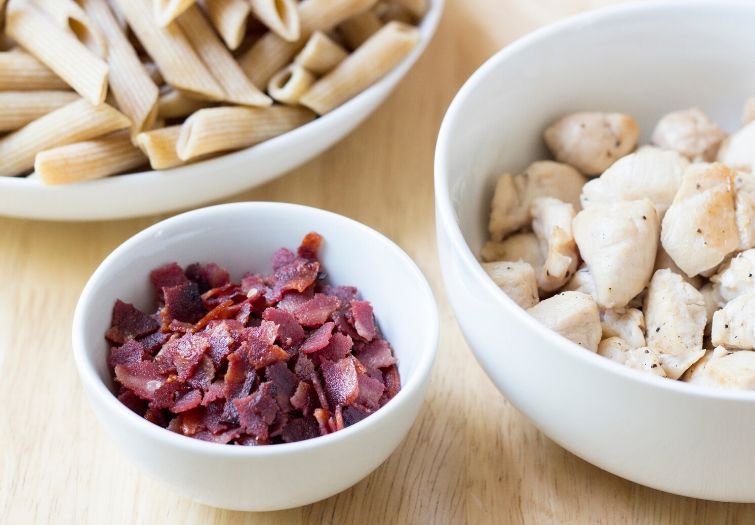 How to Make Chicken Alfredo Casserole 
To begin this recipe, you will cook your pasta according to package directions, drain, and set it aside for later.
While the pasta is cooking, you can prepare your vegetables by dicing as needed, and set them aside to begin cooking shortly.  It is also a good time to cut your chicken into cubes if you haven't already.
Next, you will cook your turkey bacon.  This can be done in a skillet or in the microwave.  Just make sure you cook it until crisp.
Preheat your oven and spray the baking dish you will be using with non-stick cooking spray.
You will now heat your large skillet and spray it with cooking spray, then add in your chicken.  I like to go ahead and season the chicken at this point with salt and pepper as needed. Stir the chicken as needed to prevent sticking or burning.
Once the chicken is cooked through (about 6-8 minutes), you will add it to the waiting pasta.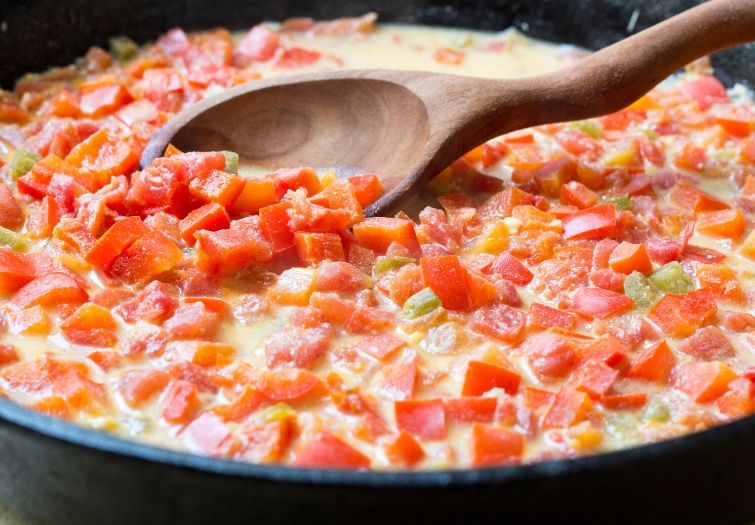 In the skillet you just cooked the chicken in, you will saute the garlic and bell pepper for a few minutes until the peppers begin softening.
Next, add the Ro'Tel tomatoes, chicken broth, sour cream, garlic powder, and additional salt and pepper to the skillet.  Stir together with the peppers and garlic and simmer for 5-8 minutes or until the bulk of the liquid has evaporated. You will want to stir occasionally to prevent burning or sticking.
Pour the sauce mixture over your pasta and chicken and stir until combined.
Transfer the mixture to your baking dish and top with the bacon before covering and popping into the oven for 15-20 minutes.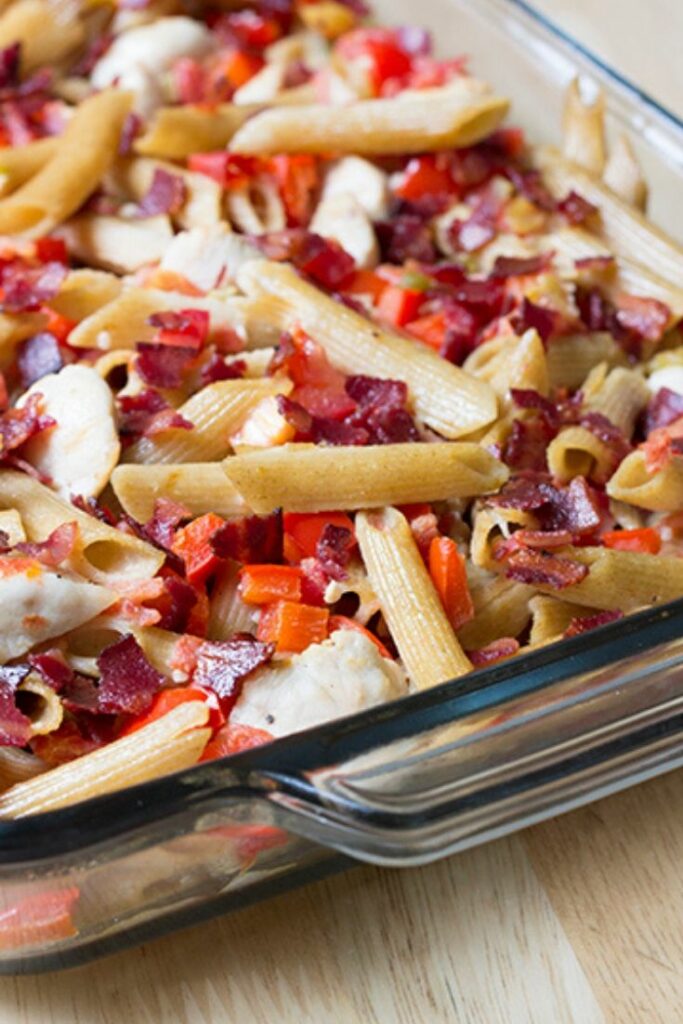 While the chicken alfredo casserole bakes, you can slice and cut your avocado into cubes.
Serve the casserole with avocado on top.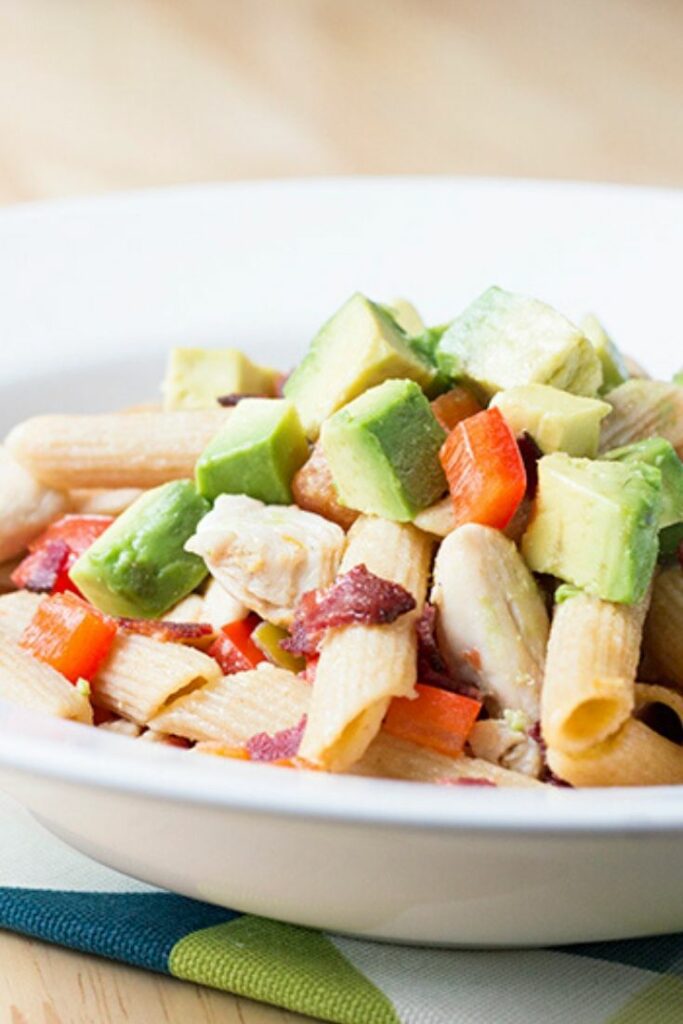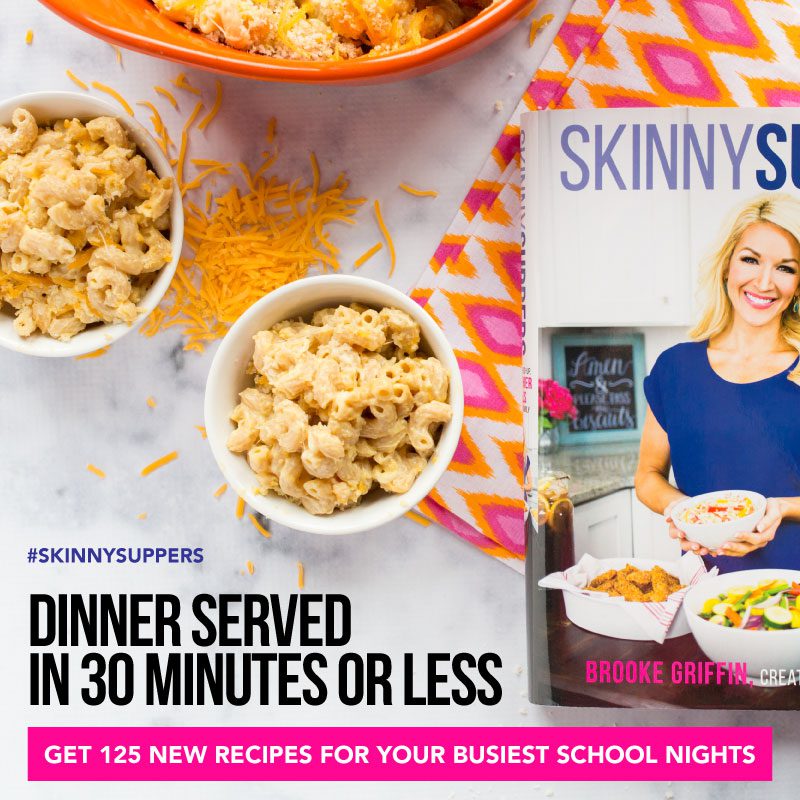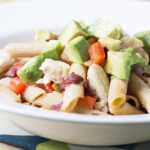 Print Recipe
Healthier Chicken Alfredo Casserole with Bacon
Chicken Alfredo Casserole with Bacon is a perfect weeknight meal. Chicken, peppers, bacon, and pasta combine with a simple sauce that is light but yummy!
Servings: 8
Calories: 382.95kcal
Equipment
Baking dish

Skillet

Stockpot

Knife

Cutting board

Bowls
Ingredients
14 oz Whole wheat penne pasta dry
5 slices Turkey bacon cooked and crumbled
1 lb Chicken breasts boneless skinless
2 Bell peppers red
1 tsp Salt
.5-1 tsp Black pepper
1 tbsp Garlic minced
10 oz Ro'Tel tomatoes with green chiles
1/2 cup Reduced-fat sour cream
1 cup Chicken broth
1/2 tsp Onion powder
2 Avocados pitted and diced
Instructions
Cook pasta according to al denté directions on box. Set aside in a large bowl.

Cook bacon according to directions. Crumble bacon into a small bowl and set aside.

Preheat oven to 350 degrees. Lightly coat a 9" x 13" baking dish with nonstick cooking spray, set aside.

In a large skillet over medium heat, spray skillet generously with nonstick cooking spray and add chicken pieces. Sprinkle chicken with ½ tsp salt and ½ tsp pepper while cooking. Cook chicken until no longer pink in center, about 6-8 minutes. Place cooked chicken in the large bowl with the pasta.

In the same skillet, add minced garlic and red peppers. Cook for 2-3 minutes until peppers have softened. Add Ro*Tel® tomatoes, chicken broth, reduced-fat sour cream, garlic powder and the remaining ½ tsp salt, ½ tsp pepper. Stir sauce over medium heat until it comes to a low boil. Simmer for about 5-8 minutes, until the majority of liquid evaporates, stirring occasionally. Remove from heat.

Gently mix together the cooked pasta, chicken, and sauce.

Transfer mixture to casserole dish and top with chopped turkey bacon. Spray lightly with nonstick cooking spray and cover with foil.

Place casserole in oven for 15-20 minutes until heated through and sauce is bubbling. Let casserole sit for 5-10 minutes, excess liquid will be absorbed into pasta.

Top with diced avocado and (optional) cheddar cheese, serve immediately.
Nutrition
Serving: 1.5cups | Calories: 382.95kcal | Carbohydrates: 40.28g | Protein: 22.93g | Fat: 14.25g | Saturated Fat: 3.19g | Cholesterol: 49.89mg | Sodium: 682.65mg | Potassium: 671.43mg | Fiber: 7.95g | Sugar: 3.52g | Vitamin A: 1110.46IU | Vitamin C: 49.49mg | Calcium: 45.77mg | Iron: 1.2mg