Have you wanted to know How to Make Zoodles?  The tutorial below is going to help you make adding vegetable noodles to your daily routine easier than ever.  This healthy option is ideal for those on a low carb or even gluten-free diet plan.  Spiralized noodles make amazing substitutes for pasta in many recipes, and are so much healthier!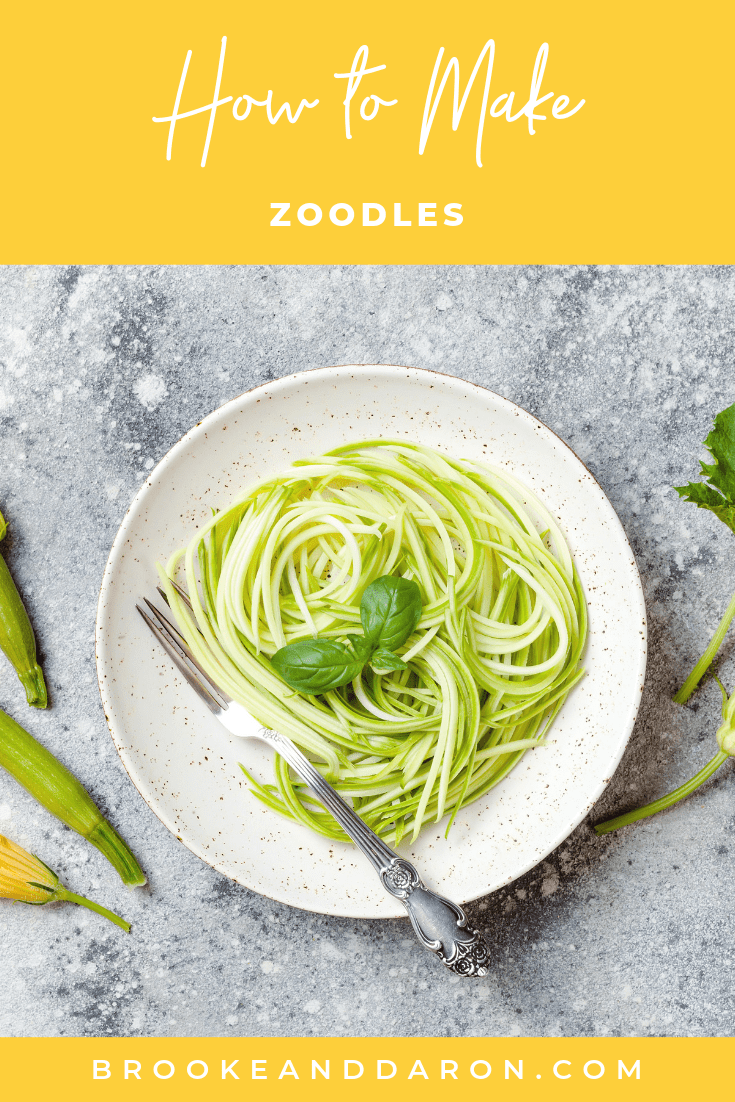 How to Make Zoodles
So you want to learn how to make the ever-popular zoodle?  It is so much easier than you may think.  Zoodles are any spiralized vegetable.  Most often, they are referred to as zoodles when you are using zucchini, but you can use many common vegetables.  Common options include zucchini, yellow squash, sweet potatoes, butternut squash, and carrots.
Begin by cleaning the vegetable well
Even if vegetables have been pre-washed, I always take the time to rinse them well before cutting or serving.  Since you don't peel vegetables used in zoodle recipes, it's important to make sure you clean them well.  I prefer a simple vinegar rinse and then using a soft brush to get rid of any dirt clinging to the surface.
Next, attach to your chosen spiralizer
There are many types of spiralizers available.  My preference are the hand crank style since they tend to be easier to control and work well when you are wanting to do multiple vegetable types.  Before attaching to the spiralizer, you may want to trim the ends off the vegetable.  Some spiralizers work best with the end on the veggie so it can be secured easier.
Rinse and pat dry before cooking
Once the zucchini or chosen vegetable has been cut into noodles, I like to rinse them and then pat dry between paper towels.  Yes, you will be flash cooking them in boiling water, but I find if I am not using them right away, drying them helps them to not be so limp once cooked.
Note: You want them soft, but too soft means they will turn into mush.  Just like traditional pasta, al dente is the ideal texture.
Can I freeze Zoodles? 
Yes, you can!  When you grow your own garden or find a sale on your favorite vegetables, you can prep and freeze for future use.  One important thing to do prior to freezing is to pat them dry. Excess moisture will create freezer burn which alters the flavor down the road.
My favorite method is to lay them out in a single layer on a baking sheet and flash freeze them on the baking sheet for an hour.  Then I will portion them into freezer bags that have been labeled with the vegetable name and date prepared.
Tips for Cooking Zoodles
When boiling for use in a pasta style dish, make sure your water is at a rapid boil before dropping the vegetable zoodles into the pot.  You only want to leave them boiling for 1-2 minutes, then move them out quickly to the pan with the sauce, or a colander to drain.
If you are adding to a stir fry, make sure they have been patted dry and you are cooking in a high heat oil or butter for the best crisp texture.
What is the best Zoodle Noodle Maker? 
This question is difficult to answer.  While there are tons of brands out there, I truly believe that the best zoodle noodle maker is the one that is most comfortable and convenient for you to use.
Large bulky kitchen appliances with attachments are popular, but if you are a minimalist, then a simple manual spiralizer that fits into your utensil drawer is ideal.  Play with different once and work within the space you have to make your choice.
Tip: Try zoodles before you invest in a spiralizer.  If you think you will eat them regularly, invest more in a quality tool.  For those who may only eat them on occasion, an inexpensive hand-crank spiralizer is ideal.
Best Spiralized Zucchini Noodles
So you decided to try this fun low-carb healthy noodle option?  Check out some of my favorite recipes listed below! These include many options you can substitute a zoodle, or sauces that work well with zoodles.