You are going to love my Lightened Up Fish Sticks Recipe! It is so simple to make and not deep-fried, so much healthier for your diet.  This breadcrumb and parmesan coated tilapia is an easy lightly pan-fried fish stick idea that is healthy but still kid-friendly.  Serve with your favorite tartar sauce, a squeeze of lemon, or even a dash of malt vinegar.  This is a perfect grown-up fish stick meal!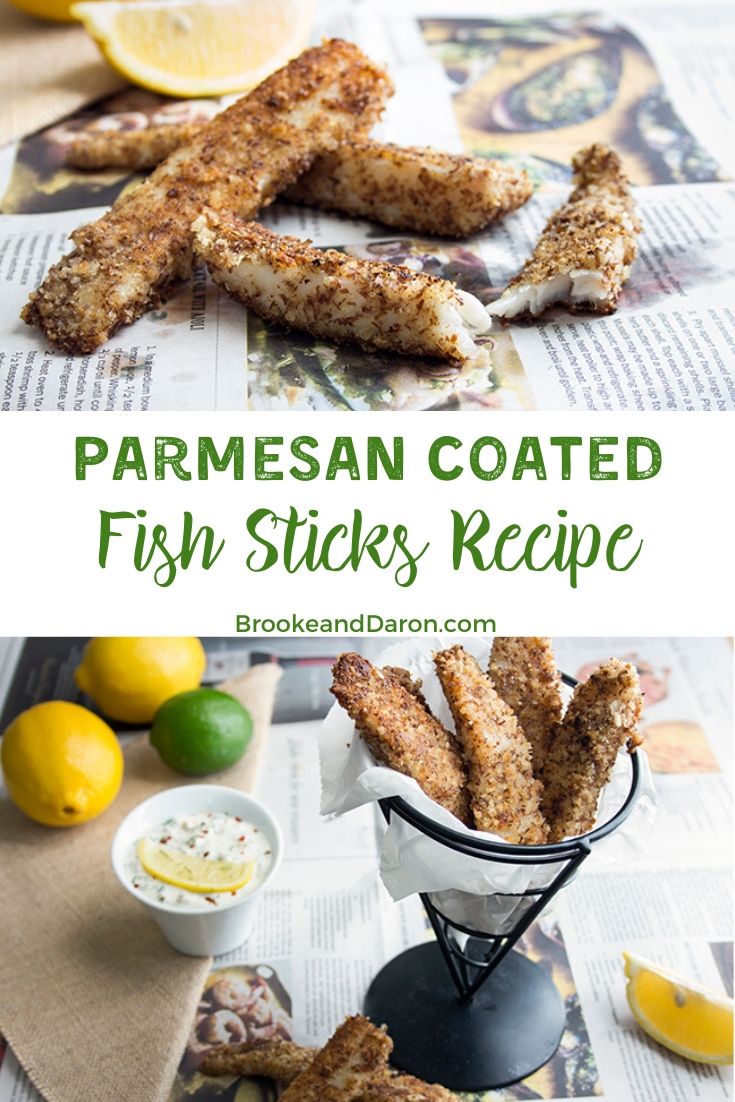 Lightened Up Fish Sticks Recipe
As a kid, I confess to loving those silly little frozen fish sticks.  Looking back, I'm not even sure they qualified as fish, but they were a favorite dinner dipped in ketchup and served with a bit of macaroni and cheese.  While not a daily meal by any means, I still have fond memories of those dinners.
Now, I am making this healthier fish sticks recipe using a delicious coating that offers crunch and flavor.  No need to deep fry this recipe!  A fast pan-fry makes them just as crunchy without all of the oil.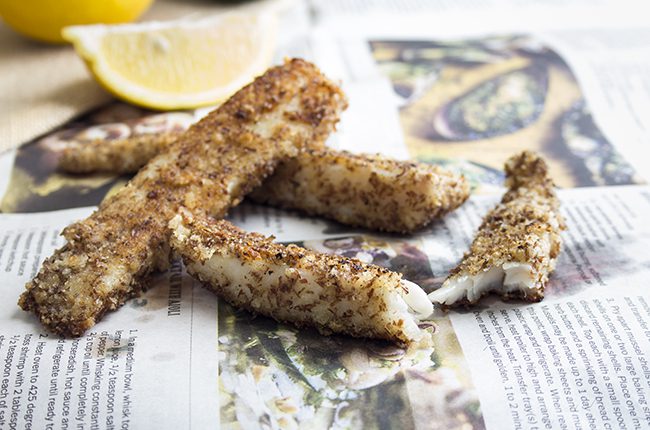 What Should I Serve with This Fish Sticks Recipe? 
As a kid, macaroni and cheese and peas were a common meal with fish sticks.  Now as an adult, I can think of tons of ways to serve these tasty fish sticks and recreate that same comfort-food feeling. Below are some great sides to serve when you make this recipe.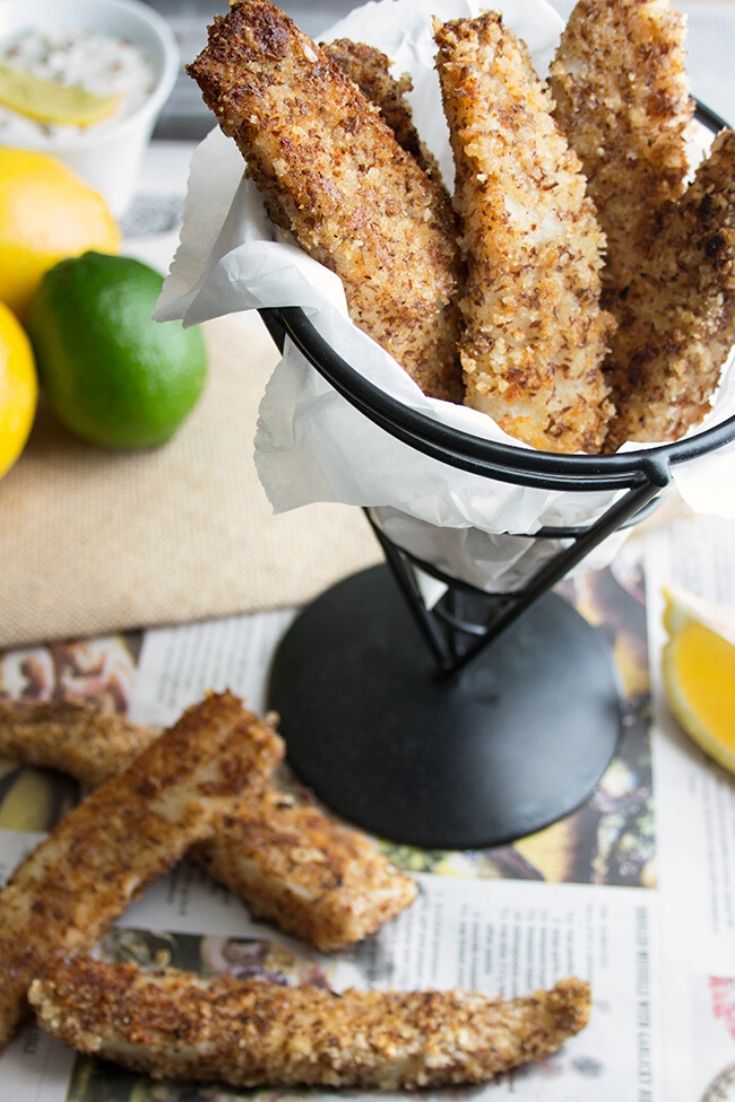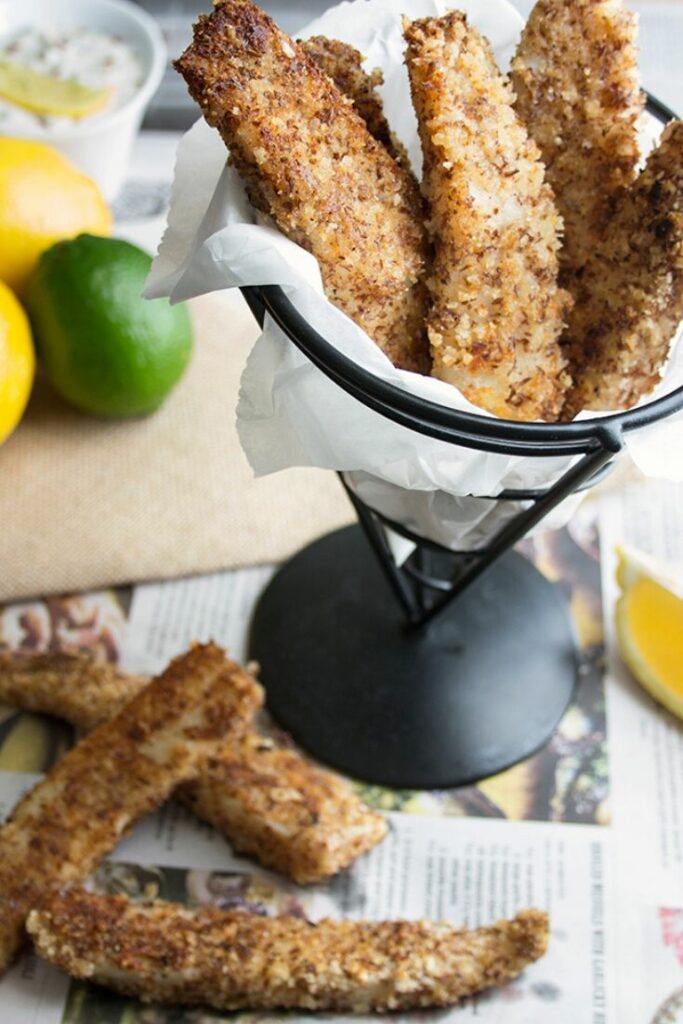 Do I Have to Use Tilapia? 
Sometimes tilapia gets a bad name, so I understand if you prefer not to use that fish for this fish sticks recipe.  That's perfectly fine with this recipe.  It works just as wonderfully with things like cod, perch, trout, bass, or even orange roughie.  Use the fish you prefer and know it will turn out just as delicious..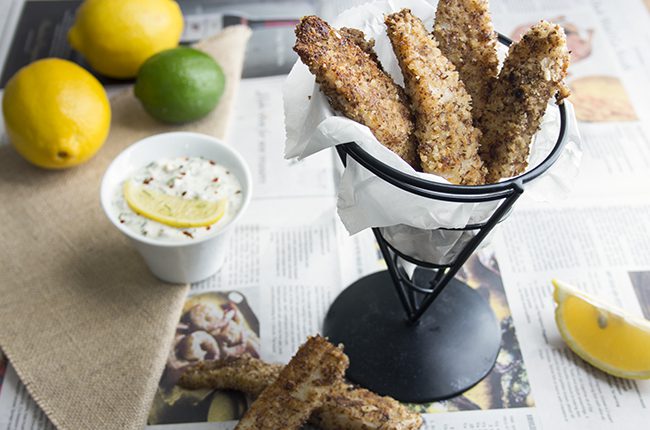 What Dipping Sauce Should I Serve with Fish Sticks? 
Fish sticks are known to go perfectly with tartar sauce, and that is almost always on the table when I make these fish sticks.  Other options that are popular are ketchup, cocktail sauce, and just by itself with or with a squeeze of lemon.  Some like to add a dash of malt vinegar, and others will sprinkle on a bit of hot sauce.  Use the sauces your family prefers!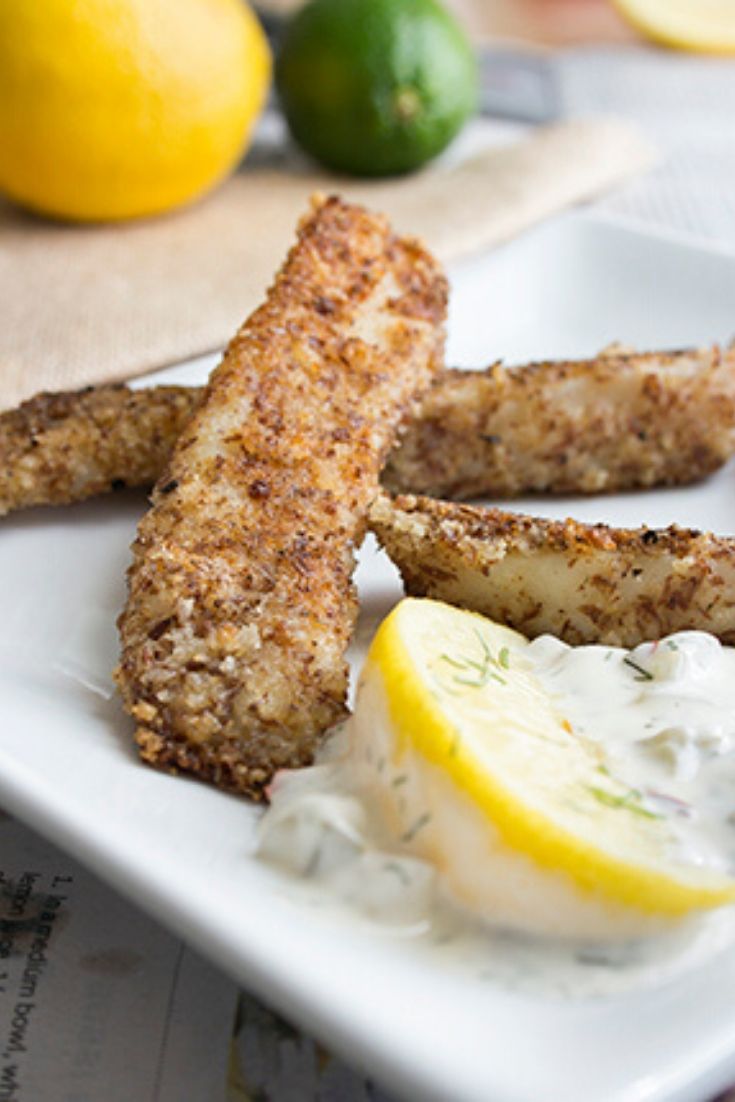 Ingredients
Tilapia
Egg whites
Salt
Black pepper
Bread crumbs
Flax meal
Parmesan
Old Bay seasoning
Canola oil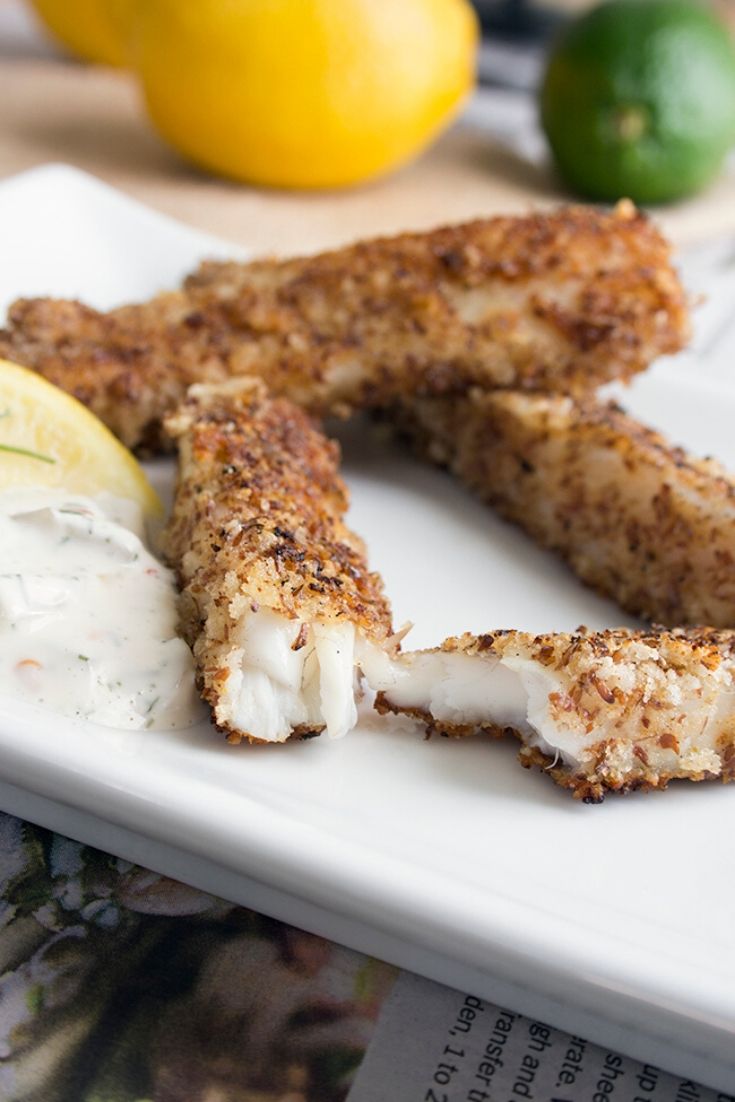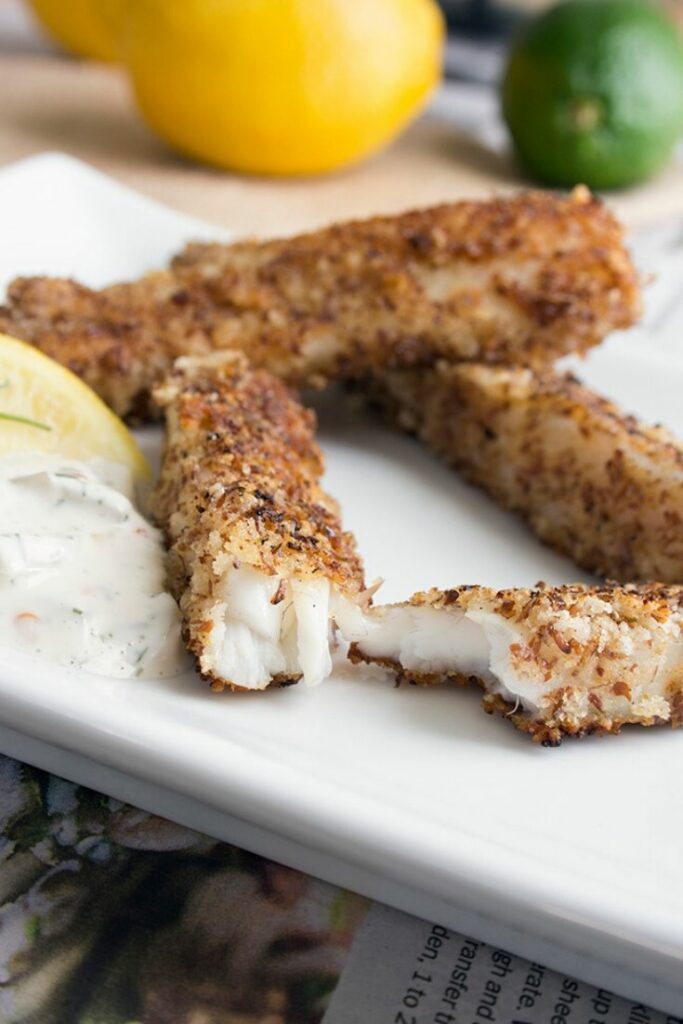 How to Make a Fish Sticks Recipe
For this recipe, you will begin by preparing your fish.  Rinse and pat the filets dry, then cut into 1″ strips.
Season both sides of the fish with a bit of salt and pepper then set aside.
Prepare two shallow bowls for the breading process of making this fish sticks recipe.
In one bowl you will whisk the egg whites.  The other bowl will be used for the breading.  Add the bread crumbs, flax meal, cheese, and Old Bay to this bowl and stir until well combined.
Dip each piece of fish first into the egg whites, then next into the bread crumb mixture.  Lay them on a wire rack or baking sheet until ready to cook.
Heat a large skillet over medium-high heat and add oil to the pan.  When it is hot, you will begin adding the fish sticks cooking them 2-3 minutes per side or until golden brown on the outside and cooked through on the inside.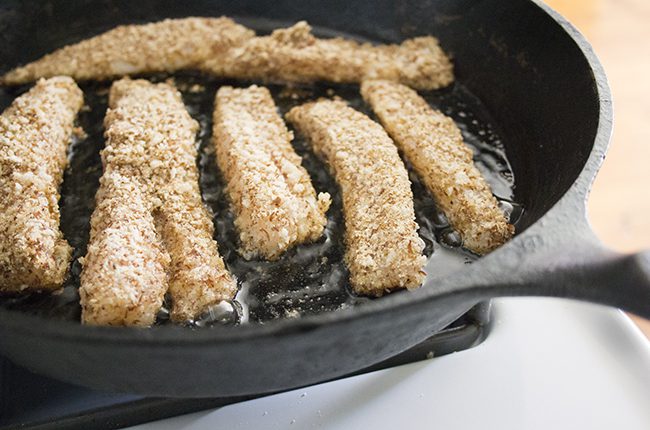 Once the fish is cooked through, transfer to a waiting plate or baking sheet lined with paper towels to drain.
Serve with sides and dipping sauces as preferred.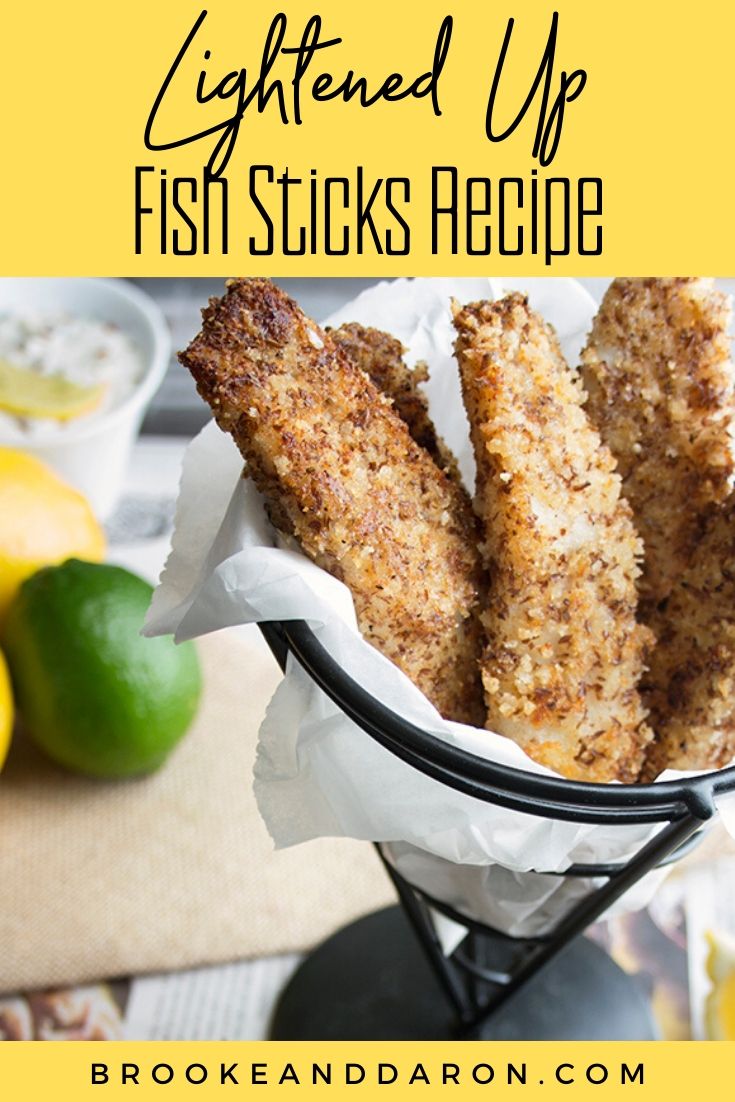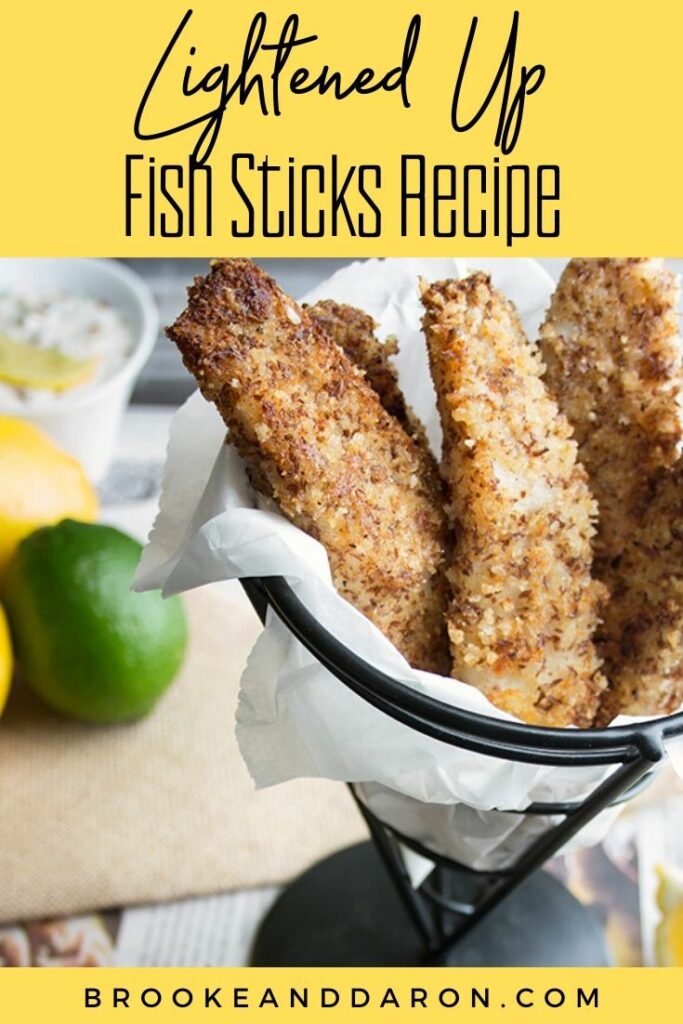 Recipe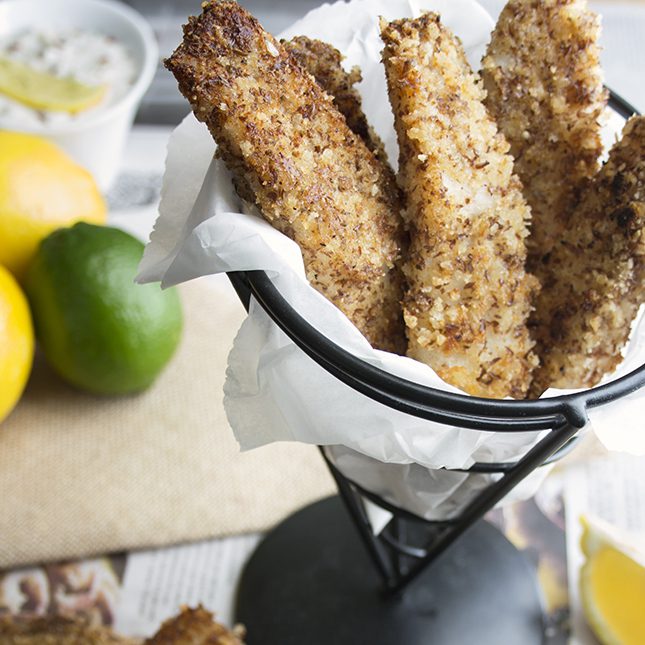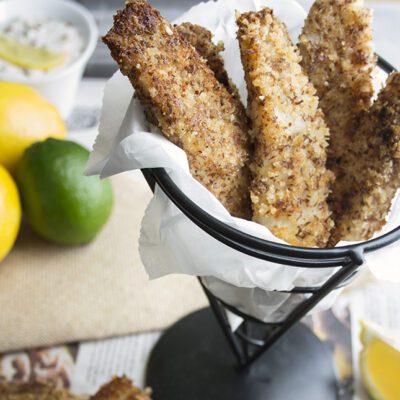 Recipe
click the stars to rate!
Lightened Up Fish Sticks Recipe
Make this Fish Sticks Recipe is a kid-friendly meal that is fast and easy to prepare. A 30-minute meal that is crunchy and flavorful without the guilt, you will love adding this to your menu plan.
Ingredients
1.5

lb

Tilapia filets

4

Egg whites

1/4

cup

Flaxmeal

ground

1/2

cup

Breadcrumbs

plain

1/4

cup

Reduced-fat Parmesan cheese

2

tsp

Old Bay Seasoning

1/4

cup

Canola oil

Salt and Black pepper to taste
Instructions
Cut the tilapia into sixteen 1-inch strips and season both sides with salt and pepper, then set aside.

Whisk the egg whites together in a mixing bowl, or shallow dish.

In a second mixing bowl or shallow dish combine the bread crumbs, flax meal, cheese, and Old Bay seasoning.


Dip each piece of fish in the egg whites, and let the excess drip off. Next, dredge each piece in the bread crumb mixture and shake off the excess. Set them all aside on a baking sheet until ready to cook.

Heat a large skillet over medium-high heat. Add 2 tablespoons of the oil to the pan when it is hot, and cook half of the fish sticks in the skillet until golden and done, about 2-4 minutes on each side.


Carefully remove them with tongs or a fish turner, and place on a paper towel-lined plate to absorb the excess oil.

Add the remaining oil to the skillet and finish cooking the rest of the fish sticks, repeating steps 5 and 6.

Serve hot with optional vinegar and tartar sauce.
Notes
Serving Size: 4 fish sticks
Nutrition
Calories:
429.01
kcal
|
Carbohydrates:
13.56
g
|
Protein:
42.4
g
|
Fat:
23.2
g
|
Saturated Fat:
3.42
g
|
Cholesterol:
90.55
mg
|
Sodium:
335.9
mg
|
Potassium:
670.35
mg
|
Fiber:
3.45
g
|
Sugar:
1.24
g
|
Vitamin A:
64.13
IU
|
Calcium:
146.49
mg
|
Iron:
2.59
mg