If you're trying to lose weight, there are a few things you probably need to do: eat better, get moving, and stay hydrated!  Drinking water is a great way to keep yourself from over-eating, but more importantly, your body NEEDS water.  With this Strawberry Kiwi Detox Water, not only are you giving your body what it needs, but you're giving it extra!  You're adding healthy ingredients to your water that will promote weight loss, boost your metabolism, protect your immune system, and more. This recipe is perfect for summer and delicious!
Why is Staying Hydrated Important?
The truth, most of us probably aren't getting enough water.  We all know that water is essential to keep us alive, but it does so much more than we realize.  It's responsible for regulating our body temperature by distributing heat evenly.  So, when you're dehydrated, your body may struggle with this, leading to symptoms such as fatigue, headaches, and dizziness.  It's a good practice to reach for the water if you feel a headache coming on as it may help alleviate symptoms quicker.
Water also helps transport nutrients and oxygen to your cells, supports digestion, and improves the health and look of your skin.  Did you also know that it lubricates your joints?  These are just some of the reasons why water is important, and adding fruit is a simple way to make your water more enjoyable and nutritious.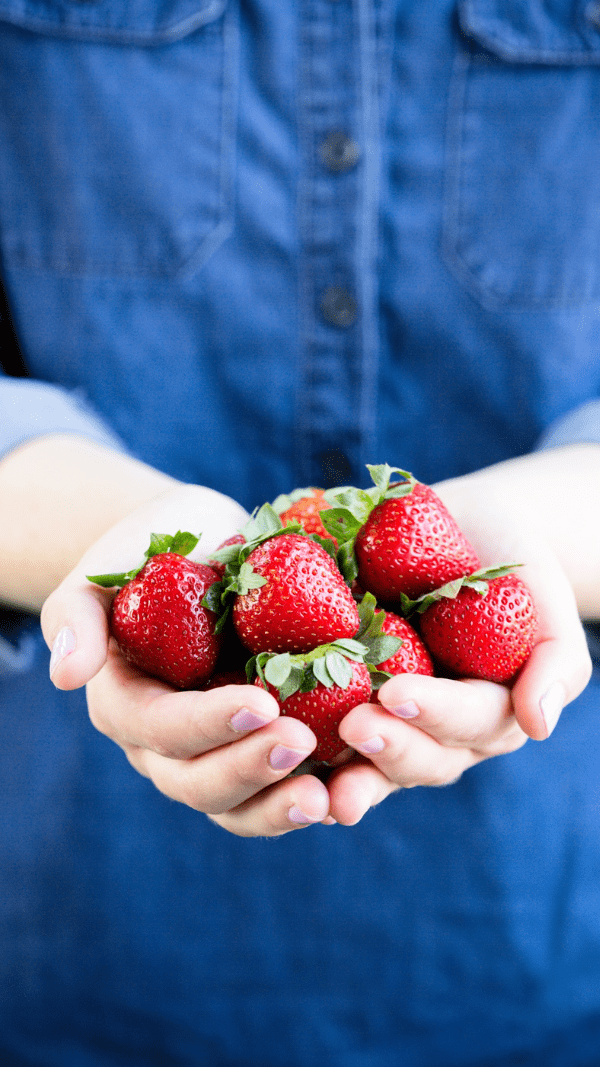 Not only does it make the water beautiful, but it provides even more nutrients to your body.  This aids in digestion and can improve gut health.  It may also help you cut back on sugary or high-calorie drinks.  If you find it difficult to drink enough water throughout the day, adding fruit to your water can make it more enjoyable and increase your overall water intake.
Ingredients in Strawberry Kiwi Detox Water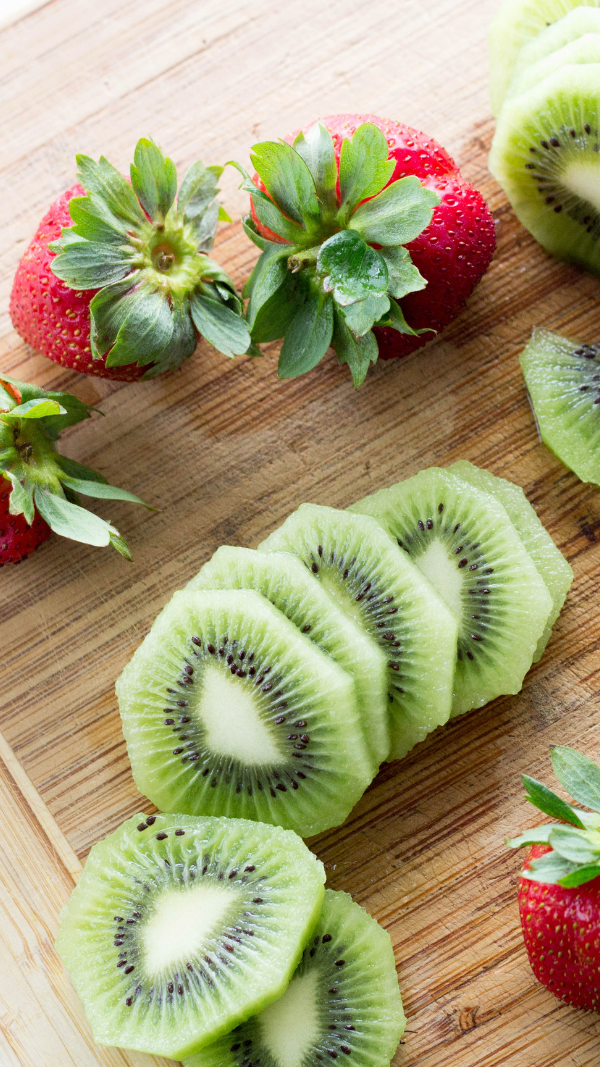 This recipe is super simple.  Just three ingredients and you're sipping on summery sunshine in no time!
cold water (filters if possible)
kiwis
strawberries
optional: ice
How to Make Strawberry Kiwi Detox Water
To make this recipe, simply slice the kiwis into 4-5 slices each and cut the tops off the strawberries.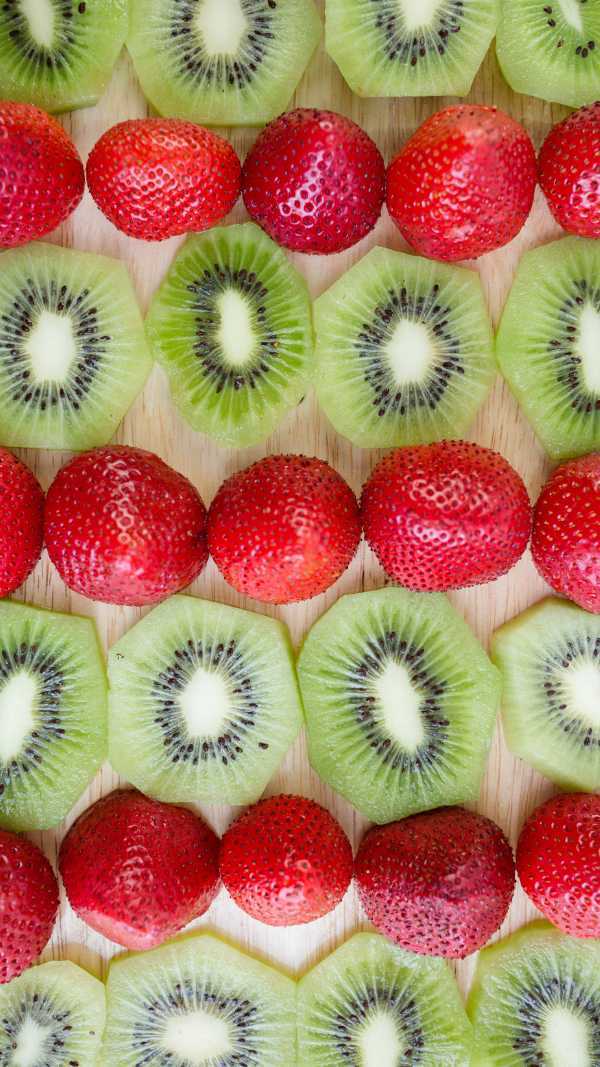 Add the sliced strawberries and kiwis to the water and chill in the refrigerator for 1-2 hours prior to consuming.
Discard after 24-48 hours or when fruit starts to taste bitter.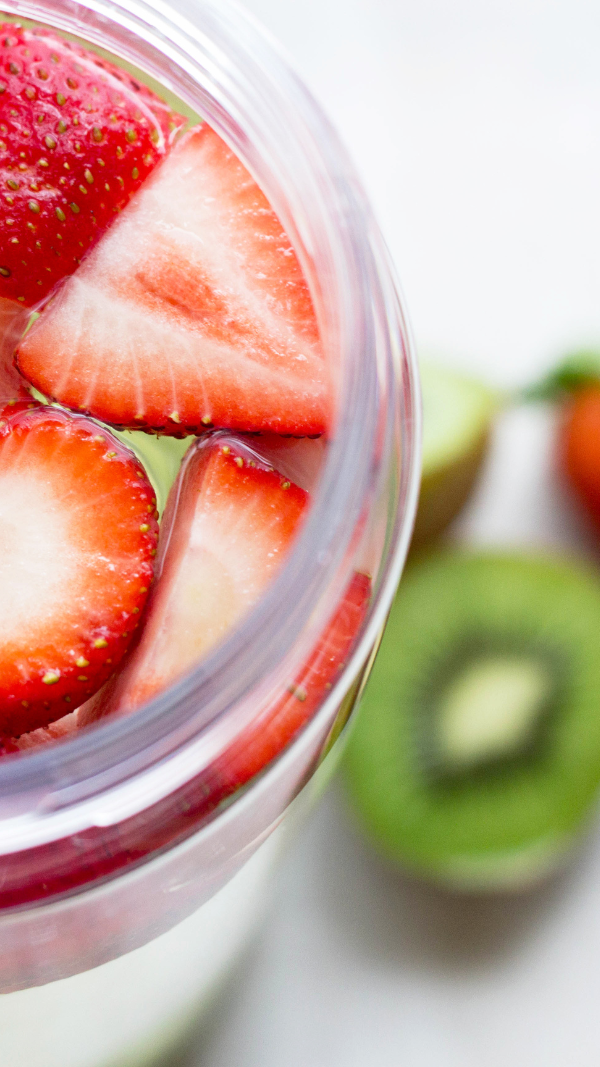 For more detox water and healthy drink recipes, check these out:
Recipe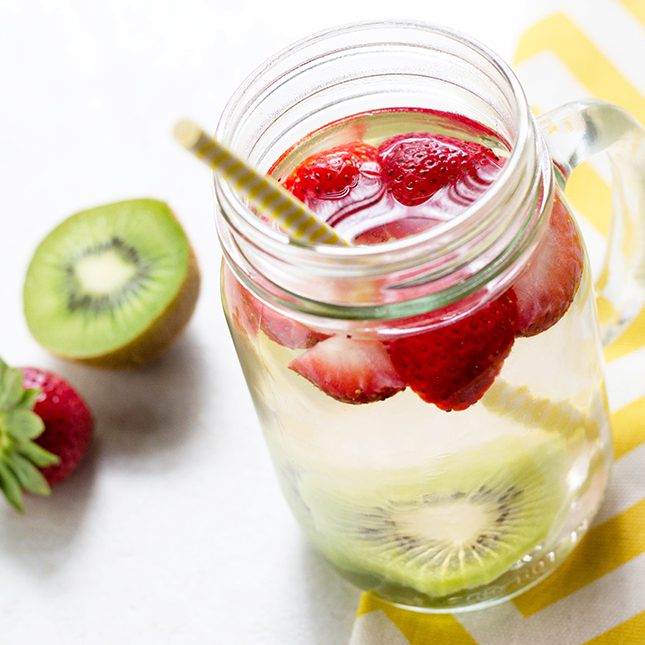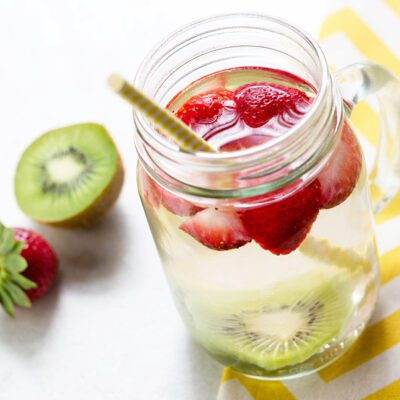 Recipe
click the stars to rate!
Strawberry Kiwi Detox Water
This Strawberry Kiwi Detox Water is delicious and hydrating. Perfect for a summer day! Please note: Nutrition facts are calculated if fruit is consumed along with the water.
Ingredients
1/2

gallon

water

filtered, if possible

2

kiwis

sliced

6

strawberries

sliced
Instructions
Slice the kiwis into 4-5 slices.

Slice the tops off the strawberries.

Mix with the water and chill for 1-2 hours before serving.

Discard after 24-38 hours or when fruit starts to taste bitter.
Nutrition
Calories:
16
kcal
|
Carbohydrates:
4
g
|
Protein:
0.3
g
|
Fat:
0.1
g
|
Saturated Fat:
0.01
g
|
Polyunsaturated Fat:
0.1
g
|
Monounsaturated Fat:
0.01
g
|
Sodium:
13
mg
|
Potassium:
59
mg
|
Fiber:
1
g
|
Sugar:
2
g
|
Vitamin A:
21
IU
|
Vitamin C:
22
mg
|
Calcium:
17
mg
|
Iron:
0.1
mg