Ready to drink more water? If so, this Detox Water for Flat Belly will have you looking and feeling your best. Stick with this recipe for added benefits all year long!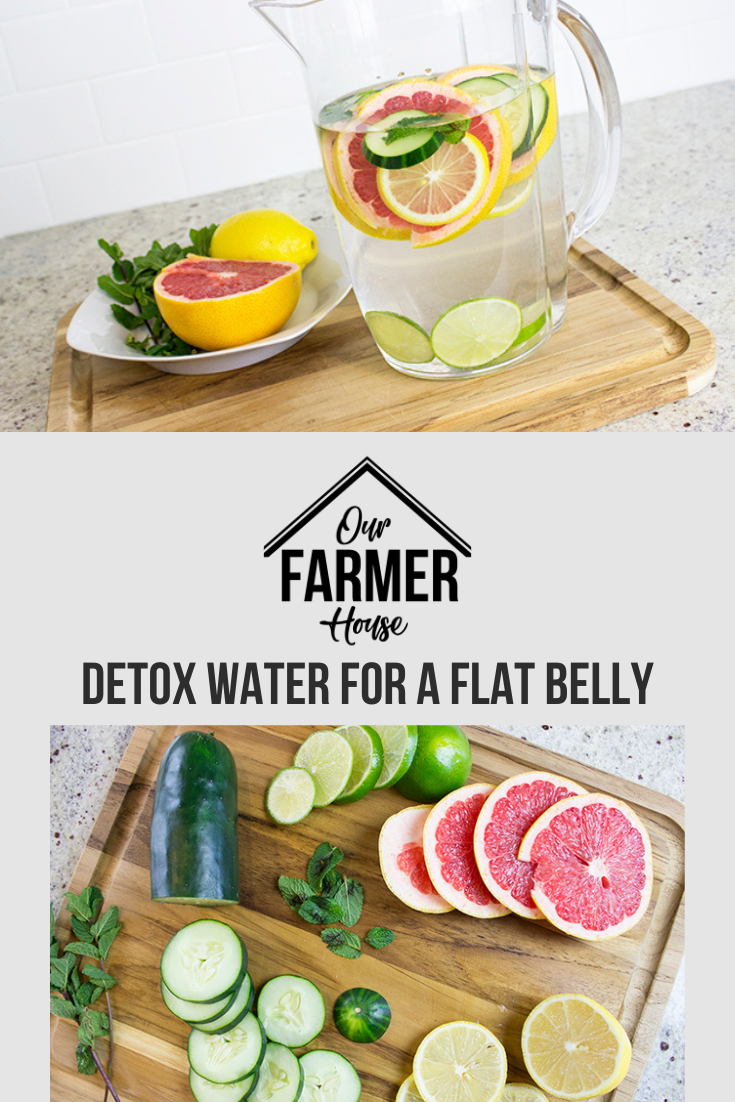 If you are new to starting a water detox, be sure to check out my 8 Simple Tips to Detox Your Body Today and Can Drinking More Water Help You Lose Belly Fat articles. These articles are full of great information to get you started in the right direction!
Detox Water for Flat Belly
For several years, I helped women live their best life through diet and fitness. It was and is still a passion of mine and I can't wait to share all that I have learned with YOU!
For many of us, we simply need to drink more water, myself included. The easiest way I have found to drink more water is by simply flavoring it with fruits and veggies. By doing this you are doing two things: 1. flavoring the water 2. getting the nutrients that the fruit and vegetables have to offer.
What is the best detox water for flat belly?
Achieving a flat belly starts with what you are putting into it. You want to focus on adding anti-inflammatory foods. In this Detox Water Recipe we use cucumbers to prevent water retention and they also have many anti-inflammatory properties. Limes provide the cleansing effect of citric acid to help clear out the digestive system while grapefruit or oranges contain flavonoids in the peel and juice that stimulate the immune system. They also protect the body against a fungi/pests while helping to reduce cholesterol levels.
One of my favorite ingredients to any water recipe is mint as it helps the body digest more easily and it also soothes any stomach cramps you may have.
Can detox water help lose weight?
In short, YES! Detox water is great for losing because to lose weight you need to drink water! Water doesn't contain any calories, so you can drink all you want! The general idea behind a detox water recipe is to flush your body and rid it of any toxins quicker than plain old water.
How can I get a flat belly quickly?
Just drinking this detox water recipe isn't going to allow for a flat belly overnight. There are several factors that come into play and adjusting your routine to not only be drinking half your body weight in ounces of water a day but, other factors help as well. A proper diet that's filled with anti-inflammatory foods, high fiber to help move your bowels, 20 minutes of exercise a day as well as supplements to help reach your daily goal on nutrients we otherwise aren't getting.
I recommend the She Activates Supplements and Protein Powder.
Ingredients Needed for Water Detox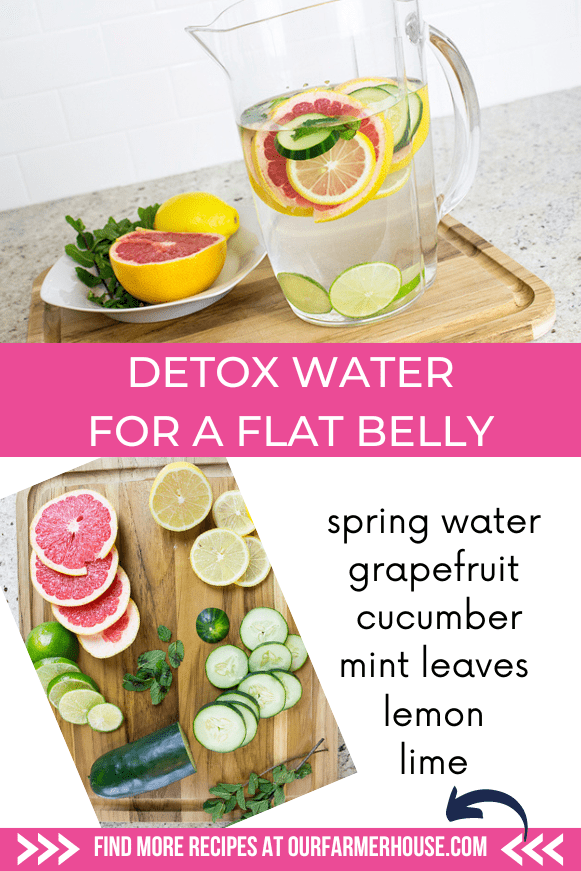 spring water
grapefruit
cucumber
mint leaves
lemon
lime
How to Make Detox Water for Weight Loss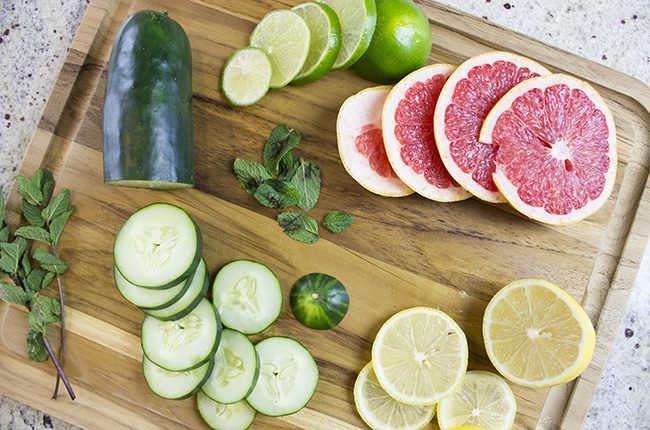 It's really simple. Grab your favorite pitcher or jug and fill it with spring water.
Using a cutting board and your favorite knife, slice all the fruit and put it into the pitcher.
Using the back of a spoon, release oils from the mint leaves and put into the pitcher.
Stir and refrigerate.
When you refill your pitcher, keep in mind that using the same fruits from your previous water the be diluted and less nutrient-dense the fruit becomes. I recommend that after 2 refills, dump all the ingredients and replace with fresh cuts to make sure you get all the vitamins and minerals you need. Also, use the water within 24 hours.
Speaking of Detox – you may be interested in joining the 3 Day Detox program!
Check out these Water Detox Recipes: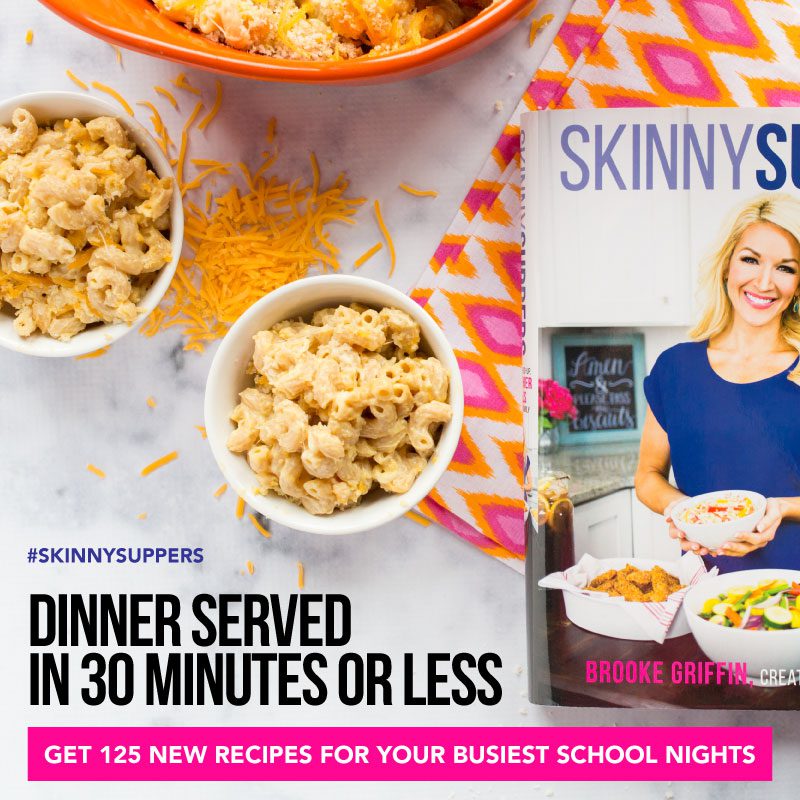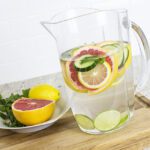 Print Recipe
Detox Water for a Flat Belly
Are you tired of having that bloated looking belly? If so, there's steps to take like drinking a detox water for a flat belly. You'll be feeling better in no time!
Servings: 8 servings
Calories: 7kcal
Ingredients
½ gallon spring water
½ grapefruit sliced
½ cucumber sliced
2-3 mint leaves
½ lemon sliced
½ lime sliced
Instructions
Combine all ingredients in a pitcher.

Allow the ingredients to chill in the refrigerator for 1-2 hours before serving. Drink throughout the day or discard after 24 hours.
Video
Nutrition
Serving: 18oz glass | Calories: 7kcal | Carbohydrates: 1g | Fiber: 1g