You will fall in love with how simply delicious this Chicken Alfredo Pizza is!  A perfect combination of your favorite flavors in a single meal that feels decadent and rich, but is still a great healthier choice for pizza night.  With 27 grams of protein per serving, it's a great choice to keep you satisfied and to satisfy a craving.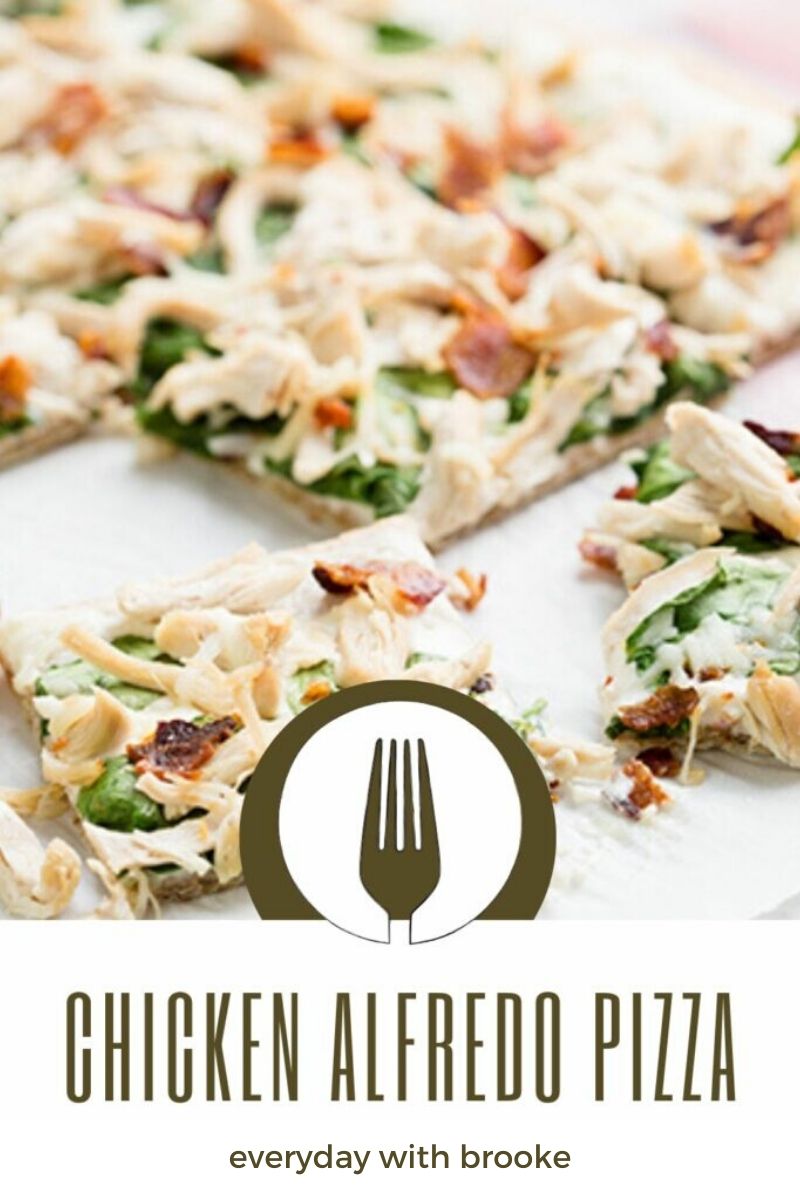 Chicken Alfredo Pizza
I've seen this pizza flavor in many combinations over the years and loved every single one I tried.  However, most of the time, they are just so high in fat and calories that it's just not something I can have on my menu often.  Since I want to live life enjoying the food I eat and not feeling deprived, I knew I had to remake this to become something healthier but still just as flavorful.
In my opinion, the secret to this recipe is in the homemade sauce with a rich creamy garlic base that really brings the flavors together.  The addition of crumbled bacon, a bit of spinach, and, of course, the yummy chicken make ti a great all-in-one meal that just pops with flavor in every bite.
While it is still a bit higher calorie than some of my other meals, it is well worth every single one!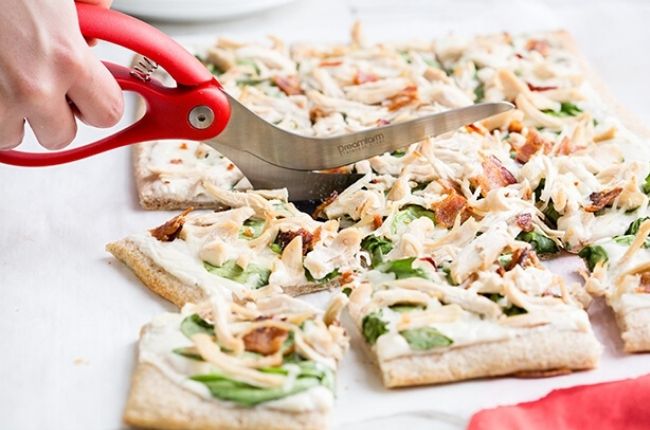 What is Chicken Alfredo Pizza? 
Rather than putting a traditional marinara sauce on the pizza crust, this recipe for chicken alfredo pizza uses a simple creamy garlic sauce.  The addition of chicken, bacon, and spinach are typically found on the pizza, but variations may be an option.  Sometimes you will see diced tomatoes, ham instead of bacon, or even a few red onions.
What you add to your pizza is really up to you.  I definitely prefer the addition of bacon, but typically skip the onions.  Some like to add a few diced tomatoes on top, or even add some olives into the mix.  Use your favorite additions but keep the base the same with alfredo based sauce and sliced chicken on top!
Can I Use Store Bought Alfredo Sauce? 
If you are in rush and want the flavors but don't feel like making your own sauce, you can definitely reach for a bottle of sauce at the grocery store.  Both Ragu and Prego have light Alfredo sauce options that are fairly decent in flavor.  With the toppings and a pinch of red pepper flakes, you can easily make them work into a delicious choice for your pizza.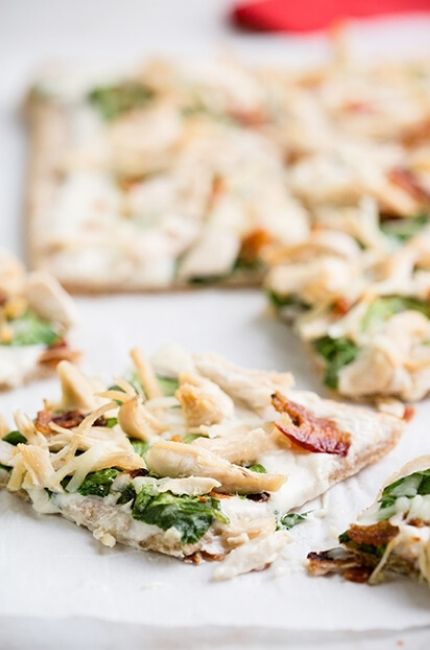 Can You Freeze Homemade Pizza? 
Yes!  One of my favorite things about this recipe is that it is a great choice for making in batches and freezing. I learned a trick a few years ago from a great mom who vlogs on YouTube about freezing homemade pizzas.
Amy Maryon makes homemade pizzas and puts them on $1 pizza pans she gets at the Dollar Tree.  Then she wraps the entire thing in plastic wrap, labels it, and places them on the shelves of her freezer.  When ready to make them, she just pulls out and bakes.  Just like you would a store-bought frozen pizza. Only, this way, they are already on the pan!
Such a brilliant way to make ahead easy meals for later!
More Pizza Recipes
We love pizza and know that it is one of, if not the most, popular food for many families.  So, I have made more than my share of pizza variations in the past and love sharing them with you! Below are a few more of our favorite pizzas and pizza flavored meals.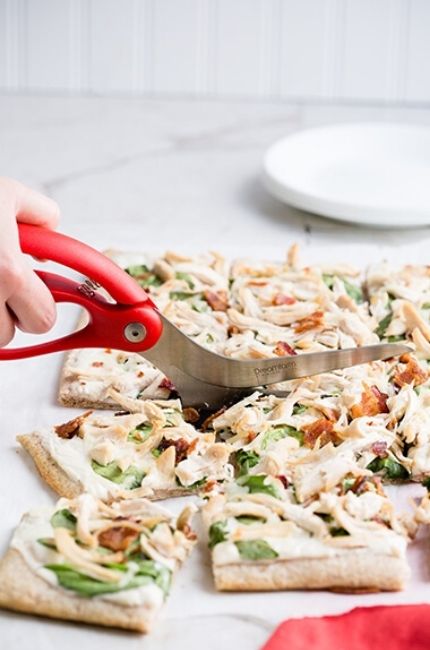 Ingredients
Butter
Shallots
Garlic
Whole Wheat Flour
Skim Milk
Fat Free Cream Cheese
Parmesan Cheese
Salt
Chicken Broth
Boneless Skinless Chicken Breasts
Center Cut Bacon
Baby Spinach
Mozzarella
Red Pepper Flakes
Whole Wheat Pizza Crust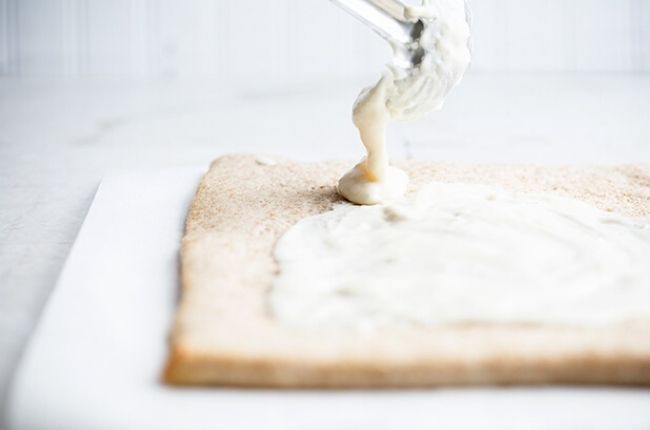 How to Make Chicken Alfredo Pizza
Begin by making your homemade alfredo sauce.  You will start by melting the butter in a saucepan and cooking down the shallots and garlic until fragrant and shallots are tender.
Stir in the flour and cook for 1-2 minutes or until the mixture begins to form a paste.
Now, you will whisk in the milk stirring to combine until a thick gravy-like sauce begins to form.
Stir in the cream cheese, parmesan, and salt, then stir and cook for 1-2 more minutes. Set this aside for later.
Next, add your chicken breasts to the chicken broth in a large stockpot and bring to a boil then cook for 20-25 minutes or until chicken is cooked through.
Remove the chicken and set aside to cool.
While the chicken is cooking, you will cook your bacon.
Prepare or roll out your pizza crust and bake for 6 minutes then remove.
Top the crust with your alfredo sauce coating all edges.
Shred or slice your chicken breasts into bite-sized slices or cubes.
Layer the spinach leaves, chicken, and bacon on top of the sauce, and top with cheese and a few red pepper flakes.
Bake the pizza for 4-5 minutes or until all is bubbling and cheese has melted.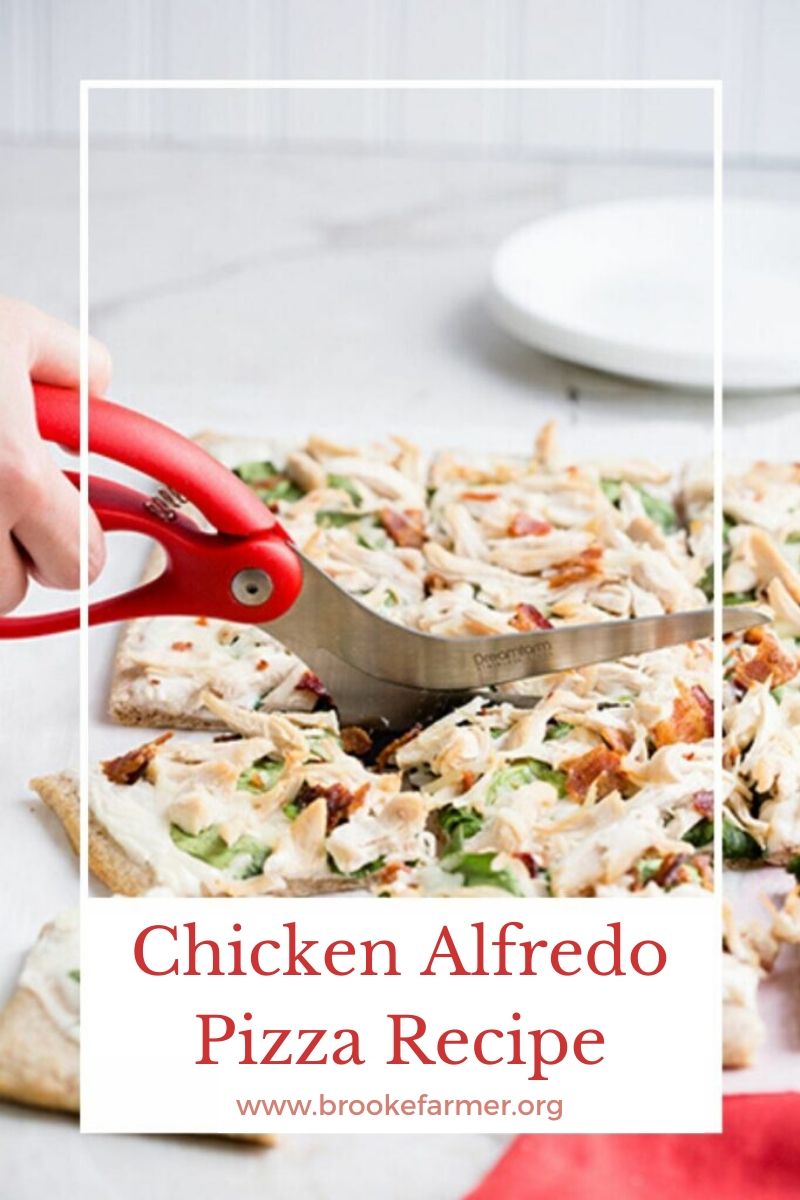 MyWW Plan Points
This recipe was prepared with a can of pizza dough rolled out onto a regular baking sheet.  16 slices were cut from this pizza.  The points below reflect eating 1/8th of the pizza or 2 of the slices if cutting into 16 slices.  Adjust the points should you use a different pizza crust or cut in a different number of slices.
Blue: 8 SP
Green: 9 SP
Purple: 8 SP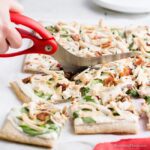 Print Recipe
Chicken Alfredo Pizza
Ingredients
Alfredo Sauce:

1

tablespoon

unsalted butter

1

tablespoon

finely minced shallots

2

teaspoons

minced garlic

1

tablespoon

white whole wheat flour

1

cup

skim milk

2

ounces

⅓ less fat cream cheese

¾

cup

shredded Parmesan cheese

½

teaspoon

salt

Chicken Alfredo Pizza:

3

cups

low-sodium chicken broth

1

pound

boneless

skinless chicken breasts

3

slices

baked center cut bacon

crumbled

1

13.8-ounce can Pillsbury® Artisan Pizza Crust with Whole Grain

1½

cups

Alfredo Sauce

2

cups

baby spinach

¼

cup

shredded reduced-fat mozzarella cheese

¼

teaspoon

red pepper flakes
Instructions
To make the Alfredo sauce: In a small saucepan over medium heat, melt the butter and cook the shallots and garlic until the shallots are soft and the garlic is fragrant, about 2 minutes. Stir in the flour and cook for about 30 seconds, until the butter, shallots, and garlic become a thick paste. Whisk in the milk and continue whisking for about 2 minutes, until the milk begins to thicken. Stir in the cream cheese, Parmesan cheese, and salt and stir until the cheeses melt, for about 2 minutes.

To make the pizza: In a large stockpot over high heat, bring 3 cups of the chicken broth to a boil. Add the chicken breasts to the boiling water and cook for 20-25 minutes or until the chicken is no longer pink in the center. Remove the breasts from the water and set on a plate to cool. When cool enough to touch, shred the chicken breasts with a fork.

Preheat the oven to 400°F. Line a rimmed baking sheet with foil, and place a cooling rack on top of the foil.

Lay the bacon strips on the rack, and bake for 10-15 minutes, until desired crispness.

Meanwhile, lower the oven temperature to 350º F. Spray a baking sheet with nonstick cooking spray and roll out the dough to about a 10x14-inch rectangle. Pre-bake the pizza dough crust for 6 minutes.

Evenly spread 1½ cups of the prepared Alfredo sauce on the pre-baked crust, leaving about 1 inch of the crust edges without sauce.

Layer the spinach, chicken, bacon, cheese and red pepper flakes on top of the sauce.

Bake the pizza again to melt the cheese, about 4 minutes.