My Philly Cheesesteak Pizza is going to become one of your favorite pizza night treats!  A whole-wheat pizza crust is loaded with tender slices of beef, peppers, onions, and of course, the provolone cheese you expect.  Making this will please the meat-eater in your family for sure!
If you love this flavor, you will love my Philly cheesesteak stuffed peppers recipe as another great meal planning option!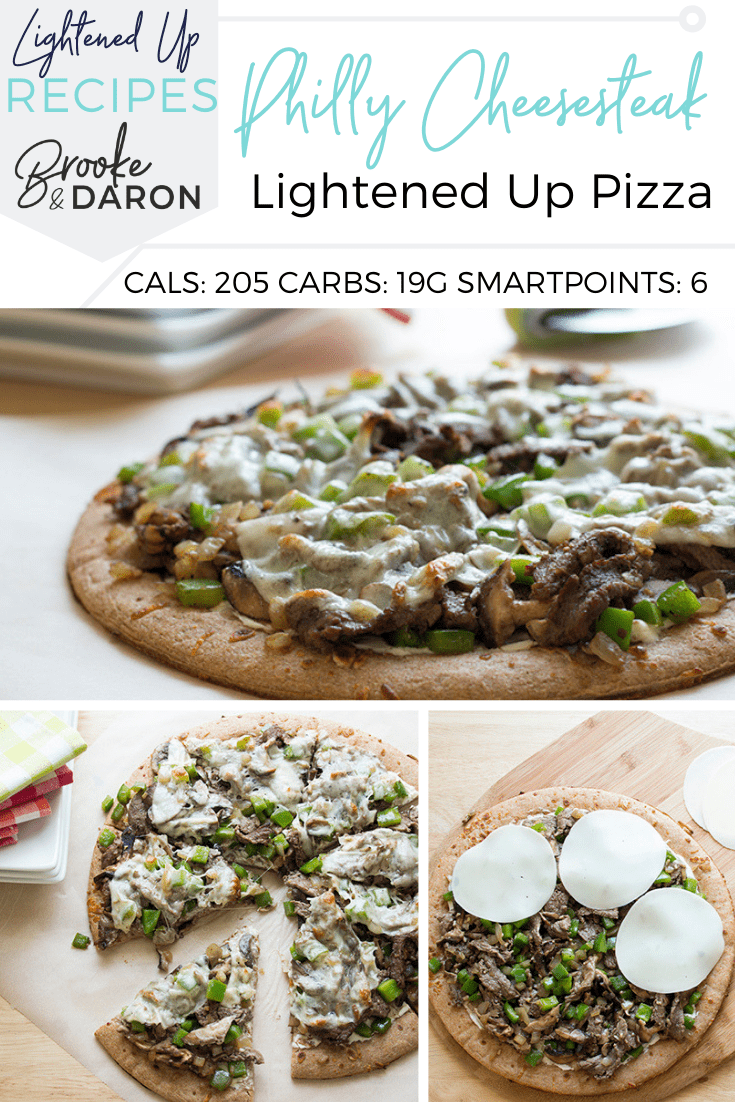 Philly Cheesesteak Pizza
I have always loved the combination of steak, bell pepper, onion, and cheese.  After the first real Philly cheesecake experience I had, I knew I would be a fan of this combination forever.  Adding it to a pizza crust was a moment of genius!  I had to make it a bit healthier, of course, so this recipe is made on a thin whole wheat pizza crust.
I use Boboli pizza crust most often, but you do not have to use this brand.  Any thin whole wheat crust can work for this recipe.  Note that for this I use a prebaked crust, but if making a crust from scratch, the cooking time will need to be longer.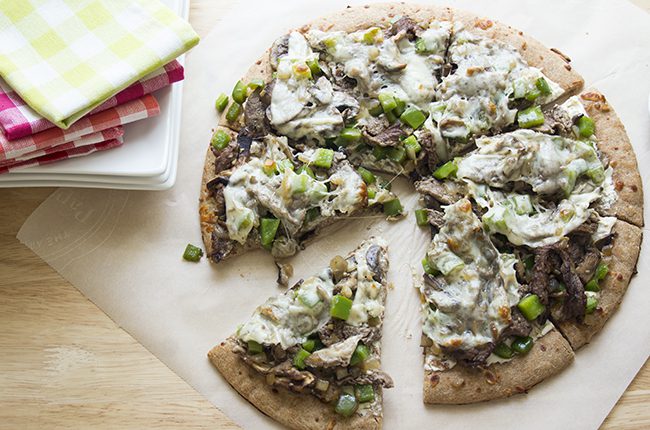 How Can I Save Time Preparing This Pizza? 
One of my favorite ways to save time in the kitchen is to prepare vegetables ahead of time so adding to meals is fast and easy.  In this case, I would use my tips for how to cut a bell pepper and how to chop an onion and prepare them in bulk.  Then, I simply put portions of prepared onions and peppers into plastic storage bags and toss them into the freezer.  When I need them for a recipe, it's easy to grab one and use it!
When you prepare peppers and onions like this, they are usually good for up to 3 months in the freezer.  Make sure to pat them dry before adding to the storage bags.  Eliminate any excess moisture to prevent them from building up freezer burn.
Can I Use Different Cheese on My Cheesesteak Pizza? 
You sure can!  Traditionally, a cheesesteak sandwich is topped with provolone or Cheez-Wiz.  I have, however, seen them topped with everything from cheddar to pepper jack.  Mozzarella is another creamy and mild cheese that easily fits into this recipe.
Try different flavors of cheese to find the one you prefer on this recipe.  You'll find new flavor combinations, and be able to use up leftover cheese in the refrigerator before it goes bad!  You really can't go wrong with cheese on this pizza.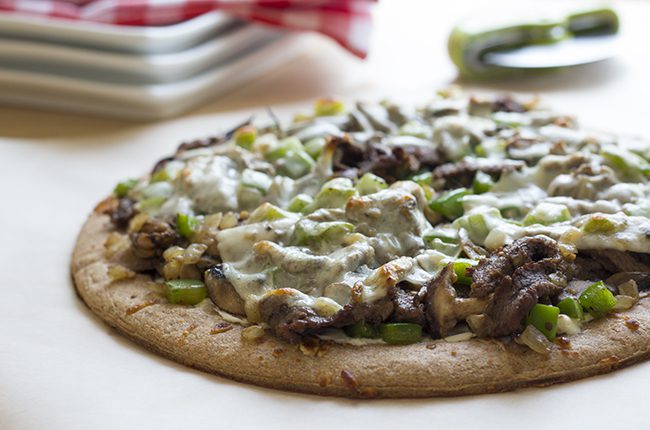 Can I Make This Ahead of Time and Freeze for Later?
Of course, you can make it into a homemade frozen pizza!  In fact, when I have extra pizza crust on hand after finding it on sale, I love making up some homemade pizzas to wrap and pop into the freezer for later.
These are best prepared and baked when ready to serve.  Simply prepare until you are at the step of adding to the oven to bake.  Wrap the pizza in plastic wrap covering it completely, and then store flat on a shelf in your freezer for up to three months.  When ready, pop into the oven at the same temperature and cook for a few minutes longer to heat through and melt the cheese.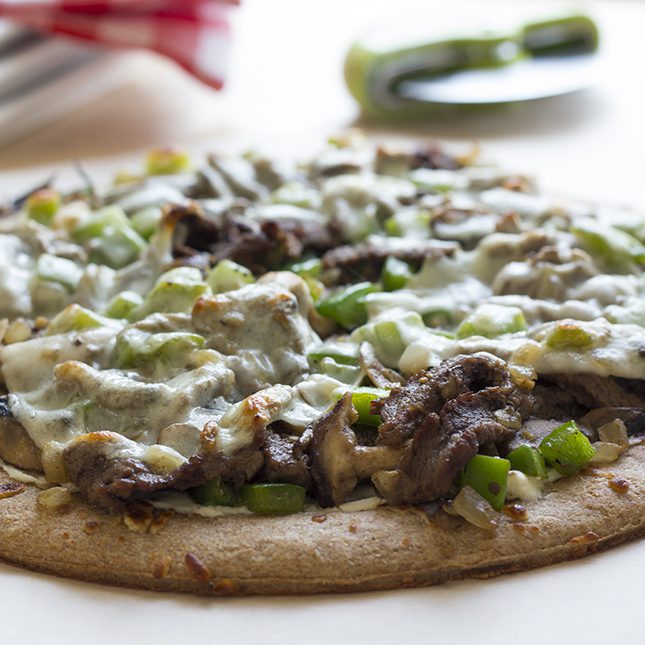 Ingredients 
Whole wheat thin pizza crust
1/3 less fat cream cheese
Olive oil
Flank steak
Worcestershire sauce
Black pepper
Kosher salt
Bell pepper
Mushrooms
Onions
Garlic
Provolone cheese

How to Make a Philly Cheesesteak Pizza
First, you will prepare your vegetables and steak for topping the pizza.  I like to have my veggies prepared ahead of time, but in this case, you can quickly chop your onions and peppers, then slice up your mushrooms after cleaning them.
You will preheat the oven and add your pizza crust to the baking sheet.  Next, spread the cream cheese over the crust as the "sauce".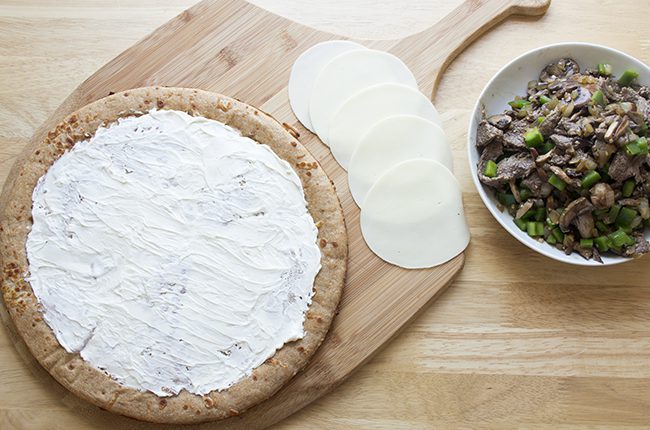 Cook your steak and vegetables as directed, and then pour them over the prepared crust spreading into an even layer.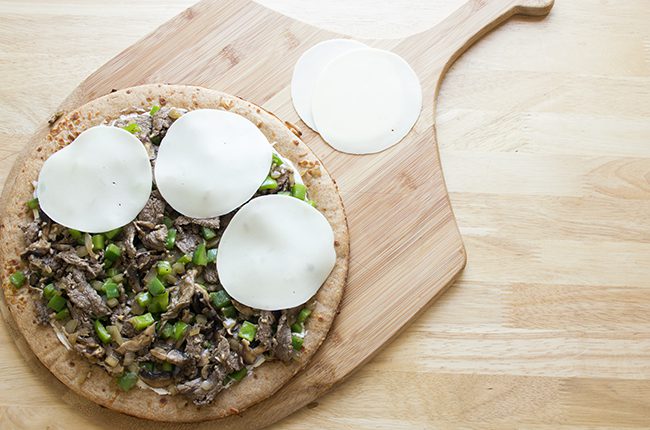 Top the pizza with provolone cheese, and bake as directed.
The serving size is 1 slice.
More Pizza Recipes: 
If you love this pizza, then I know you'll love my Caprese Pizza English Muffins, Keto Cauliflower Pizza Bites, and Supreme Pizza Pasta Casserole!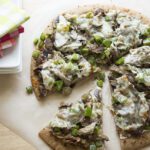 Print Recipe
Philly Cheesesteak Pizza
Ingredients
1

Boboli® 12" 100% Whole Wheat Thin Pizza Crust

¼

cup

⅓ less-fat Philadelphia® cream cheese

softened

1

Tbsp

extra virgin olive oil

divided

6

oz

flank steak

thinly sliced into bite-sized strips

1

tsp

Worcestershire sauce

½

tsp

black pepper

divided

½

tsp

Kosher salt

divided

1

green bell pepper

diced

4

oz

Cremini mushrooms

sliced

½

medium sweet onion

diced

1

Tbsp

garlic

minced

8

slices

Sargento® Ultra Thin Provolone Cheese Slices
Instructions
Preheat oven to 450 degrees. Place Boboli® crust on baking sheet. Using the back of a spoon, evenly spread cream cheese over the entire crust, leaving a ½-inch border, set aside.

In a medium sized skillet, heat ½ Tbsp extra virgin olive oil over medium heat and add flank steak strips, Worcestershire sauce, ¼ tsp salt and ¼ tsp pepper, cook until meat is done. Remove steak from skillet and place in a medium sized bowl, set aside.

In that same skillet, add remaining ½ Tbsp extra virgin olive oil. When olive oil is heated, add green bell pepper, mushrooms, onion, minced garlic and remaining ¼ salt and ¼ tsp pepper and sauté over medium heat. Sauté until onions and mushrooms are tender, about 3-4 minutes.

Add mushroom mixture to the steak bowl and mix well. Spread mixture over Boboli® crust. Place provolone cheese slices over pizza top.

Bake for 8-10 minutes until the cheese on top is golden brown.