You are going to fall in love with this Strawberry Pineapple Smoothie!  It is packed with not just the classic fruit flavors, but tons of protein!  Protein keeps you full longer and is a great way to help you stay strong and focused.  This mixture whips up in seconds and creates the ideal on-the-go breakfast!
If you love drinking your breakfast, then this best green smoothie is another to add to your routine!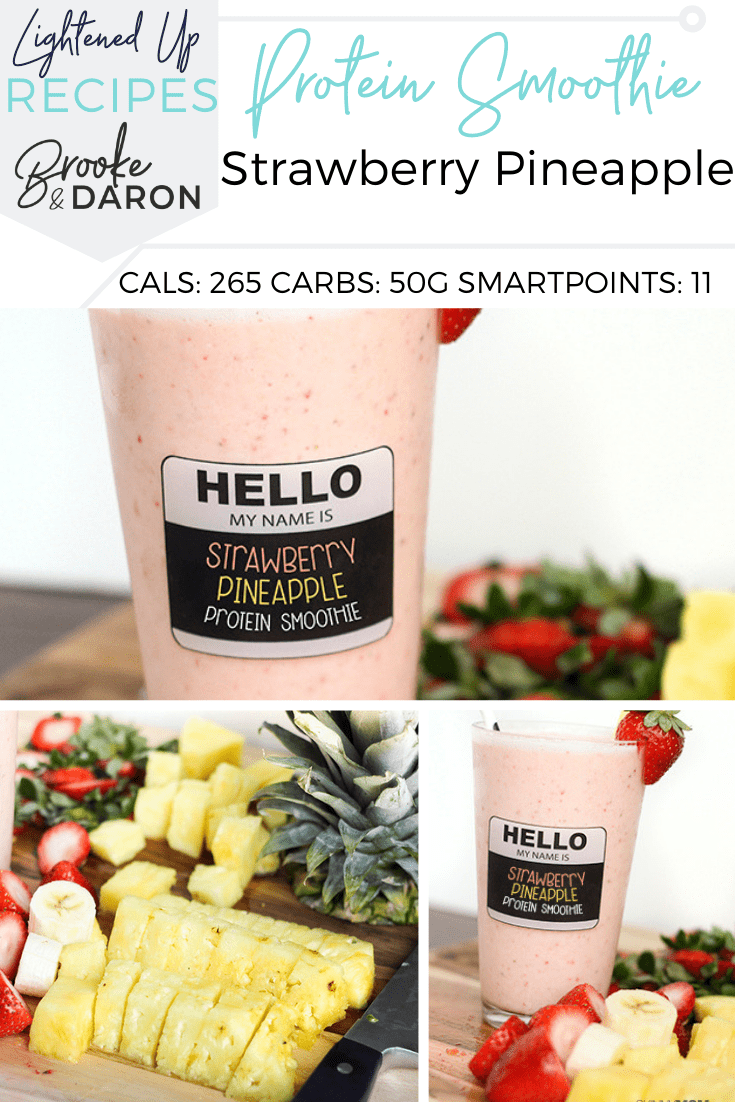 Strawberry Pineapple Smoothie
Smoothies are life!  Seriously, though, I love knowing a smoothie is something I can whip up in just a minute and run out the door with on busy mornings.  It's loaded with nutritious fruits (and sometimes veggies).  Plus, adding in my favorite protein powder makes it even better for satisfying my body while I plow through a morning of work.
I love making this strawberry pineapple smoothie, but I am in love with my brownie batter chocolate smoothie recipe for those days when I just need an extra kick of energy.  In the fall, I make my pumpkin smoothie recipe on a regular basis.  Much healthier than the sugar-laden lattes at coffee shops.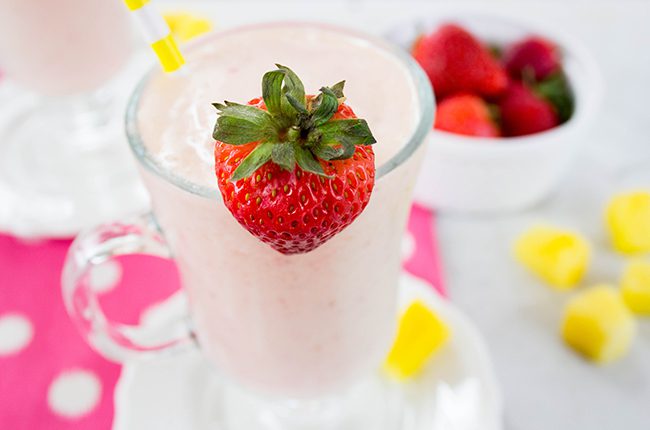 What is the Best Protein Powder for Smoothies?
My favorite brand of protein powder is the She Activates brand.  Of course, sometimes that is outside the budget for some families, so I can also recommend the popular plant-based Orgain brand.  It's available online and in most local pharmacies.  I have even seen it at Walmart and Target.
Test out a few different brands to find one that has the right texture and flavor for your tastebuds.  It's more important to find one that you will drink than to find one that everyone recommends.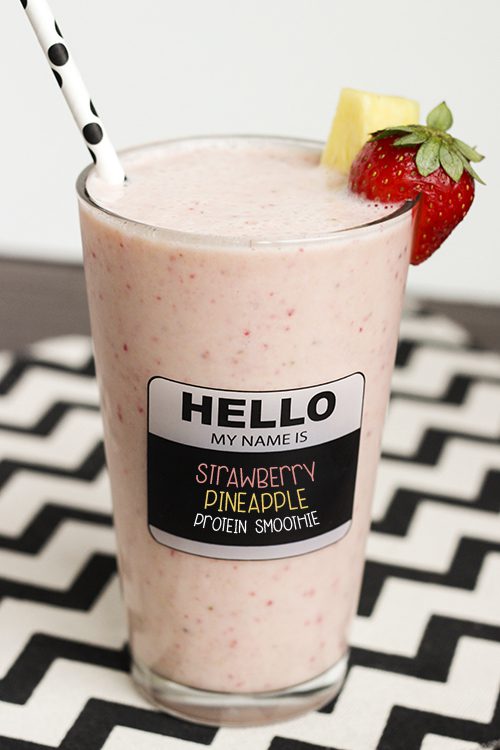 Can I Turn This Into Freezer Smoothie Packs? 
Yes, you can!  I love grabbing freezer bags and dumping in chopped banana, strawberries, and pineapple for a smoothie.  I can label these and freeze, so the morning I am ready to make a strawberry pineapple smoothie, all I have to do is dump that package into my blender and top it with protein powder and juice.  So handy!
Can I Replace the Juice with Almond Milk? 
If you prefer to add more protein and skip the sugary orange juice, you can definitely add a milk alternative.  Unsweetened almond milk is a favorite option I always have on hand.  You can also use cashew milk, hemp milk, or even soy milk if you prefer.  They will add a bit more of a creamy flavor to the smoothie but are a great addition and source of healthy fats and protein.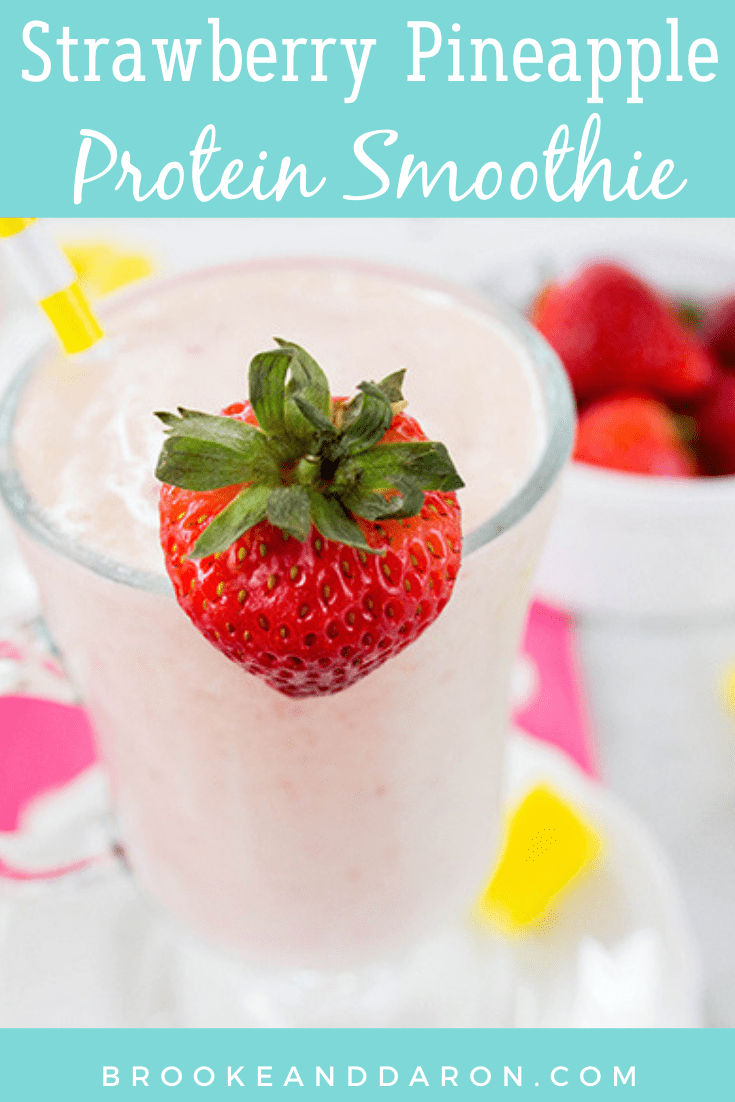 Extra Additions to the Strawberry Pineapple Smoothie
This combination is perfect as it is listed below, but sometimes I like variety.  I have added coconut shreds or coconut milk to this for a slight "pina colada" flavor.  You could also use strawberry, birthday cake, or chocolate protein powder instead of vanilla to add more flavor to the mixture.
Stir in flaxseed, chia seeds, hemp hearts, or even a slice of avocado to add some healthy fats to keep you full longer.  Another way I amp up this recipe is to blend in a handful of washed baby spinach.  It looks green, but it doesn't change the flavor at all!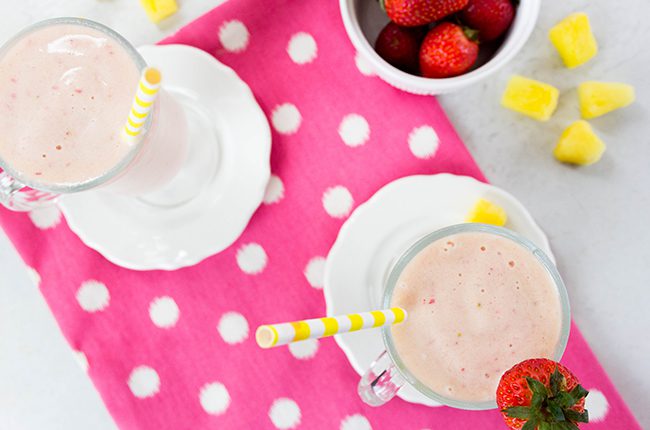 Ingredients
Banana
Strawberries
Pineapple
Vanilla protein powder
Orange juice
Water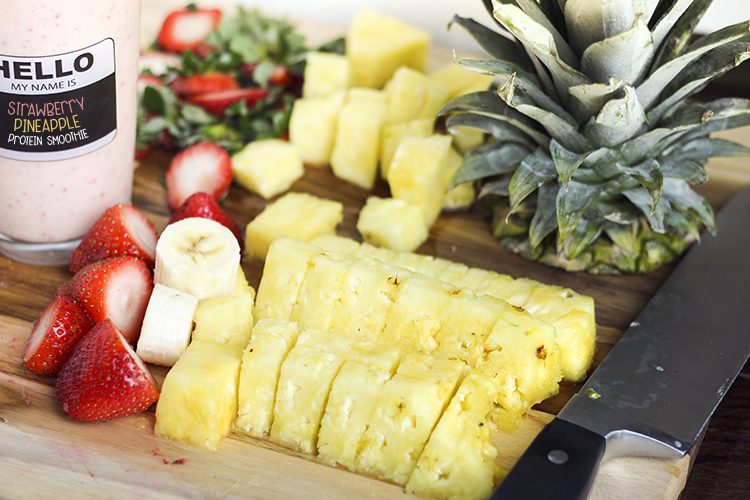 How to Make a Strawberry Pineapple Smoothie
Dump all of your ingredients into the blender and pulse until the texture you prefer.  You can add extra juice or water if too thick.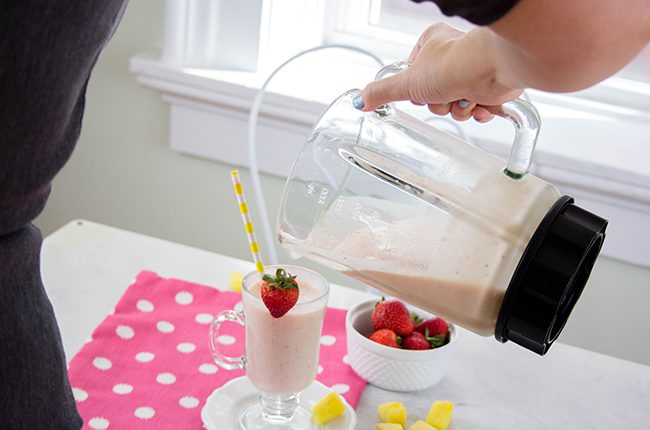 Note: When using fresh fruit instead of frozen, you will want to add in approximately 1 cup of ice cubes for a thicker and colder smoothie experience.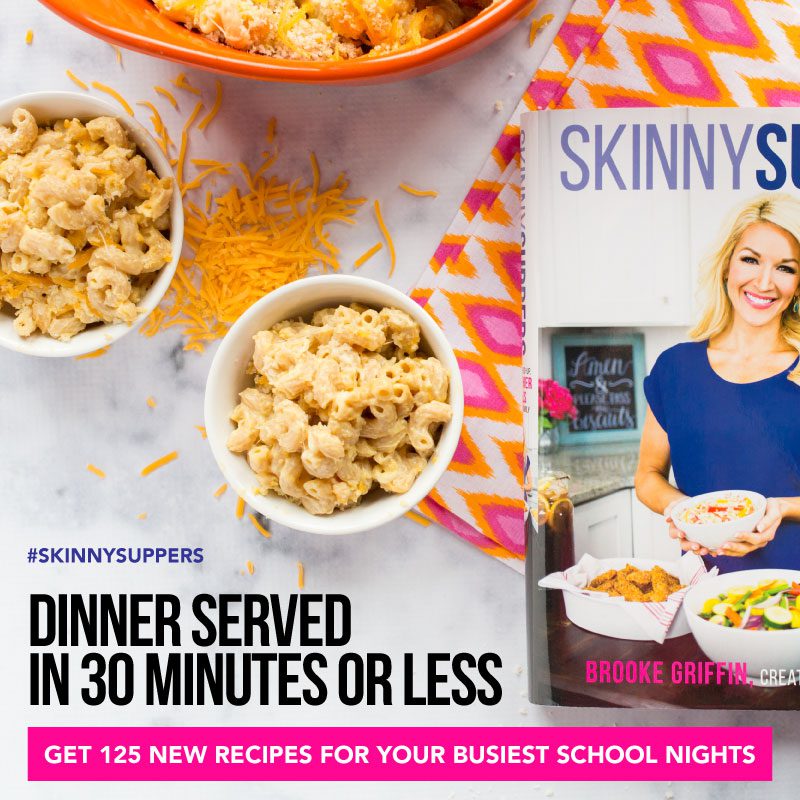 Print Recipe
Protein Packed Strawberry Pineapple Smoothie
Whip up this easy Strawberry Pineapple Smoothie that is packed with protein in just a few seconds! A perfect on-the-go breakfast you can drink while you drive to work!
Servings: 2
Calories: 583kcal
Cost: $2
Ingredients
1 banana frozen
1/2 cup strawberries frozen
1 cup pineapple chunks frozen
1 scoop vanilla protein powder
1/2 cup reduced-sugar orange juice
1/2 cup water cold
Instructions
Combine all ingredients in your blender and pulse until smooth
Notes
Tip: If using fresh fruit, add 1 cup ice to the mixture for a thicker texture
Nutrition
Calories: 583kcal | Carbohydrates: 127g | Protein: 24g | Fat: 3g | Saturated Fat: 1g | Cholesterol: 62mg | Sodium: 91mg | Potassium: 1358mg | Fiber: 12g | Sugar: 100g | Vitamin A: 359IU | Vitamin C: 106mg | Calcium: 256mg | Iron: 2mg