Stuffed sweet potatoes are one of my favorite meals.  They are so easy to throw together and so very versatile.  This recipe is for a perfect barbecue pulled pork recipe to top a simple baked sweet potato.  Alongside a side salad or your favorite vegetable, this is a perfect meal for the whole family!
My crispy Brussels sprouts recipe is the perfect healthy side to go alongside this easy stuffed sweet potatoes recipe!
Stuffed Sweet Potatoes
One of my all-time favorite foods is a nice baked sweet potato.  Of course, you need a bit more than just a potato to create a full meal.  So, this recipe for stuffed sweet potatoes has become a new family-favorite meal.  My simple slow cooker pulled pork recipe pairs perfectly with the sweetness of the sweet potato and the spicy hint of smoky flavor in the barbecue sauce.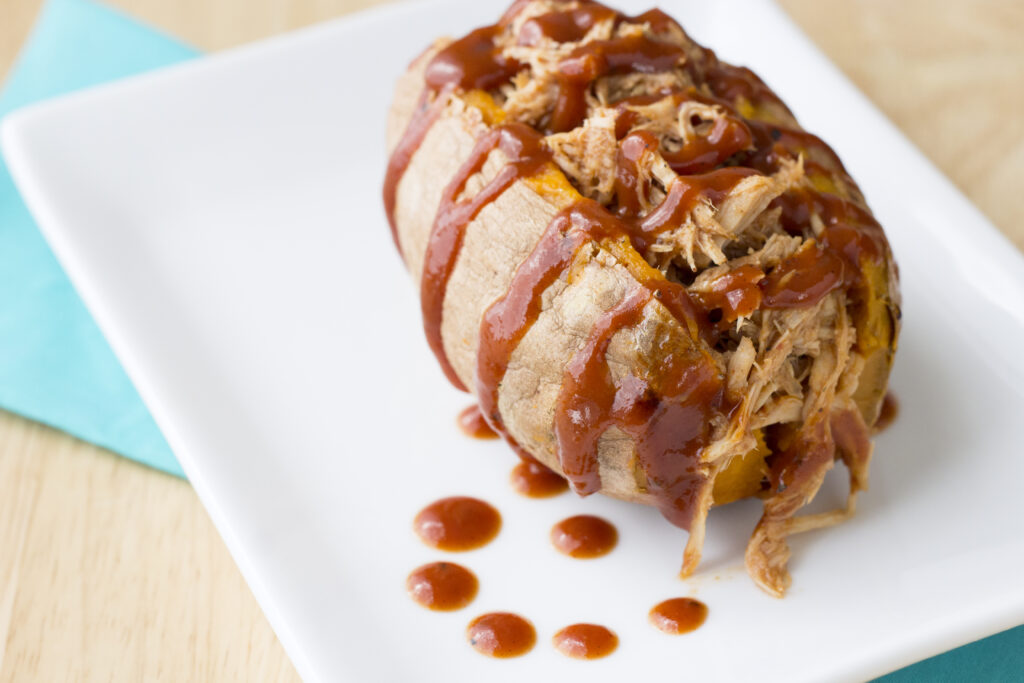 Can I Microwave the Sweet Potatoes? 
If you are short on time, or if it is in the heat of summer and you don't want to turn on the oven, a microwave is a good alternative.  The outer skin doesn't get as crispy, so it can be a bit harder to hold up under the pork, but the flavor is just as good as if you had oven-roasted the potatoes before loading with pulled pork.  A stuffed sweet potato doesn't have to be complicated, so if microwaving is easier – that's the way to go!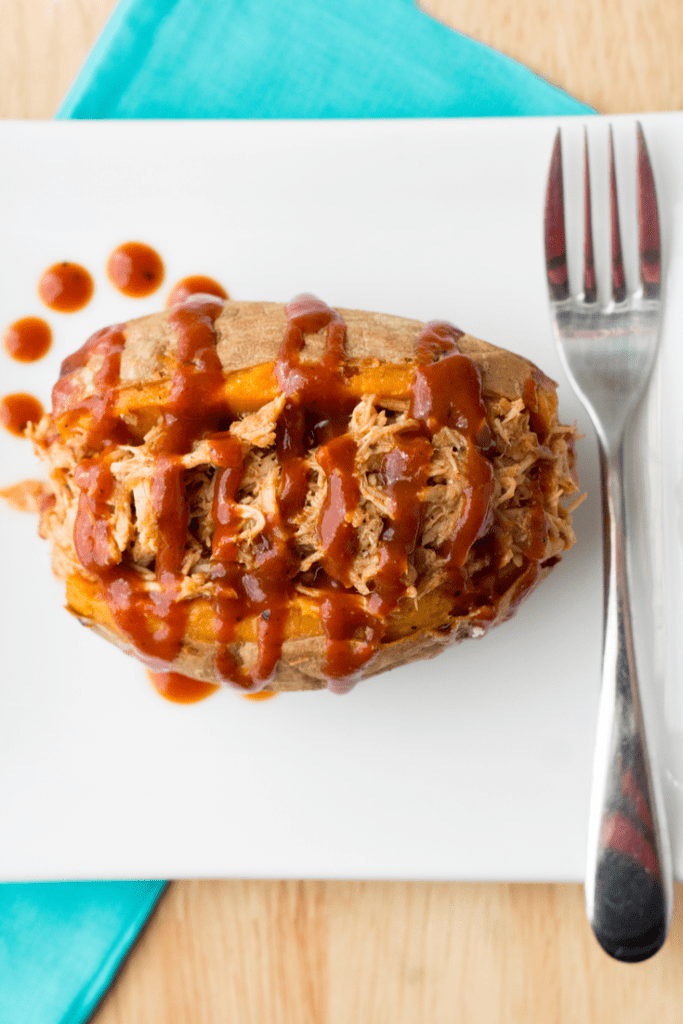 What is the Best BBQ Sauce for Pulled Pork? 
My personal preference if I am not making my own homemade BBQ sauce is to use Stubb's BBQ sauces.  Their original is amazing, and there are also spicier or sweeter options to fit your preferences.  If you don't have Stubb's at your local store, simply use your own personal favorite jar of BBQ sauce for this recipe.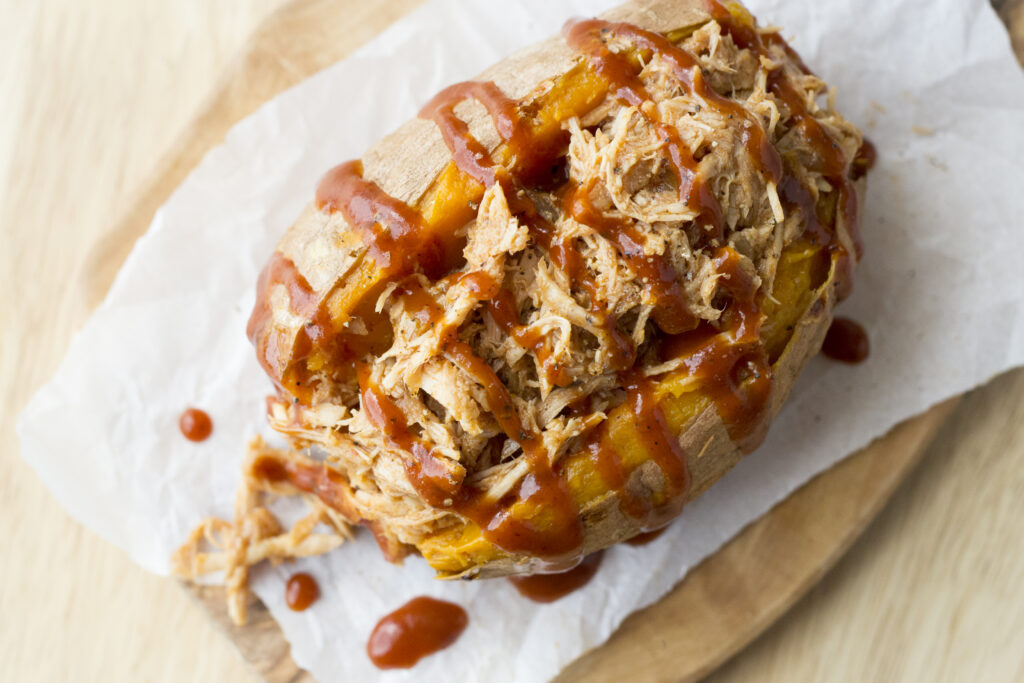 More Sweet Potato Recipes
Sweet potatoes are full of antioxidants an tons of naturally sweet flavor.  They adapt easily into sweet recipes but are also great for that savory meal like this one.  I love how easy it is to make these slow cooker mashed sweet potatoes.  They are ideal for serving at holiday dinners when you have the oven and stovetop busy with other recipes.
Another favorite in my house are my twice baked sweet potatoes recipe.  This recipe is definitely more on the side of sweetness but is still a great side dish for any meal.  I love doing this when I have leftover baked sweet potatoes from another meal.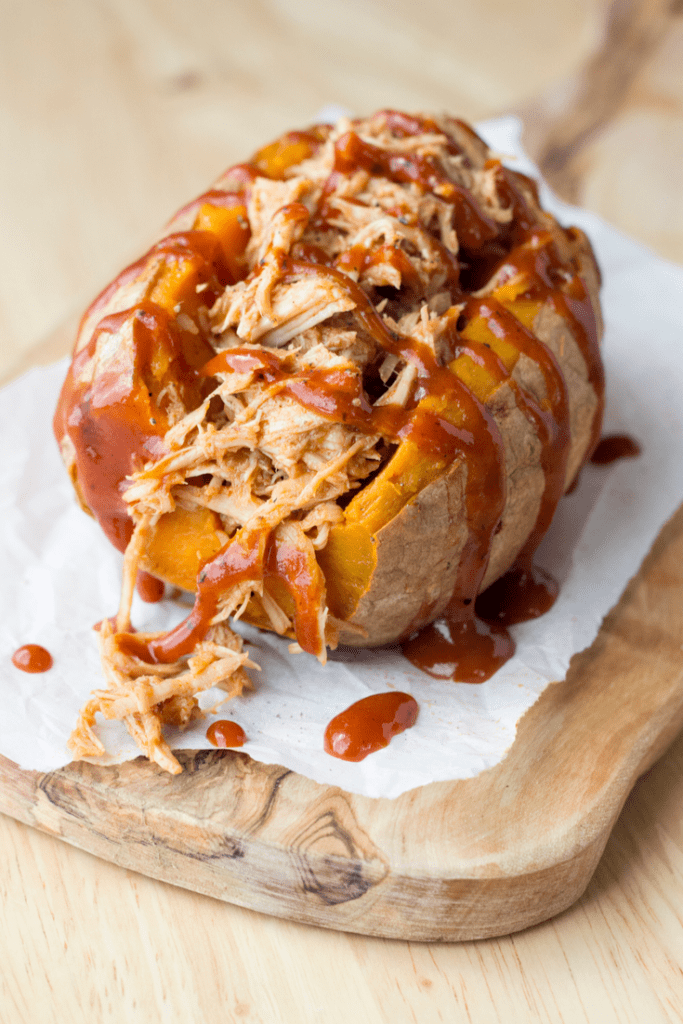 Ingredients
Onions
Beef broth
Pork loin roast
Chili powder
Cumin
Salt
Black pepper
Garlic powder
Stubb's BBQ Sauce
Apple cider vinegar
Brown sugar
Worcestershire sauce
Sweet potatoes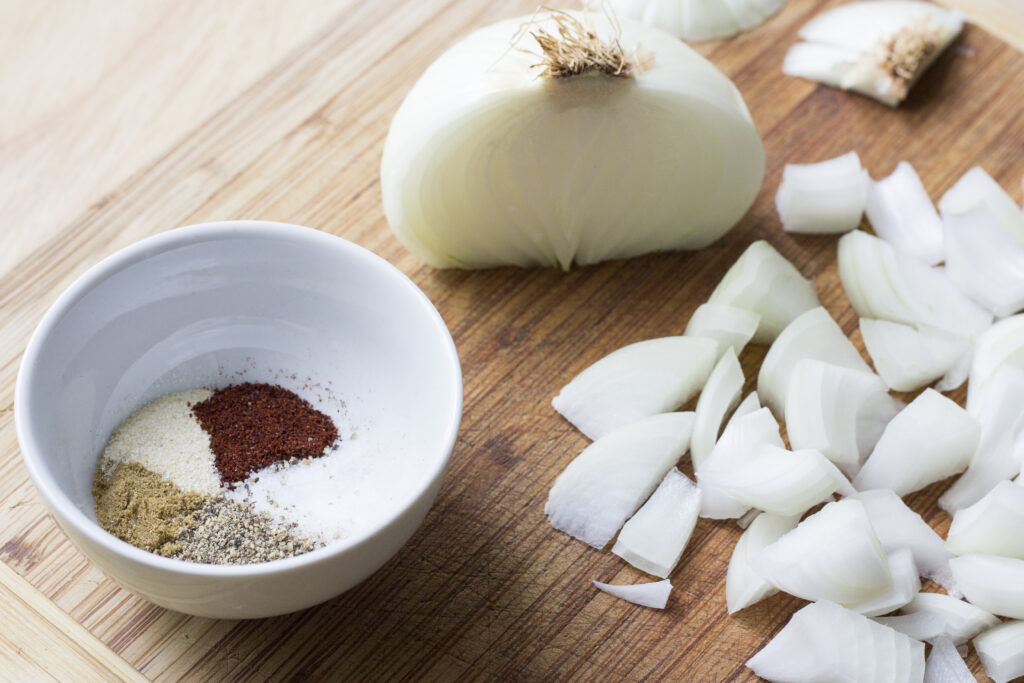 How to Make Stuffed Sweet Potatoes
This recipe is best when you cook the pork loin in a slow cooker, so my first step is always to prepare the slow cooker and add in the meat that has been coated in the seasoning blend.
In the slow cooker, you will also pour the broth and onion.  Set your pork loin on top of the onions in the slow cooker, then close the lid and cook on low for 8-9 hours.  If in a hurry, you can also cook on high for 4-5 hours.
Prepare the baked sweet potatoes by placing them into the oven about 1 hour prior to the time your meat will be ready.  Alternately, begin cooking in the microwave about 20 minutes prior to time to eat.  Cook in 5-minute increments in the microwave until tender.
Once the pork has cooked through, remove from the slow cooker and pull/shred with forks.
Open your sweet potatoes and top with pork, then a drizzle of bbq sauce over the top.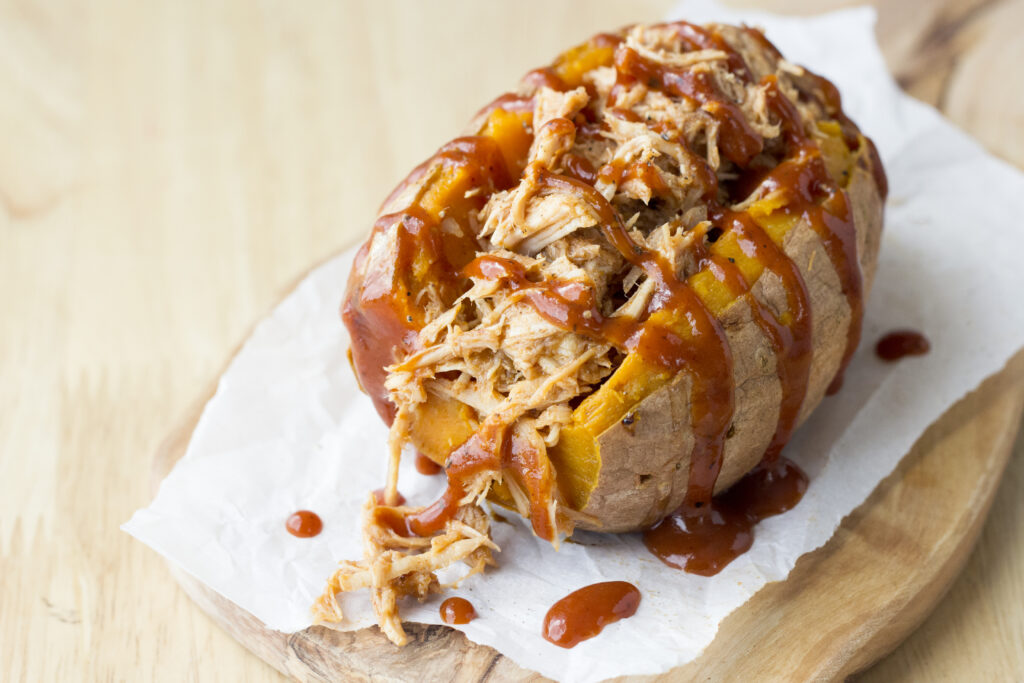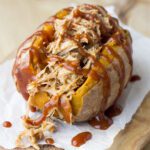 Print Recipe
Pulled Pork Stuffed Sweet Potatoes
Ingredients
2

sweet onions

cut into chunks

½

cup

reduced-sodium beef broth

2

pounds

boneless pork loin roast

½

teaspoon

chili powder

½

teaspoon

cumin

½

teaspoon

salt

½

teaspoon

black pepper

½

teaspoon

garlic powder

1

cup

Stubb's® Original All Natural Bar-B-Q Sauce

¼

cup

apple cider vinegar

1

tablespoon

brown sugar

1

teaspoon

worcestershire sauce

8

medium-sized sweet potatoes
Instructions
Put onion chunks and beef broth in a slow cooker and set aside.

Trim fat from pork. In a small bowl, mix chili powder, cumin, salt, pepper and garlic powder. Rub mixture evenly over pork. Place meat in slow cooker (if necessary, cut meat to fit into cooker).

Cover and cook on low for 8-9 hours or on high for 4-4½ hours.

45 minutes before pork is ready, set oven to 400º F. Wash sweet potatoes and pierce each sweet potato several times with a fork. Place the sweet potatoes on a baking sheet lined with foil. Bake for 45 minutes, until potatoes are tender. (To save time you can microwave your sweet potatoes! Puncture each sweet potato several times with a fork. Evenly arrange potatoes in a microwave-safe dish. Cook on high for 4-5 minutes for the first potato, plus 2-3 minutes for each additional potato. Flip potatoes halfway through cooking.)

Remove meat from the slow cooker and place in a large bowl.

Use a slotted spoon to remove onion chunks and place in the same bowl as the pork. Using forks, pull meat apart.

In another large bowl, combine BBQ sauce, apple cider vinegar, Worcestershire sauce and brown sugar. Pour over shredded pork and onions; mix thoroughly to coat.

Using a knife, slice sweet potatoes down the middle, creating an open center. Fill each sweet potato with 4-ounces of the meat mixture.

Optional: drizzle ½ tablespoon of BBQ sauce back and fourth over the top of each potato.