Do you know How to Make an Authentic Guacamole Recipe?  If not, this is a perfect recipe to start with when trying to enjoy more avocados in your diet.  Avocados are jam-packed with fiber, potassium, non-saturated fats and folate. In my opinion, avocados are at their best inside guacamole! At 114 calories and 5 grams of fiber per serving, this guac will be gobbled up in record time.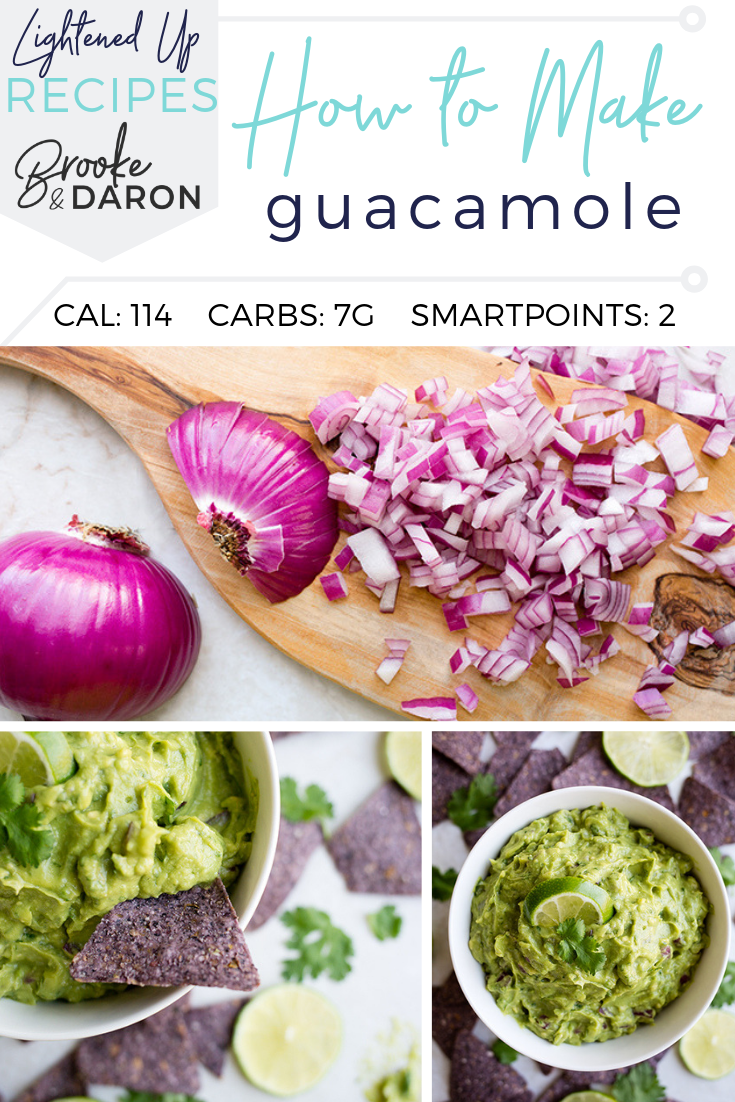 The Best Authentic Guacamole Recipe
Guacamole is typically eaten with tortilla chips, but it has also become a popular addition to salads, sandwiches, and wraps.  It is creamy, high in healthy fats, full of flavor, and seriously simple to make. There are tons of variations on making a simple guacamole recipe, but the one below has become my personal favorite.
Does an Authentic Guacamole Recipe have Tomatoes? 
The answer to this question is no.  While it is often seen in various guacamole recipes online, it is not a traditional ingredient.  If you really like that addition – feel free to dice some and mix into this recipe, but realize it is not truly authentic.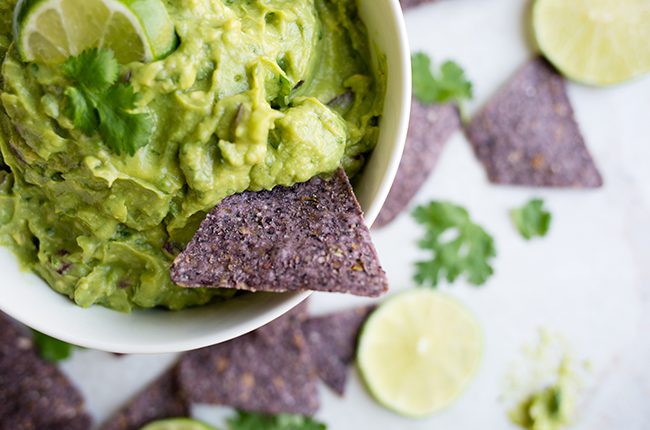 Can I Make This Recipe Ahead of Time? 
You sure can!  The biggest problem with making guacamole ahead of time is that it can turn brown or black easily.  Once an avocado is exposed to air, it starts the breakdown process and turns different colors.  This doesn't always indicate that avocado is bad or unhealthy to eat, but since we first eat with our eyes, it can be a bit unsettling.
To prevent your guacamole from turning colors, make sure you have it in a nice airtight container.  You can cover the top with plastic wrap and make sure that is right up against the guacamole.  Other popular options are to add the pit of the avocado to the middle of the bowl or to squeeze fresh lemon or lime juice across the top.

How can I Serve This Simple Guacamole Recipe? 
The first and most popular way to serve an authentic guacamole recipe is to use as a dip with tortilla chips.  However, it truly is a versatile dip recipe that works wonderfully with many dishes.  Below are some of our favorites that this would pair great alongside.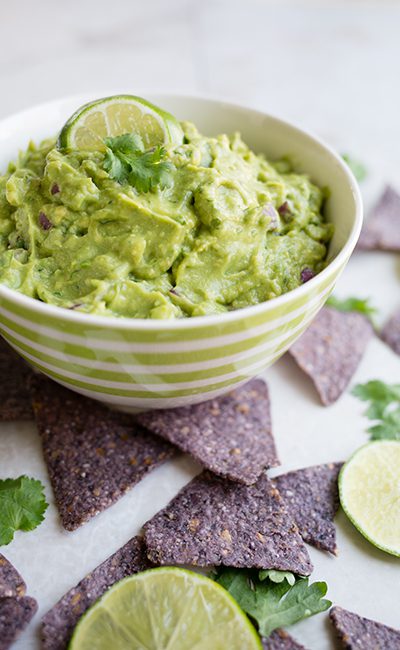 Ingredients Needed: 
Avocados
Red Onion
Cilantro
Lime
Salt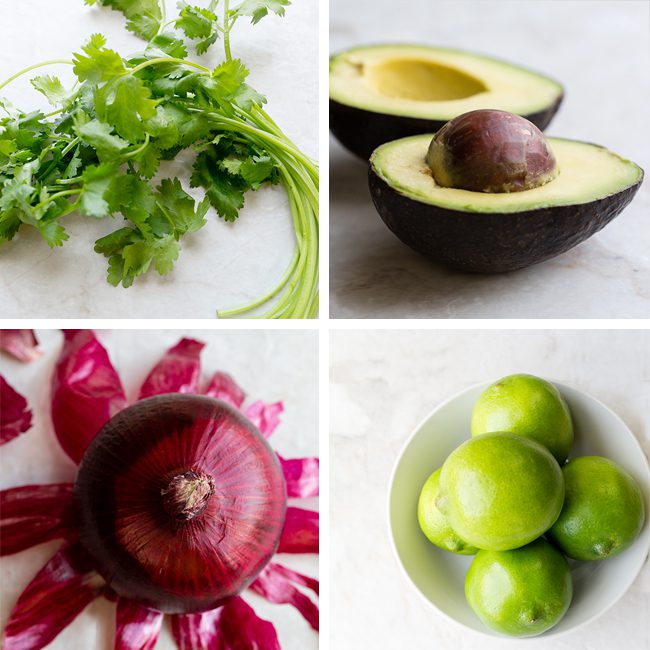 How to Make the Best Guacamole Recipe
Cut your avocado in half carefully and remove the pit.  You will scoop the fruit of the avocado out into a bowl and mash lightly.
Prepare your onion and cilantro.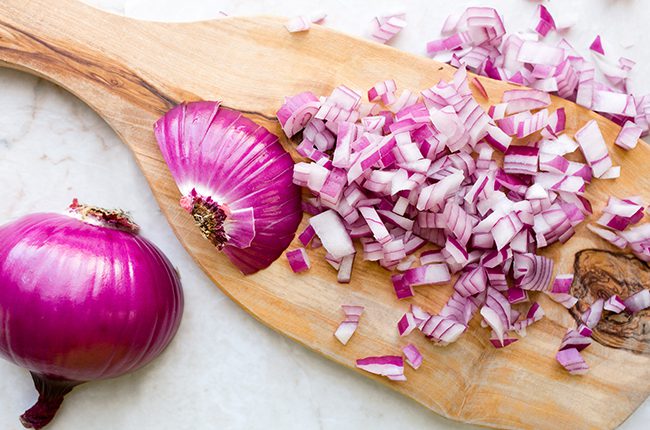 Mix onion, cilantro, lime juice, and salt into the bowl with the avocado and mash together with a fork.
You will want to taste and adjust for more salt or lime if needed.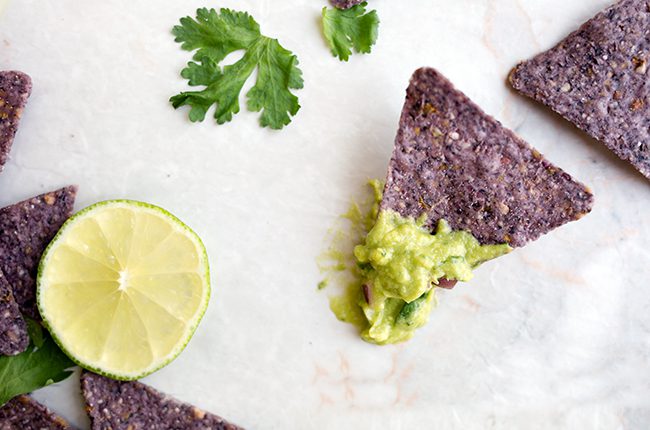 Store in an airtight container until ready to serve.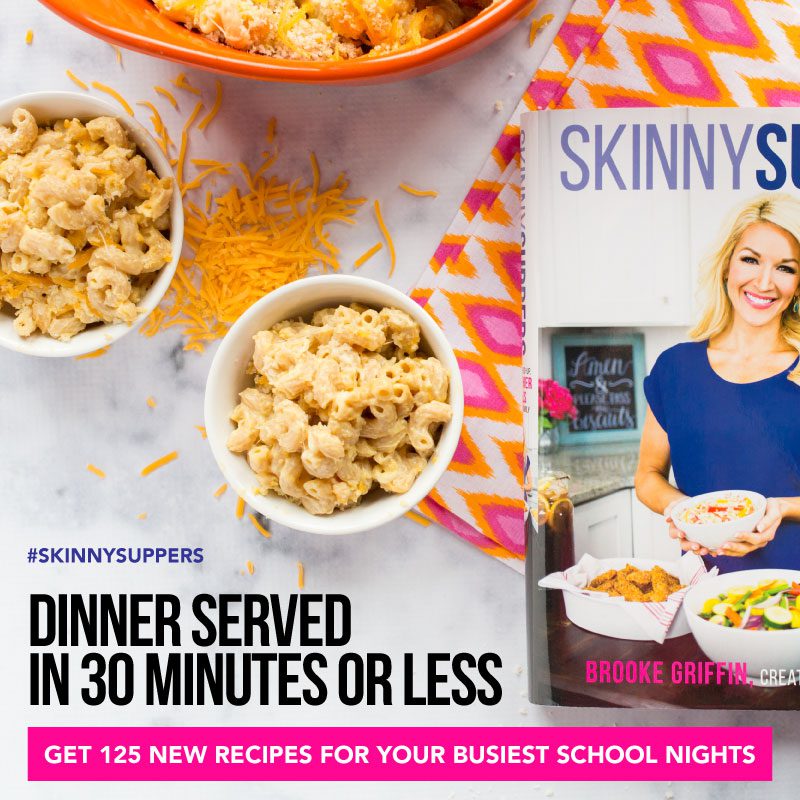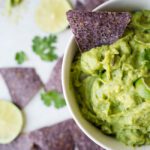 Print Recipe
Authentic Guacamole Recipe
Learn How to Make an Authentic Guacamole Recipe using avocado, onion, lime, cilantro, and salt for the ideal dip for tortilla chips.
Servings: 4
Calories: 114kcal
Ingredients
2 avocado ripe
1/2 cup red onion diced
2 tbsp cilantro chopped
1 lime juice
1/2 tsp salt
Instructions
Cut the avocado in half and remove the pit. Scoop the fruit out with a spoon into a large mixing bowl.

Add the onion, cilantro, lime juice, and salt to the bowl and mash together with a fork.

Taste, and adjust lime juice and salt as needed.
Video
Nutrition
Serving: 0.25cup | Calories: 114kcal | Carbohydrates: 7g | Protein: 2g | Fat: 10g | Saturated Fat: 1g | Sodium: 200mg | Fiber: 5g | Sugar: 1g