This Honey Mustard Dressing recipe is lightened up and enjoyed without all the guilt! Our family absolutely loves this honey mustard recipe as it's creamy and I happen to love it because it uses ingredients that are already in our home.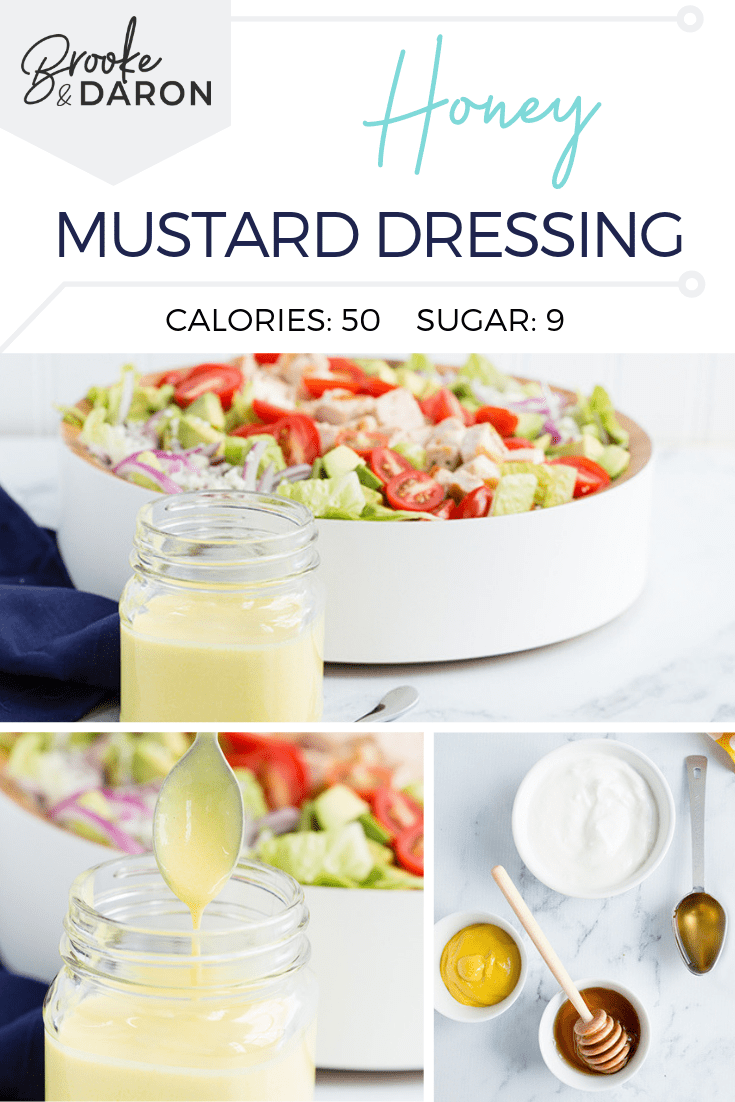 Tired of the same 'ole dressing? Switch it up with dinner tonight with my quick & easy honey mustard dressing recipe. I promise this recipe is so easy and it's made with ingredients that you already have on hand in your kitchen.
What is Honey Mustard made out of?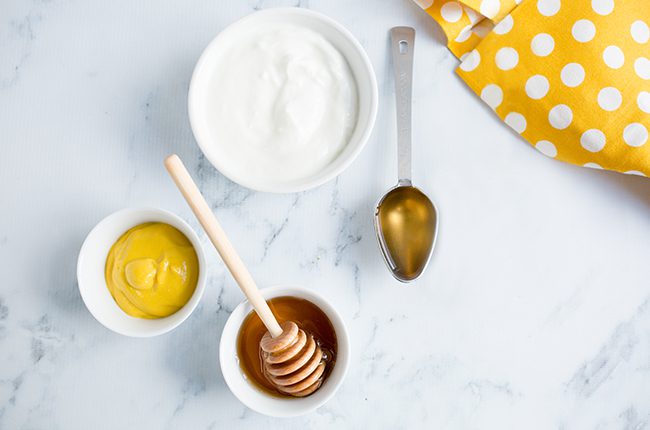 You will be AMAZED at how easy this honey mustard dressing recipe is to make. I'm telling ya'll this will become a staple in your home like it is ours. Are you ready to see how easy these ingredients are? Here they are:
mayo (any kind you have on hand)
mustard
honey
apple cider vinegar
salt and pepper to taste
See! I told ya'll it's a simple recipe with ingredients you already have on hand!
How do you make a honey mustard dressing recipe?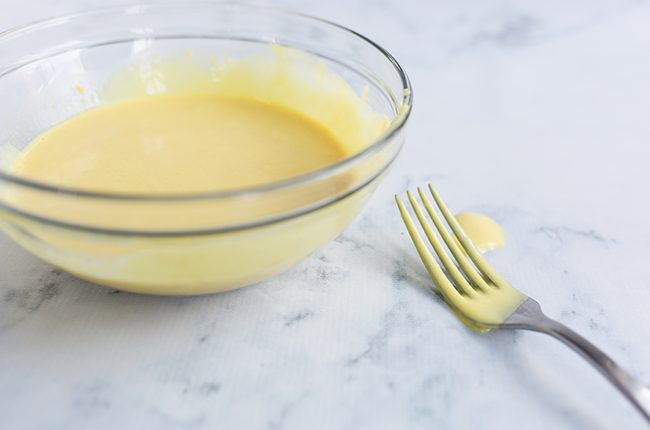 Grab a bowl, a whisk (or a fork!) and your ingredients.
Place greek yogurt, mustard, honey and apple cider vinegar into a bowl.
Whisk until smooth and the consistency that you are looking for.
Add in a little salt and pepper to taste and you have a delicious honey mustard dressing recipe without mayo!
TIP: If you want a thicker consistency, use less honey. If you like a runnier consistency use a little more honey or a tablespoon or two of water.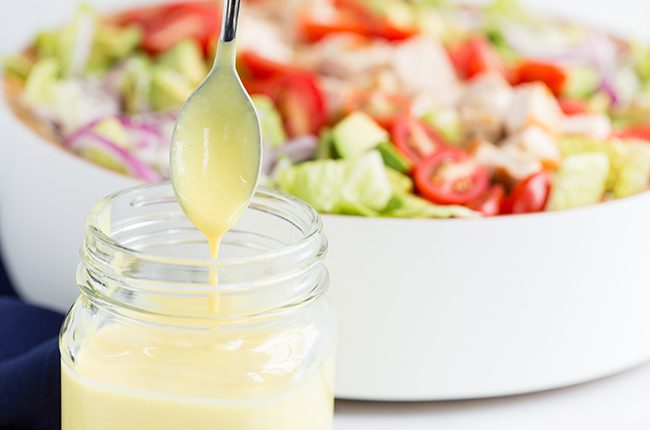 Is there Mayo in honey mustard?
Yes, there is mayo in a traditional honey mustard dressing recipe. However, if you don't have any mayo or don't like it, you can sub it out like we do and use greek yogurt. If subbing out the mayo, you'll want to add in an acid such as 2-3 tablespoons of apple cider vinegar or lemon juice for that "zing" that's found in mayo!
How long will honey mustard dressing last?
With the honey in the honey mustard recipe, it acts as a preservative. Therefore, it will last about 3 to 4 weeks in the refrigerate with homemade mayo. If you are using store bought mayo, check the expiration date. It will last about two weeks past the expiration date!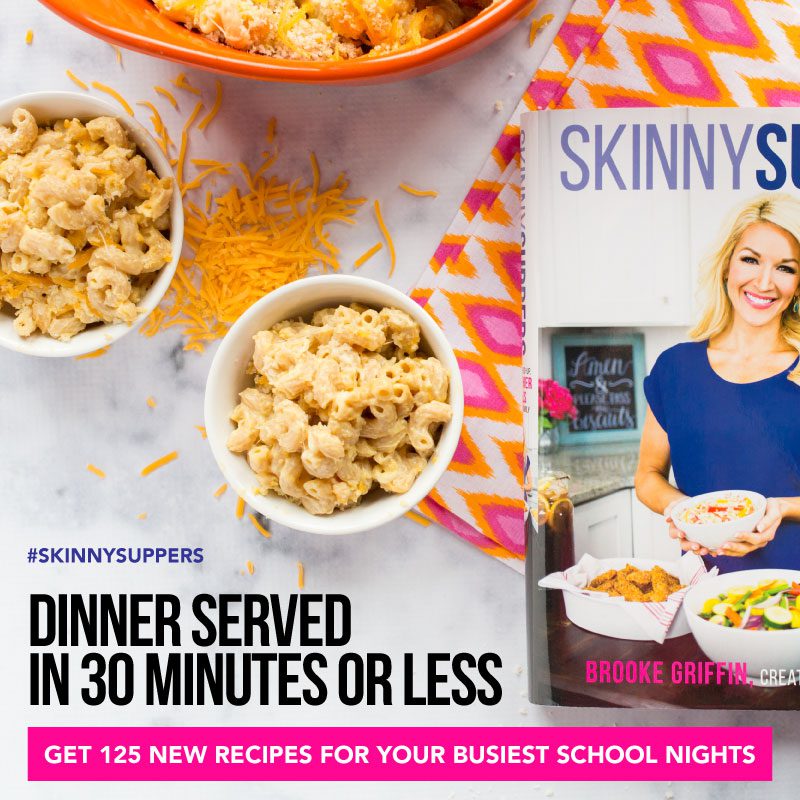 Print Recipe
Honey Mustard Dressing
A quick and easy honey mustard dressing recipe that's not made with mayo! It comes together in just seconds and a great addition to your weeknight salad!
Servings: 6
Calories: 50kcal
Ingredients
½ cup plain nonfat Greek yogurt
3 tablespoons honey
2 tablespoons yellow mustard
1 tablespoon apple cider vinegar
Salt to taste Black pepper, to taste
Instructions
Place all ingredients in a bowl and whisk together until smooth and well incorporated.
Nutrition
Calories: 50kcal | Carbohydrates: 9g | Protein: 2g | Cholesterol: 1mg | Sodium: 65mg | Potassium: 6mg | Sugar: 9g | Vitamin A: 10IU | Calcium: 25mg | Iron: 0.1mg