This Healthy Queso Dip Recipe is going to become a big hit at your next game day party!  A simple combination of cheese, tomatoes, chiles, and spices turns into the perfect healthier dip recipe.  This is a perfect guilt-free appetizer that nobody will realize is lighter and healthier than your typical recipe.
Make a batch of my oven-roasted zucchini chips for a healthier dipping option instead of tortilla chips!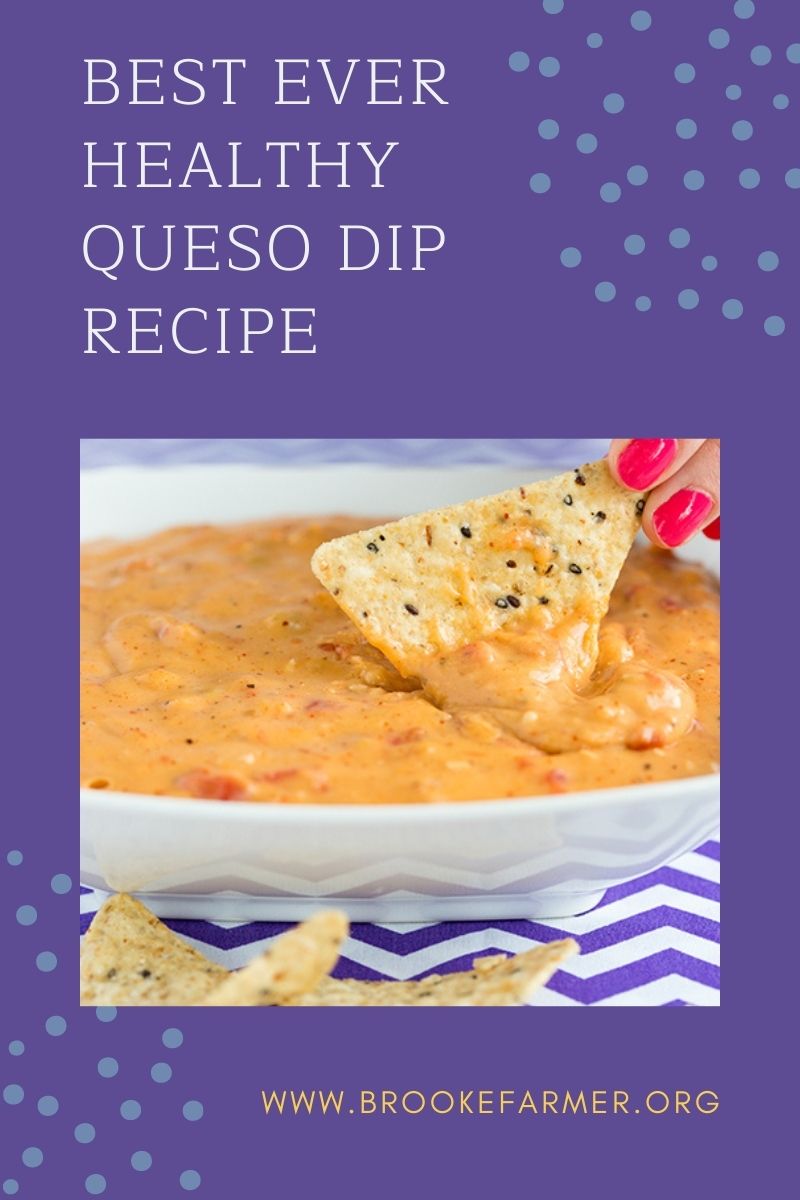 Queso Dip Recipe
I love having delicious dips and snacks around when we have friends over for game days.  Of course, this recipe is great for not just the game day, but also for taco nights.  Load up a salad with tons of toppings and drizzle some of this queso dip recipe over the top to make a tasty taco salad you will love!
If you are looking for more healthy snacks or appetizers, make sure you check out my healthy baked mozzarella sticks or the fantastic buffalo flavored spicy deviled eggs recipe.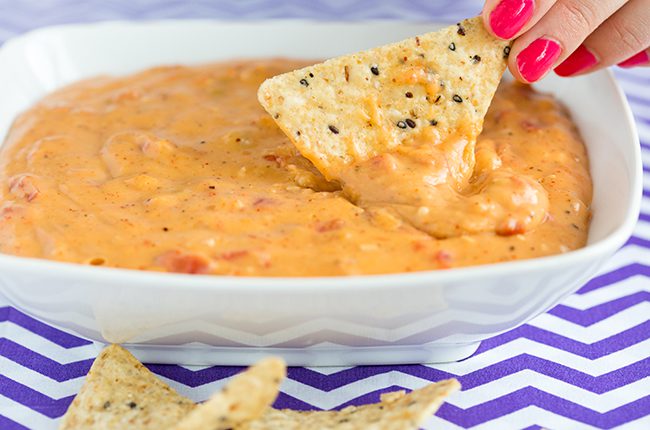 What should I serve with this for dipping?
Traditionally tortilla chips are the best go-to dipping device for your favorite cheese dip.  If you are watching calories, then you will probably be looking for something different for dipping.  My zucchini chips are a favorite, but you can also make your own homemade tortilla chips.  Slice a low-calorie tortilla into strips, spray it with non-stick spray, and bake until crispy.
You can also add a platter of celery sticks, carrot sticks, cucumber, broccoli, and even cauliflower to use for dipping.  No matter what you use, you are going to absolutely love this queso dip recipe.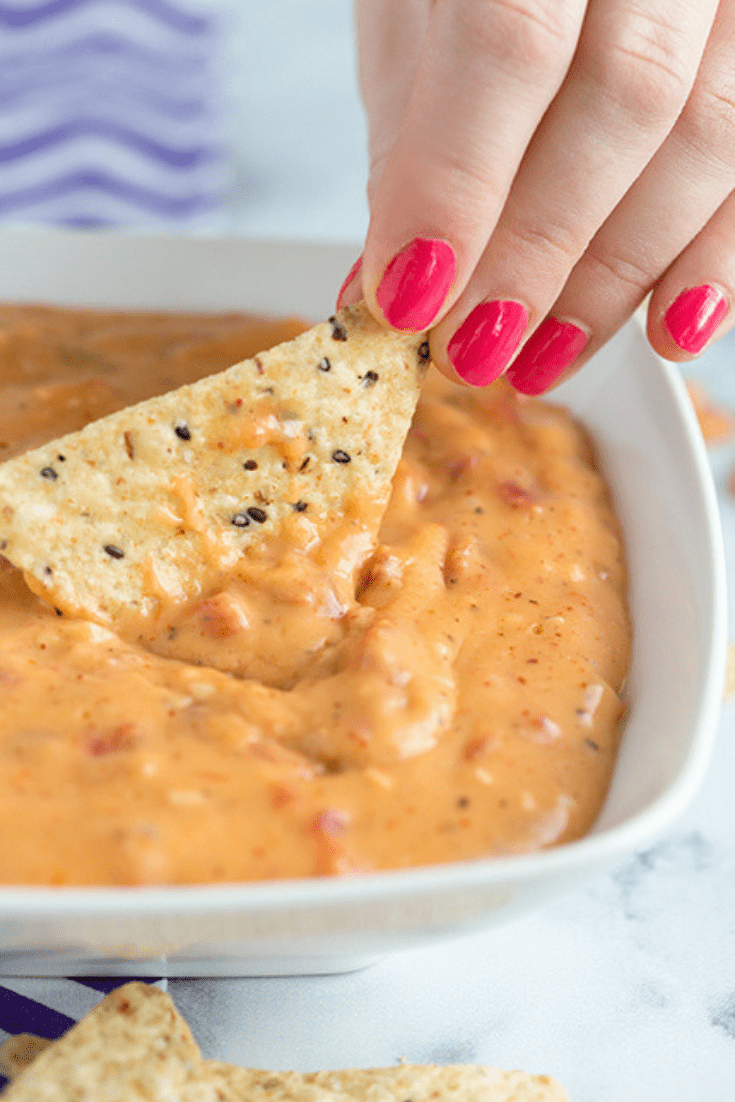 Ingredients for Healthy Queso
extra virgin olive oil
minced garlic
cornstarch
unsweetened almond milk
diced tomatoes with green chilies
white whole wheat flour
cumin
chili powder
onion powder
salt
black pepper
shredded reduced-fat mild cheddar cheese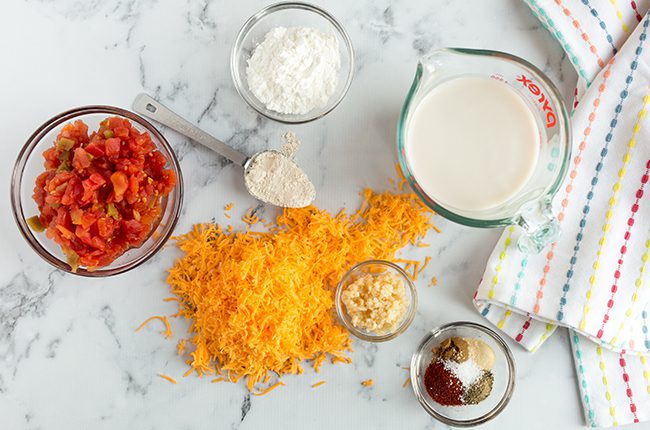 How to Make a Healthy Queso Dip Recipe
Heat a medium saucepan over medium-low heat. Add the oil and garlic and cook until the garlic is beginning to brown but not burning, about 1 minute.
Stir the cornstarch into ¼ cup of the almond milk to make a slurry and set aside.
Add the drained can of tomatoes and cook an additional 2 minutes until they are heated. Sprinkle the flour over the tomatoes and stir for 1 minute.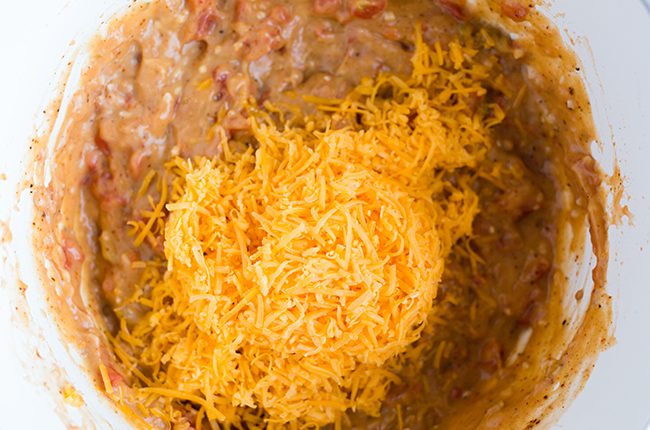 Turn the heat up to medium-high and stir in the remaining almond milk and the previously set-aside slurry. Stir consistently for 2-4 minutes, until thickened.
Turn the heat down to low and stir in the cumin, chili powder, onion powder, salt, black pepper, and cheddar cheese. Stir queso until smooth.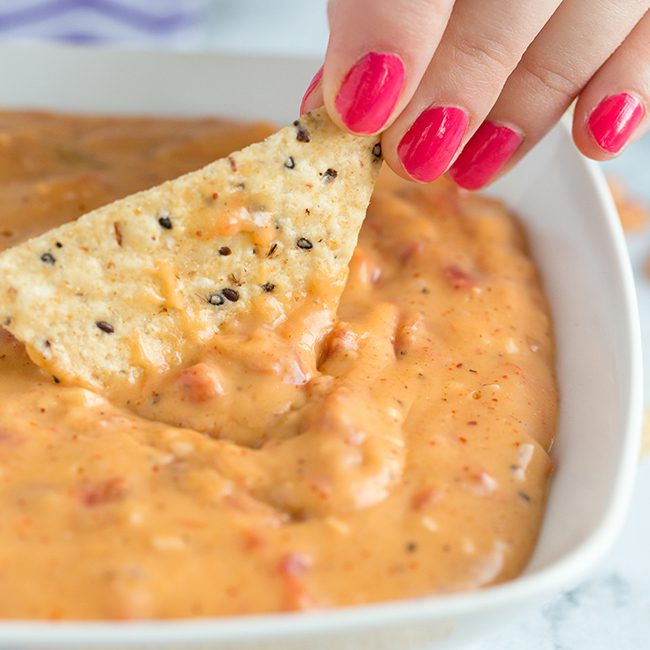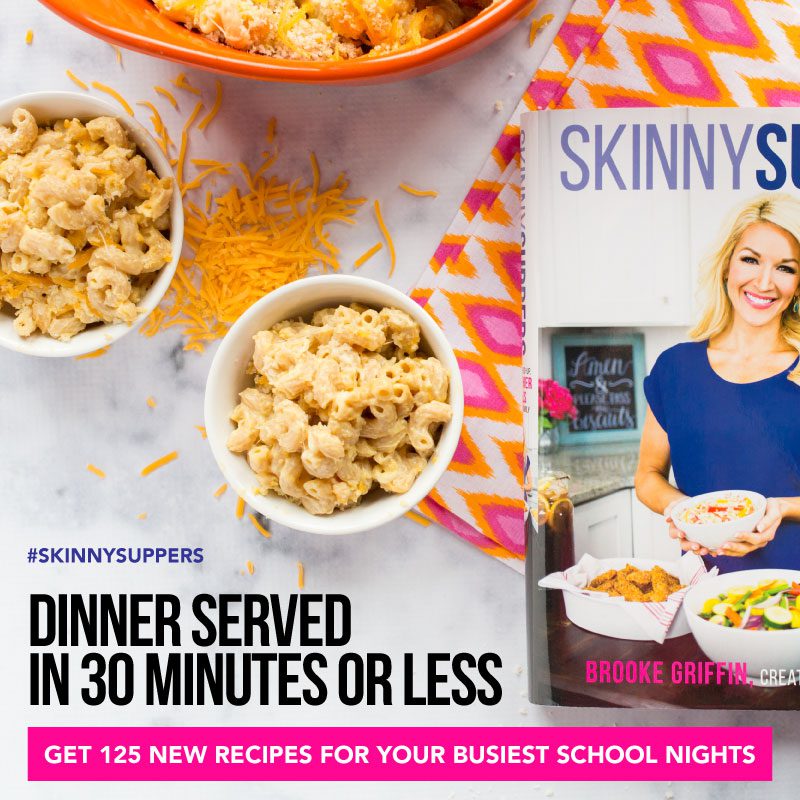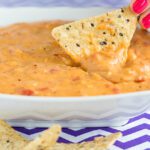 Print Recipe
Healthy and Easy Queso
Cheese lovers, rejoice! This Simple Healthy Queso recipe is the answer to your weight loss prayers! By combining cornstarch, almond milk, tomatoes, cheese and all kinds of yummy ingredients we get a warm, delicious and healthy queso recipe. A quarter-cup of this goodness clocks in at only 53 calories and 3 grams of fat!
Servings: 12 servings
Calories: 53kcal
Ingredients
½ teaspoon extra virgin olive oil
1 tablespoon minced garlic
2 tablespoons cornstarch
1½ cups unsweetened almond milk
1 (10-ounccan diced tomatoes with green chilies drained
1 tablespoon white whole wheat flour
½ teaspoon cumin
1 teaspoon chili powder
½ teaspoon onion powder
¼ teaspoon salt
⅛ teaspoon black pepper
1 cup shredded reduced-fat mild cheddar cheese
Instructions
Tips:

Serve this queso with your favorite tortilla chips or veggies.

If you can handle the heat, stay in the kitchen and add an optional 1 teaspoon sriracha hot sauce! We promise you won't regret it.

If the queso gets too thick as it sits, stir in more almond milk over low heat to thin it out.
Nutrition
Serving: 1/4 cup | Calories: 53kcal | Carbohydrates: 5g | Protein: 3g | Fat: 3g | Saturated Fat: 1g | Cholesterol: 7mg | Sodium: 207mg | Sugar: 1g