Mother's Day has always been so special to me throughout the years.  I love being a mom!  But, I also love celebrating my mom, grandmothers, friends, and other relatives who are moms in my life.  Every woman loves flowers, but we also love something homemade and from the heart.  So, I've put together a step-by-step guide to DIY Mother's Day Floral Arrangements you can do yourself, along with inspo for your own designs!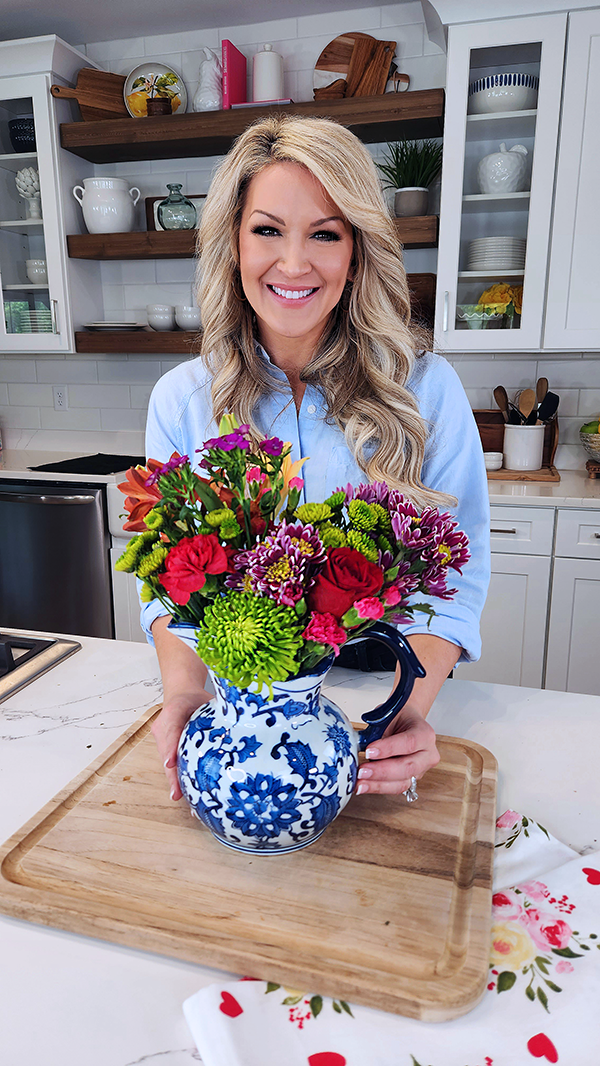 DIY Mother's Day Floral Arrangements Step By Step Guide:
I used to be intimidated by making my own fresh flower arrangements, but I've learned that you really can't go wrong.  Flowers are so beautiful on their own that there's nothing to worry about.  It's mainly about adding different volumes, sizes, and colors of flowers, or even a stunning vase to go with them.  Here's a step-by-step guide to how I create my DIY Mother's Day floral arrangements.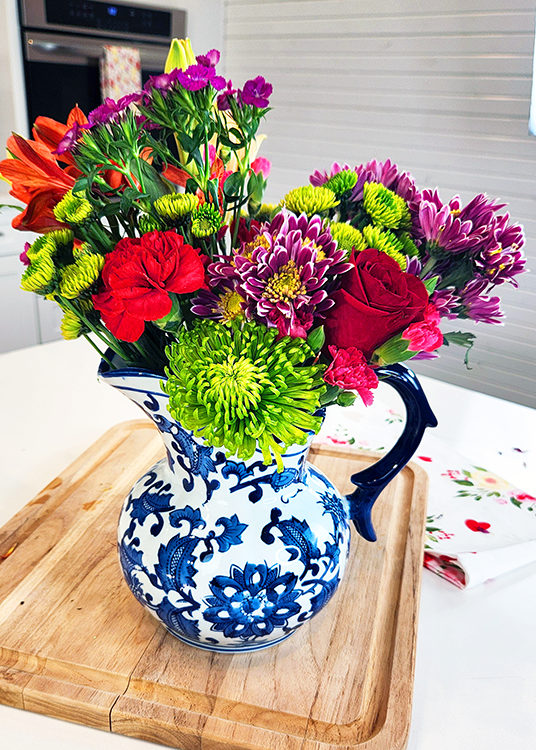 1.  First, gather all of your materials and give yourself plenty of space to work.  I like to use my kitchen counter or dining table as a workspace.
2.  Then, separate your various flowers and bouquets into groups of similar flowers and greenery.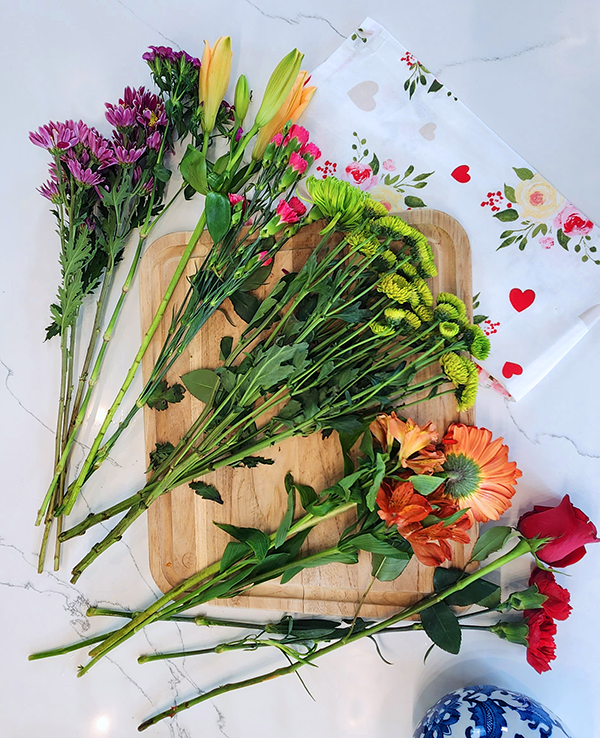 3.  Fill your vase with about 2 cups of cool tap water, and add the plant food that came with your flowers.
4.  Put the vase at the edge of your table, and starting with the largest flowers, hold each one against the outside of the vase so that you can see where to cut the stem.  Remember, you can always cut a little more off, but can't add any back if you cut it too short!  Save a few of the larger flowers to trim later as well.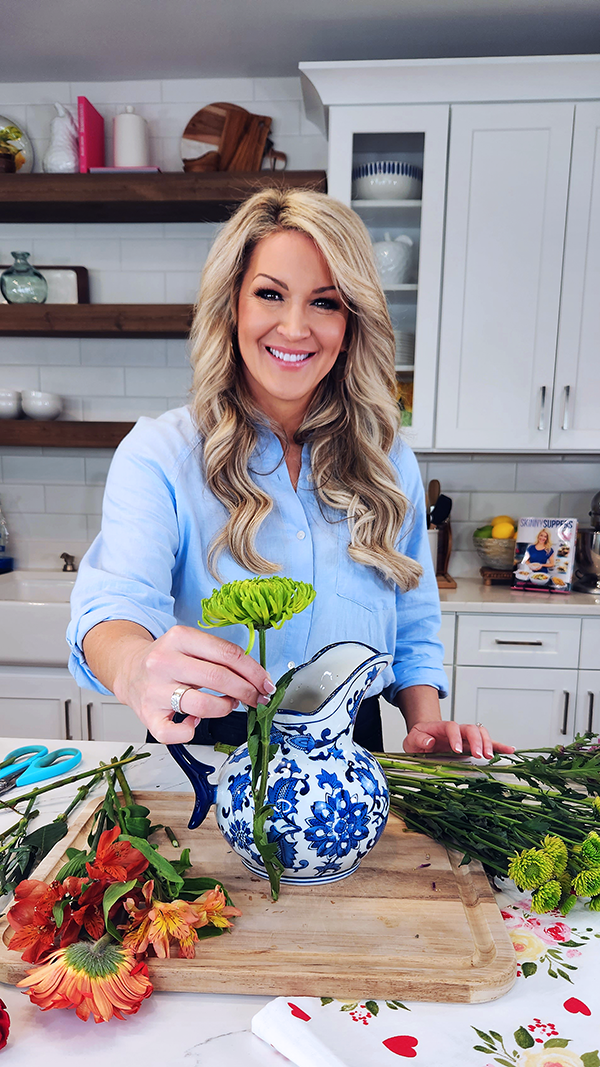 5.  Then, cut each stem at enough of an angle so that no matter how slanted it is, it won't be able to lay flat against the bottom of the vase. If they are flat, they won't be able to suck up any water.
6.  Remove any leaves that could possibly be under the water level.  They will rot and smell.
DIY Floral Arrangements: Half Way There!
7.  After you've placed a few of the large flowers around the rim of the vase, fill in the rest of the rim with some smaller flowers.
8.  Now, go back to your largest flowers and cut a few an inch or so shorter than the last group. This allows the flowers in the middle of the vase sit higher than the ones around the rim.
9.  Repeat with the smaller flowers, filling in the gaps.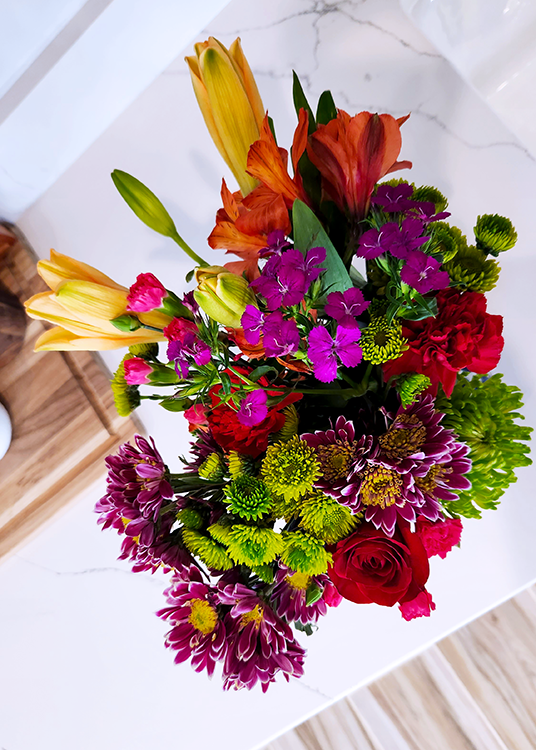 10. If you have any greenery or babies breath, place those around the vase where you see fit.
11. Finally, turn the vase all around and make sure all sides look good.
12.  Change the water every 2-3 days to keep flowers fresh and blooming!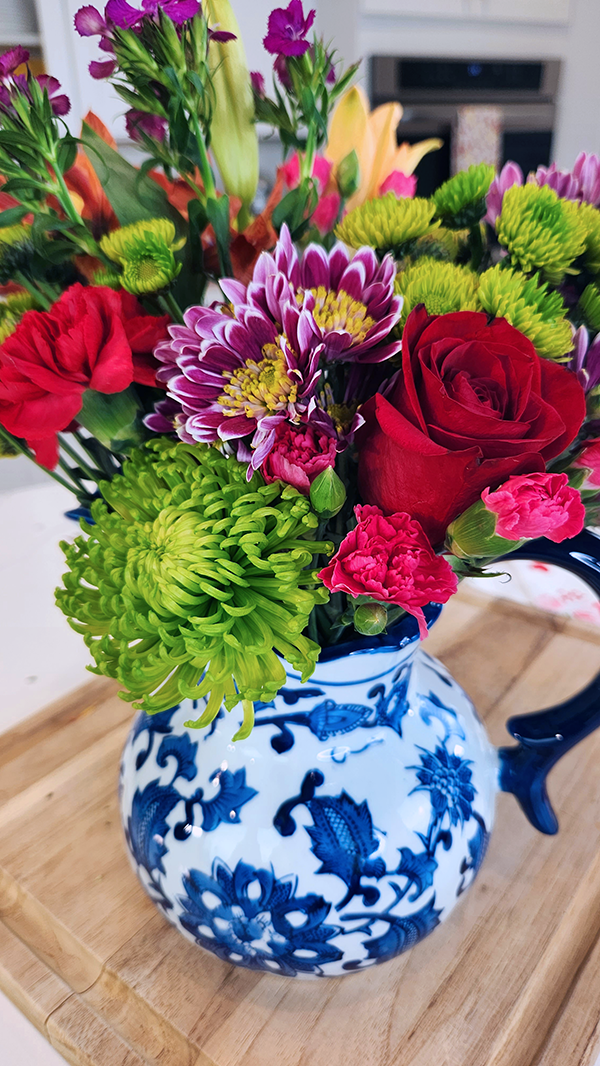 DIY Inspo for Mother's Day:
Florals & Fruit:

Image & Inspo Source:  Refresh Restyle
If you have a clear vase on hand, this flowers and fruit floral arrangement is simply stunning and smells delicious!  You can choose any fruit to match your floral selection.
Pink & White Tulips: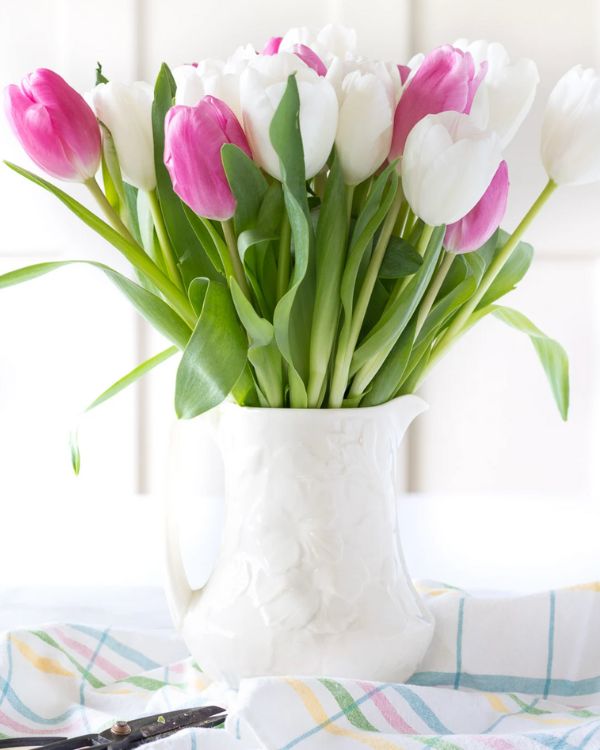 Image & Inspo Source:  On Sutton Place
This simple DIY floral arrangement is easy to achieve.  Using two colors of the same flower is a great way to keep your gift for Mother's Day straightforward, but still from the heart.
One Flower, One Vase Method: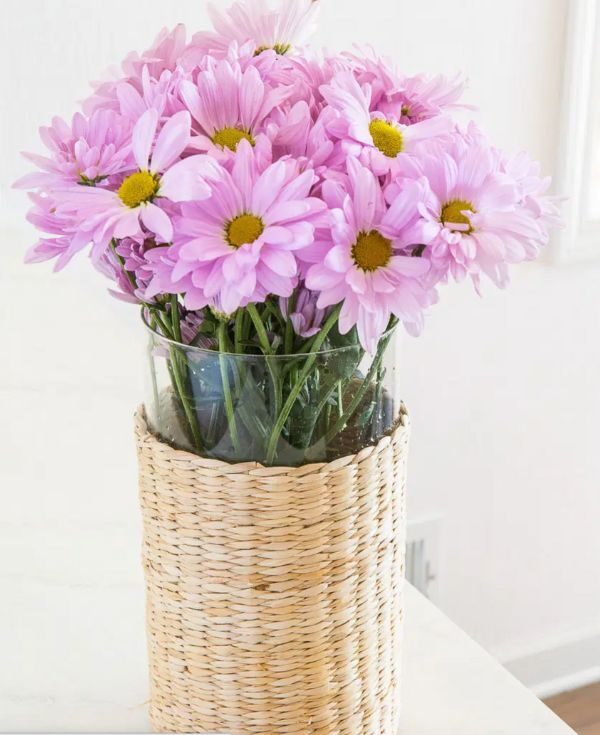 Image & Inspo Source:  InMyOwnStyle
Another super simple and easy Mother's Day floral arrangement is pairing a complementary vase with your floral selection.  The pop of lavender and green above the tan, woven basket makes for a pretty gift that takes very little time to complete.
Mason Jar Bouquets: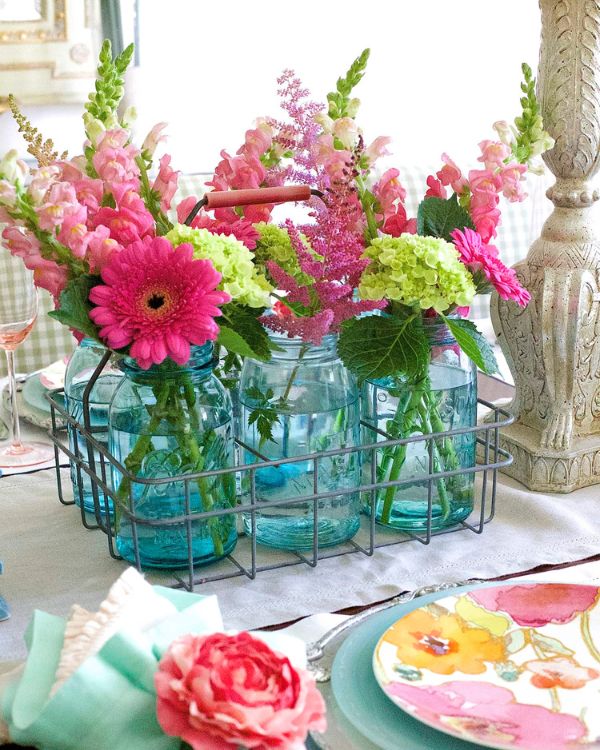 Image & Inspo Source:  Designthusiasm
I typically keep mason jars all around the house for various items, which makes for an easy vase if you're in a pinch!  You can dress them up with a pretty ribbon or twine, used colored jars, or keep them plain and let your floral arrangement shine.
Chinoiserie Vases: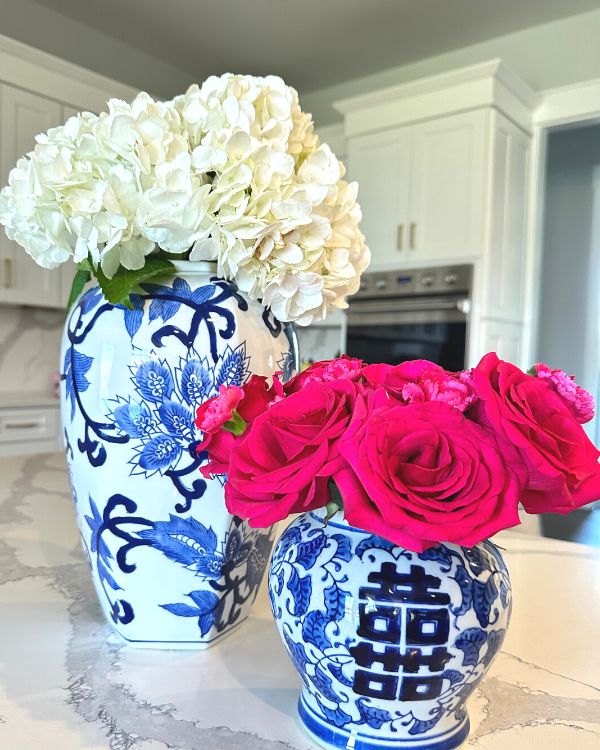 Image & Inspo Source:  Our Farmer House
Last but not least, my FAVORITE way to gift a floral arrangement is using these Chinoiserie vases.  While the floral arrangements I created are simple, it's the Chinoiserie vase that really sets them off.  The blue and white pattern is unexpected and a fun complement to many flowers.  It's not a typical vase that you'll hide away in a cabinet for the next time you get flowers, but it's really a piece of art that can be featured elsewhere in the home.
I collect Chinoiserie items and display them throughout my dining room and bathrooms.  Here's a list of fun Chinoiserie items that I love, but you can also find them at Home Goods, Hobby Lobby, and other vintage decor stores.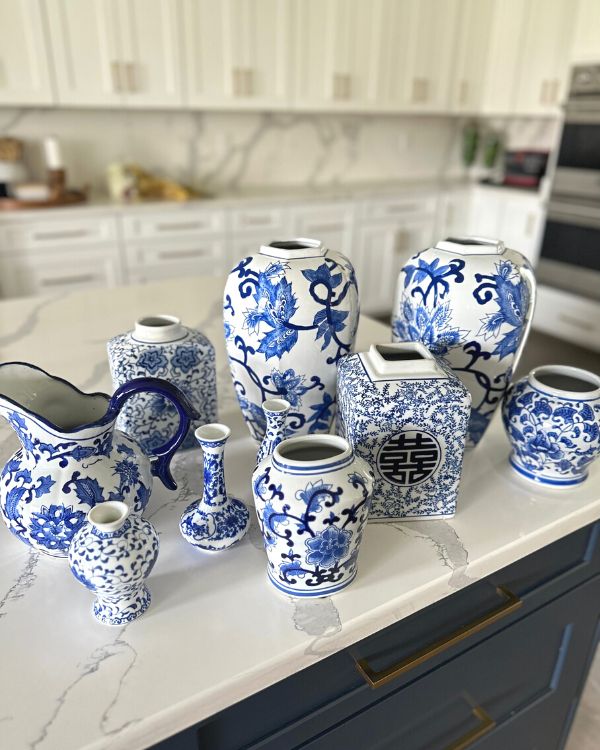 I hope my step-by-step guide to DIY Mother's Day Floral Arrangements and inspo images have inspired you to take on your own bouquet creations this year.  Tag me with your finished designs at @ourfarmerhouse on instagram!
If you're looking for additional Mother's Day gifts to add to your florals, check out these Our Farmer House products:
XOXO,