This Skinny Cincinnati Chili Recipe is a must on your menu during those cool Fall days!  Tons of delicious flavor from rich spices, ground beef, beans, and of course, tomatoes, bring this hearty chili recipe together to satisfy your cravings for the classic local fare.
Want more fall and winter soups?  Check out my favorite Slow Cooker Chicken Tortilla Soup recipe to add to your menu!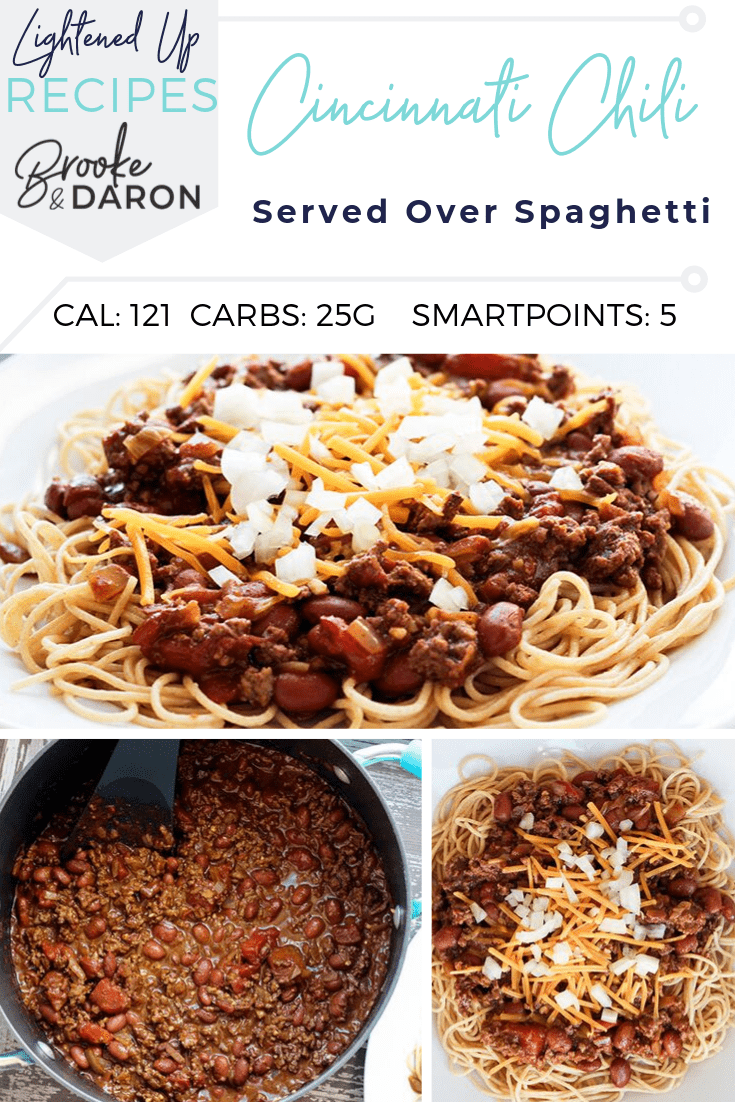 Skinny Cincinnati Chili Recipe
Did you know Cincinnati has over 200 chili restaurants that serve up a version of this Cincinnati classic? What makes this chili so special? A hint of allspice and chocolate and then layered over pasta with chopped onions, cheddar cheese, and oyster crackers to complete this dish. Yes, I said chocolate! So if Cincinnati is your hometown or you're just wanting to try a new chili recipe then my Lightened Up Cincinnati Chili is what you've been looking for!
How can I serve this Cincinnati Chili Recipe? 
The most popular method is as shown and described above.  A plate of pasta, with a layer of chili, then top it with chopped onions and shredded cheddar.  That is the true Cincinnati style of serving chili.  You can, however, use this recipe for all kinds of classic serving methods.
Over macaroni and cheese for a fast "chili mac"
In a bowl with shredded cheese, sour cream, diced onions, and crackers
Over your favorite hot dog or bratwurst
Over a salad with tortilla chips for a "taco salad"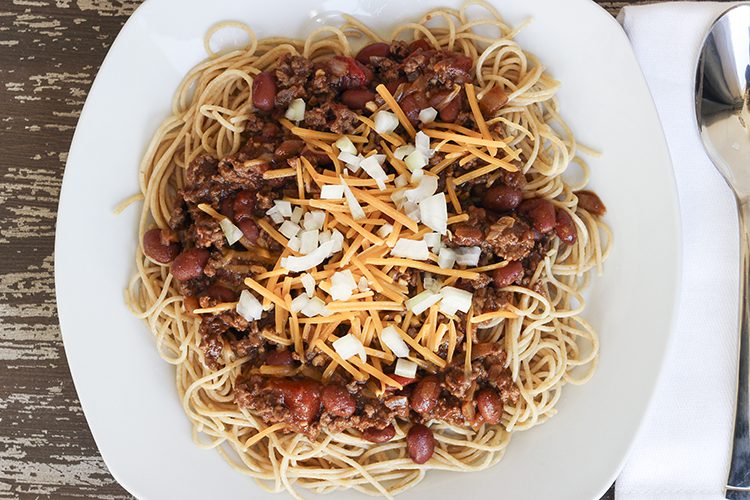 What is the history behind chili spaghetti?
Chili spaghetti was actually started by two Macedonian immigrants who one day served the chili over a plate of pasta.  This has rich Mediterranean influences that are evident in the different spices in this recipe.
For more information, check out the Wikipedia page about the immigrants that started the chili coney and chili spaghetti phenomenon in Cincinnati.
My homemade chili seasoning recipe 
My basic chili seasoning recipe is a favorite because it really is a classic Cincinnati favorite.  The full directions are below in the printable recipe, but the list of spices will be listed here for your convenience. You can, of course, adjust the level of heat and sweetness you prefer for your own tastes.
Garlic
Chili Powder
Unsweetened Cocoa Powder
Cinnamon
Nutmeg
Cumin
Black Pepper
Cayenne Pepper
Ingredients for the best Cincinnati Chili
Below is the full list of ingredients for the chili including the spices listed above.
Ground beef
Garlic
Onion
Diced Tomatoes
Kidney Beans
Olive Oil
Worcestershire sauce
Red Wine Vinegar
Whole Wheat Spaghetti
Cheddar Cheese
Chili Powder
Unsweetened Cocoa Powder
Cinnamon
Nutmeg
Cumin
Black Pepper
Cayenne Pepper
Optional: Oyster or saltine crackers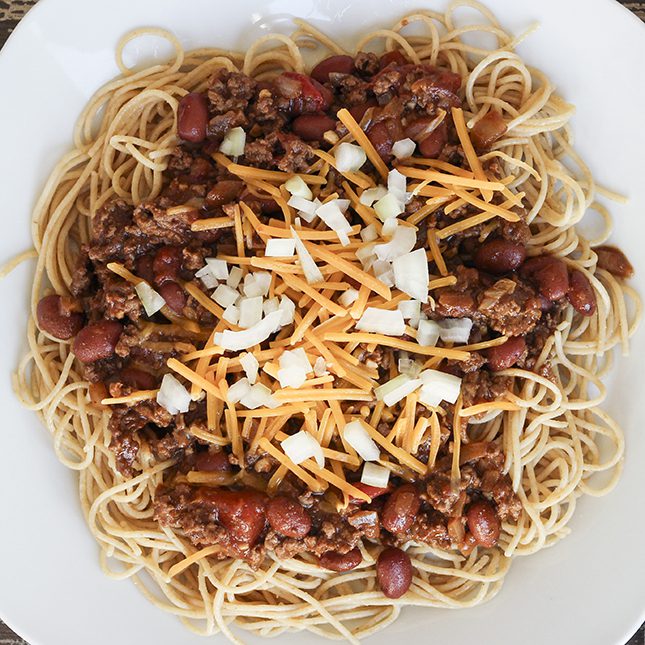 How to make a skinny Cincinnati Chili
I always prepare all of my ingredients before I start cooking.  This is called mise en place and is a chef tip that will help you never forget an ingredient.  So, begin by measuring out all spices, having all ingredients chopped, measured, and ready to begin cooking.
I use a dutch oven to brown my ground beef, onions, and garlic together.  This usually takes 10-15 minutes depending on how large a pan I use.  Make sure to break up the meat well as it cooks. You want it to be crumbled into small pieces.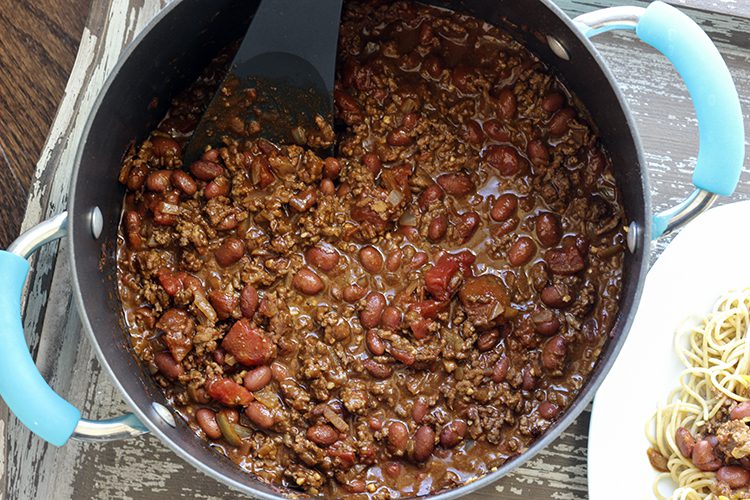 Add remaining ingredients except for spaghetti and cheese.  You'll mix this all together well, then reduce heat to a simmer until ready to serve.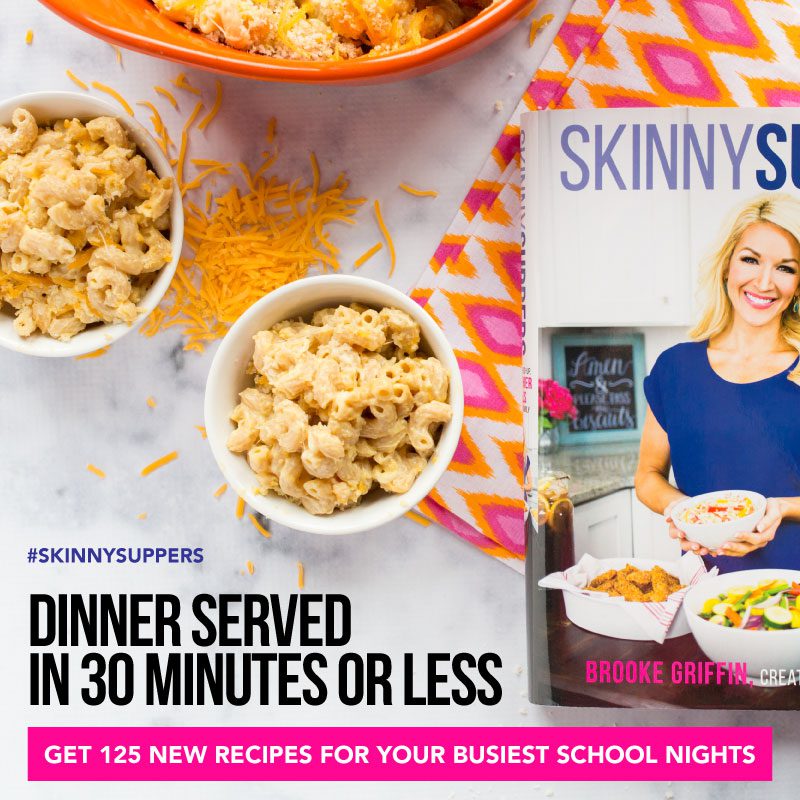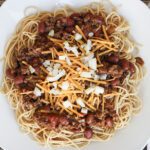 Print Recipe
Skinny Cincinnati Chili Recipe
A delightful combination of classic chili ingredients with a special hint of chocolate and allspice that gives it unique flavor local to the Cincinnati region.
Servings: 6 servings
Calories: 342kcal
Cost: $10
Equipment
Dutch Oven

Knife

Spatula or Wooden Spoon
Ingredients
1 lb lean ground beef
1 Tbsp minced garlic
2 tsp extra virgin olive oil
1 onion chopped
15 oz can diced tomatoes
1½ Tbsp Worcestershire sauce
15 oz can kidney beans rinsed + drained
1 Tbsp red wine vinegar
½ Tbsp unsweetened cocoa powder
1 Tbsp chili powder
⅛ tsp nutmeg
1 tsp cinnamon
¼ tsp black pepper
1 tsp cumin
¼ tsp cayenne pepper
6 Tbsp reduced-fat shredded sharp cheddar cheese
6 Tbsp onion for optional topping, diced
4 cups cooked whole wheat spaghetti
Instructions
Heat extra virgin olive oil in Dutch Oven over medium high heat. Add lean ground beef and cook, making sure to break the beef up with a spoon or spatula.

Cook about 5-7 minutes, until meat is no longer pink.

Add onion and garlic, cook and stir for 3-4 minutes, until onion has softened.

Add tomatoes, Worcestershire sauce, red wine vinegar, chili powder, unsweetened cocoa powder, cinnamon, nutmeg, cumin, black pepper, and cayenne pepper to beef mixture.

Bring mixture to a boil.

Reduce heat and simmer, partially covered, making sure to stir occasionally.

Simmer for 1 hour.

Serve over cooked whole wheat spaghetti and top with reduced-fat sharp cheddar cheese and onions (optional).
Nutrition
Calories: 342kcal | Carbohydrates: 46g | Protein: 28g | Fat: 7g | Saturated Fat: 2g | Cholesterol: 44mg | Sodium: 367mg | Fiber: 8g | Sugar: 9g