This is the Best Pistachio Crusted Halibut recipe!  It's a perfect easy weeknight meal that is healthy and oh so delicious.  A pistachio-crusted halibut recipe is one that takes a simple cut of fish and creates a crunchy on the outside and flaky on the inside entree.
Serve this alongside my crispy Brussels sprouts and mashed cauliflower for a truly nutritious meal!  With creamy cauliflower, crispy caramelized vegetables, and the crunchy fish, you have everything you want all on one plate!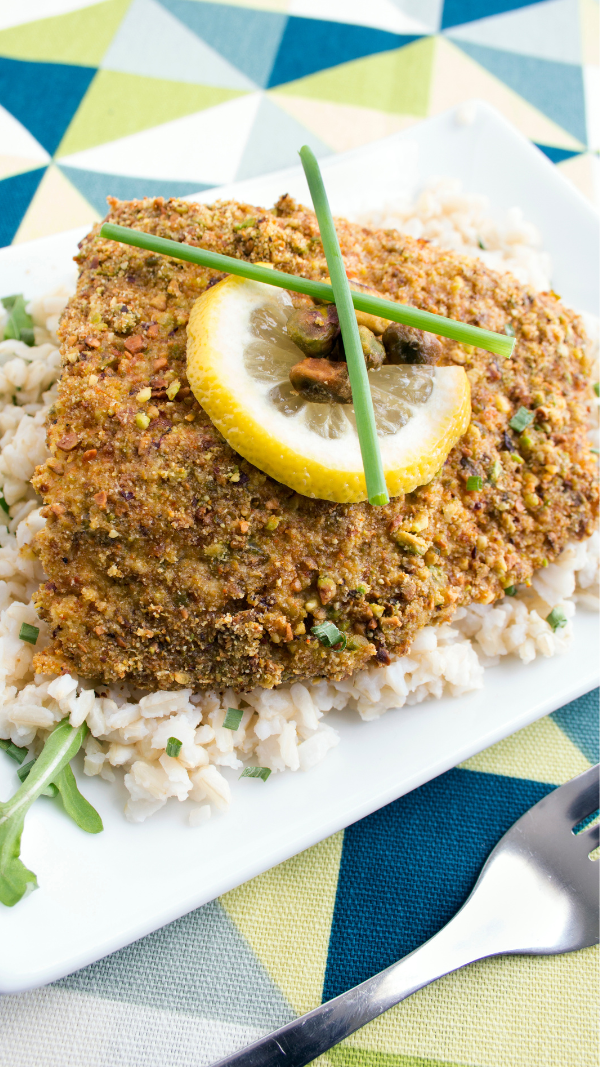 Pistachio Crusted Halibut Recipe
Can I use this recipe for different fish? 
This coating works great with many proteins.  You could definitely use it on salmon, cod, pike, bass, tuna, or even tilapia.  The flavors are universally delicious and a perfect way to add crunch and healthy fats to a meal.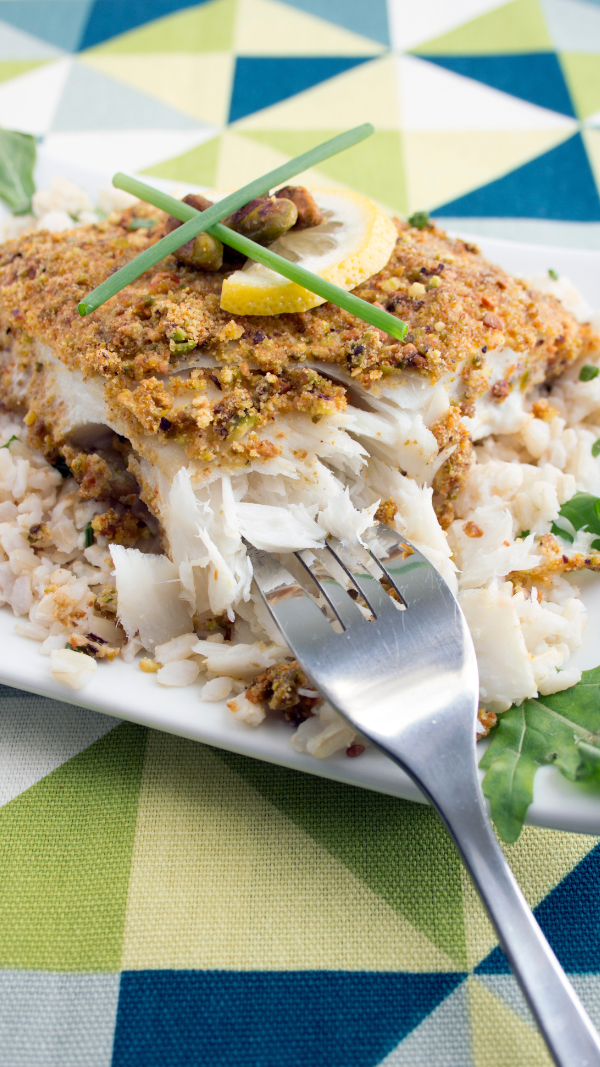 I have even used this coating on chicken, pork chops, and steak!  Just make sure that whatever you are cooking is thin enough that the nuts won't burn while the meat they're coating reaches temperature.  It is ideal for using on thinly pounded chicken breasts or thin-sliced fish filets.
How do I keep the pistachio crust from burning? 
By using a wire rack on the baking sheet, you prevent the pistachios from sitting directly against the hot pan.  This will allow you longer cooking time without seeing the nuts burn.  Another way to keep them from burning is to make sure the pieces are pulverized well and a finely ground meal.
While this recipe is made to cook at a higher heat, for a slice of thicker protein you may prefer to cook at a lower temperature.  This gives chicken, pork, or steak enough time to reach a safe temperature without burning the coating.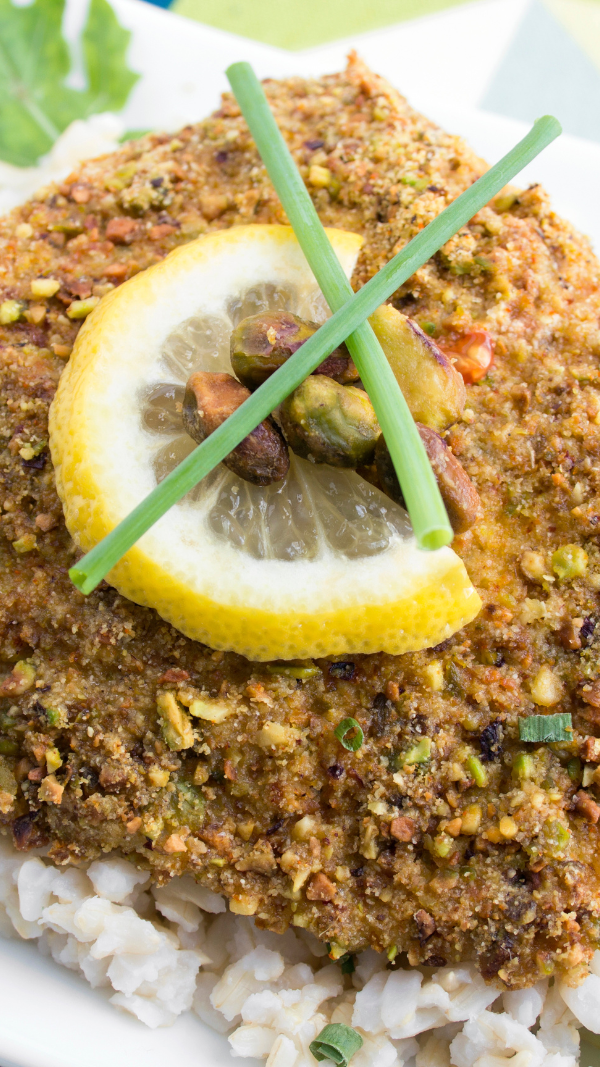 How can I tell the baked halibut is cooked? 
Fish is cooked through when it is opaque and begins to easily flake.  Most fish will cook in under 20 minutes in the oven.  For halibut filets, you will typically see that it is done cooking in 12-15 minutes.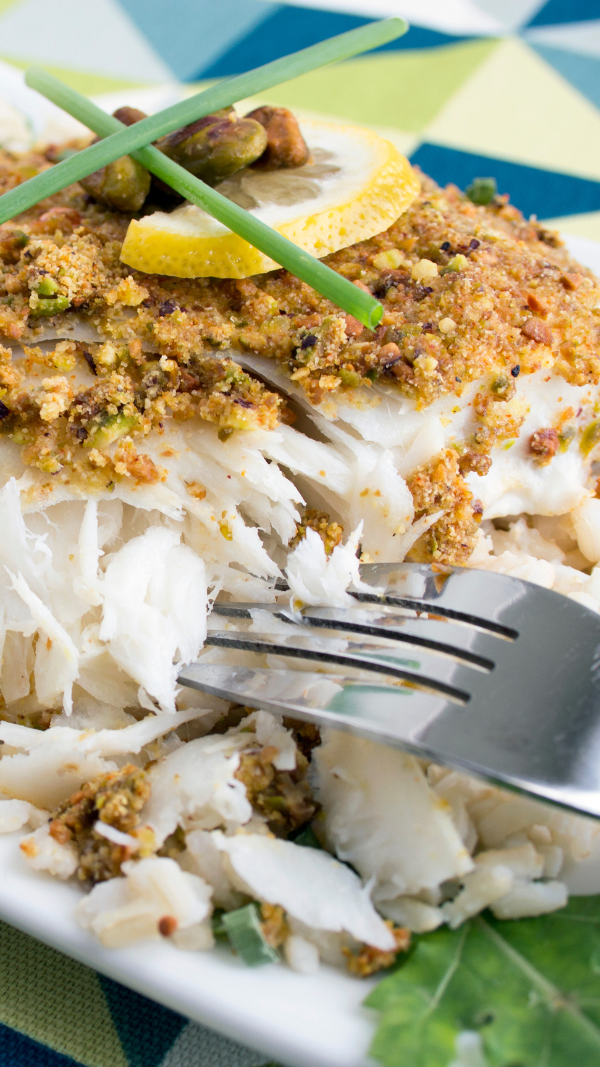 Ingredients
Halibut fillets
Milk (Skinny Swap for skim)
Pistachios
Cornmeal
Cayenne pepper
Black pepper
Salt
Lemon
How to make pistachio coated baked halibut
You will begin this recipe by placing the fish in a shallow baking dish and pouring the milk on top. Cover with plastic wrap and refrigerate for 30 minutes to marinate.
While this is marinating, you can prepare your pistachios and spices for the coating.  I prefer placing this in a pie plate or shallow dish so it is easy to coat the fish when ready to cook.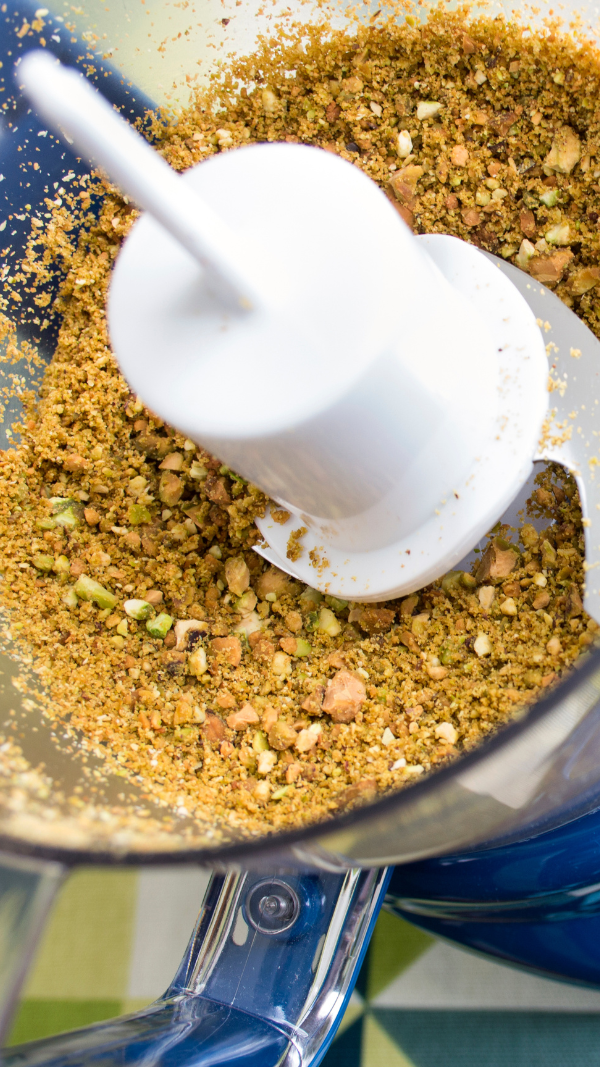 Preheat your oven and line a baking sheet with foil and add a wire rack on top to create a place for your fish to cook while allowing heat to flow on all sides.
When ready to bake, you will dip your fish into the seasoning blend, and then place it in an even layer on the wire rack on a baking sheet.
Slide into the oven, and cook as directed.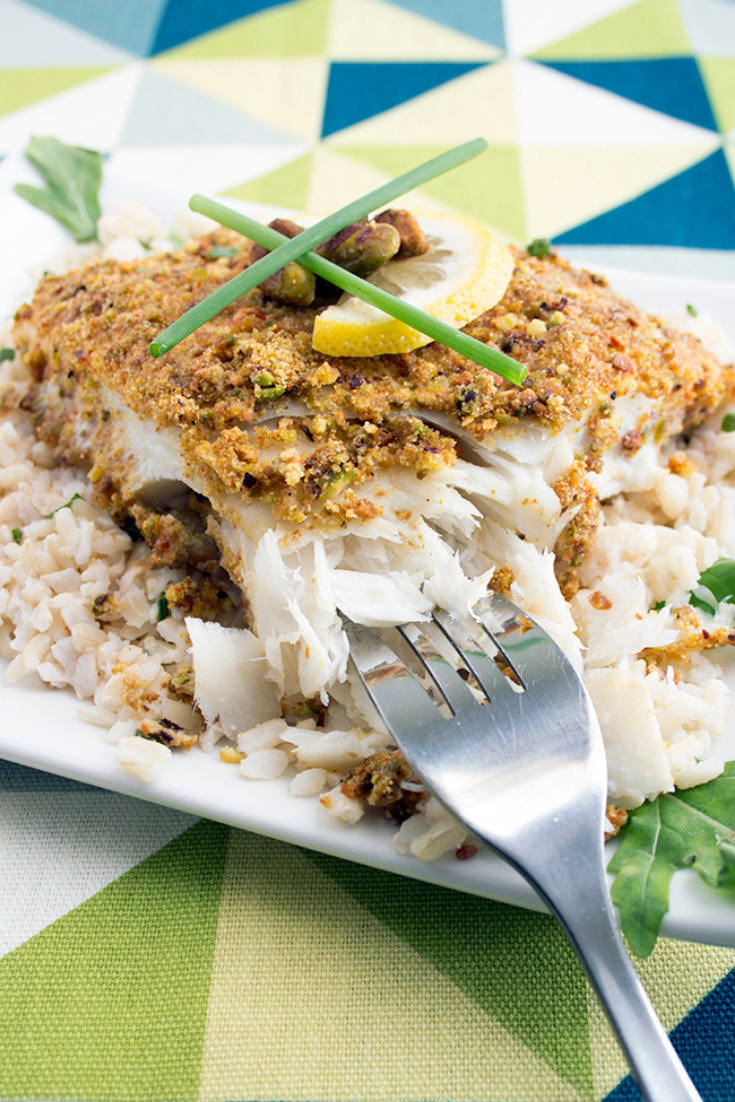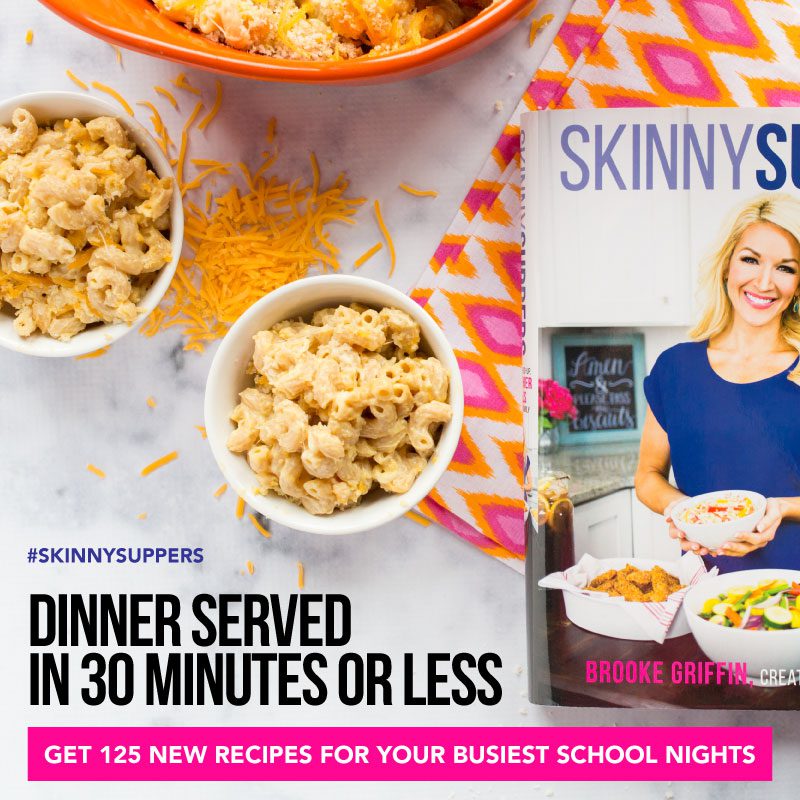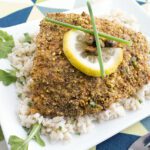 Print Recipe
Best Pistachio Crusted Halibut
Servings: 4 servings
Calories: 215kcal
Ingredients
4 6oz skinless halibut fillets
1 cup milk Skinny Swap Skim
¾ cup shelled pistachios
1/4 cup yellow cornmeal
½ teaspoon cayenne pepper
½ teaspoon salt to taste
½ teaspoon black pepper to taste
1 lemon cut in wedges to squeeze
Instructions
Place the fish in a shallow baking dish, pour the milk on top. Cover with plastic wrap and refrigerate for 30 minutes.

Grind the pistachios in a food processor until they become a coarse powder.

Stir together the ground up pistachios, cornmeal and cayenne pepper and place in another shallow baking dish, or a plate.

Preheat the oven to 425° F and line a baking sheet with foil and place a wire cooling rack on top of it. Spray the cooling rack with nonstick cooking spray.

When ready to bake, lift each filet out of the milk and allow the excess to drip off, season with salt and pepper. Then, dredge each filet into the pistachio coating and place on the prepared baking sheet. You might have to press the pistachio coating gently onto the fish.

Bake for 12-14 minutes, or until cooked through.

Squeeze with the lemon, and serve hot.
Nutrition
Serving: 1fillet | Calories: 215kcal | Carbohydrates: 19g | Protein: 8g | Fat: 13g | Saturated Fat: 3g | Polyunsaturated Fat: 4g | Monounsaturated Fat: 6g | Cholesterol: 8mg | Sodium: 316mg | Potassium: 410mg | Fiber: 4g | Sugar: 6g | Vitamin A: 307IU | Vitamin C: 16mg | Calcium: 109mg | Iron: 1mg