Memorial Day is meant to honor all those who've passed to preserve this beautiful country of ours.  It also unofficially marks the first day of summer.  Most families gather for grill outs, pool parties, and quality time together.  To minimize your time in the kitchen, check out these 8 Delicious Memorial Day Make Aheads!
Easy Mexican Ranch Burgers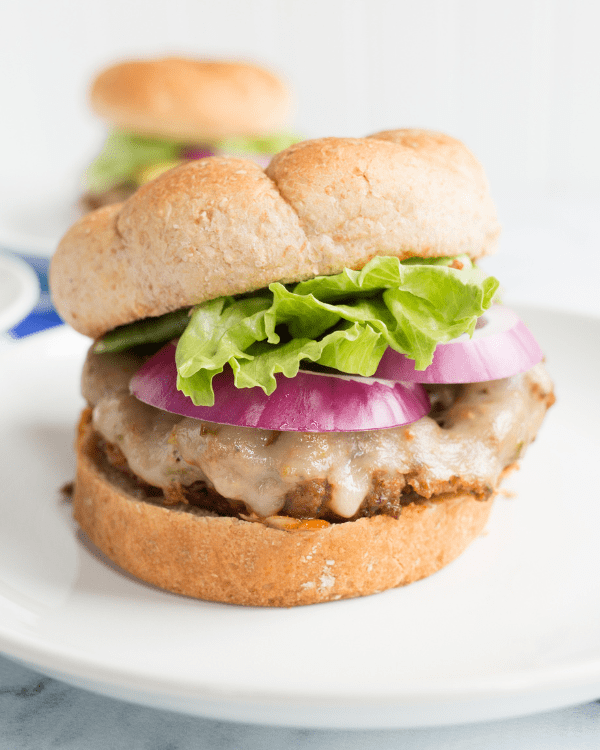 Recipe & Image Source:  Our Farmer House
You pretty much NEED to have burgers on Memorial Day, and these are absolutely delicious!  And, the burger base itself only has 5 ingredients.  I like to make the patties up the night before so they're fresh and ready to pop on the grill the day of.  My secret ingredient here is a packet of pre-made ranch seasoning.  Serve it with a lettuce wrap instead a bun and you've got a carb-friendly flavor bomb.
Delicious Make Ahead Coleslaw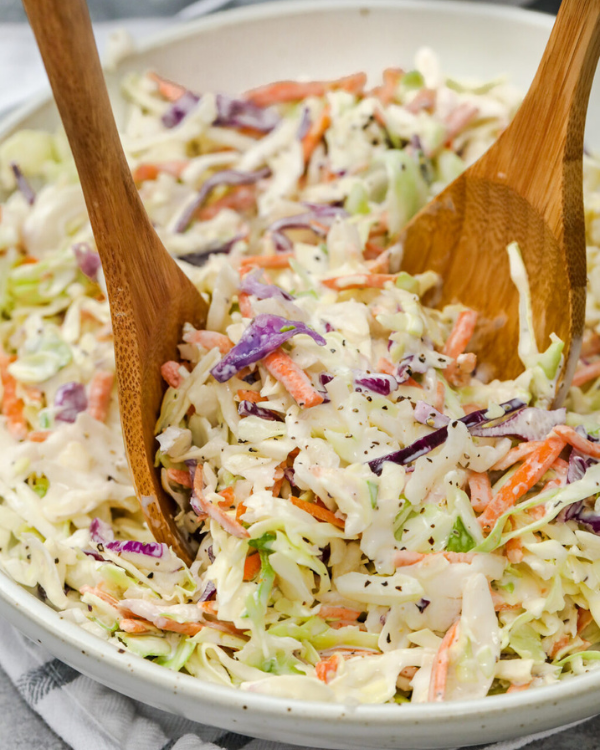 Recipe & Image Source:  Spend With Pennies
I love a recipe that has absolutely no cooking involved when preparing for a family gathering.  This coleslaw is light and creamy, and literally takes about 10 minutes to prep.  It needs time to set up in the fridge, so that's a great excuse to get it out of the way a day or two before your event.  If you're looking for a modern take on this classic recipe, you can also add a finely cut apple for a hint of sweet and tart!
Crockpot Corn on the Cob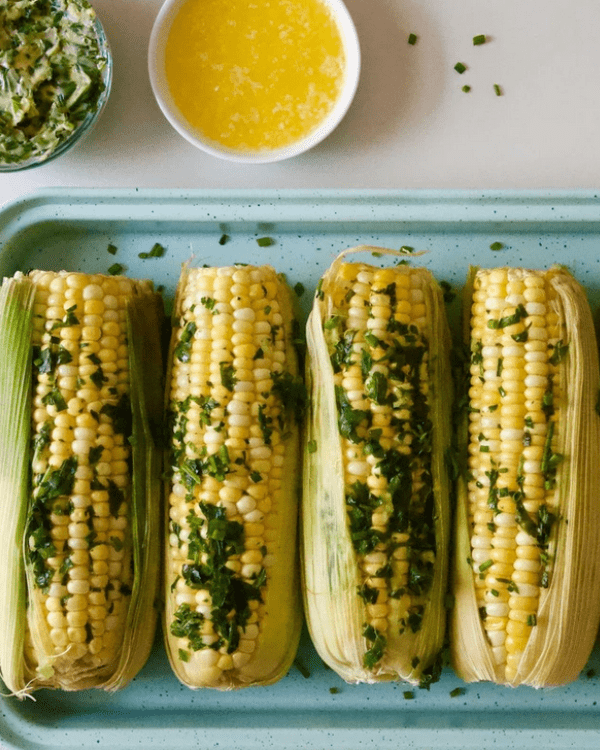 Recipe & Image Source:  Brit+Co
Yes, corn on the cob can be made in the crockpot!  This delicious Memorial Day make ahead cooks for about 2 hours on high in the crockpot, so set it and forget it before your guests arrive.  Covered in garlic and herb butter, it's a safe bet everyone will love it.
Classic Macaroni Salad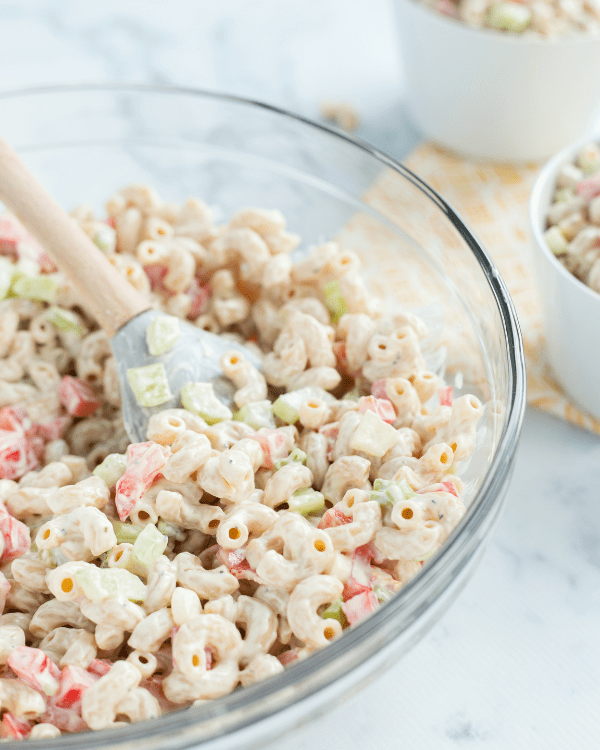 Recipe & Image Source:  Our Farmer House
Macaroni salad is a staple at almost any Farmer family gathering.  My whole family loves it!  This recipe takes 15 minutes to prep and 15 minutes to cook.  It also needs to chill at least 30 minutes in the refrigerator, but I like to let mine go overnight so the flavors have the chance to really set up.
Delicious Memorial Day Make Aheads: Maple & Sriracha Chicken Kabobs
Recipe & Image Source:  Table For Two
These maple and Sriracha chicken kabobs look heavenly.  With a touch of sweet and a hint of spice, they're sure to be a crowd-pleaser.  Utilizing only 4 ingredients, they take at least 4 hours to marinate in the fridge. However, you can absolutely marinate them overnight.  Pop on the grill and they'll be ready to serve in 15 minutes.
Roasted Garlic Hummus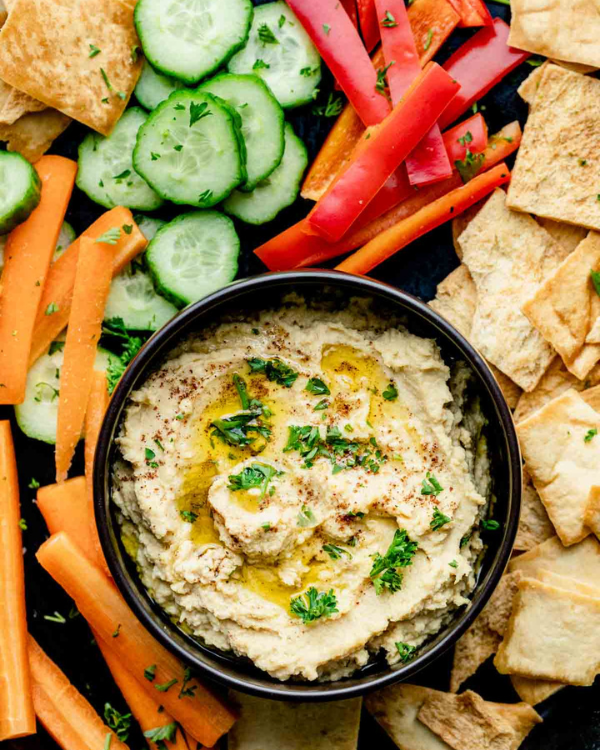 Recipe & Image Source:  Healthy Seasonal Recipes
Everyone loves some sort of dip at a get-together.  I try to pick a recipe that's healthier than your traditional ranch chip-dip, so I often try a flavorful hummus instead.  This recipe pairs well with pita chips, crackers, and fresh veggies.  Five simple ingredients keep this budget-friendly as well.
Sparkling Strawberry Lemonade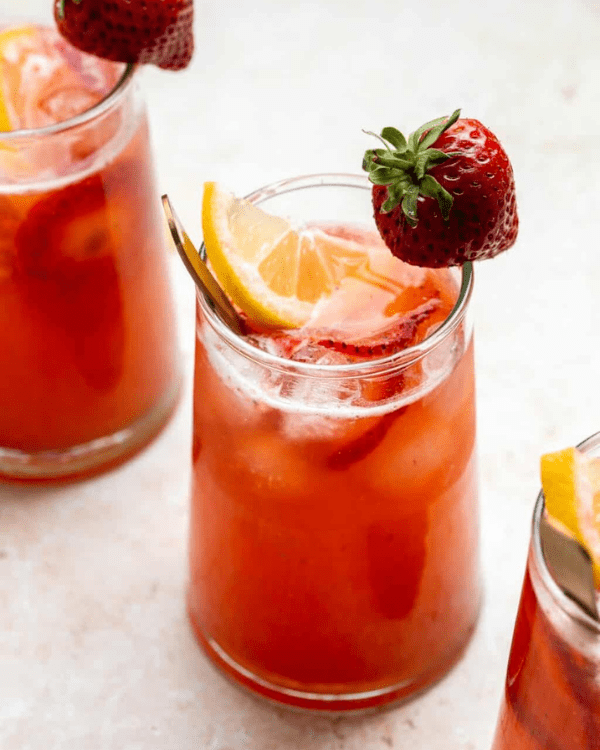 Recipe & Image Source:  Ahead of Thyme
To me, nothing screams summer like lemonade on a hot day.  And now that strawberries are in season, put them together for this refreshing sparkling drink.  Both kids and adults will love it and it's easy to make – even several days in advance.  This recipe keeps up to a week in the refrigerator!
Delicious Memorial Day Make Aheads: Red White and Blue Trifle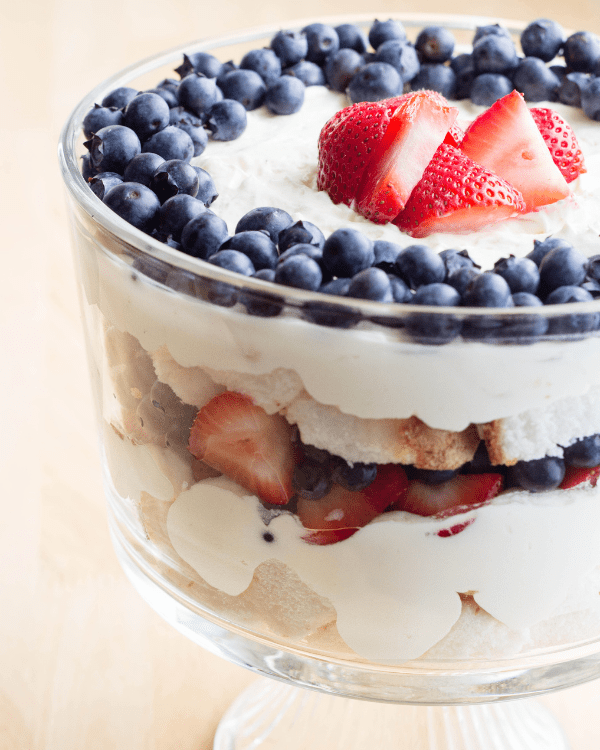 Recipe & Image Source:  Our Farmer House
If you're hosting for Memorial Day, you can't forget dessert!  This Red, White, and Blue Trifle is simply stunning and sure to be a show-stopper.  Usually, a trifle is best made the day before and my recipe is no exception.  With only 6 ingredients and very limited baking, this dessert is the epitome of a delicious Memorial Day make ahead.
My hope for you this holiday is that you're able to take a moment and honor those who have come before us, and spend quality time with your family and friends.  If any of these Memorial Day Make Aheads have inspired your menu, I'd love to hear about it!  Tag me in your dishes at @ourfarmerhouse on Instagram.
XOXO,