Memorial Day is a time to honor and remember those who have made the ultimate sacrifice while serving in the United States armed forces. Many people also gather with friends and family for picnics, barbecues, and other outdoor celebrations over the long holiday weekend. Festive Memorial Day Desserts are a great way to add a sweet touch to your gathering and a wow factor to your table.
From classic favorites like cupcakes and brownies, to patriotic treats like red, white, and blue fruit kabobs, there are plenty of options to choose from. With a little creativity and some simple ingredients, you can create delicious desserts that everyone will enjoy as you commemorate the holiday together!
American Starfruit Pizza with Cookie Crust: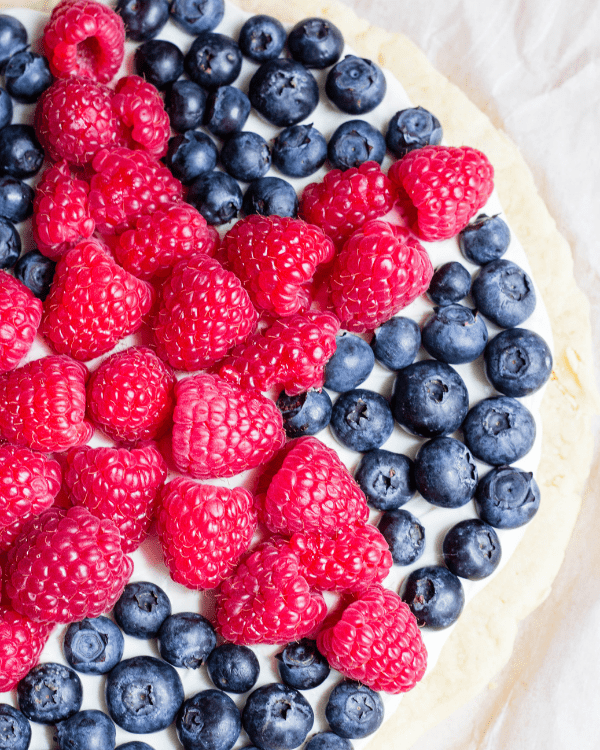 Recipe & Image Source:  Our Farmer House
I had to lead with one of my own desserts because it is simply stunning.  While it may look complicated with the star design, it's actually very easy to create.  I use a cutout paper template as a foolproof way to form the shape.
Red, White & Blue Fruit Kabobs: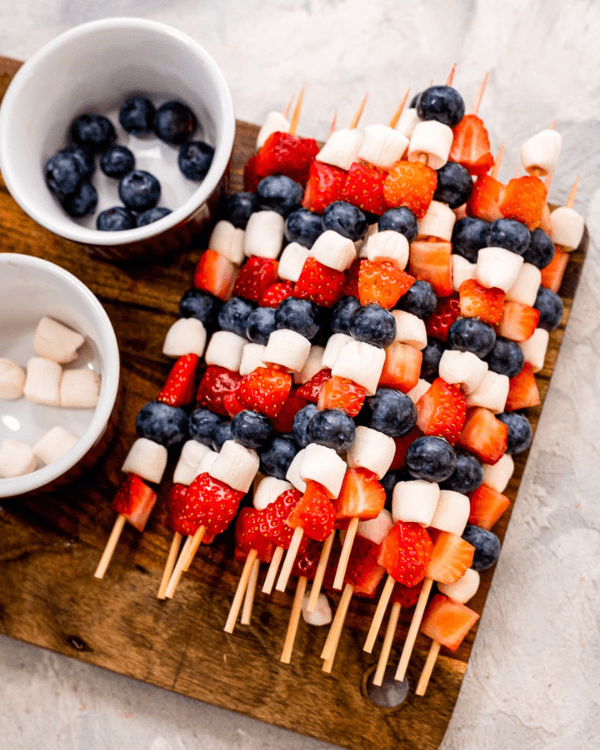 Recipe & Image Source:  Kids Activity Zone
What I love most about this festive Memorial Day dessert is that the kids can help assemble it!  This is not only super easy with 3 simple ingredients, it's also beautiful and healthy for a dessert.  These will fly off the table since they're also a convenient finger food.
Red, White & Blue Cupcakes: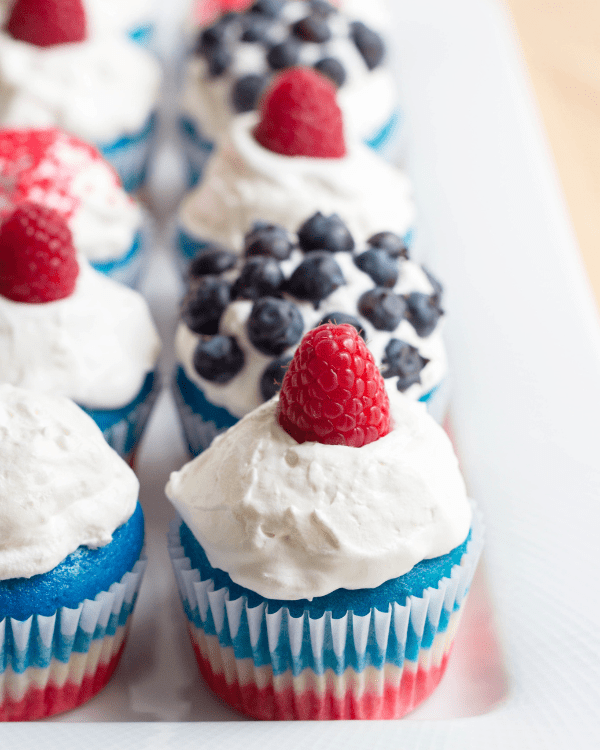 Recipe & Image Source:  Our Farmer House
These red, white, and blue patriotic cupcakes are as tasty as they are pretty.  I keep them simple by using store bought vanilla cake mix and food coloring with whipped cream or topping as the frosting.  Top them with a raspberry, strawberry, or blueberries and you've got a home run!
Red, White & Blue Donuts: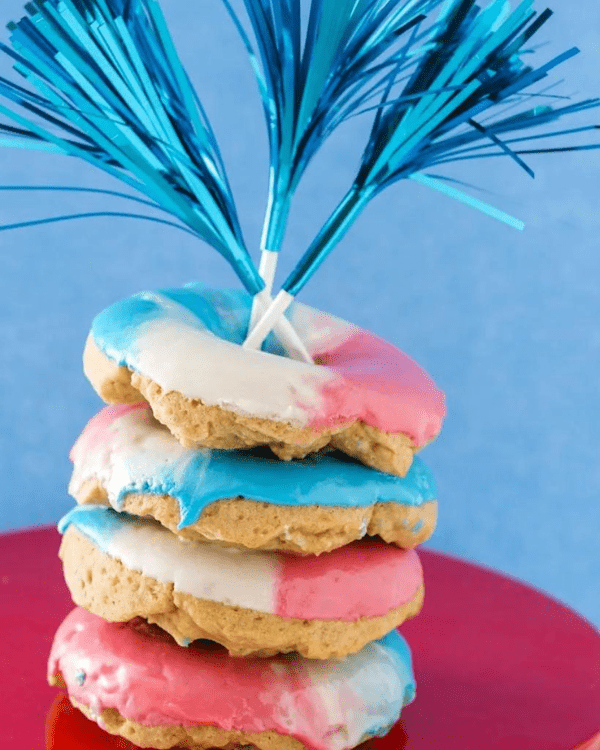 Recipe & Image Source:  Brit + Co
Donuts are often thought of as more of a breakfast food, but they also make a sweet treat for any occasion.  The simple vanilla glaze is what gives this festive Memorial Day dessert its patriotic appearance.  The benefit of donuts is that they are great at room temperature for long periods of time and travel well.
Tie Dyed Fudge: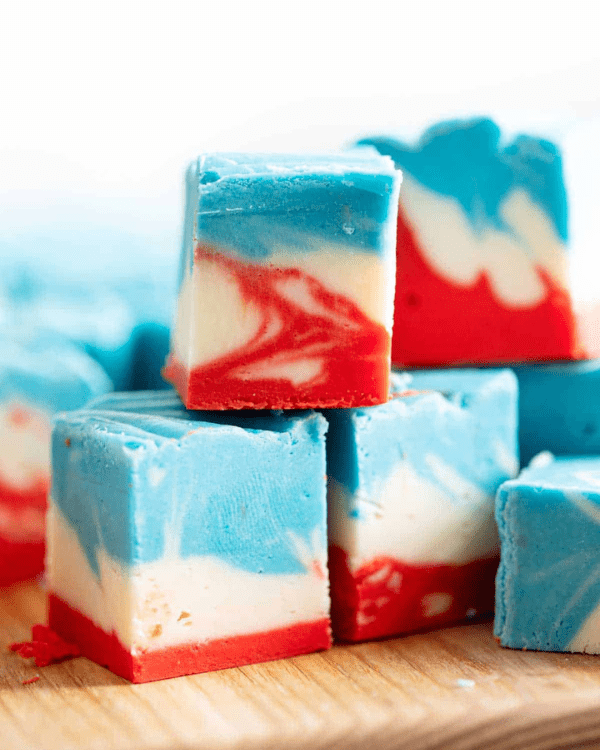 Image Source: Test & Tell
Fudge is another sweet dessert that travels well and is a wonderful finger food.  It also lasts 1-2 weeks or more in the refrigerator. So, it makes a great leftover as well.  This fudge flavor is white chocolate and it sure does look divine!
Nutella Cookie Dough Dipped Pretzels: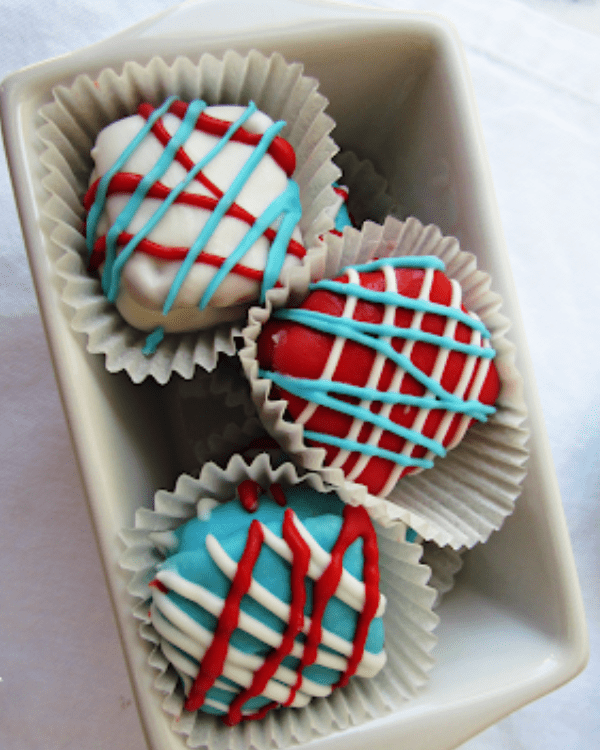 Recipe & Image Source:  Crazy For Crust
This Festive Memorial Day Dessert is everything I've dreamed of.  Sweet, salty, and beautiful to serve at a party.  I love that they're bite-sized so you can control your portion or indulge if you decide to.  This recipe is basically Nutella cookie dough (yes, please!) sandwiched between two pretzels and dipped in chocolate.
Festive Memorial Day Finger Jello: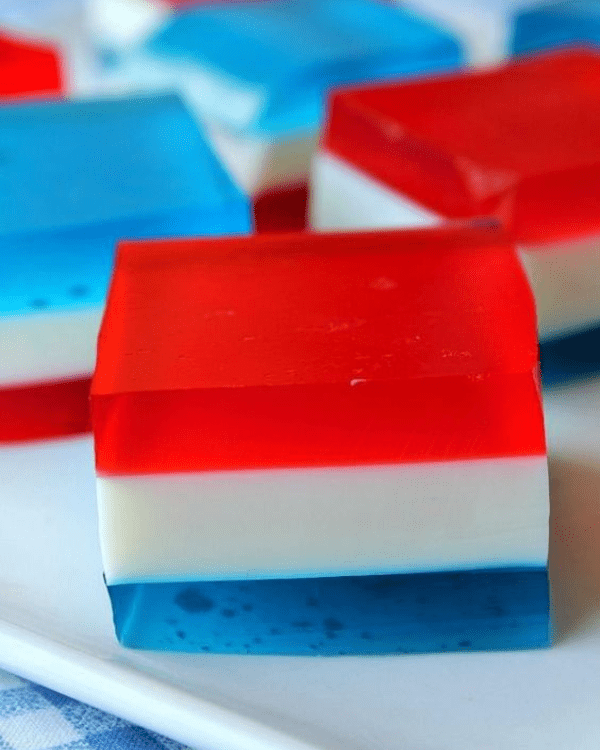 Recipe & Image Source:  Recipe Girl
Jello is definitely one of the easiest desserts to throw together.  While it does take time to set up, there isn't a lot of work involved.  In this recipe, however, the white layer is a bit fancier here.  It's actually a sweetened condensed milk concoction that I think would be extra delicious.
Red, White & Blue Trifle: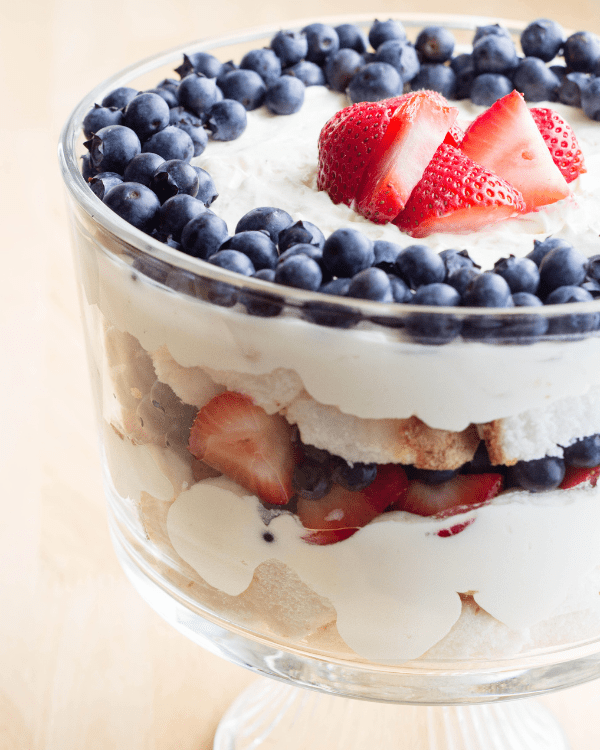 Recipe & Image Source:  Our Farmer House
I might be biased since this is my recipe, but this really is one of my go-to's for Memorial Day and Fourth of July parties.  The beauty of it (besides its appearance) is that it's perfect to throw together at the last minute.  However, it's also great to make a day ahead if you've got the time.
Patriotic Brownies: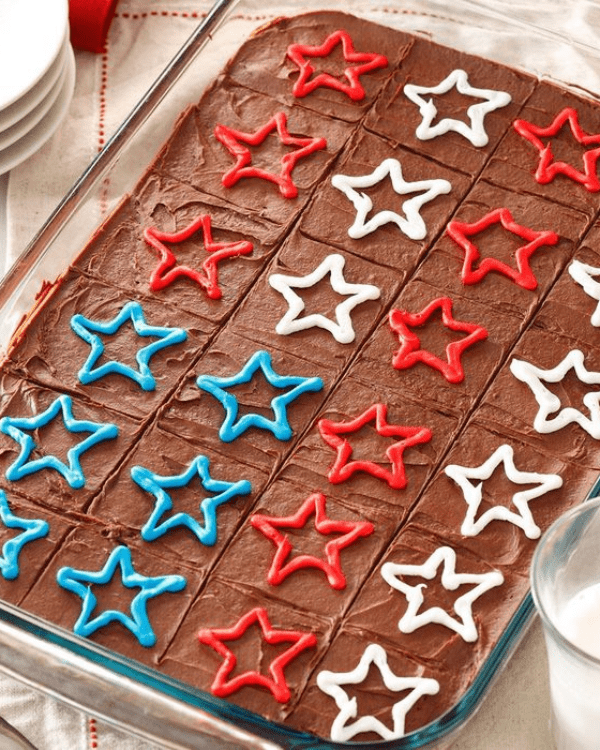 Recipe & Image Source:  Taste of Home
Brownies are always a fan-favorite.  You really can't go wrong when you bring them to a gathering.  This recipe is simple enough, but the addition of the homemade red, white, and blue frosting stars on top make it perfect for serving as a festive Memorial Day dessert.
Berry Tart: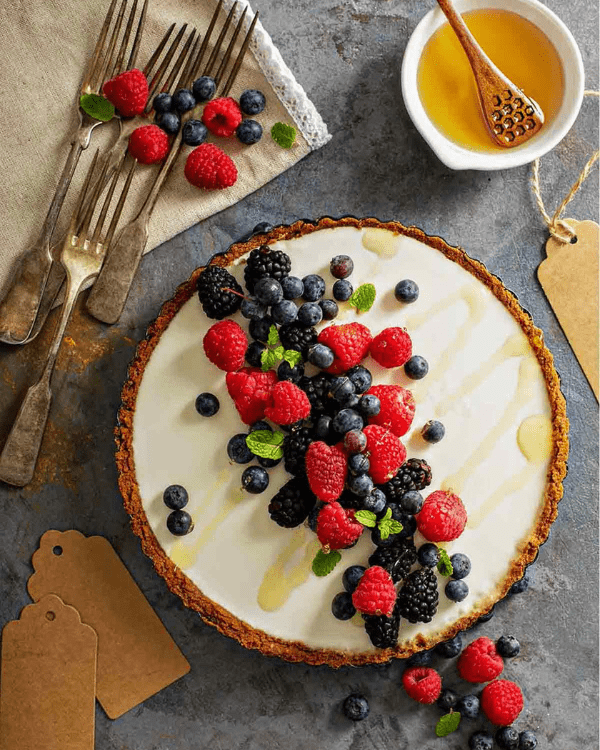 Recipe & Image Source:  Leites Culinaria
This tart is so stunning, it looks like it came straight from a bakery window!  Talk about a wow factor.  However, this recipe is basically just a cheesecake with graham cracker crumb crust, and nothing to be afraid of.  The drizzle of honey and mint leaves on top send this dessert into heaven.
Festive Memorial Day Cherry Flag Pie: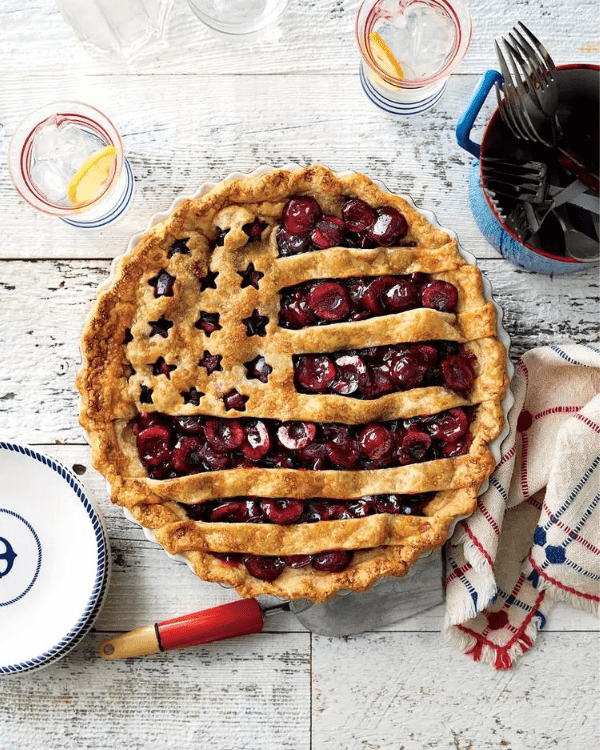 Recipe & Image Source:  Southern Living
Few things say America as much as a classic pie, and this is no exception.  The flag crust with stars and striped cutouts are so cute.  This may seem like a difficult design to achieve, but the use of 3/4″ star cutters help simplify the execution.
Red, White & Blue Ice Cream Cake: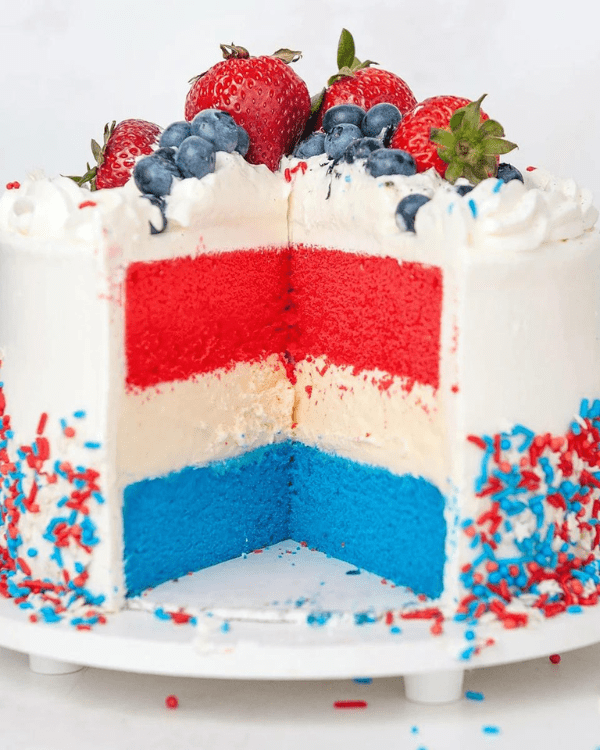 Recipe & Image Source:  SugarGeekShow
This ice cream cake is sure to be a show-stopper. Festive on the inside and out, your guests will definitely compliment you on this gorgeous Memorial Day dessert.  This cake needs at least a day to set up, so it's great to make ahead.  The red and blue layers are made of cake, while the inside white layer is the ice cream.
There are so many festive Memorial Day desserts, it may be hard to pick one this year!  What's your favorite idea and which one will you make?  Tag me in your creations on Instagram at @ourfarmerhouse.  I'd love to see them!
XOXO,