Hi Sweet Friends! Today, I'm sharing my self tanning routine and favorite tanning products. I don't know about you but I love a good tan and the healthy glow my skin has with some extra color! So I maintain a (very fake) year-round tan and yes I even self tan in the Summer;)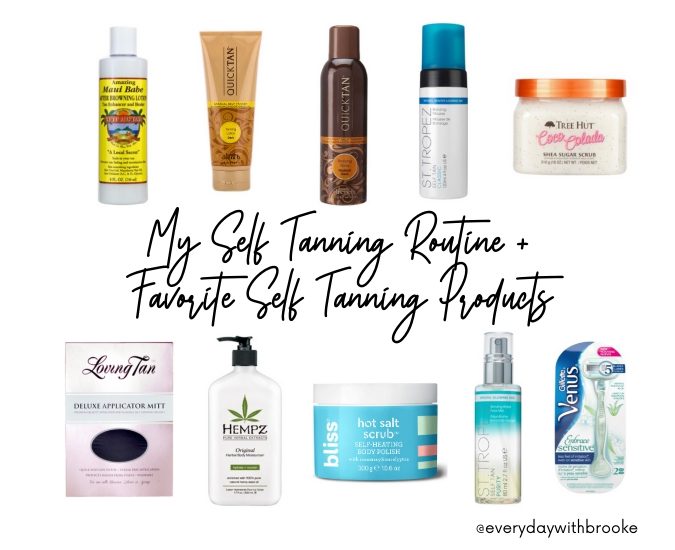 Why I Use Self Tanning Products:
Back in my 20's I could not get enough of tanning beds and laying out by the pool with all of the oils that I could find. Yes, completely guilty, that was me. Now that I'm in my late 30s and much more wiser and mature, haha, I've seen first hand all of the sun damage that I caused by tanning in the sun and tanning beds. Since this realization, I have stopped completely and I now only self-tan.
I love using self-tanner but if you've never self-tanned before or are new to the process, it can be overwhelming. For starters, there are so many products to choose from and many of them can leave you with streaks or an overly tan color. Then, there's the actual application of the self tanner and how to apply it properly. To help make the process easier, I'm sharing my self tanning routine and favorite tanning products.
My Self Tanning Routine:
I usually self-tan about once a week. It usually lasts about a week but obviously the first few days are the best! I'll be honest, every self tanning product that I have used has a smell (some better than others) but I think its worth it to get a great healthy glow!  My favorite self-tanning product is a spray by Body Drench and I also like their self-tanning lotion.  If I had to pick another product that I really like, its the self-tanning bronze mousse by St. Tropez.  I do want to mention that the St. Tropez mousse does have a slightly green undertone but it goes well with my skin tone and after I rinse off, it looks good.  I recommend trying both brands to find the products that you love and want to incorporate into your self tanning routine.
Step 1: Exfoliate in the shower and Shave
To get completely even color, you should always exfoliate and shave the day before you self tan. Self-tanner applies best and stays on longer when the skin has been exfoliated. From experience, I have learned that when you self-tan too soon after you exfoliate and shave, the formula fills into your pours and can leave dark spots, especially on your legs.
I use shower gloves or a loofah with a good exfoliator. I have shared my favorite exfoliator that I use below, I seriously love this body scrub by Bliss! Before applying self tanner, make sure that you don't have any lotions, oils, or deodorants on your skin. Clean, dry skin is best.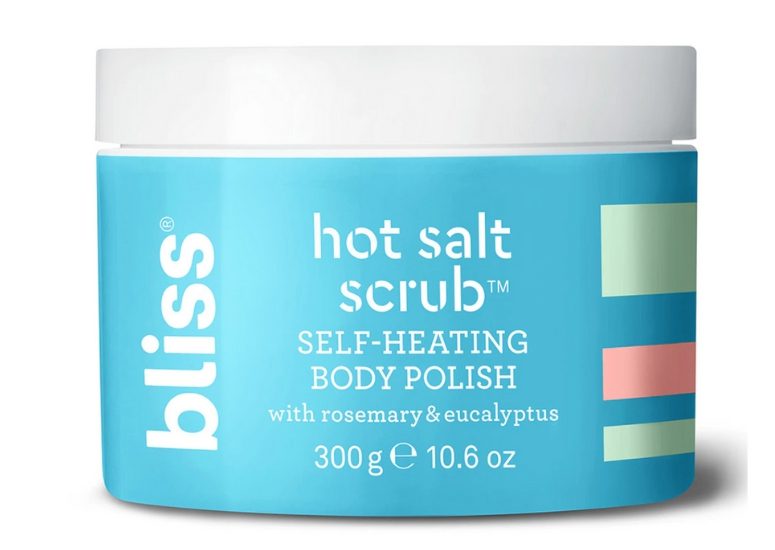 Step 2: Apply the self tanner generously
I use a couple different tanning products for my at-home tan. My absolute favorite tanning product is a tanning spray by Body Drench. For the spray, I start on my legs and work my way up my body.
It helps to break up your tanning application into three sections: legs and booty, stomach and chest, and then lastly arms and shoulders. For my back area, I usually have my husband Daron help me apply the tanning spray. I gently spray the entire areas and if the spray gets too thick in one area, I use a tanning mitt to lightly pat the tanning spray into my skin.
My favorite tanning mousse that I use is by St. Tropez. I pump 1-2 pumps on the self-tanning mitt. My favorite self-tanning mitt is by Loving Tan and it is listed below. Using the self-tanning mitt, I put a few squirts of the mousse on every body part so there's always enough product on my mitt to ensure smooth and full coverage over my skin with no streaks. I start on my legs and work my way up my body, again breaking my application into three sections.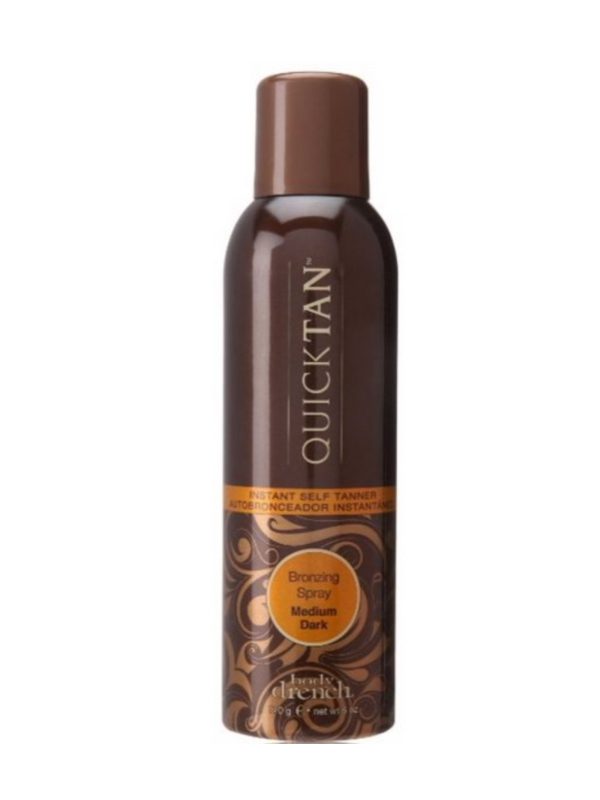 I always end with my hands, feet, and face. Be sure to use the product sparingly on your hands and feet because if you use too much it will look dark, streaky, and unnatural.
Because my skin can handle the dark color, I use darkest color in both the spray and the mousse.
How to apply Self-Tanner to your back
I receive lots of questions about how I apply tanner to my back. To be honest, I usually don't apply self-tanner to my back anymore. As I mentioned earlier in the post, I ask my husband to help me. If you are applying self tanner to your back, here's how I recommend doing it as this is what I used to do when it was just me, by myself at home. I suggest using the spray or mousse and cover the top of your back and go down as far as possible. Once the product is rinsed off, there will be a faded line on the spots that you were not able to reach. But I don't think many people notice.
Here's a tip that I read online to self tan the areas of your back when alone: put a tanning mitt on a wooden spoon and wrap an elastic band around it and then you can do your back all by yourself. I have never tried it but let me know if you do and how it works, haha!
Step 3: How to Self Tan Your Face
I have found that no matter how much self tanner I use on my face, it doesn't last as long as it does on my body. For this reason, I usually use the St. Tropez Bronzing Water Face Mist for my face once I finish tanning my body. I'm ok that my face is a lighter shade then my body as I like to add color with makeup, bronzer, and contouring. I like the St. Tropez Bronzing Water Mist as it gives my face a nice natural glow.
Step 4: Let the Self Tanner Develop…
I try to always apply spray tanner at night and let it dry overnight. While I'm tanning in my bathroom (I self tan in my shower with an old towel on the floor as to not stain the bottom of my shower), I put the blow dryer on low and dry as I go.
After you self tan it's really important to wear oversized baggy clothes as you don't want to wear anything that will rub up against your skin or leave marks. I also try to wear long pants and a long sleeve shirt to avoid staining my white bed sheets overnight. Also make sure that the clothing that you wear is not too heavy as you don't want to sweat and cause the self tanner to run or streak.
If you are not going to tan the night before, I recommend letting the self tanner dry for at least 4-5 hours. I also would still wear baggy clothes and avoid sweating.
Step 5: Rinse and Tips for Washing It Off
In the morning when it's time to shower or after you have waited at least 5 hours, be sure to gently rinse off. Avoid rubbing or using a wash cloth as you don't want to rub off the self tanner. It's ok that the coloring looks like it is coming off in the shower. Don't panic as this is just eh top layer of color coming off. When drying off, make sure to pat your skin dry and not to rub with the towel.
Step 6: Pro-longing my tan and Upkeep
To prolong my tan, I apply this lotion one time per day. Make sure to keep your skin moisturized as it will help keep your tan looking its best for several days.
Before self-tanning again, make sure to exfoliate and ensure that your skin is free from all excess self tanner.
My Favorite Self Tanning Products:
Body Drench Self Tanning Spray
Body Drench Self Tanning Lotion
St. Tropez Bronzing Water Face Mist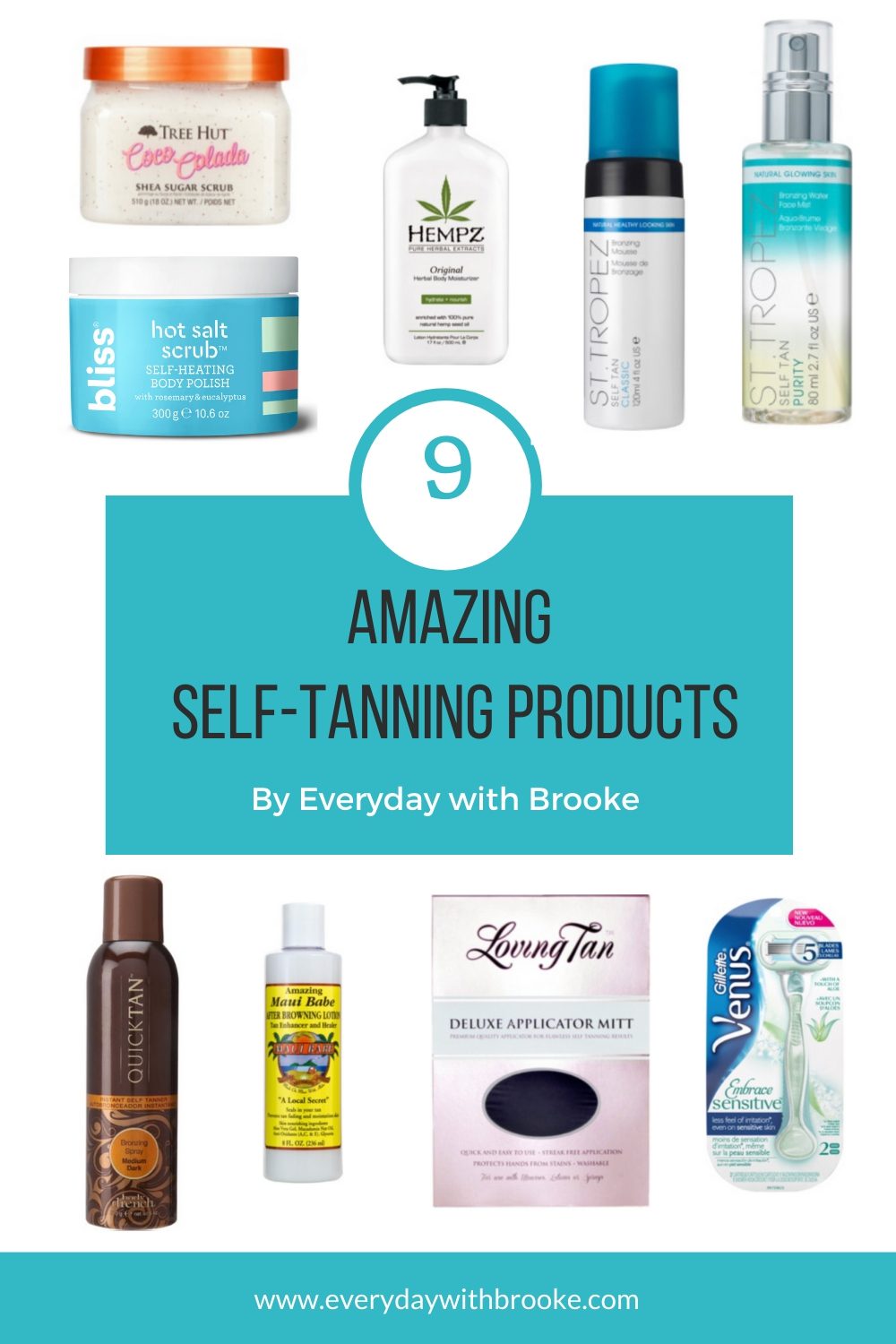 I hope you enjoyed learning about my self tanning routine and my favorite self tanning products. I would love to hear your self tanning tips and suggestions along with you favorite products. Leave me a comment or send me a message on social media @everydaywithbrooke
XOXO,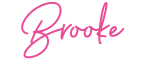 My Favorite Self Tanning Products
[show_shopthepost_widget id="4054810"]