Pumpkin Banana Bread is one of my all-time favorite sweet breakfast bread recipes.  I already love banana bread, and of course, I enjoy pumpkin recipes.  Combining the two just makes sense.  Plus, this recipe is semi-homemade, so even easier and faster for me to whip up in a hurry!
Want another great sweet breakfast option?  Make sure to check out this recipe for pumpkin spice French toast sticks.  You can make this ahead and freeze for later if needed.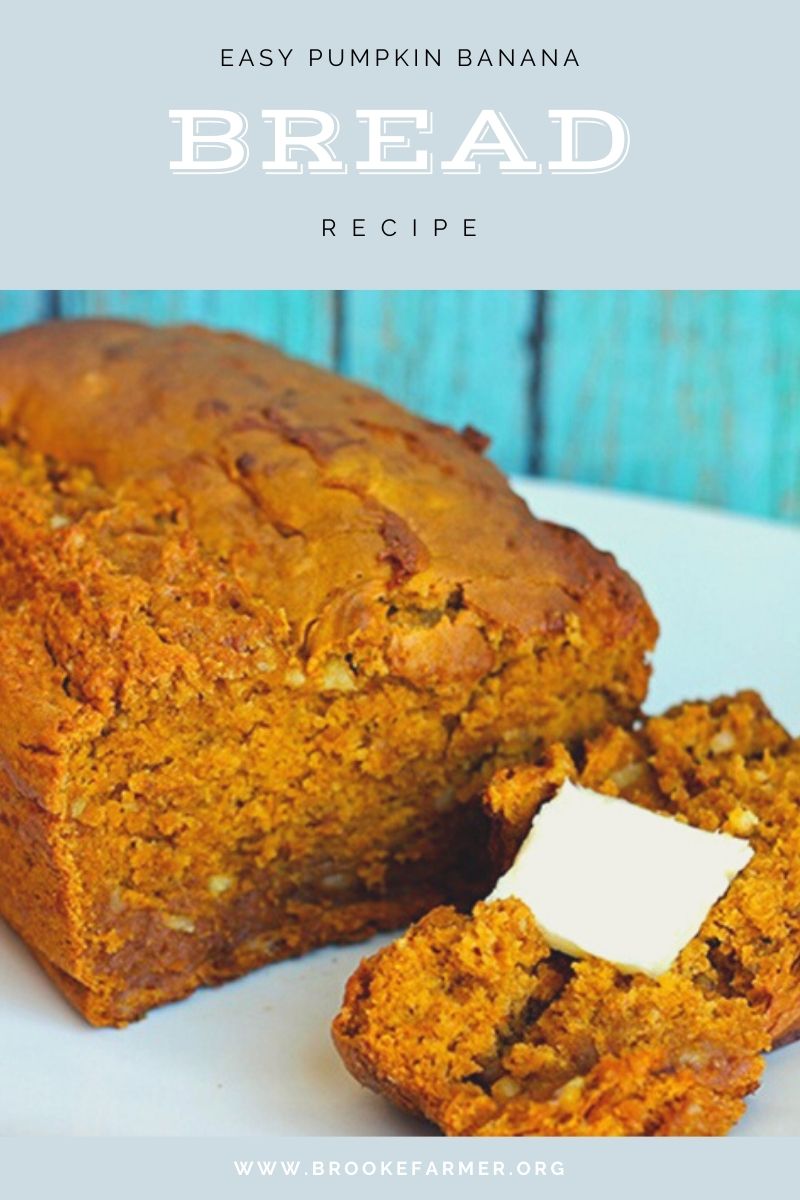 Pumpkin Banana Bread Recipe
I have made many recipes using a dry cake mix as a base.  In fact, my pumpkin spice muffins are another variation on this recipe that is fabulous and has only four ingredients. Over the years, I found that using a cake mix as a base really makes baking easier to manage. Especially when I am short on time, and don't want to be forced to measure all the little ingredients in a traditional batter.
For this recipe, I use a few other special ingredients to add the moisture and of course, a bit of texture, but the ingredients list is still small and easy to manage.
Can I turn these into pumpkin banana bread muffins? 
Of course, you can!  All you need to do is prepare your muffin tins with paper liners, or spray them with non-stick spray and spoon the batter into them instead of a loaf pan.  I often make this into muffins when I am making larger batches, or when I plan to share them with my friends and family.  Muffins are just easy to share and transport.
If you make larger batches for freezing, just make sure they are completely cooled before you toss them into a large freezer storage bag.  Date and label it, then grab a muffin when you want or need it and reheat in the microwave for 30-45 seconds or until desired temperature.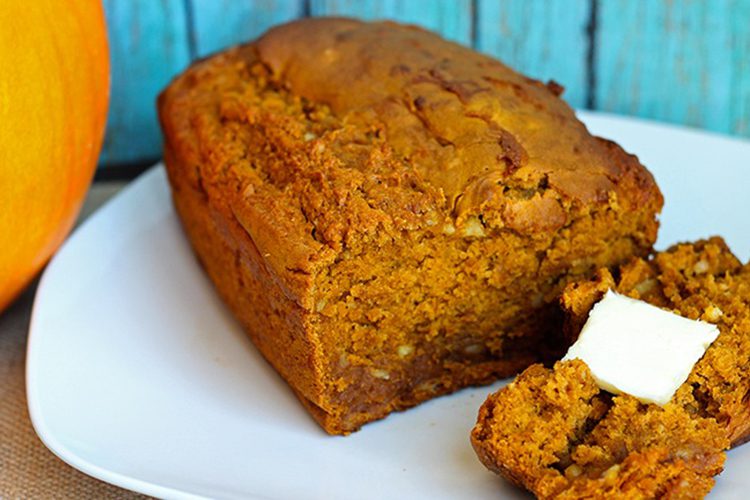 Do I have to include walnuts in the batter? 
No.  If you have a nut allergy or just prefer to leave them out, you can easily skip that ingredient.  Alternately, you can use chopped pecans or even chopped macadamia nuts in this batter if you prefer.  Nuts are more for texture and added protein versus being for flavor, so it is easy to adjust if you prefer.
Variations on pumpkin banana bread
While I love this recipe as it stands, I know sometimes you need a bit of variety.  Sometimes, just adding some candy chips into the batter is all you need to mix things up a bit. Below are a few easy additions to the batter to replace part or all of the walnuts if desired.
Golden raisins, dried apricots, or dried pineapples
Chopped walnuts, pecans, macadamia nuts, or even peanuts
Chocolate chips, butterscotch chips, caramel chips, or white chocolate chips
Mix in 1 cup of a cheesecake mixture and swirl before baking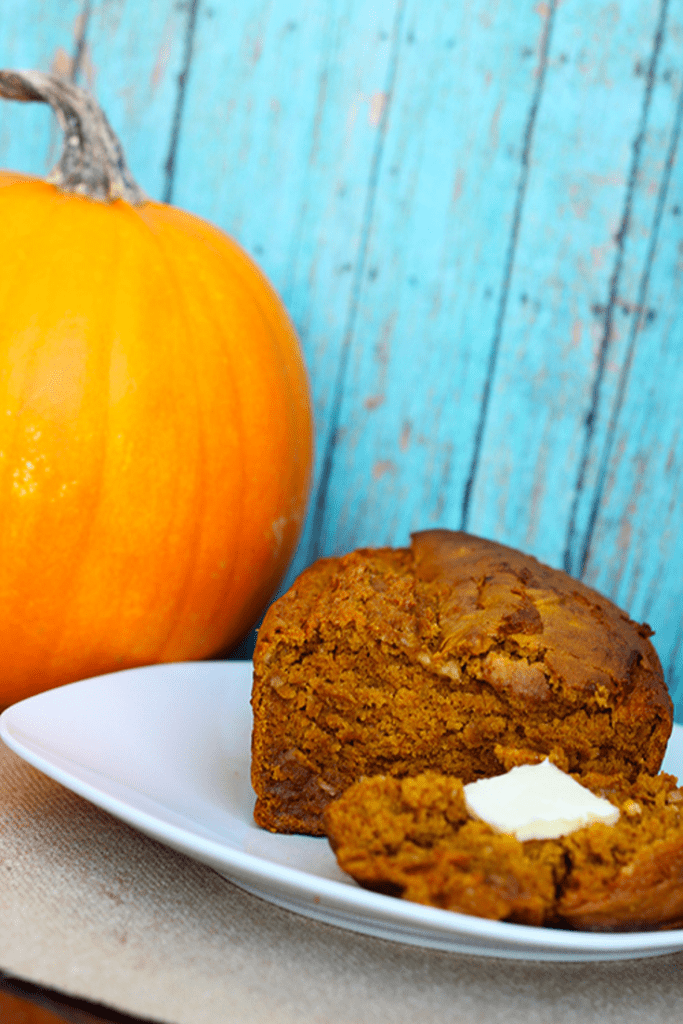 Ingredients
Cake mix (dry mix only)
Pumpin puree
Bananas
Eggs
Vanilla extract
Cinnamon
Pumpkin pie spice
Optional: walnuts
How to make pumpkin banana bread
Begin by gathering and measuring all of your ingredients.  Next, you will preheat your oven and prepare the loaf pan with non-stick cooking spray.
In a large bowl, mix together all ingredients as directed, folding in walnuts at the end.
Pour into two prepared loaf pans and bake until a toothpick inserted in the middle comes out clean and the tops are golden brown.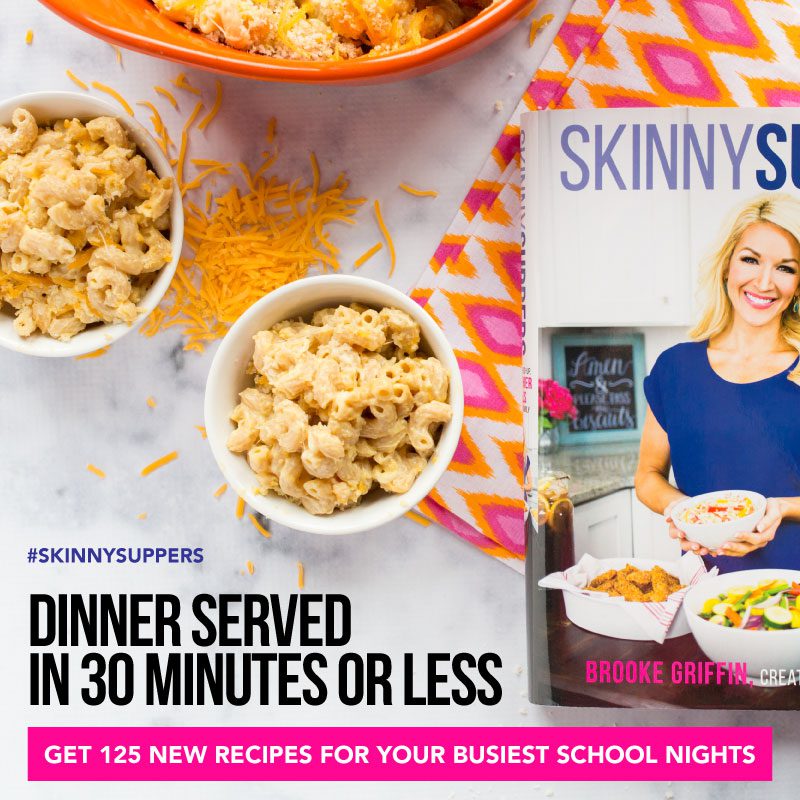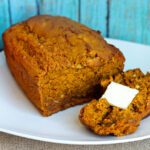 Print Recipe
Pumpkin Banana Quick Bread
Servings: 16 servings
Calories: 177kcal
Ingredients
1 box golden yellow cake mix dry cake mix only
14.5 oz can pumpkins
3 bananas very ripe
2 egg whites
1 tsp vanilla extract
1 tsp cinnamon
1 tsp pumpkin pie spice
⅓ cup walnuts chopped
Instructions
Preheat oven to 350 degrees and spray loaf pans with non-stick cooking spray.

Make sure you are using 8x4x2.5 inch loaf pans, as this recipe will make two bread loaves. You will fill each pan with about 4 cups of mixture. If using a large, 11 inch loaf pan, you will make only one loaf.

Mix together dry cake mix, pumpkin, egg whites, vanilla extract, cinnamon and pumpkin pie spice.

Fold in chopped walnuts to mixture and stir.

Transfer batter evenly into the two loaf pans.

Bake for 35-40 minutes until toothpick inserted into center comes out clean.
Nutrition
Serving: 1slice | Calories: 177kcal | Carbohydrates: 30g | Protein: 1g | Fat: 5g | Sodium: 121mg | Fiber: 2g | Sugar: 20g