Today I'm sharing 9 of my favorite scriptures to encourage you and help you finally stop overthinking for good!  I recently saw this quote and it stuck with me as I've been working hard to as the Bible says renew my mind and change my way of thinking based on God's word.
"There is nothing in this world that can trouble you as much as your own thoughts." – Unknown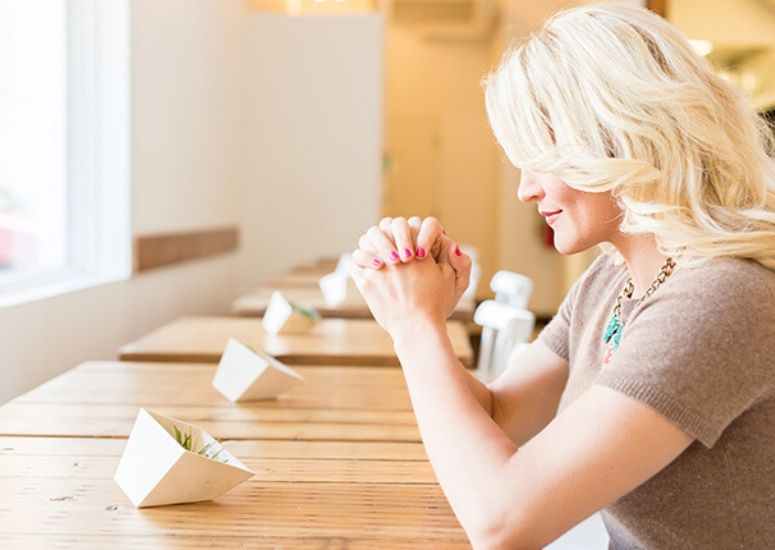 Maybe it's my constant struggle with perfectionism or my analytical nature, but I always overthink my words and actions. At the end of every day, I want to analyze every. Little. Thing. And it drives me crazy!
Does anyone else struggle with overthinking like this? It can cause you to worry over things that are not even real issues or create anxiety about situations before they even happen.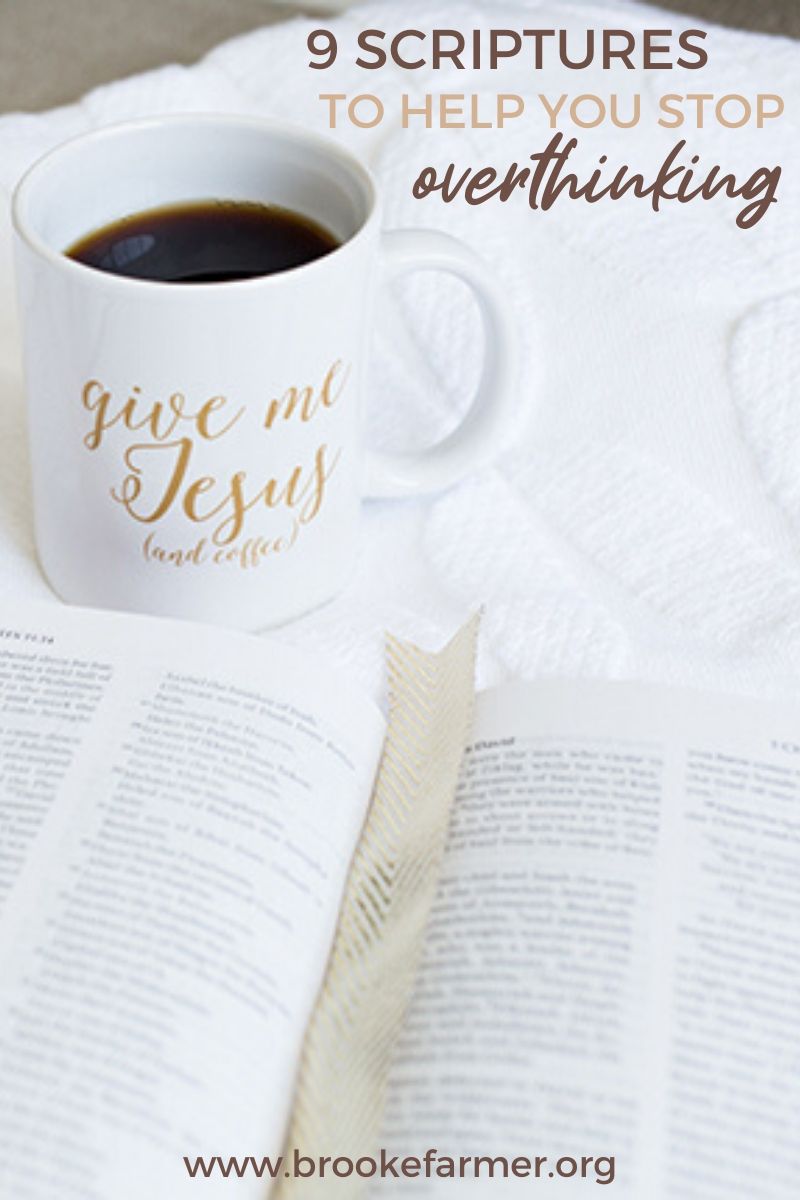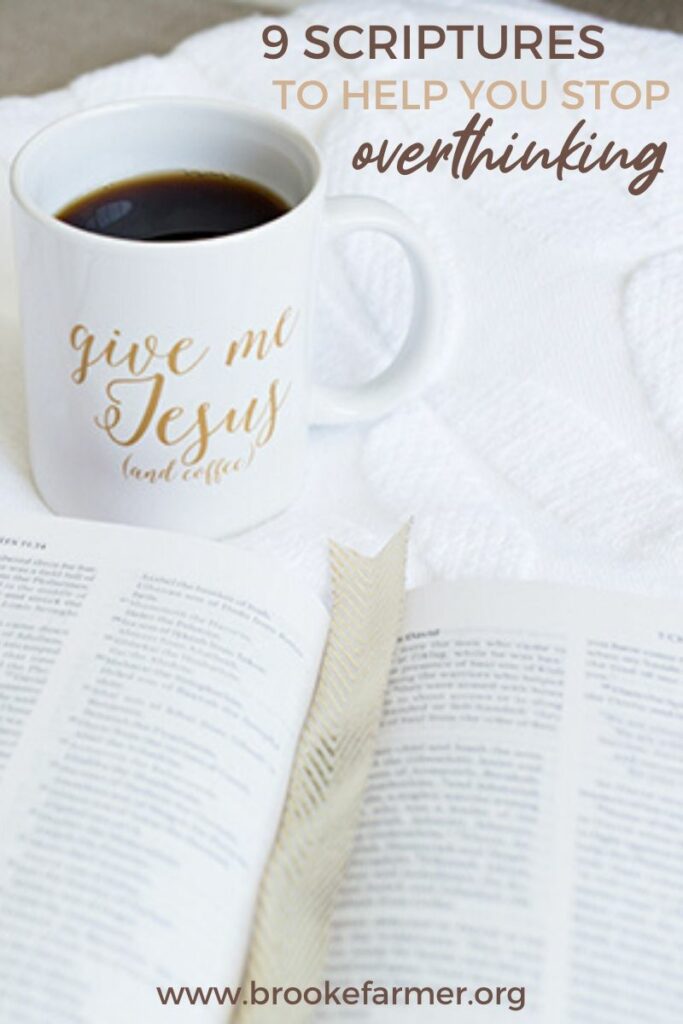 I have found that my overthinking habit keeps me from moving forward in many ways. I've held back from going after goals and dreams because my thoughts got the best of me, and I've gotten so caught up in feeling awkward that I've been nervous in all my conversations. I've spent too much precious time reliving embarrassing moments or worrying about the future instead of looking forward to what God has for me.
If you're like me and have found yourself constantly overthinking things, don't worry, sweet friend. You're definitely not alone!
When we're faced with worry, anxiety, and overthinking, we need the power of God's Word and His promises to us as His beloved daughters to give us a settled assurance. Rather than giving in to those destructive thoughts, we can reflect on Scripture and remind ourselves that everything is going to be okay!
Here are nine scriptures to encourage you and help you stop overthinking today:
Psalm 139:23-24
"Search me, O God, and know my heart; test me and know my anxious thoughts. Point out anything in me that offends you, and lead me along the path of everlasting life" (NLT).
It's so important to remember that God knows every thought and instinct of our hearts! He alone can judge our intentions, and He alone can righteously convict or soothe our souls when we're overthinking.
Colossians 3:2
"Think about the things of heaven, not the things of earth" (NLT).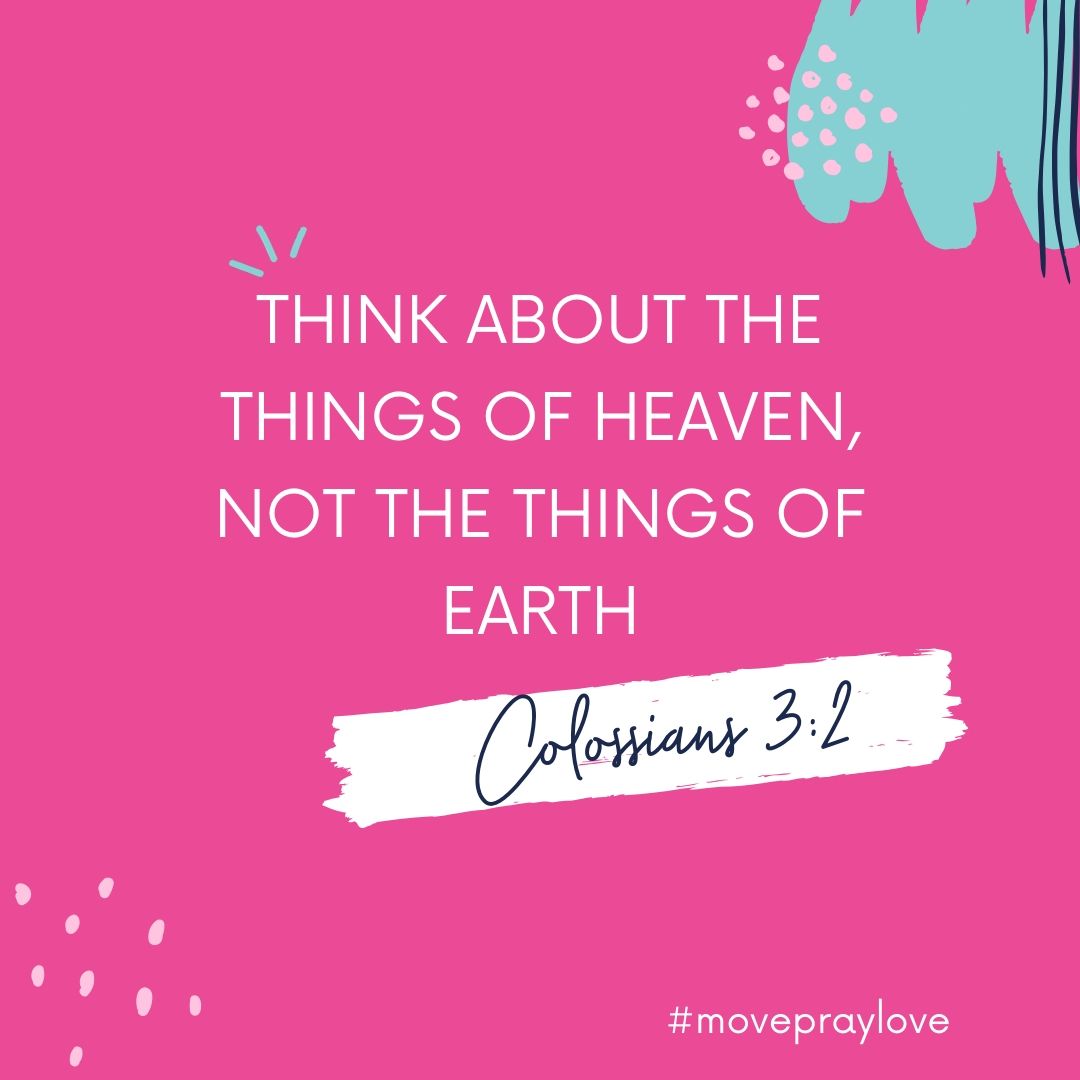 Worry and anxiety are not heavenly things. When you're tempted to fall into the cycle of overthinking, direct your thoughts to God's ways instead.  Meditate on this verse and these above scriptures to help you stop overthinking.
2 Corinthians 10:5
"We destroy every proud obstacle that keeps people from knowing God. We capture their rebellious thoughts and teach them to obey Christ" (NLT).
God has given us the power to take control of our thoughts. When overthinking becomes an obstacle to our relationship with Him, it's time to capture those thoughts!
Philippians 4:8
"…Fix your thoughts on what is true, and honorable, and right, and pure, and lovely, and admirable. Think about things that are excellent and worthy of praise" (NLT).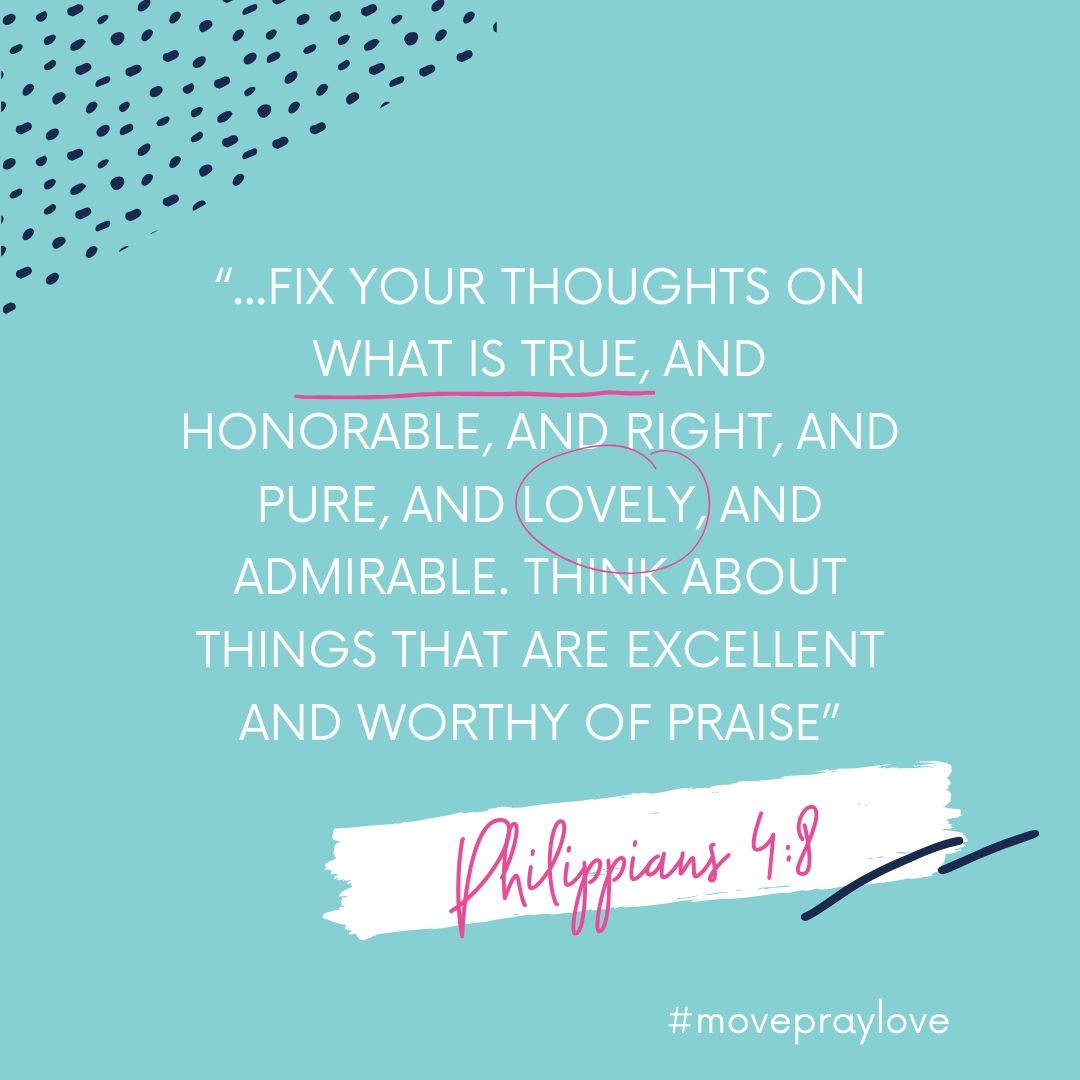 Is worry right, lovely, or admirable? Is our overthinking worthy of praise? No! So, when overthinking strikes, let's be ready to direct our thoughts toward more "excellent" things.
Romans 12:2
"Don't copy the behavior and customs of this world, but let God transform you into a new person by changing the way you think. Then you will learn to know God's will for you, which is good and pleasing and perfect" (NLT).
The world dwells in worry and anxiety, but God brings peace. Let Him direct your thoughts toward His will instead of your concerns.
Matthew 6:25, 27, 34
"That is why I tell you not to worry about everyday life–whether you have enough food and drink, or enough clothes to wear…Can all your worries add a single moment to your life?…So don't worry about tomorrow, for tomorrow will bring its own worries. Today's trouble is enough for today" (NLT).
Jesus wants His daughters to be present in every moment instead of worrying about the past or the future. We won't accomplish anything by worrying!
1 Peter 1:13
"So prepare your minds for action and exercise self-control. Put all your hope in the gracious salvation that will come to you when Jesus Christ is revealed to the world" (NLT).
Again, self-control is key when we're faced with overthinking! We need to be vigilant and ready to fight our worries and fears.  Use this verse and the above scriptures to renew your mind and help you stop overthinking.
Hebrews 12:1-2
"…let us run with endurance the race God has set before us. We do this by keeping our eyes on Jesus, the champion who initiates and perfects our faith…" (NLT)
What's more lovely to think about than Jesus, our Savior and Champion? Choose to dwell on His love and faithfulness instead of yesterday's worries.
Deuteronomy 31:6
"So be strong and courageous! Do not be afraid and do not panic before them. For the Lord your God will personally go ahead of you. He will neither fail you nor abandon you" (NLT).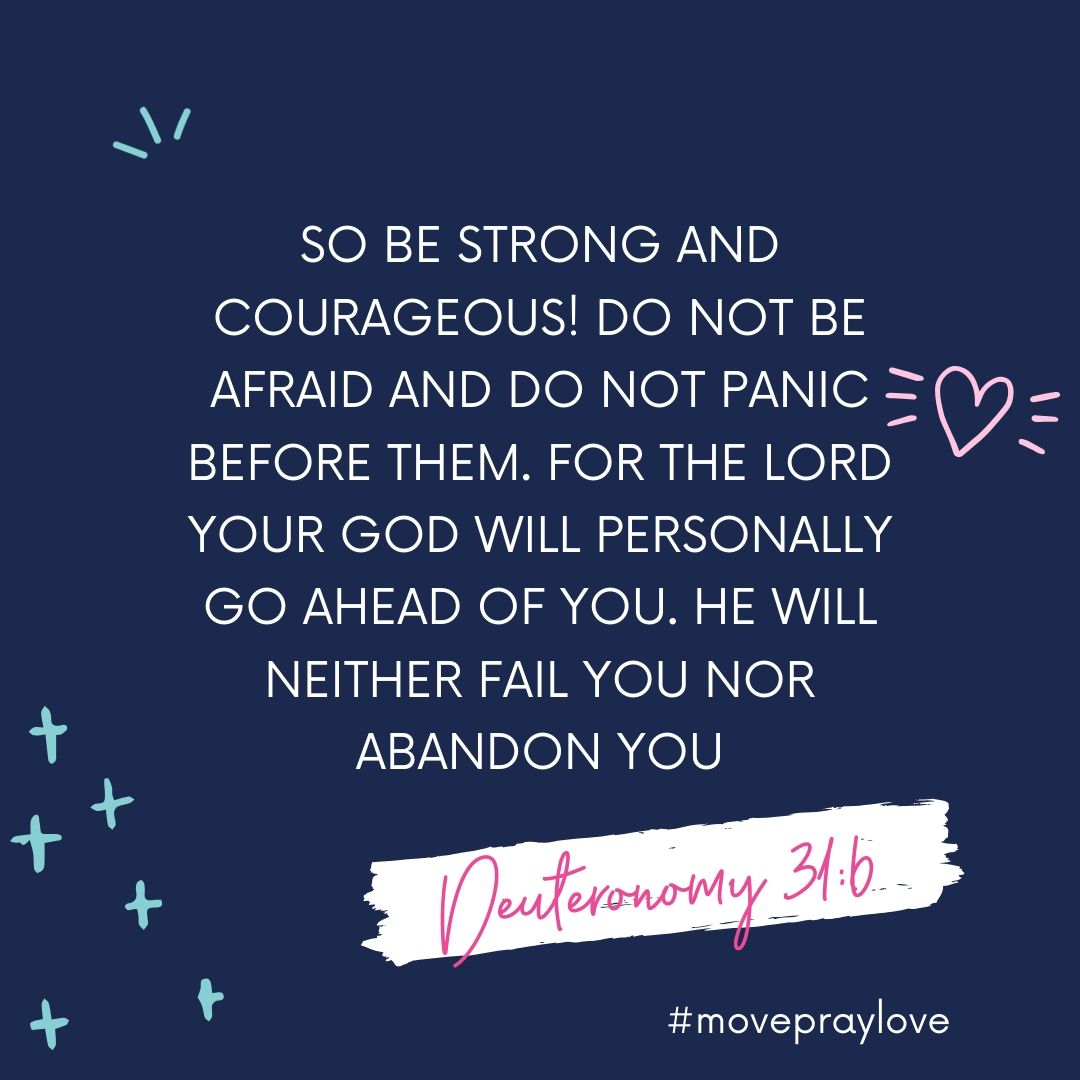 Finally, God tells us so many times to not worry or fear! We can step forward with confidence and joy when we know that He is personally walking before us.
When we're tempted to overthink and dwell on our worries, let's reflect on these scriptures instead. God's Word has the power to overcome our weaknesses!  I hope these scriptures encourage you and help you to finally stop overthinking for good!
XOXO,