Today I'm sharing 10 scriptures to help with grief and loss. Grief and loss come in many forms – a breakup, divorce, illness, death, job loss, home, or friend. These hardships are tremendously emotional situations on their own, but the holidays can add an extra layer of sadness and discomfort. Suddenly, the traditions you've always celebrated or the family and friends you've always celebrated with look different than before. It can be hard to know what to do or muster the strength to do anything at all.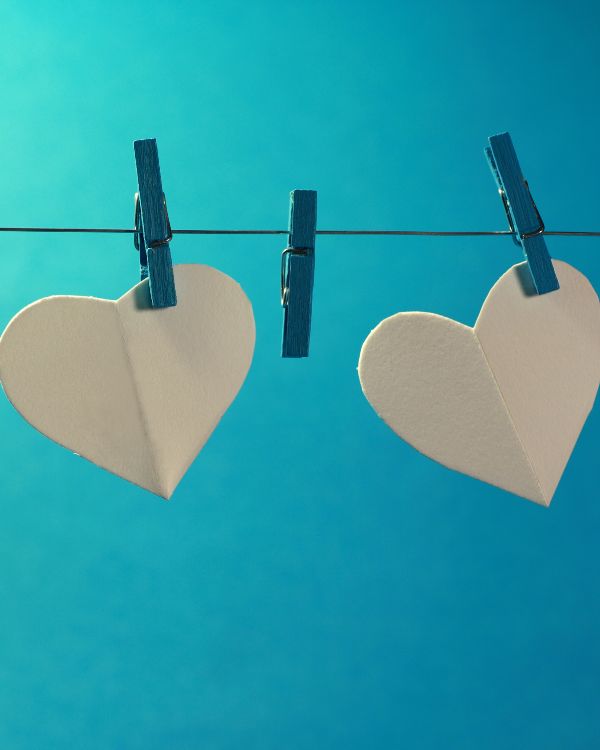 Why Bible Scriptures Can Help with Grief and Loss
When we're struggling to find peace and hope in the midst of grief, the best news I can give you is that God promises to comfort those who are mourning. He never lets you suffer alone. He says better days are ahead – and He means it. Life may change all around us minute by minute, but God does not change.
For me, scripture is a powerful way to gain strength during difficult seasons and these Bible verses have lifted my spirits over and over again. There is purpose in your pain and power in your faith at work.
Scriptures to Help with Grief and Loss
Psalm 73:26
My flesh and my heart may fail, but God is the strength of my heart and my portion forever.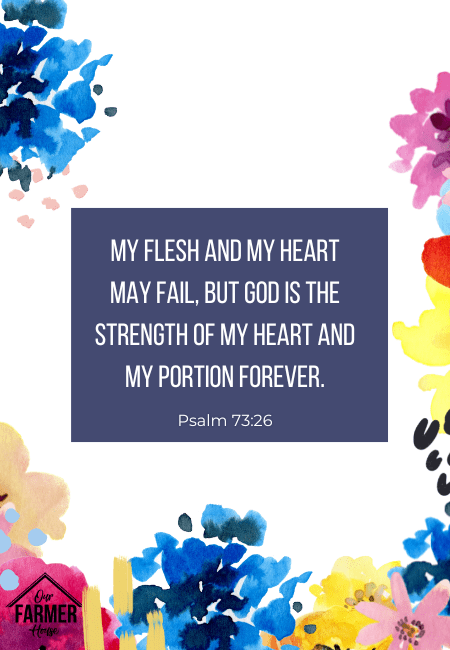 We aren't supposed to carry the burden of grief and loss alone. God is here to help lighten the load, to provide rest and hope for the future.
Romans 8:26
For we do not know what to pray for as we ought, but the Spirit himself intercedes for us with groanings too deep for words."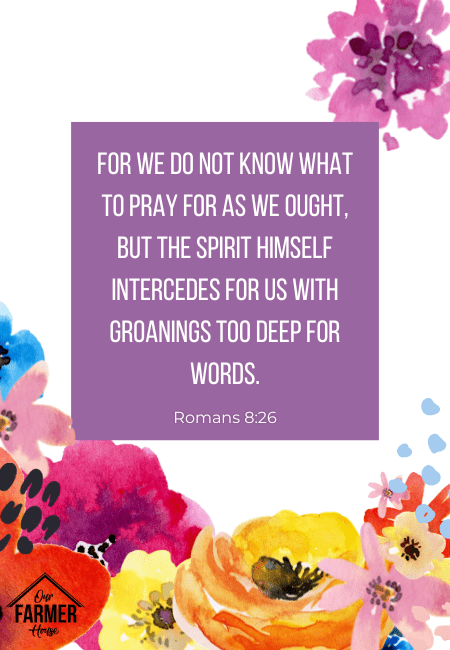 Even if I don't have the words to pray, God knows what we need. He sees every tear and hears every cry of our hearts.
1 Thessalonians 4:13-14
Brothers and sisters, we do not want you to be uninformed about those who sleep in death, so that you do not grieve like the rest of mankind, who have no hope. For we believe that Jesus died and rose again, and so we believe that God will bring with Jesus those who have fallen asleep in him.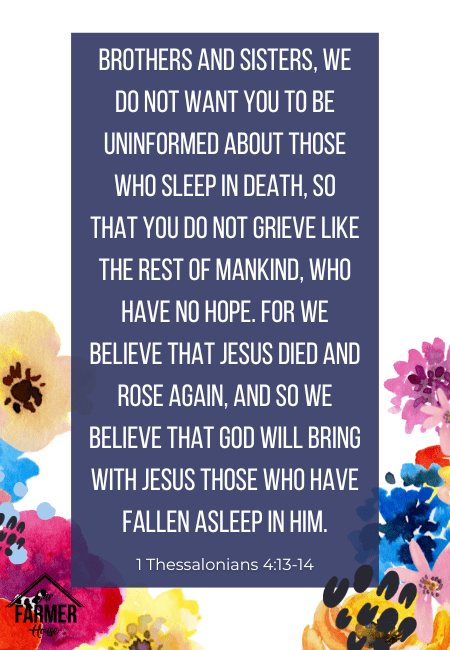 This verse comforts me in knowing my family and friends who have passed are resting with Jesus, free from the suffering of this world. We can mourn, but we have hope that we'll be reunited with our loved ones someday through Christ.
Matthew 5:4
Blessed are those who mourn, for they will be comforted.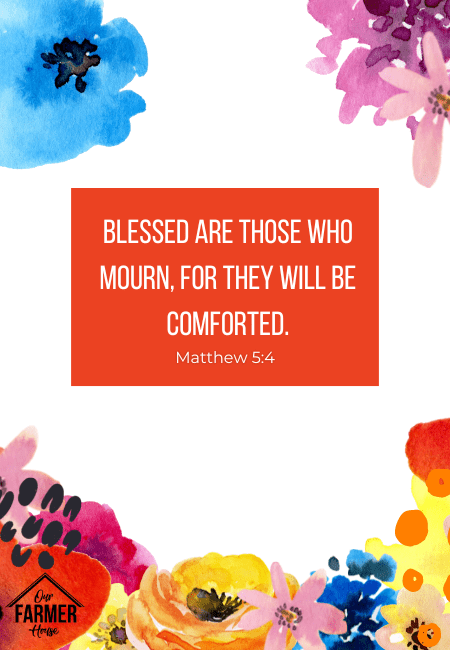 This verse reminds me that I may be in mourning now, but it's not a life sentence. God is the ultimate healer and will soothe my soul.
More Bible Verses To Encourage:
2 Corinthians 4:17-18
For our light and momentary troubles are achieving for us an eternal glory that far outweighs them all. So we fix our eyes not on what is seen, but on what is unseen, since what is seen is temporary, but what is unseen is eternal.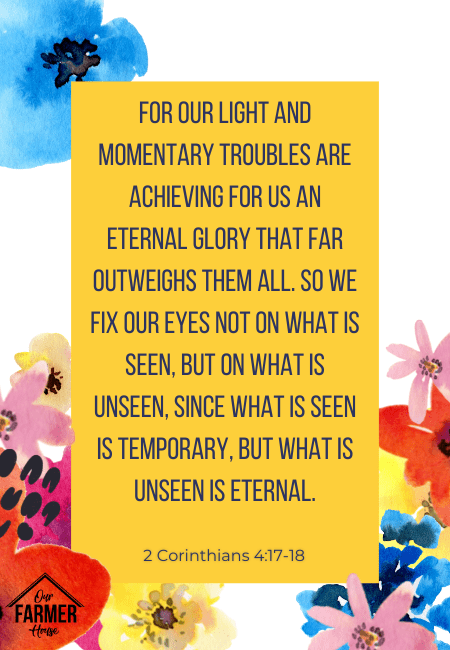 Though we all face many trials and tribulations in our lives, what we experience is brief when compared to the eternity with God that is to come. 
Matthew 5:1-3
Now when Jesus saw the crowds, he went up on a mountainside and sat down. His disciples came to him, and he began to teach them. He said: "Blessed are the poor in spirit, for theirs is the kingdom of heaven."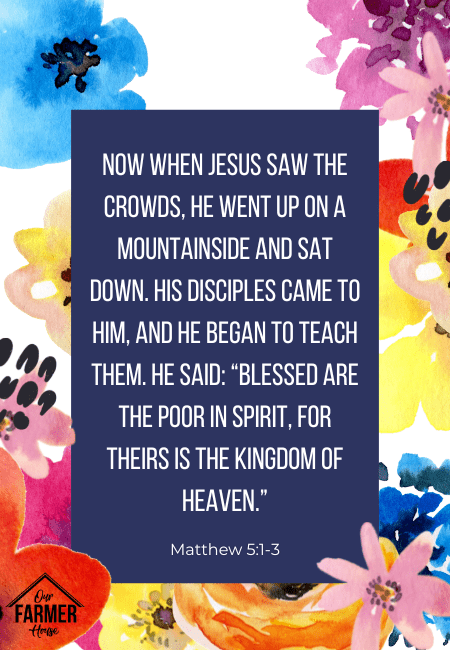 When we're grieving or "poor in spirit," Christ may feel far away, but the truth is He's right there with you every step of the way. He wants us to lean on Him in our times of need. We can be honest with God about our feelings; He understands them all.
Isaiah 41:10
Fear not, for I am with you; be not dismayed, for I am your God; I will strengthen you, I will help you, I will uphold you with my righteous right hand.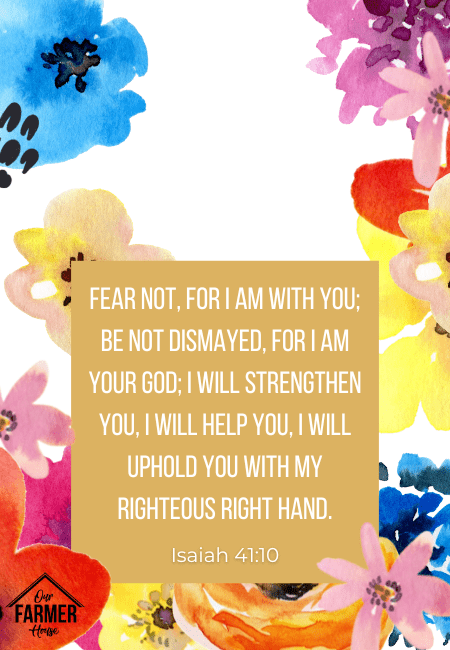 God has your back and your front. He covers us in ways we could never understand or imagine, and He's got us through this season and beyond.
More Bible Verses To Encourage:
Revelation 21:4
'He will wipe every tear from their eyes. There will be no more death' or mourning or crying or pain, for the old order of things has passed away."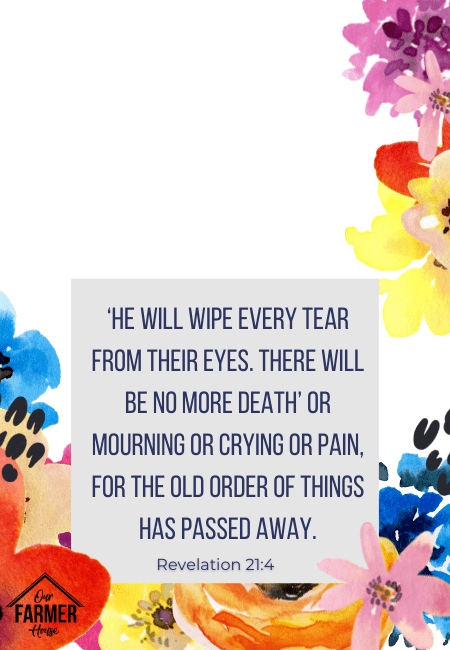 Death is by far one of the harshest realities we all face. I find peace and comfort in knowing that death is a rebirth for believers – there is no pain or mourning in heaven – only reconciliation and rejoicing!
John 14:1
"Do not let your hearts be troubled. You believe in God; believe also in me.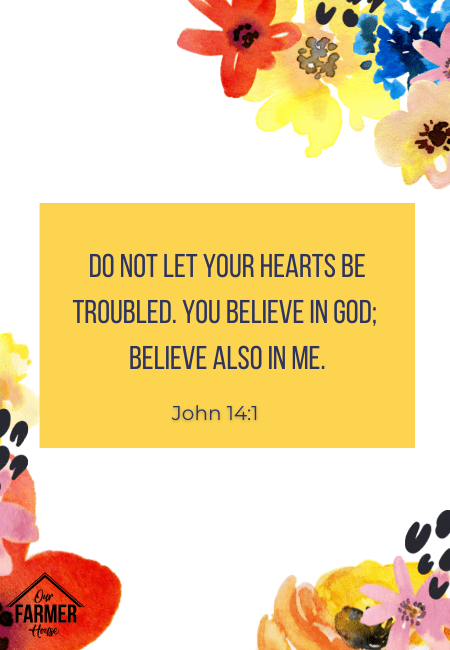 Jesus told His disciples this to ease their minds before He was crucified. Though uncertain about their future, they were reminded that their belief and trust in Him was all they needed.
Romans 8:28
And we know that in all things God works for the good of those who love him, who have been called according to his purpose.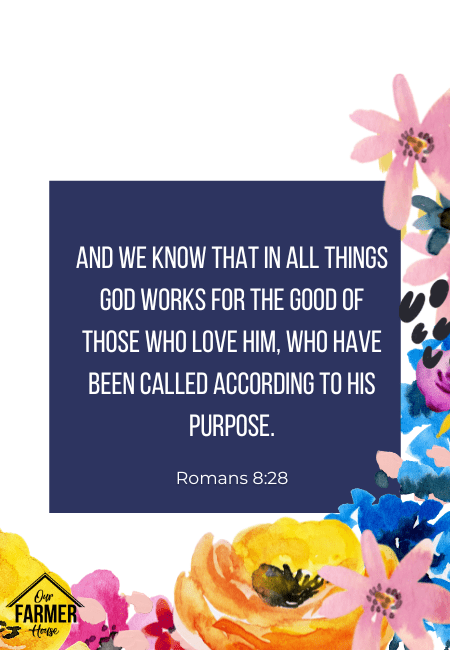 Some things are beyond our understanding, but the truth is, God is more significant than all our catastrophes. Disasters and heartbreaks may happen in our lives, but He's already planning our healing and restoration. We need to draw closer to Him.
If you are experiencing grief and loss, I want you to know that I'm sorry and you're not alone. I know what it's like to experience grief and loss, as does my family.  You can read more about our story with grief and loss here, and you can read my story here. I hope these scriptures help with any grief and loss that you might be experiencing.
XO,