Meal Planning Recipes #3 (January 18-24)
Hi Friends!  Today, I'm sharing my meal planning recipes and a few bonus recipes that I plan on adding to my meal prep for the third week of January.  In addition to meal planning family recipes, I've also been testing out new Air Fryer recipes and using the Air Fryer that Daron bought me for Christmas.  I have to say I'm a little obsessed with it:).  If you're looking for other meal plans click here.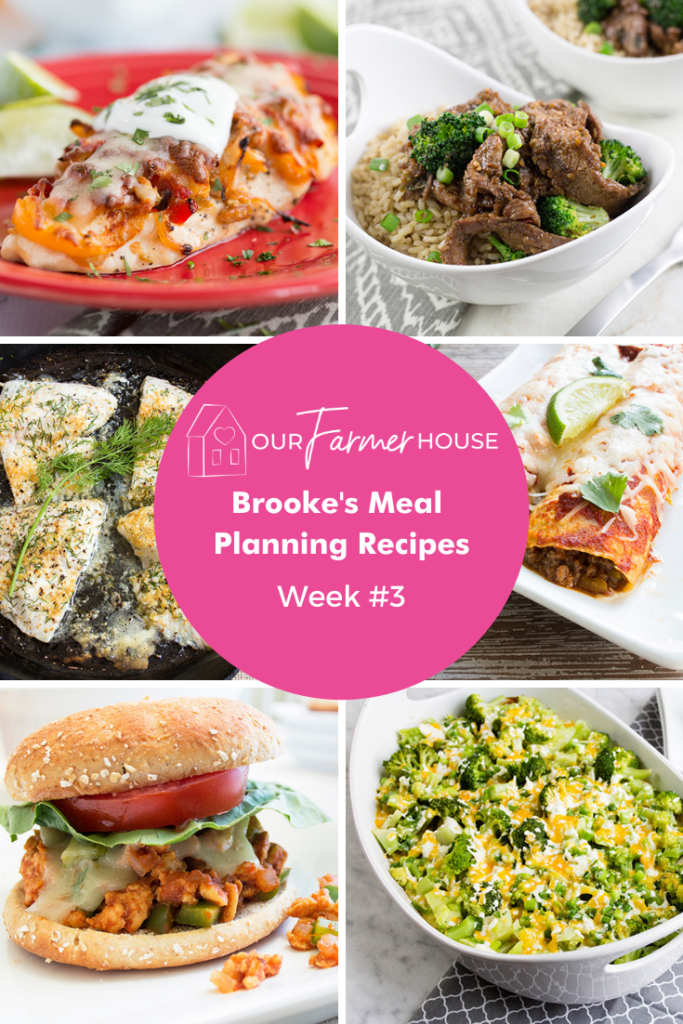 In other Farmer Family news, Daron and I have been intentional about prayer and fasting this month as we are having to make many decisions and we need God's wisdom!    We also have been busy with the kids' basketball games and Easton just got his cast off, yay!   As I shared last week, we recently signed a contract on our house and we're building a new house out on a farm in rural Ohio.  Daron has been in overdrive trying to get the new house moving forward.  As he's working on all of the exteriors, I'm pulling together design boards with windows, cabinets, countertops, and paint colors.  I hope to be able to blog and share our house building journey in the coming weeks.
As for our meal planning recipes this week, my theme for the week was quick and easy.  I tried to pull easy recipes that can be prepared in less than 30 minutes but yet are lower in calories and still family-friendly.  I also included a new dessert recipe that I haven't made before. I'm looking forward to seeing how it turns out!
About my Meal Planning Recipes:
If there's one thing that I learned this past year, it's the importance of family and spending time with the people you love. I believe there's no better way to create memories and real conversation than around the dinner table.
But as a busy mom of three, I know it can sometimes be challenging and even stressful trying to plan out what you're cooking for dinner each week and putting together recipes. For this reason, I'm going to try and help make meal planning easy for you by sharing my weekly meal plans for dinner.
I try to meal plan at the start of each week.  Usually, I put together 7 meal planning dinner recipes for my family of 5.   Sometimes, I will add dessert, breakfast, and lunch recipes as bonus meals. I will also add suggested side dishes to the dinner recipes for added meal planning Inso.
Each week's meal plan will have the recipe links, photos, bonus recipes, and any additional notes that I include that might be helpful to your weekly meal planning.
Skinny Suppers Cookbook:
In 2016, I wrote a cookbook, "Skinny Suppers," and shared 125 lightened-up recipes. Many of you who follow me already have this cookbook, and you will find that I reference many of the recipes in the cookbook as part of my weekly meal plans.
If you don't have a copy of Skinny Suppers and would like to purchase it, you can order it here. It's a great cookbook filled with easy recipes that you and your family will love!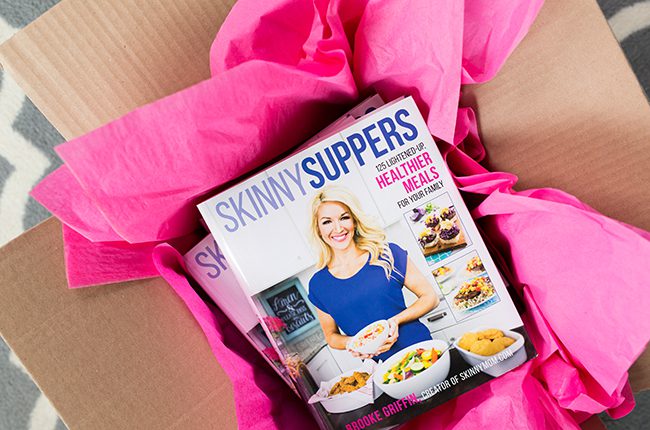 Our Farmer House Community:
Lastly, if you're on Facebook, join Our Farmer House Community, where I share recipes, cooking tips, and life updates. Plus, you can share recipes and photos with the group as well.
If you wish to get on our Sunday Email List, you can subscribe here, so you never miss a meal plan, recipe, or update.
Meal Planning Recipes Details:
All of the dinner recipes are designed to serve a family of 4-6 people. Many recipes will have enough leftovers for lunch the next day (my 17-year-old loves taking leftovers to school), or you can reheat for a second night's meal.
Feel free to switch out the dinner recipes and pick and choose your favorites. I do my best to try and come up with various family-friendly recipes, and I balance the meals out by alternating between different proteins, including beef, pork, chicken, and seafood.
My family doesn't eat many vegetarian recipes, but I do my best to add at least one vegetarian recipe to the weekly meal plan.
As for the bonus recipes, I try to add a few breakfast, lunch, and dessert recipes to the weekly meal plan to try and have as extras to prepare for your family. The suggested sides are listed alongside the main dinner recipe title and link.
If you see a recipe that does not have a link with the words "Skinny Suppers," this means the recipe is in my Skinny Suppers Cookbook. If you would like to purchase a copy, you can order here.
I hope these weekly meal plans inspire you and help you meal plan for dinner each week! If you have questions or recipe suggestions, please send me a message as I would love to hear from you.
XOXO,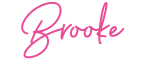 Monday
If you haven't tried this recipe for my Keto Southwestern Chicken, then make time this week to add it to your meal plan!   A great option for meal prepping chicken is to purchase chicken breasts in bulk and if the pieces are larger in size, I split each breast down the center, lengthwise to make thinner slices.  This is a great recipe to make with the thinner sized chicken cutlet pieces as the chicken cooks faster and more evenly.   I plan on serving this recipe with roasted broccoli or this quick recipe for Healthy Broccoli Salad with Bacon.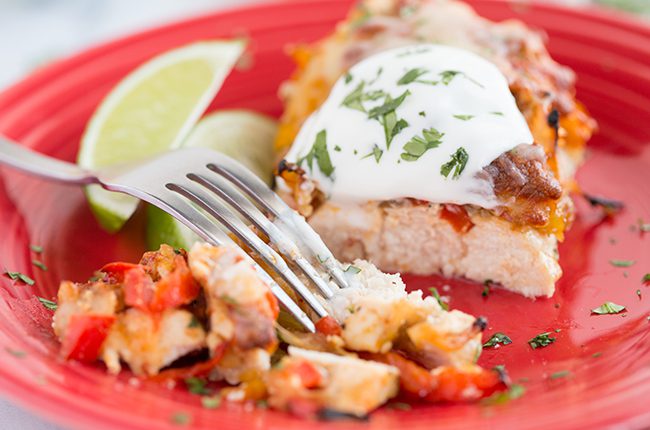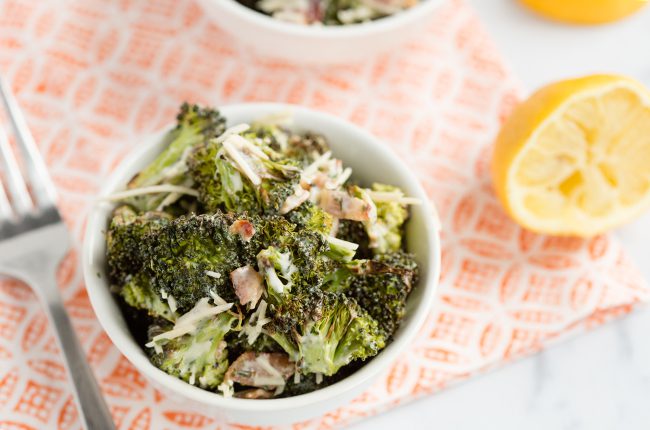 Tuesday
Staying with our Taco Tuesday theme, I plan on making my recipe for Healthier Beef Enchiladas.  This dish is really easy to prepare and I like to make it with low-carb tortillas.  If you are looking for a vegetarian option, I have a great recipe for Lightened-Up Cheese Enchiladas.  I like to serve my Homemade Guacamole with blue corn chips and a side of fresh salsa.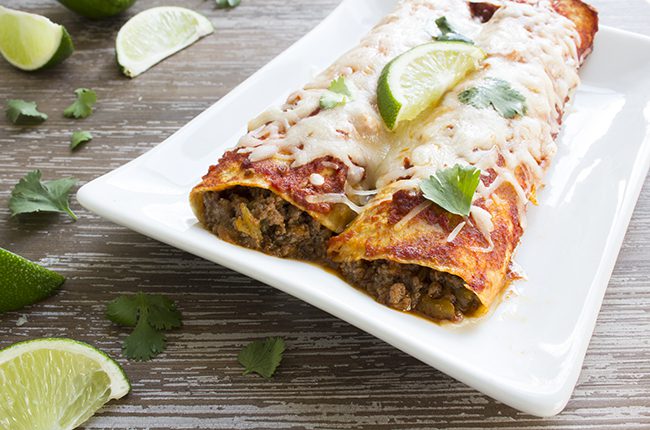 Wednesday
On the menu for tonight's dinner, I'm serving up Lightened-Up Mongolian Beef Stir-Fry.  I love this recipe as it's low in carbs and healthy.  For a side dish option, you can serve with whole grain brown rice or my recipe for Healthy Baked Crab Rangoon.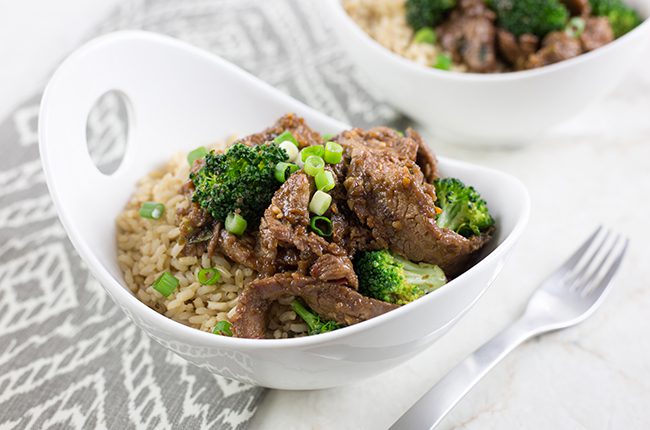 Thursday
Towards the end of the week, I like to keep things simple with this Easy Baked Lemon Tilapia Recipe.  Feel free to substitute the tilapia with a different white flaky fish option.  If your family isn't particularly fond of eating fish or seafood options,  you can replace the fish with a different protein option or I've found that if you cover the exterior of the fish with breadcrumbs or panko this can add texture and flavor.  I plan on serving the tilapia with a leafy green salad and a side of creamed corn.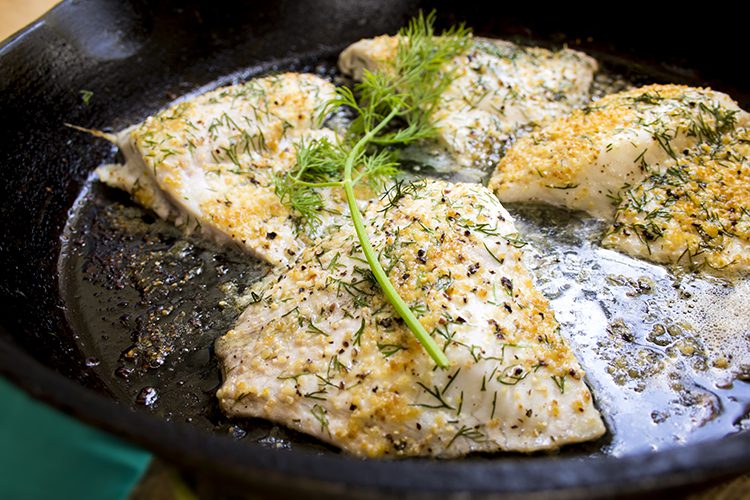 Friday
Tonight's recipe is a blending together of two dinner classics, Philly Cheese Steaks and Sloppy Joe's.  My recipe for Philly Cheese and Ground Turkey Sloppy Joe's is easy to prepare and I like to serve it with Sweet Potato Fries or Potato Wedges that you can easily prepare in the Air Fryer or bake in the oven.
Saturday
Tonight I'm making one of my favorite vegetarian recipes, Healthy Baked Potato Casserole with Broccoli.  I also have another variation of this dish in my Skinny Suppers Cookbook, called Loaded Baked Potato Casserole that's also delicious!  I serve this alongside a leafy green garden salad and fresh mixed fruit.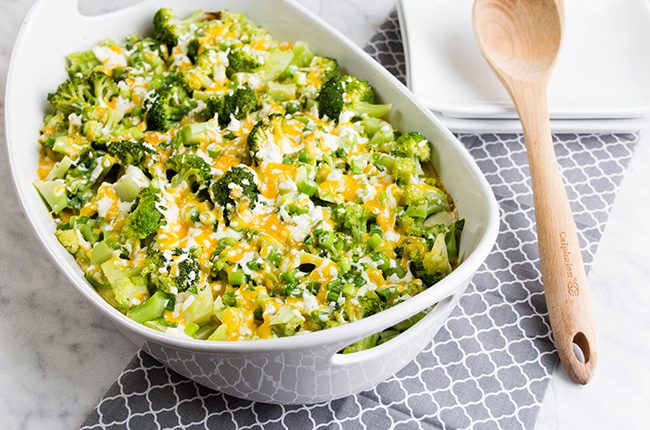 Sunday
This coming Sunday, I'm making my recipe for Slow Cooker Chicken Pot Pie.  I plan on putting the chicken and vegetables in the slow cooker before we leave for  Church that morning.  I love using my slow cooker to make meals ahead of time especially on Sundays as it's so nice to come home and have a late lunch ready and waiting.  As a variation to this recipe, I plan on transferring the Chicken Potpie mixture to a casserole dish, covering it with a ready-made pie crust dough, and baking it in the oven in place of the biscuits.  The pie crust topping is delicious!
To prepare the pie crust, pre-heat the oven to 400 degrees.  Unfold and roll out the ready-made pie crust and place over the top of the filling, crimping edges.
Brush the crust evenly with the egg wash and cut 3 vents in the top of the crust.  Bake until the crust is golden brown, about 30 minutes.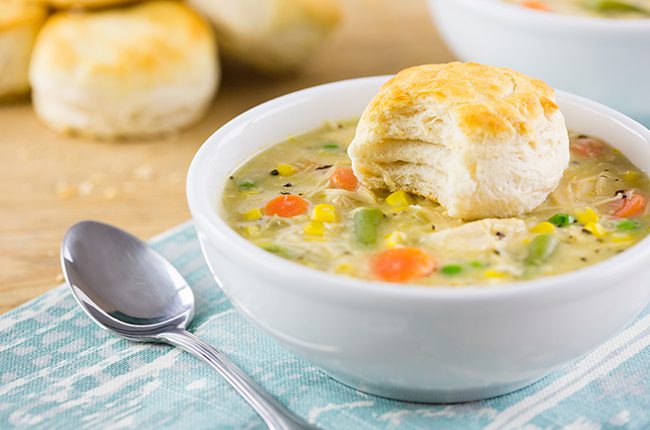 Slow Cooker Chicken Pot Pie Casserole with Crust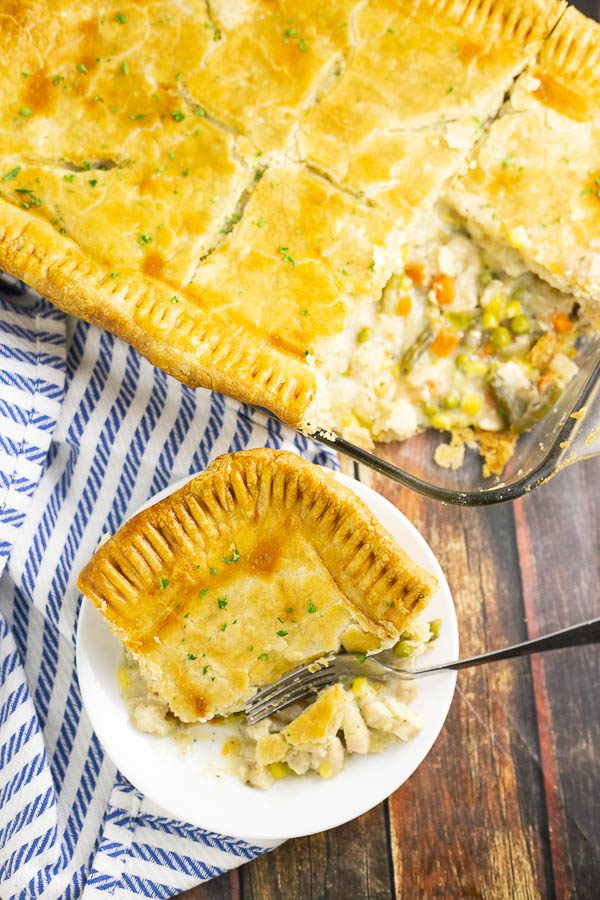 Bonus Recipes:
Sweet Treat: This week I'm trying a new recipe that I found on Pinterest for Greek Yogurt Lemon Cheesecake Bars.  I love trying new recipes especially desserts and I think this will be a sweet treat that everyone in my family will enjoy.   Thank you Ashley from Spoonful of Flavor for the recipe as I can't wait to try it!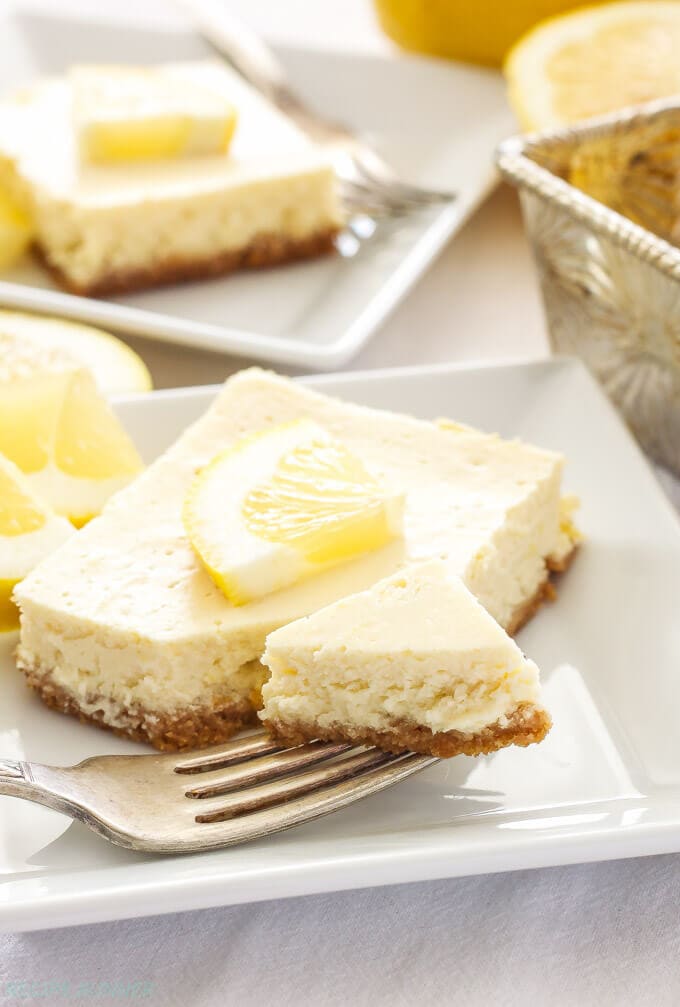 Smoothie of the Week: Strawberry Pineapple Breakfast Smoothie.  During the week, I try to meal replace one meal per day with a protein shake or smoothie.  This smoothie doesn't call for protein powder, but it's easy to add 1 scoop of Vanilla flavored protein to the recipe.  If using protein powder, I add 1/2 cup of water as well to the recipe for a creamy consistency.  I like to use my favorite brand of protein powder by She Activates!  You can order here and for a limited time, it's on sale.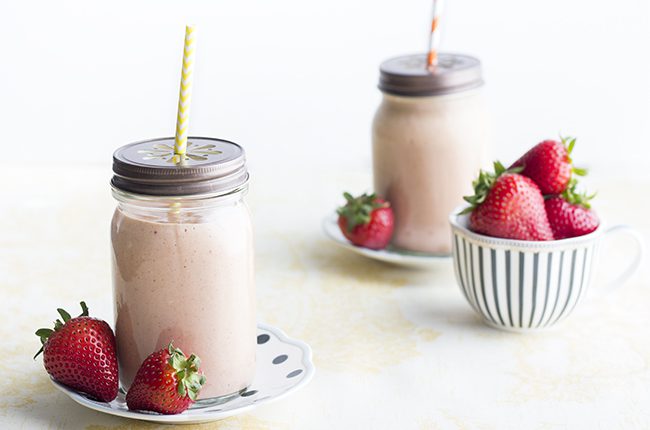 Pack and Go Recipe: Low-Calorie Asian Chicken Salad Lettuce Wraps.  This is a great clean eating recipe that's low-carb and loaded with fresh veggies and fiber.