Quick Family Meal Planning Recipes #7
Hi Friends!  Today, I'm sharing my lightened-up family meal planning recipes and a few bonus recipes that I plan on adding to my meal prep for a full week.  In addition to quick and lightened-up meal planning family recipes (if you're looking for other meal plans click here), I recently just started a new weekly blog series called The Farmer 5!  Each week I'm sharing the top 5 moments, products, and new recipes from that week.  I also am slowly starting to get back on social media after taking a long break.  Be sure to follow our home-building journey and recipes @Ourfamerhouse on Instagram and Facebook.
This past week has been busy and filled with all kinds of changes!  We recently just closed on our house, you can read more about it here in The Farmer 5.  Daron is still busy building the new farmhouse but because it's not finished yet, and in lieu of staying in a temporary place in Ohio, I took the kids and we went to Florida for a few weeks to do remote learning and enjoy an extended spring break.  Daron will be traveling down to see us in between work and building the house.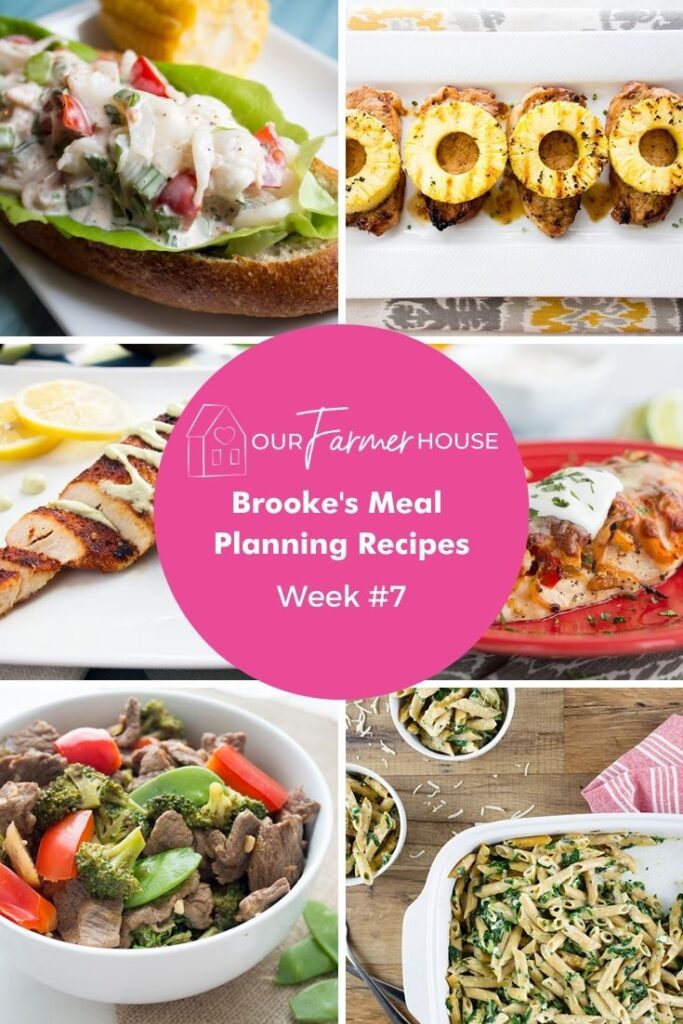 As for our meal planning recipes this week, my theme for the week is low carb and healthy recipes as we are all trying to get in better shape while we have extra time in Florida.  I also tried to pull easy recipes that can be prepared in less than 30 minutes but yet are lower in calories and still family-friendly.
About my Quick Family Meal Planning Recipes:
If there's one thing that I learned this past year, it's the importance of family and spending time with the people you love. I believe there's no better way to create memories and real conversation than around the dinner table.
But as a busy mom of three, I know it can sometimes be challenging and even stressful trying to plan out what you're cooking for dinner each week and putting together recipes. For this reason, I'm going to try and help make meal planning easy for you by sharing my weekly meal plans for dinner.
I try to meal plan at the start of each week.  Usually, I put together 7 meal planning dinner recipes for my family of 5.   Sometimes, I will add dessert, breakfast, and lunch recipes as bonus meals. I will also add suggested side dishes to the dinner recipes for added meal planning Inso.
Each week's meal plan will have the recipe links, photos, bonus recipes, and any additional notes that I include that might be helpful to your weekly meal planning.
Skinny Suppers Cookbook:
In 2016, I wrote a cookbook, "Skinny Suppers," and shared 125 lightened-up recipes. Many of you who follow me already have this cookbook.  You will find that I reference many of the recipes in the cookbook as part of my weekly meal plans.
If you don't have a copy of Skinny Suppers and would like to purchase it, you can order it here. It's a great cookbook filled with easy recipes that you and your family will love!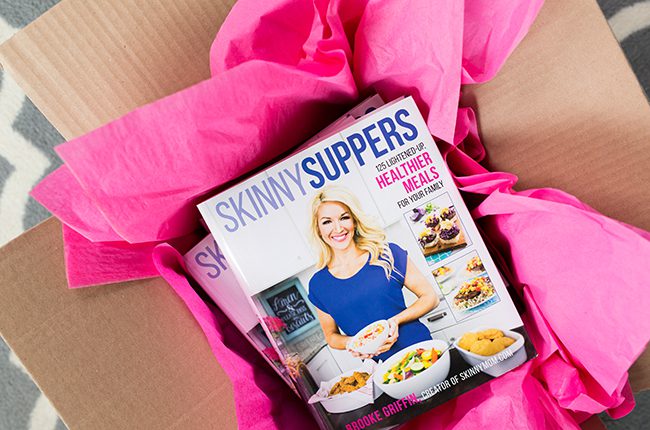 Our Farmer House Community:
Lastly, if you're on Facebook, join Our Farmer House Community, where I share recipes, cooking tips, and life updates. Plus, you can share recipes and photos with the group as well.
If you wish to get on our Sunday Email List, you can subscribe here, so you never miss a meal plan, recipe, or update.
Quick Family Meal Planning Recipes Details:
All of the dinner recipes are designed to serve a family of 4-6 people. Many recipes will have enough leftovers for lunch the next day (my 17-year-old loves taking leftovers to school), or you can reheat for a second night's meal.
Feel free to switch out the dinner recipes and pick and choose your favorites. I do my best to try and come up with various family-friendly recipes, and I balance the meals out by alternating between different proteins, including beef, pork, chicken, and seafood.
My family doesn't eat many vegetarian recipes, but I do my best to add at least one vegetarian recipe to the weekly meal plan.
As for the bonus recipes, I try to add a few breakfast, lunch, and dessert recipes to the weekly meal plan to try and have as extras to prepare for your family. The suggested sides are listed alongside the main dinner recipe title and link.
If you see a recipe that does not have a link with the words "Skinny Suppers," this means the recipe is in my Skinny Suppers Cookbook. If you would like to purchase a copy, you can order here.
I hope these weekly meal plans inspire you and help you meal plan for dinner each week! If you have questions or recipe suggestions, please send me a message as I would love to hear from you.
XOXO,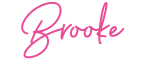 Monday
Kicking things off on Monday with my recipe for Keto Southwestern Chicken, I like making this recipe as it's easy to make, hearty, and low in carbs.  You can serve alongside whole-grain brown rice, a side salad, or asparagus.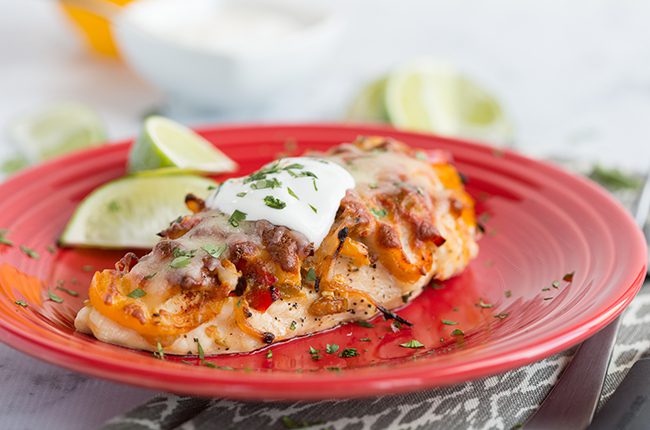 Tuesday
If you're looking for a great burger recipe for Taco Tuesday, then give my recipe for Easy Mexican Ranch Burgers a try!   I like to make these burgers as an option in place of tacos or burritos.  You can serve with a whole-wheat bun or as a low-carb option, you can just add Mexican toppings like lettuce, avocado, onion, tomato, jalapenos,  to the burger    I like to serve this dish with refried beans on the side (I have a great restaurant copycat recipe that will share soon) and or a leafy green salad.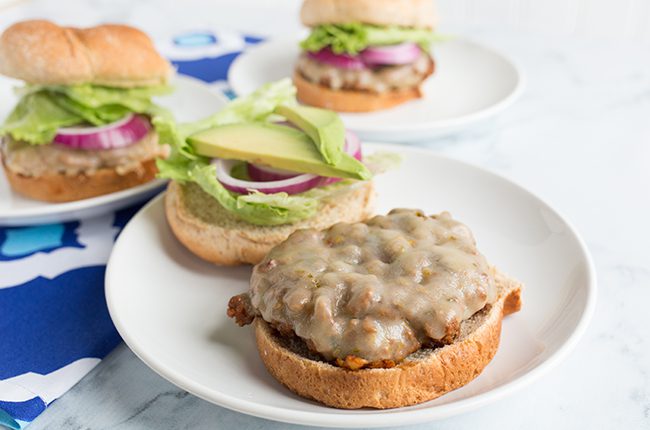 Wednesday
On the menu for tonight's dinner, I'm serving up Chinese Beef Stir-Fry.  This is an easy recipe that you can make in less than 30 minutes. Feel free to substitute whatever vegetables that you and your family enjoy.  For a side dish option, you can serve with whole grain brown rice or garlic mashed potatoes.
Thursday
I added this recipe for Lobster Rolls as an easy seafood option this week in the meal plan.  You can swap the lobster meat with crab or even baked popcorn shrimp.  Serve with a side salad, asparagus, and garlic bread for a complete meal your family will enjoy.
Friday
This clean-eating recipe for Blackened Chicken with Avocado Cream Sauce is one of my favorites!  It combines the rich flavors of blackened chicken with a creamy avocado sauce and I serve it on top of a seasoned quinoa salad.  You can opt to serve it over a bed of fresh greens and veggies in place of the quinoa to cut back on the number of carbohydrates per serving.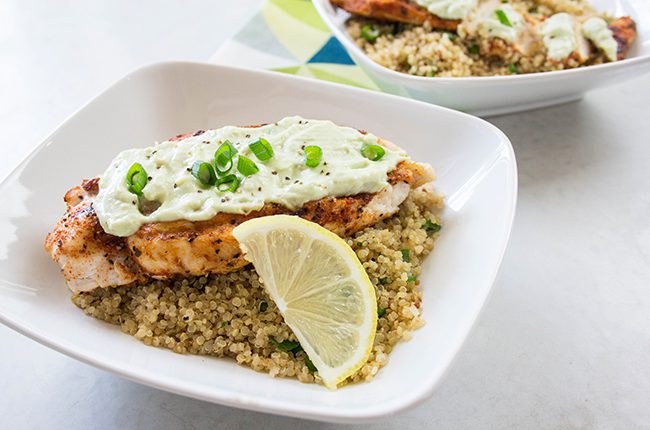 Saturday
Easy to make Grilled Pork Chops are on the menu tonight.   I like to let the pork chops soak in the marinade for at least 30 minutes to overnight for extra flavor.  You can also use a grill brush to add additional sauce onto the pork chops while they are on the grill.  If you don't have a grill or if the weather is too cold for grilling, simply use a grill pan or saute pan on the stovetop.  I like to use a meat thermometer when preparing pork to make sure that the meat cooks all the way through.  For pork chops, the best temperature is 145 degrees.  I've also made this recipe using my new air fryer and the pork chops cook up great in just a few minutes.   Feel free to serve pork chops with baked potatoes or sweet potato fries and green beans.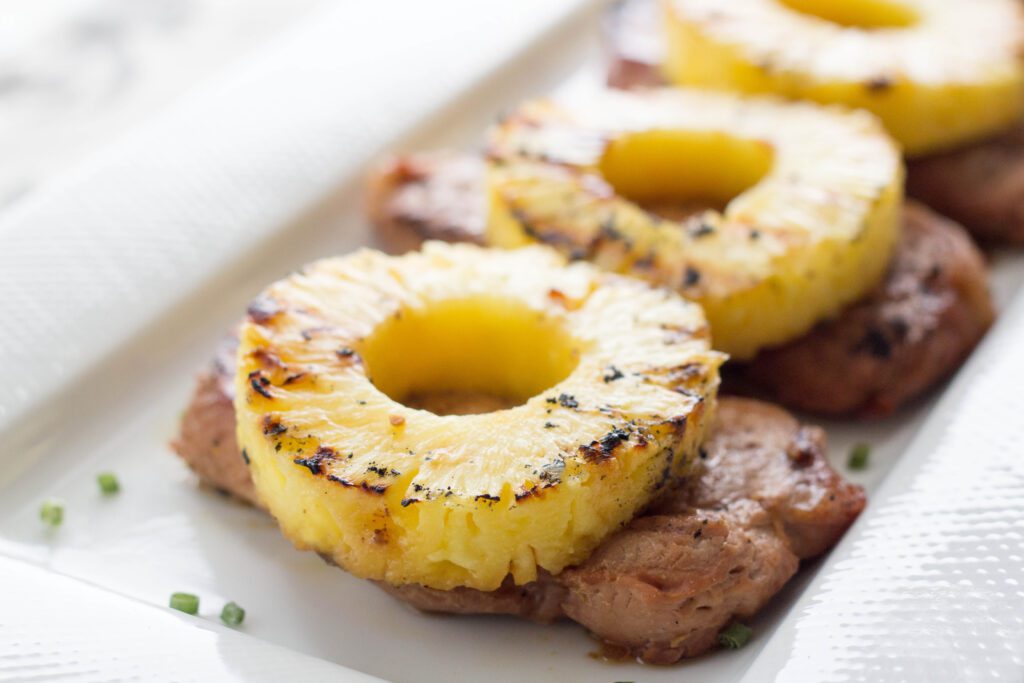 Sunday
You can never go wrong with my recipe for Spinach Pasta with Homemade Alfredo Sauce for any day of the week.  I added this recipe to the meal planning calendar to make for lunch on a Sunday or you can bake up this pasta dish during busy weeknights as another option.   I like to serve it a big green leafy garden salad, caesar salad, and or a bowl of fresh fruit.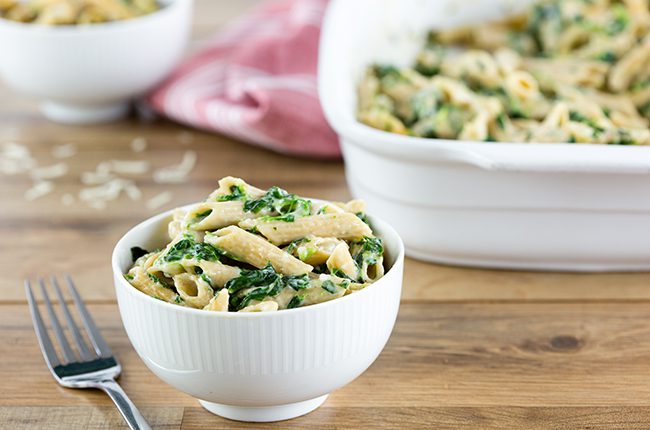 Bonus Recipes:
Sweet Treat: This week I'm sharing a light and healthy recipe for an Easy Pistachio Bread.  It's also a great recipe to make right now as it's festive for St. Patrick's Day because of the pistachios give the bread a beautiful green color.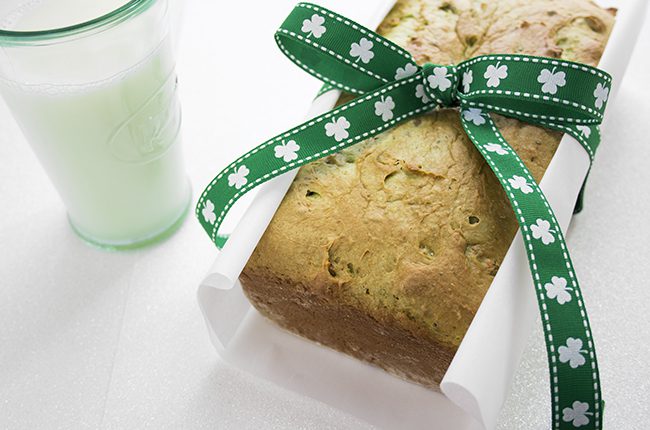 Smoothie of the Week: Shamrock Protein Shake.  During the week, I try to meal replace one meal per day with a protein shake or smoothie.  I like to use my favorite brand of protein powder by She Activates!  You can order here and for a limited time, it's on sale.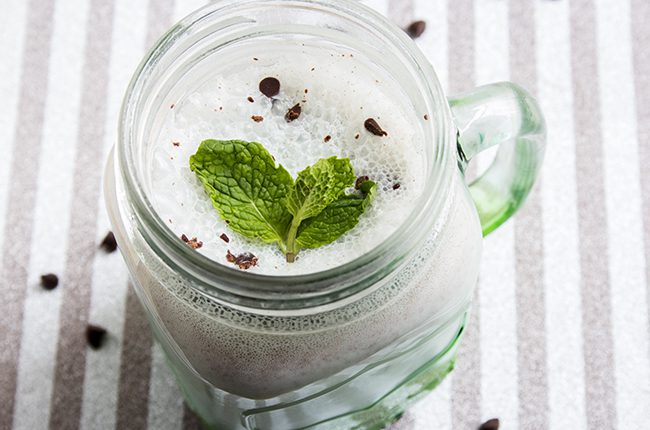 Pack and Go Recipe: Easy Southwest Shrimp Salad Recipe.  This is a great salad recipe that's flavorful and loaded with lean protein.