21 Favorite Bible verses to bless your new home whether you're building a new house or doing a remodel.
The framing is all up at our Farmer house!  Now that the new walls are framed, we saw this as a perfect opportunity to mark our home in a memorable way. This home is already a dream come true for us as a family, and writing our favorite bible verses on the framing will be something we never forget.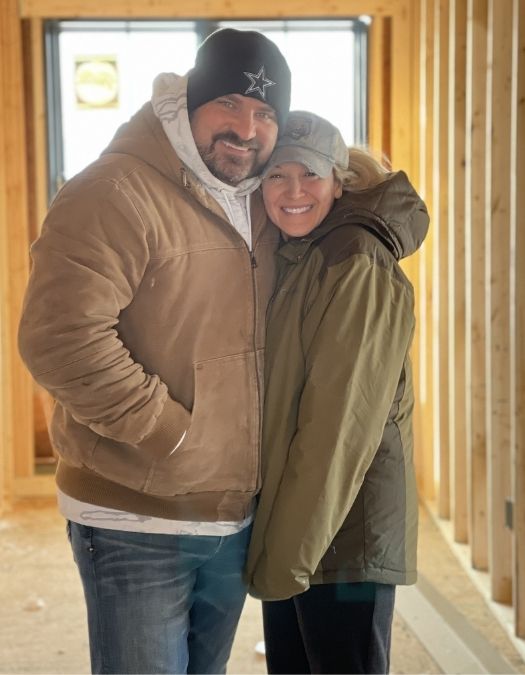 It's so special for us to think that there are scriptures within our walls blessing our home, marriage, future children, and anyone who walks through our doors. The book of Deuteronomy says to inscribe God's commandments on the doorposts of your house (Deut 6:4-9), and we did just that! His Word is now forever written in our hearts and home. Below I've listed 21 of our favorite bible verses to bless your home, whether you're building a new house or doing a remodel.
READ MORE: The Farmer 5: House Closing and Dinner Out
Favorite Bible Verses for the Entryway:
We picked two favorite bible verses for our entryway and wrote one up above the front door and the other one on a frame in our front foyer.
"As for me and my house we will serve the Lord." Joshua 24:15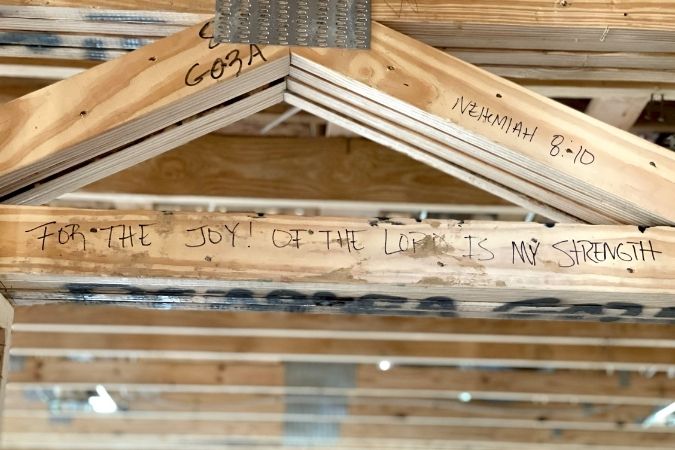 "…For the joy of the Lord is your strength." Nehemiah 8:10
Other Verses for the Entryway:
"You will be blessed when you go in and blessed when you go out." Deut 28:6
"For He will command His angels concerning you to guard you in all your ways;" Psalm 91:11
"Trust in the Lord with all your heart and lean not on your own understanding; in all your ways acknowledge Him, and He will make your paths straight."
Proverbs 3:5-6
Favorite Bible Verses for Bedrooms:
We had all of the kids pick out a favorite bible verse and write it over their bedroom doorframe.  Ethan's favorite bible verse was out of Habakkuk 2:2.
"And the Lord answered me, and said, Write the vision, and make it plain upon tablets, that he may run that readeth it." Habakkuk 2:2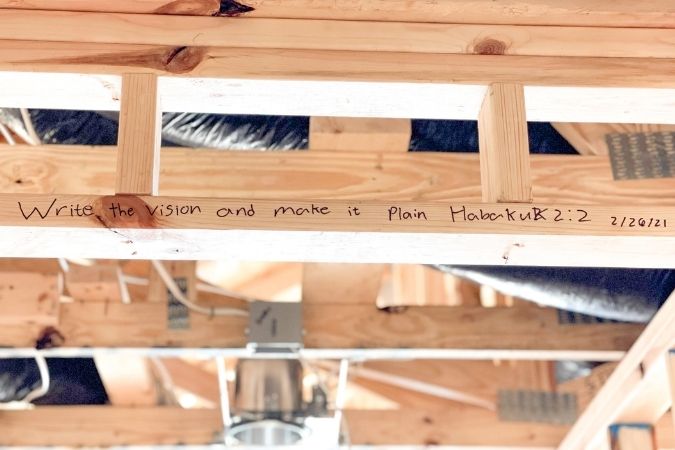 Hailey's favorite bible verse happens to be one of my favorites too!
"For I know the plans and thoughts that I have for you; says the Lord, plans for peach and well-being and not for disaster, to give you a future and a hope." Jeremiah 29:11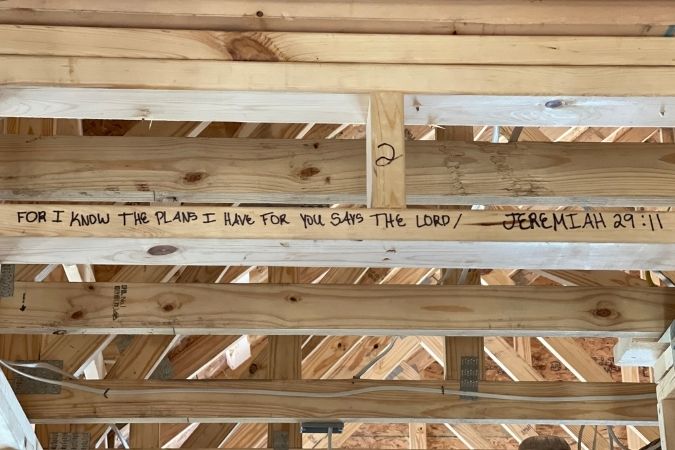 The bible verse that Easton picked to write over his bedroom door frame was out of the book of Philippians.
"I can do all things through Christ who strengthens and empowers me." Philippians 4:13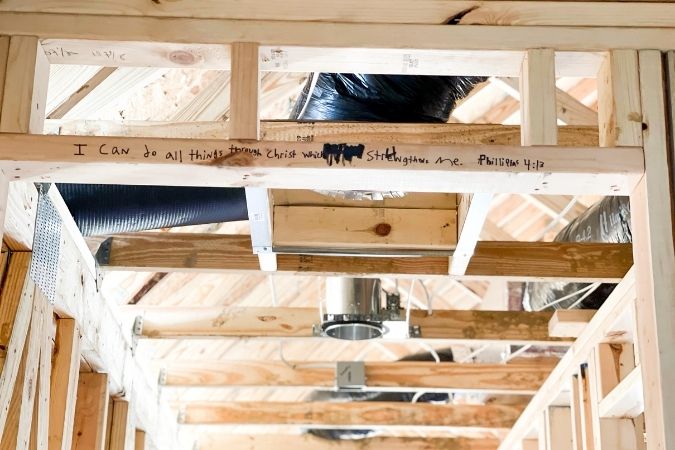 Daron and I chose a scripture that has much significance to us and our stories for our bedroom.   This year we had a prophetic word spoken over us that God would bring beauty for ashes and restore everything that we've lost.  For any of you that know our testimonies, both Daron and I have walked through some broken and tough seasons in our lives and cried countless tears.  We believe that this next chapter of our story is going to be filled with lots of joy and the beauty of promises fulfilled.
"…and provide for those who grieve in Zion- to bestow on them a crown of beauty instead of ashes, the oil of joy instead of mourning, and a garment of praise instead of a spirit of despair." Isaiah 61:3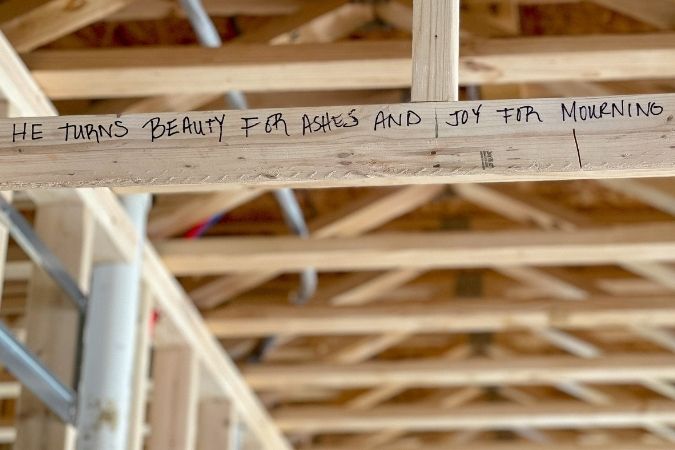 Other Verses for Bedroom
"You will be blessed when you go in and blessed when you go out." Deut 28:6
"In peace, I will lie down and sleep, for you alone, Lord, make me dwell in safety." Psalm 4:8
"We love because He first loved us." 1 John 4:19
"When you lie down, you will not be afraid; when you lie down, your sleep will be sweet." Proverbs 3:24
Favorite Bible Verses for the Kitchen
They say the kitchen is the heart of the home!  With my love for cooking and entertaining, it's my prayer that our kitchen is a place of building love, relationships, and community.
"They broke bread together and ate together with glad and sincere hearts." Acts 2:46

"Do not forget to entertain strangers, for by doing so some people have entertained angels without knowing it." Hebrews 13:2

"Give us this day our daily bread." Matthew 6:11
Favorite Bible Verses for the Family Room and Stairways
Daron picked one of his favorite verses out of the book of Jeremiah and wrote it on the mantle of our fireplace.
"His Word is in my heart like a fire shut up in my bones." Jeremiah 20:9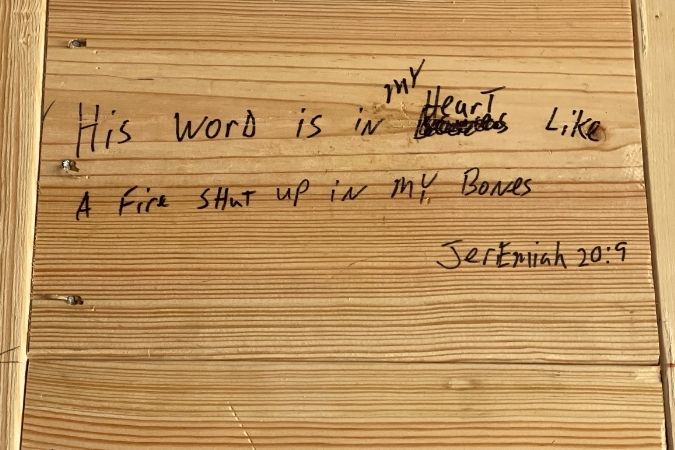 The kids had the idea to write a verse out of the book of Psalms on the stairway frame.  The verse was fitting as it talks about God's word giving us direction as we move forward.
"Your word is a lamp unto my feet and a light into my path." Psalms 119:105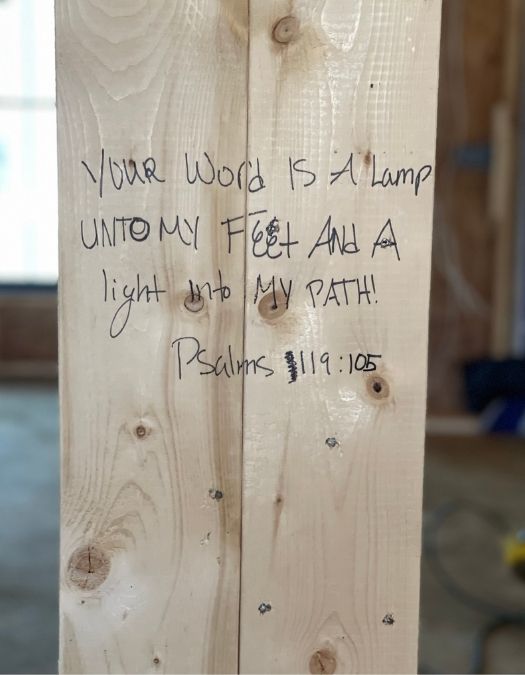 Other Favorite Bible Verses for a New House or Remodel:
"By wisdom, a house is built, and through understanding, it is established; through knowledge, its rooms are filled with rare and beautiful treasures." Proverbs 24:3-4
"Therefore everyone who hears these words of mine and puts them into practice is like a wise man who built his house on the rock." Matthew 7:24
"Create in me a clean heart, O God, and renew a right spirit within me." Psalm 51:10
"Now my eyes will be open and my ears attentive to the prayer that is made in this place. For now, I have chosen and consecrated this house that my name may be there forever. My eyes and my heart will be there all time." 2 Chronicles 7:15-16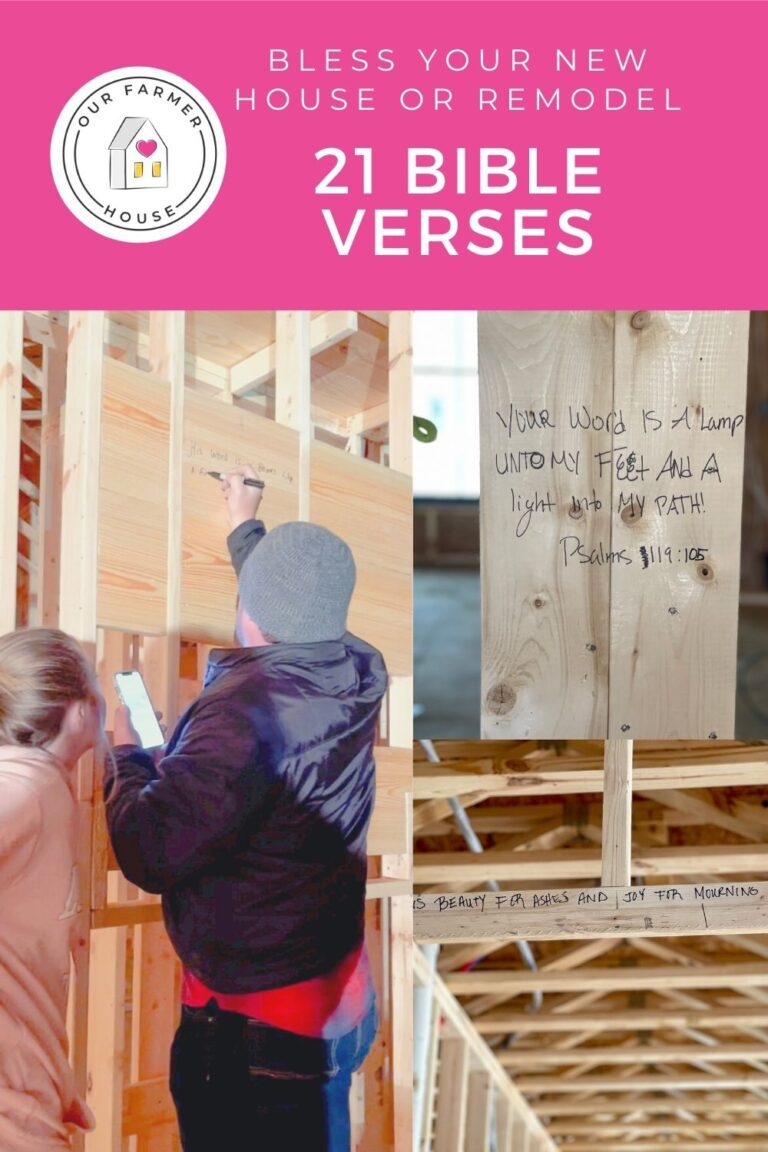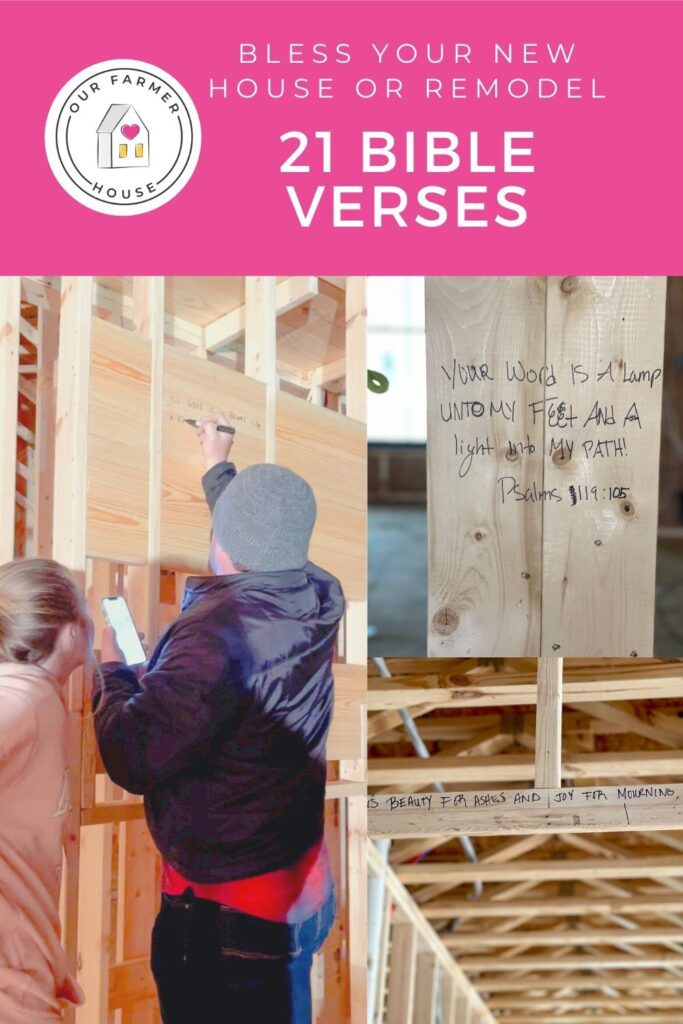 If you are currently building a new house or getting ready to or maybe you're doing a remodel project, I hope you found these bible verses encouraging!  Also, I would love to know if this is something that you've done already at your existing house?   Or something you've wanted to do?  Out of these verses listed, which one is your favorite?  Or has special meaning to you?  Comment and share below, and send me a message @ourfarmerhouse on Instagram.
XOXO,