Family Meal Planning Recipes #4
Hi Friends!  Today, I'm sharing my family meal planning recipes and a few bonus recipes that I plan on adding to my meal prep for the first week of February.  In addition to meal planning family recipes (if you're looking for other meal plans click here), I've also been busy packing up the house as we are moving in less than a month!  It's crazy how fast January went by and it seems almost surreal to have a closing date on the calendar and to actually see our new house under construction.  With every day that passes we are getting more excited about moving into our farmhouse.  I'm still planning to share all of the details as soon as I get time to write everything out and share my pictures.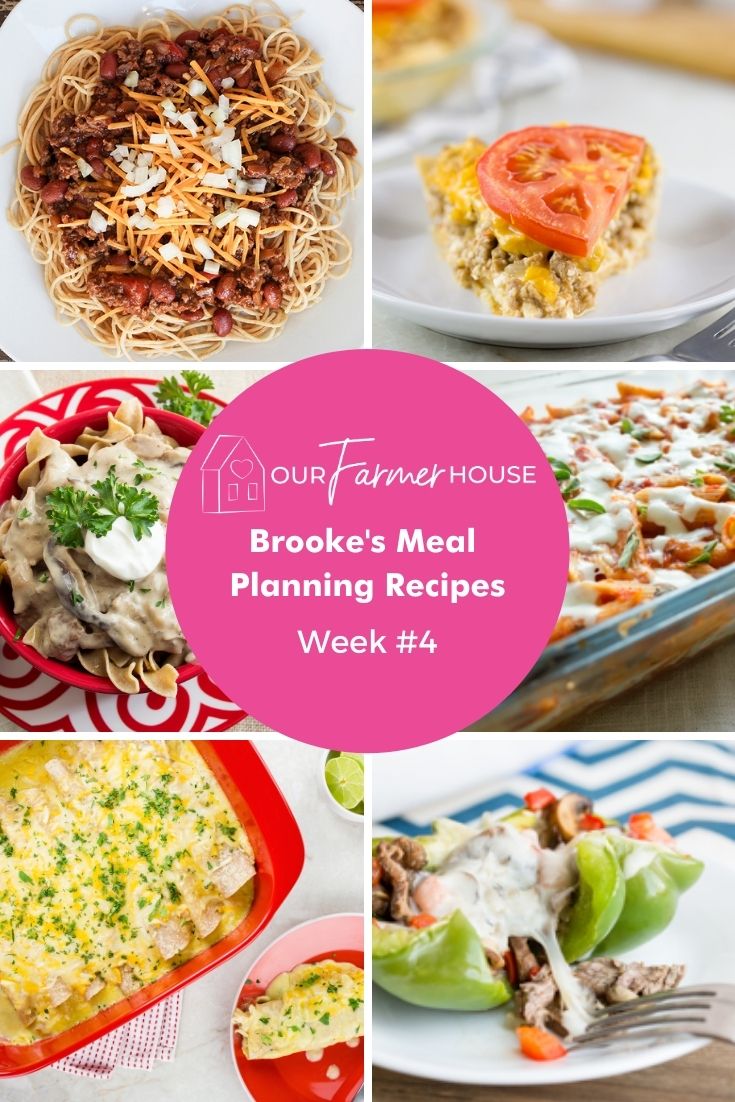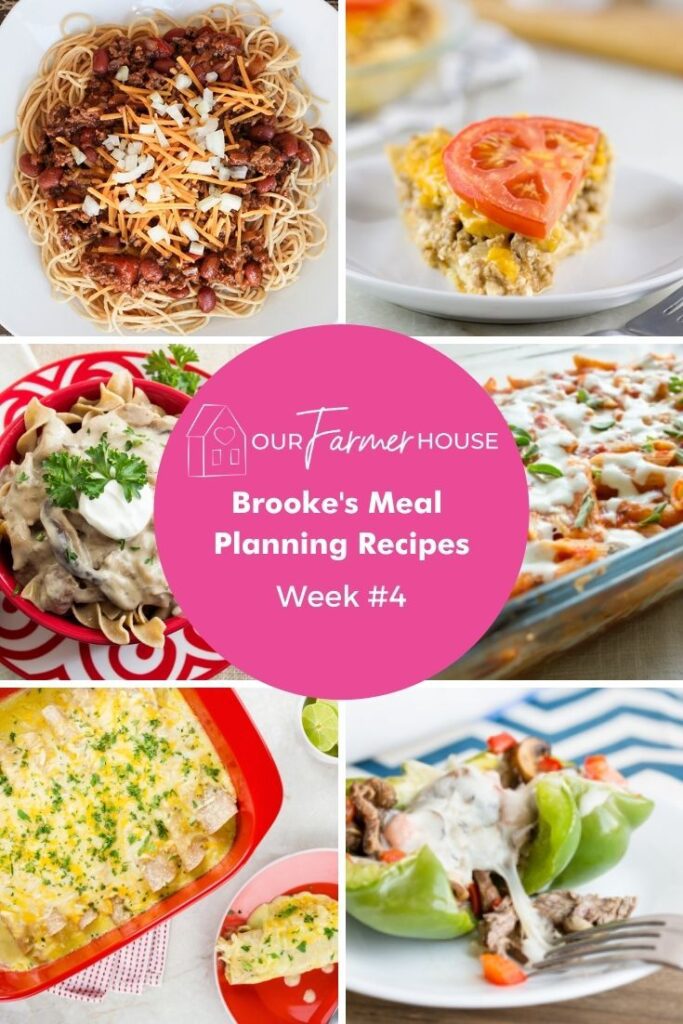 In addition to the move, we're also in the middle of a transition with the church, and next Sunday, February 7th will be our first Sunday Service at a new location.  Lots of changes going on around here at Our Farmer House.
As for our meal planning recipes this week, my theme for the week continues to be quick and easy.  I tried to pull easy recipes that can be prepared in less than 30 minutes but yet are lower in calories and still family-friendly.
About my Family Meal Planning Recipes:
If there's one thing that I learned this past year, it's the importance of family and spending time with the people you love. I believe there's no better way to create memories and real conversation than around the dinner table.
But as a busy mom of three, I know it can sometimes be challenging and even stressful trying to plan out what you're cooking for dinner each week and putting together recipes. For this reason, I'm going to try and help make meal planning easy for you by sharing my weekly meal plans for dinner.
I try to meal plan at the start of each week.  Usually, I put together 7 meal planning dinner recipes for my family of 5.   Sometimes, I will add dessert, breakfast, and lunch recipes as bonus meals. I will also add suggested side dishes to the dinner recipes for added meal planning Inso.
Each week's meal plan will have the recipe links, photos, bonus recipes, and any additional notes that I include that might be helpful to your weekly meal planning.
Skinny Suppers Cookbook:
In 2016, I wrote a cookbook, "Skinny Suppers," and shared 125 lightened-up recipes. Many of you who follow me already have this cookbook, and you will find that I reference many of the recipes in the cookbook as part of my weekly meal plans.
If you don't have a copy of Skinny Suppers and would like to purchase it, you can order it here. It's a great cookbook filled with easy recipes that you and your family will love!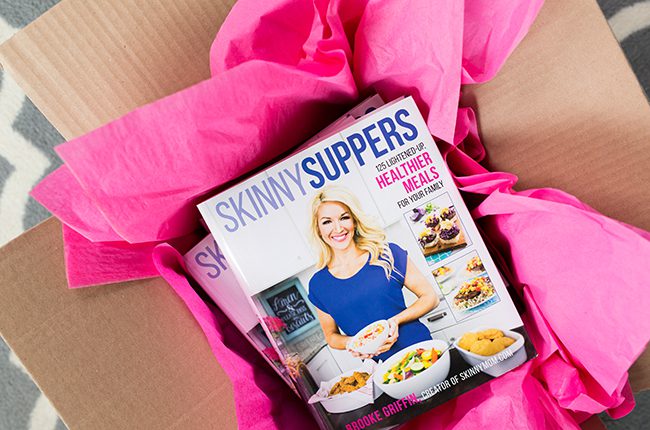 Our Farmer House Community:
Lastly, if you're on Facebook, join Our Farmer House Community, where I share recipes, cooking tips, and life updates. Plus, you can share recipes and photos with the group as well.
If you wish to get on our Sunday Email List, you can subscribe here, so you never miss a meal plan, recipe, or update.
Meal Planning Recipes Details:
All of the dinner recipes are designed to serve a family of 4-6 people. Many recipes will have enough leftovers for lunch the next day (my 17-year-old loves taking leftovers to school), or you can reheat for a second night's meal.
Feel free to switch out the dinner recipes and pick and choose your favorites. I do my best to try and come up with various family-friendly recipes, and I balance the meals out by alternating between different proteins, including beef, pork, chicken, and seafood.
My family doesn't eat many vegetarian recipes, but I do my best to add at least one vegetarian recipe to the weekly meal plan.
As for the bonus recipes, I try to add a few breakfast, lunch, and dessert recipes to the weekly meal plan to try and have as extras to prepare for your family. The suggested sides are listed alongside the main dinner recipe title and link.
If you see a recipe that does not have a link with the words "Skinny Suppers," this means the recipe is in my Skinny Suppers Cookbook. If you would like to purchase a copy, you can order here.
I hope these weekly meal plans inspire you and help you meal plan for dinner each week! If you have questions or recipe suggestions, please send me a message as I would love to hear from you.
XOXO,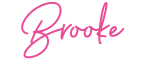 Monday
Kicking things off on Monday with an easy slow cooker meal as the first day of the week is always busy! After you add all of the ingredients to the slow cooker, all that you have left to do when you are ready to eat is boil some pasta noodles, and that's it!  Dinner is served!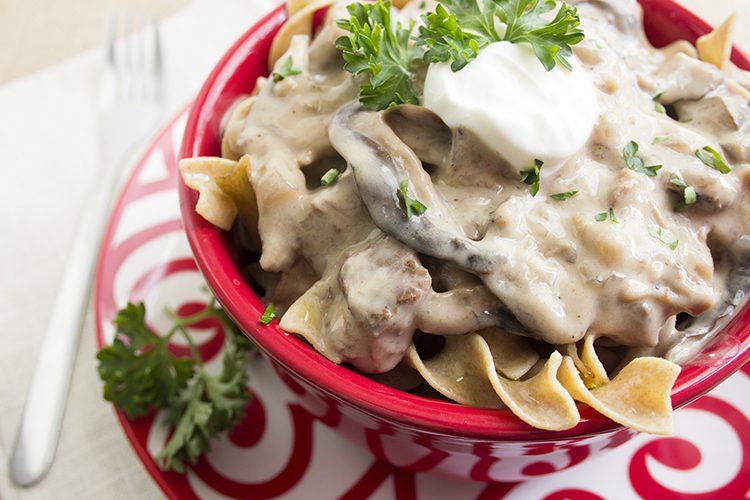 Tuesday
I'm making the Easiest Cheeseburger Pie!  If you have an older child who enjoys making dinner, give them this recipe! It's super easy to make, but, it's oh so delicious.  This is a family favorite in our house.  This recipe is in my Skinny Suppers Cookbook and I also have a slightly different variation on this cheeseburger recipe with a Lightened Up Cheeseburger Casserole.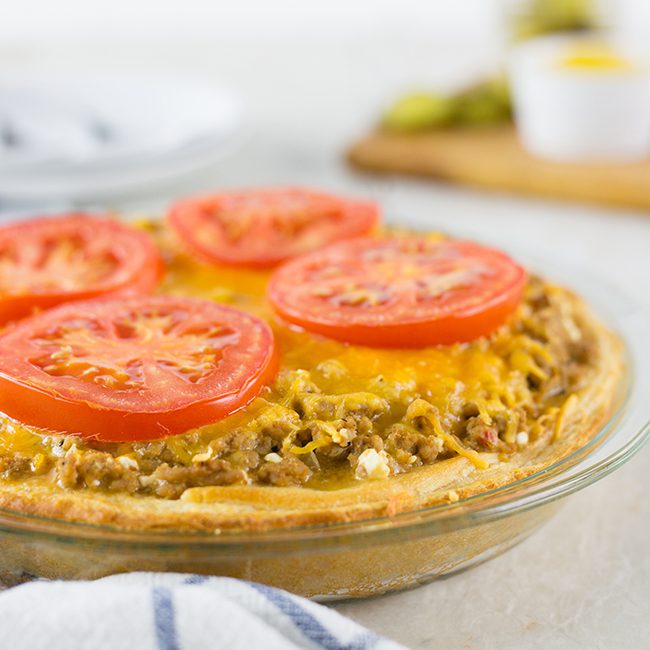 Wednesday
On the menu for tonight's dinner, I'm serving up Asian Shrimp Stir-Fry.  I love this recipe as it's low in carbs and healthy.  For a side dish option, you can serve with whole grain brown rice or my recipe for Healthy Baked Crab Rangoon.
Thursday
You will love this meal that doesn't need utensils for this warm, cheesy, delicious dinner! Boiling the peppers makes them a bit softer, and you can fill them with tons of colorful, healthy, tasty ingredients.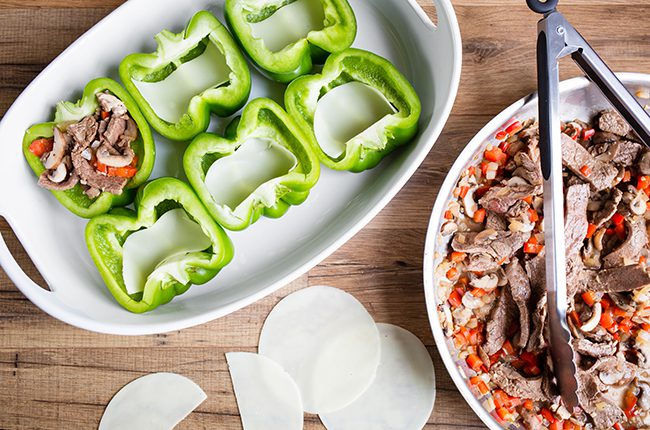 Friday
You made it to Friday! Celebrate with the family and recreate these Sour Cream Chicken Enchiladas, that don't come with all the calories of visiting your favorite Mexican Restaurant!  I like to serve these with homemade guacamole and salsa.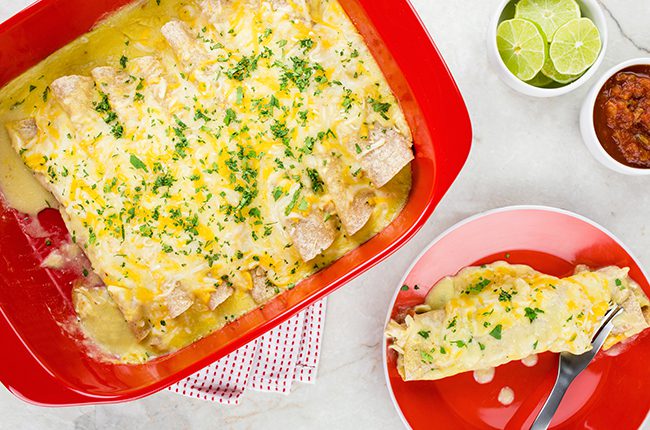 Saturday
Feeding a crowd? This Three Cheese Lasagna Casserole is perfect for feeding a lot of people. Serve with a side salad, garlic bread, and bruschetta for a complete meal that will impress the entire family plus friends on a budget!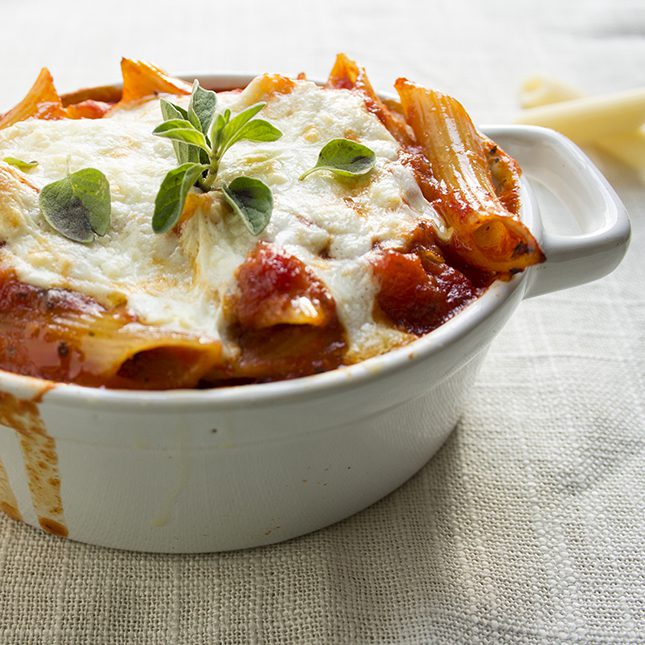 Sunday
This coming Sunday, is the Super Bowl and we are going over to a friend's house for a get-together.  I plan on bringing an easy appetizer like healthier buffalo chicken wings .  For more easy and lightened-up appetizers to make for Super Bowl, check out my top 7 favorites here.  If you're staying at home and looking for a delicious meal to enjoy while watching the big game, try my recipe for Cincinnati Chili or Hearty Chili with Lean Ground Turkey.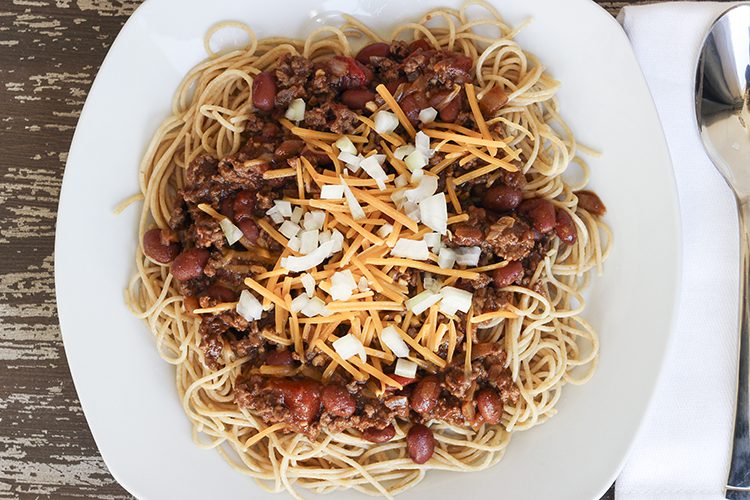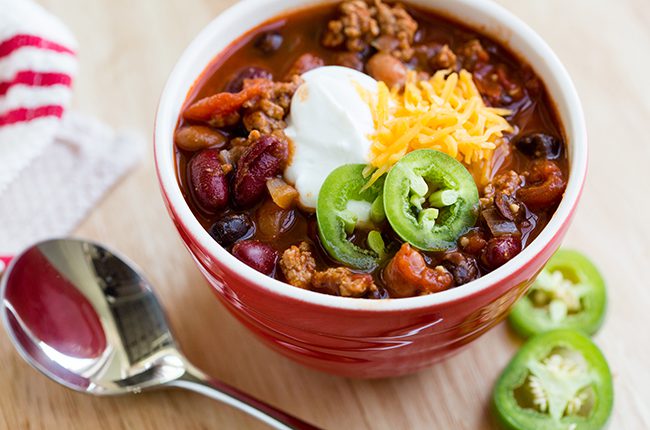 Bonus Recipes:
Sweet Treat: This week I'm keeping it light and healthy with my recipe for Mini Pineapple Upside Down Cakes.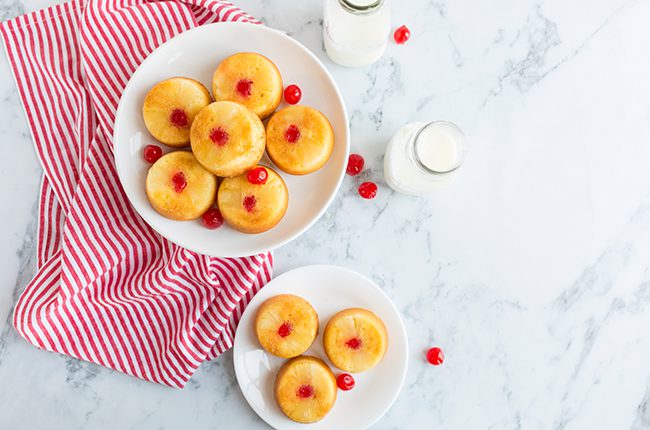 Smoothie of the Week: Chocolate Banana Protein Smoothie.  During the week, I try to meal replace one meal per day with a protein shake or smoothie.  I like to use my favorite brand of protein powder by She Activates!  You can order here and for a limited time, it's on sale.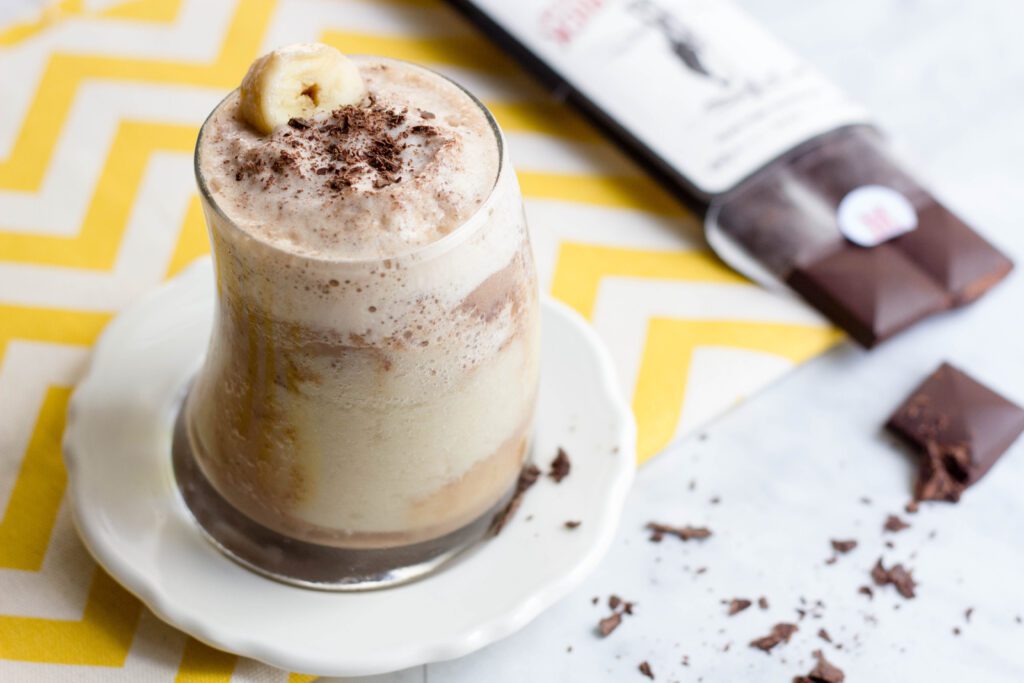 Pack and Go Recipe: Chickpea Pearl and Couscous Salad.  This is a great clean eating recipe that's low-carb and loaded with fresh veggies and fiber.