My Cheese Enchiladas Recipe is one of the easy favorite meals that everyone at our house enjoys.  Creamy cheesy filling and amazing sauce make this a perfect fit for even the picky eaters at your table.  Plus, they have been lightened up so you have zero guilt indulging!
Make these and top with my authentic homemade enchilada sauce recipe for the best flavor!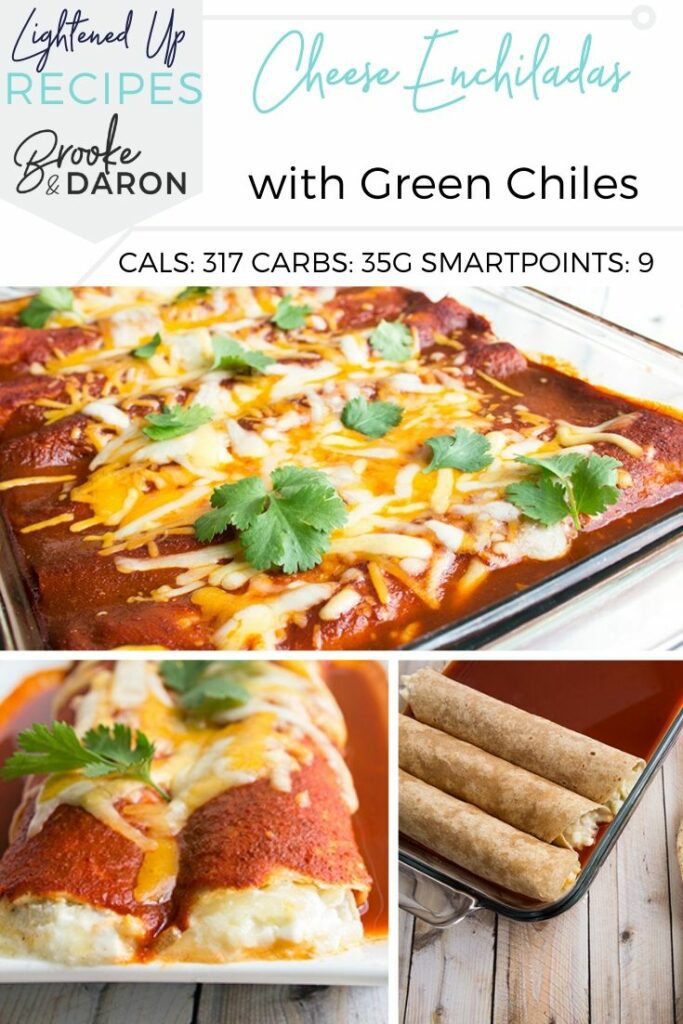 Cheese Enchiladas
Creamy cheesy goodness in every single bite with this great recipe for cheese enchiladas.  I know you'll love this recipe as much as I do because it is just like you remember them, but they have been lightened up a lot.  Using part-skim and reduced-fat cheese blends in this recipe really keep the calories lower while still giving you the creaminess you want.
I used ricotta and cottage cheese as a non-traditional, but still the delicious base for my cheese blend.  Adding in green chiles and some of my favorite Mexican blend of cheese brings the flavor you expect.  All while being, fast, easy, and super kid-friendly.
If you want a meat enchilada, check out our beef enchiladas recipe as well as my favorite sour cream chicken enchiladas.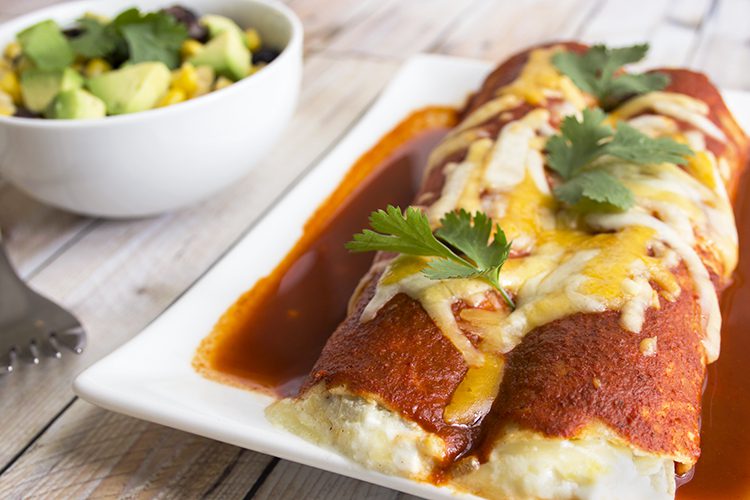 Can I Use Corn Tortillas for Enchiladas Instead? 
I typically pick up the La Tortilla Factory whole wheat low-fat or carb-friendly tortillas as they are sturdy, flavorful, and lower in calories.  If you really must have that classic corn tortilla texture, you can definitely substitute them in this recipe.  Just remember the nutritional information will change if using those.
Tip:  Look for Mission Tortilla thin corn tortillas.  They are half the thickness of their regular tortillas, with half the calories but all of the flavor. They are perfect for this cheese enchiladas recipe.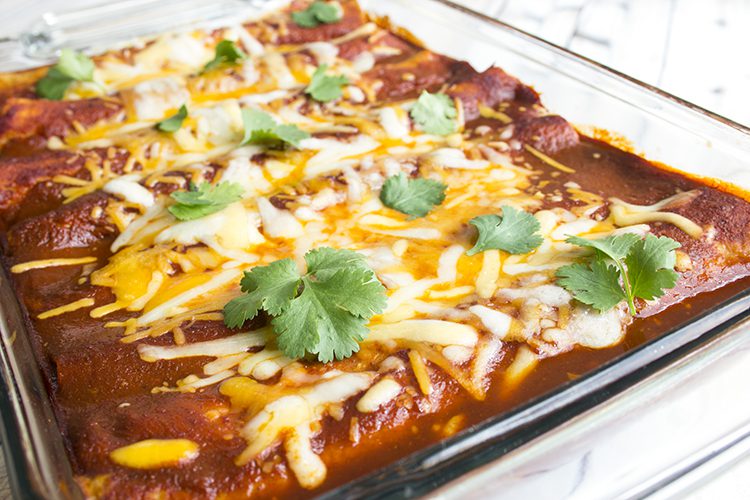 Can These Cheese Enchiladas be Made Ahead and Frozen? 
One of my favorite things about making enchiladas is that I can make double batches and freeze them in advance for future meals.  For this recipe, I recommend grabbing a disposable pan to assemble your enchiladas.  This way you can easily store in the freezer without worrying about there being an issue with needing that pan before you are ready to cook the enchiladas.
I assemble them up to the baking part of the recipe, then wrap the entire baking dish in plastic wrap, and then cover the top with aluminum foil.  Label and date the top so you know when you need to have these out of the freezer and eat.  They are good for up to 3 months in the freezer.
When ready to eat them, pop in the refrigerator overnight to thaw and bake as directed, or place directly in the oven and cook for an additional 25 minutes.
Ingredients
Part-Skim Ricotta cheese
Low-Fat cottage cheese
Reduced-fat Mexican cheese blend
Green chiles
La Tortilla Factory whole wheat low-carb high-fiber tortillas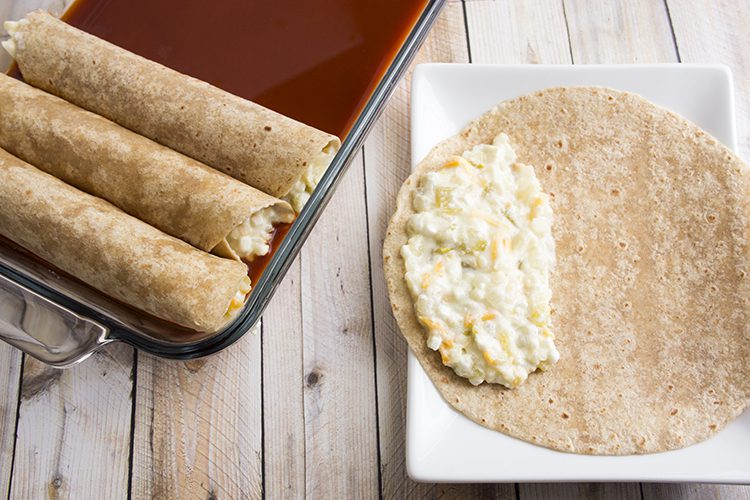 How to Make Cheese Enchiladas
You ill begin by preparing your baking dish with non-stick spray and preheating the oven.  Next, you will pour one of the cans of enchilada sauce on the bottom of the baking dish.
In a large bowl, combine the cheeses and chiles and mix until thoroughly blended.
Scoop the cheese blend into the middle of tortillas rolling and placing with seam side down on the baking dish.
Pour the rest of the enchilada sauce on the top of the tortillas then bake as directed.
You can top with added cheese and pop into the oven for the last few minutes of the cooking time to melt.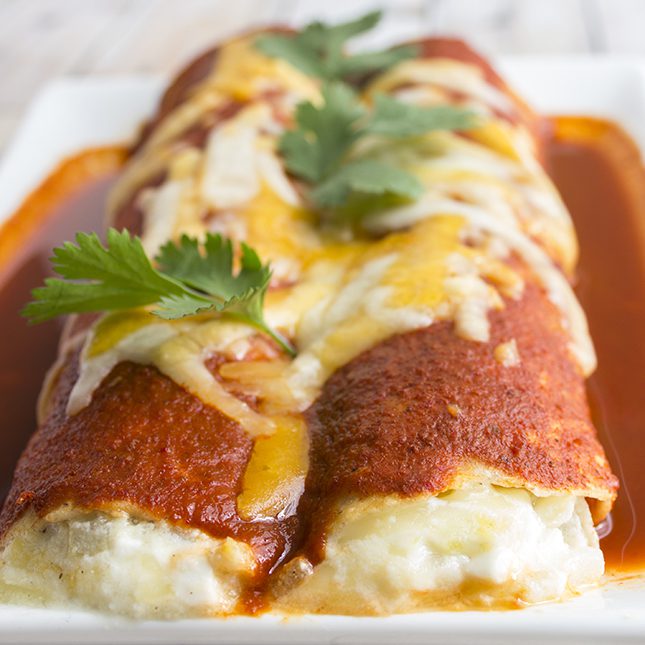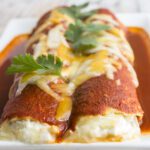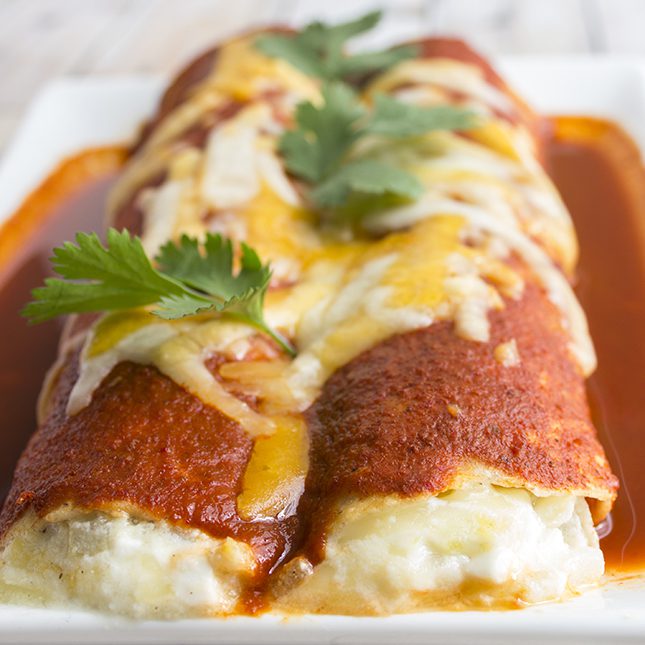 Print Recipe
Healthier Cheese Enchiladas with Green Chiles
Delicious Cheese Enchiladas are easier than ever to make! Such a delicious and easy recipe filled with flavor and lower in calories!
Ingredients
20

oz

enchilada sauce

1/2

cup

low-fat cottage cheese

1/2

cup

part-skim ricotta cheese

1

cup

reduced-fat Mexican cheese blend

4

oz

green chiles

8

La Tortilla Factory Low-Carb High-Fiber Whole Wheat Tortillas

original size
Instructions
Preheat the oven to 350°F and grease a 9x13-inch baking dish with nonstick cooking spray. Pour 1 can of enchilada sauce in the bottom, and set aside.

In a large mixing bowl, combine the cottage cheese, ricotta cheese, ½ cup of the shredded cheese, and the diced green chilis.

Evenly fill each tortilla with about ¼ cup of the cheese mixture, roll, and place seam side down in the prepared baking dish.

Pour the second can of enchilada sauce over the tortillas, cover with foil and bake for 15 minutes.

Remove the foil, top with the remaining ½ cup of shredded cheese and bake for an additional 10 minutes, or until the cheese is melted.
Nutrition
Serving:
2
g
|
Calories:
206.09
kcal
|
Carbohydrates:
17
g
|
Protein:
16.28
g
|
Fat:
8.15
g
|
Saturated Fat:
4.94
g
|
Cholesterol:
28.02
mg
|
Sodium:
1693.77
mg
|
Potassium:
88.77
mg
|
Fiber:
3.35
g
|
Sugar:
11.42
g
|
Vitamin A:
1227.62
IU
|
Vitamin C:
6.24
mg
|
Calcium:
421.75
mg
|
Iron:
0.98
mg