This Butternut Squash Soup is a vegetable-laden creamy meal in itself.  Loaded with delicious flavor, it is an ideal soup recipe to make and serve as a meal.  Top with sour cream and fresh chives for extra flavor, and don't hesitate to drop a few pepper flakes to kick up the heat level!
If you like creamy soups, check out my broccoli and cauliflower soup recipe!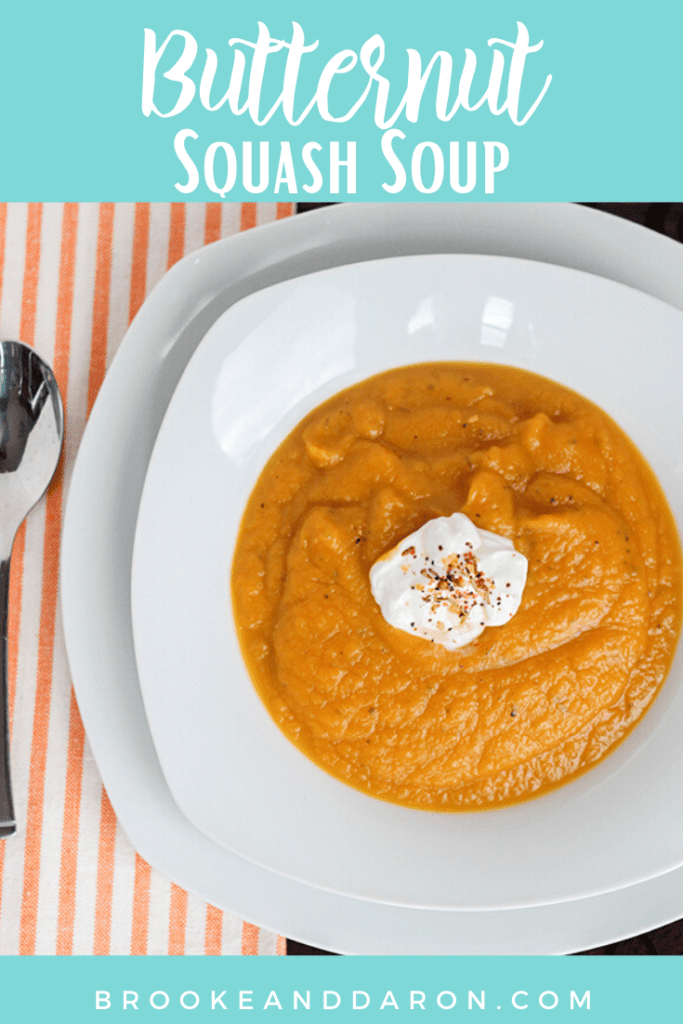 Butternut Squash Soup
Butternut squash was something I had seen in the grocery store but never embraced.  I knew it was good, but I just wasn't sure I could tackle cooking it.  Squash always seems so intimidating!  This recipe for a butternut squash soup was the perfect way to get started with including it in my meal plans.
If you are looking for more vegetarian soups, you'll love this simple cabbage soup recipe.  It's simple, full of flavor, and super healthy.
Can I Use Frozen Butternut Squash? 
If squash isn't in season or you can't find butternut squash at your grocery store, check the freezer section.  Many grocery stores now carry cubed butternut squash in the freezer vegetable section.
While this is not as good as roasting a whole squash, it can be used as a fast and easy replacement in this recipe without altering the flavor or texture.  In fact, I now keep this frozen squash on hand regularly just in case I feel like having soup.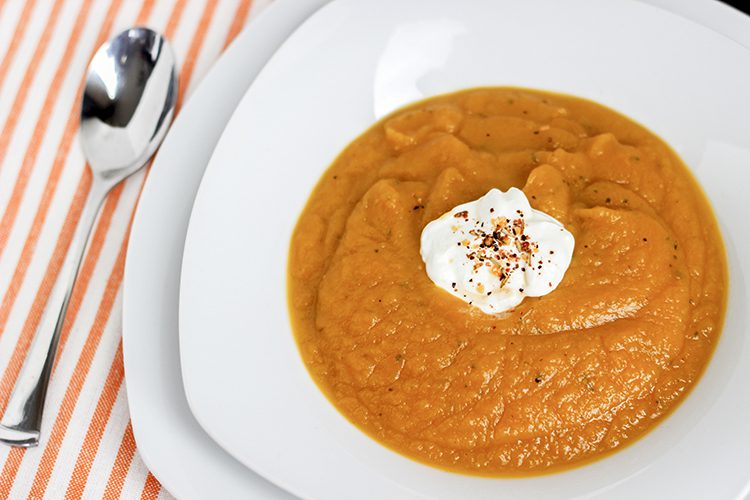 Do I Have to Take the Time to Roast the Vegetables?
By roasting the vegetables for this butternut squash soup recipe, you easily get a nice depth of flavor that makes this soup feel richer without guilt.  Adding in apples helps with flavor and sweetness, but doesn't overpower the soup.  I prefer using a special garlic blend seasoning, but you can easily adjust the herbs and spices to fit your tastebuds.
What Should I Serve with Butternut Squash Soup? 
With most creamy soups, I feel they are too rich to really serve with anything other than a vegetable or side salad.  This recipe, however, is creamy without the heaviness of soup with cream for the base.  So, I enjoy serving this with some toasted bread, crackers, or even a garlic roll.  You could also mix up some biscuits or cornbread if you prefer.
Top your soup with some sour cream or nonfat plain Greek yogurt and a sprinkle of black pepper to taste!
You can always save some of the squash to use in making these butternut squash muffins for dessert!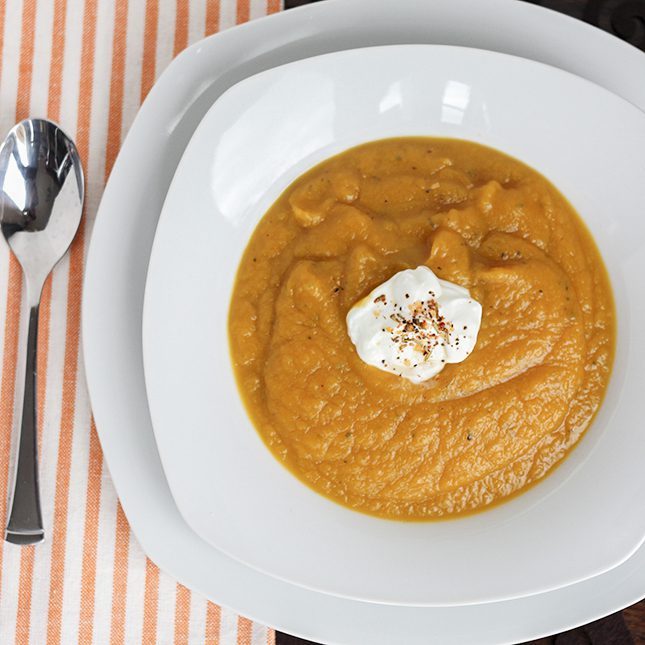 Ingredients
Butternut squash
Apples
Onion
Chicken broth
Bay Leaves
Rosemary & Garlic seasoning blend (or each herb separately)
Salt
Black pepper
Olive oil
Optional toppings: Sour cream and chives
How to Make Butternut Squash Soup
To prepare this squash soup recipe, you will begin by cooking your squash in the microwave for a few minutes to soften slightly.
Next, you will slice the squash in half and remove the seeds before placing it in the oven alongside the onion to roast.
Once the squash has roasted, you will remove from the oven, and after it cools, you will scoop out the insides and place them in the slow cooker with your other ingredients.
Stir everything together, cover, and cook as directed.
When the soup is done cooking, you will use an immersion blender to puree and remove any lumps to make it a creamy soup.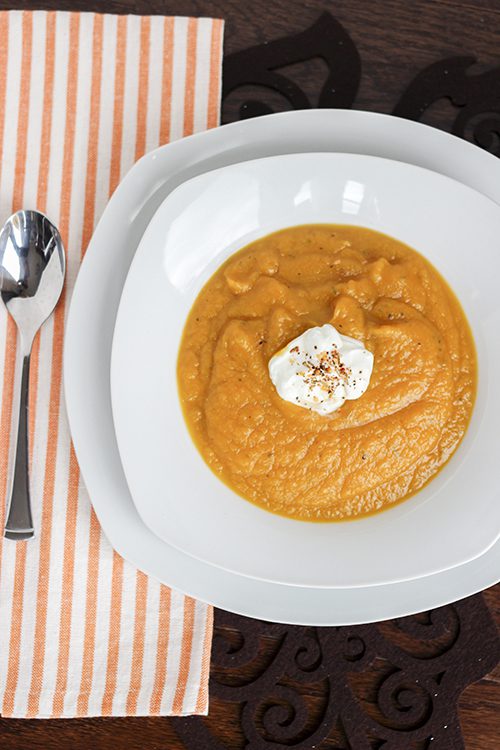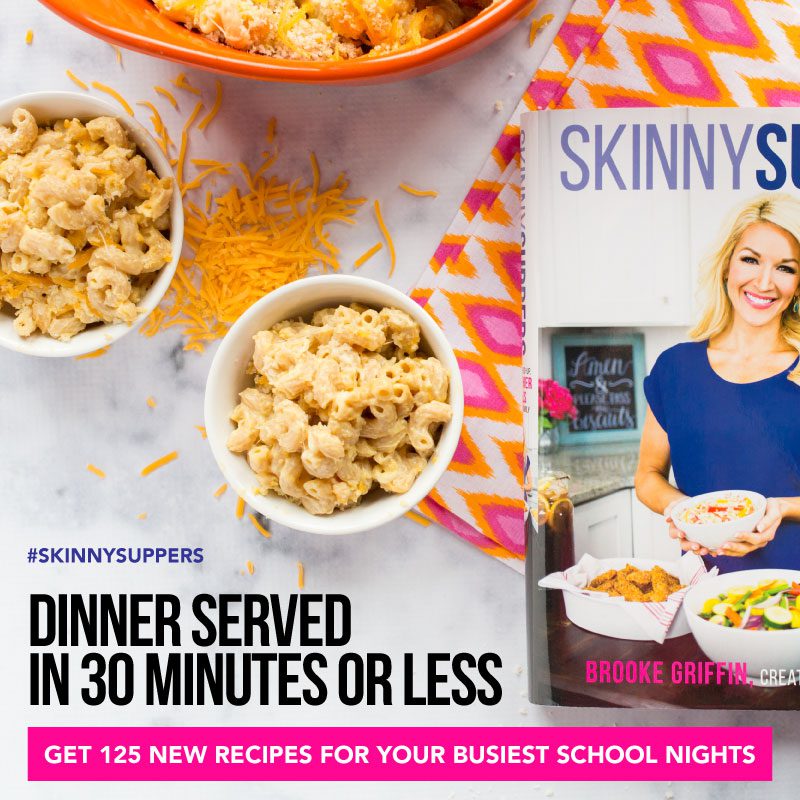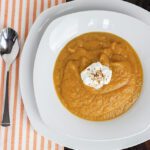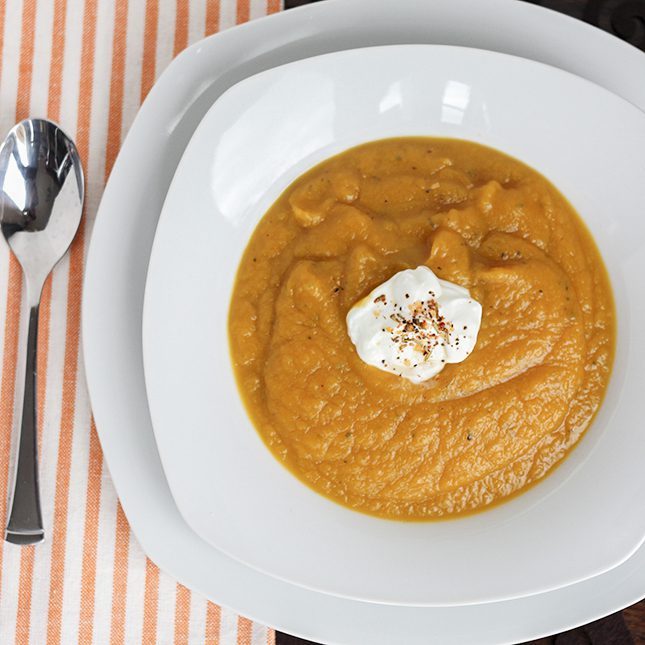 Print Recipe
Butternut Squash Soup
Make Butternut Squash Soup for a creamy and healthy meal that everyone will enjoy! Loaded with flavor with none of the guilt, this is ideal for any diet plan!
Servings: 6 servings
Calories: 197kcal
Ingredients
4 pound butternut squash
3 apples
1 sweet onion
32- ounces Pacific® Organic Reduced Sodium Chicken Broth
2 bay leaves
1 tablespoon rosemary and garlic blend seasoning
½ teaspoon salt
¼ teaspoon black pepper
1 tablespoon extra virgin olive oil
Optional*:
reduced-fat sour cream
fresh chives chopped
*Optional ingredients are not included in nutrition calculations.
Instructions
Preheat oven to 400º F.

Place butternut squash in microwave for 2-3 minutes to soften squash before slicing.

Slice the squash lengthwise down the center from top to bottom.

Scoop out seeds from squash.

Slice onion down center.

Spray a roasting pan with nonstick cooking spray.

Place squash halves and onion onto roasting pan. Sprinkle with extra virgin olive oil.

Bake squash and onions in oven for 35-40 minutes.

Remove squash and onions and allow to cool.

Peel and dice apples and add to slow cooker.

After squash and onions have cooled, remove skin and chop squash. Add to slow cooker. Dice onions and add to slow cooker.

Add chicken broth, rosemary and garlic blend, salt and pepper to slow cooker.

Stir all ingredients to mix and cook on high for 4 hours or on low for 8 hours.

After squash has cooked, remove bay leaves and using an immersion blender or blender, blend to desired consistency.

To serve, top with a (optional) tablespoon of light sour cream and fresh chives.
Nutrition
Serving: 11/2 cup | Calories: 197kcal | Carbohydrates: 46g | Protein: 4g | Fat: 2g | Sodium: 524mg | Fiber: 11g | Sugar: 17g