Have you ever tried a Cool Whip® Cookie?? Well if you haven't you will enjoy my Strawberry Cool Whip® Cookies! They're fun, colorful, easy to make, and 3 cookies are 187 calories!  Beware though, because they can be addicting! I can never eat just one! Make sure you don't skip chilling the dough. The mix comes out super sticky, and 25 minutes in the fridge makes a world of difference!
If you enjoy fun and unique cookies, you will love our Banana Pudding Cookies!  They are so delicious, chewy, and the perfect idea for a different dessert.
Strawberry Cool Whip® Cookies
I admit that cookies are a weakness I have in my diet.  They are so easy to just grab one, two, then before you know it, you've eaten a dozen strawberry Cool Whip cookies.  When I practice self-control and portion control, these are some of the yummy cookies I want to be enjoying.  I love strawberry flavored foods, and this has just enough kick of flavor to satisfy my cravings.
Do strawberry cake mix cookies need to be refrigerated? 
No, they do not have to be refrigerated.  Once a dairy (or non-dairy) is baked into food it no longer has to be refrigerated.  If you added whipped topping or a dairy product to the top as a frosting, it would need to be refrigerated.
An example for this would be if you used a cream cheese frosting and put it between two of these yummy cookies.  The sandwich cookie would need to be refrigerated, but the cookie by itself would not.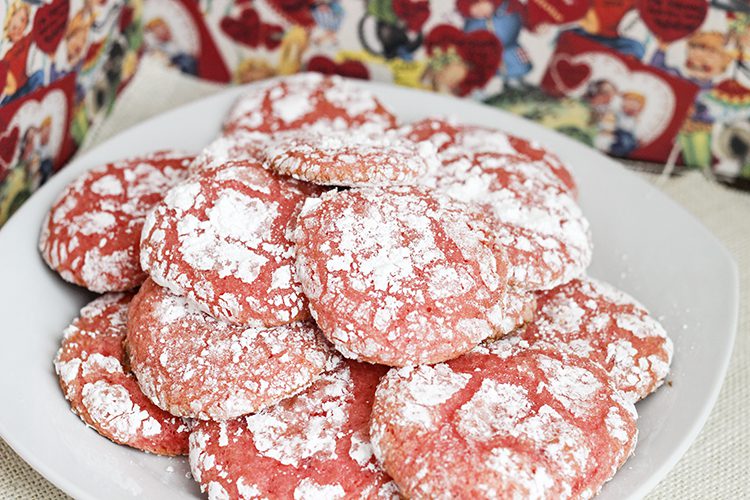 Can I use other flavors for cake mix crinkle cookies? 
Yes!  One of my favorite things about making these cookies is how many options I have for flavors.  Strawberry is one of my favorites, but it is so easy to swap out a different cake mix flavor.  Some of my favorite combinations of flavors come from cake mix cookies.
Spice cake mix
Chocolate cake mix
Pineapple cake mix
Orange cake mix
Vanilla cake mix (and add cinnamon to mix)
Yellow cake mix (and add chocolate chips to the mix)
Pro tip:  For these strawberry cake mix cookies, chop of fresh strawberries to mix into the batter or a different texture.
More strawberry dessert recipes
Cookies aren't the only yummy desserts with strawberries. I love this fresh fruit flavor, and of course, I enjoy adding the real fruit into my daily routine.  Of course, I always try to make any dessert a bit healthier.  Whether it is cutting out sugar, carbs, or fats, all of my recipes have a healthier option.  Below are two of my favorite healthier strawberry recipes for you to try!
Ingredients for Cool Whip® Cookies
Strawberry Cake Mix
Cool Whip® Lite
Egg Whites
Powdered Sugar
How to make Strawberry Cool Whip® Cookies
I always begin any recipe by gathering my supplies together so I have everything I need in place for easy access.  For baking cookies like these, I preheat the oven when appropriate.  Since this dough has to be refrigerated before baking, I would wait until I pulled it back out to roll into cookies to turn on my oven.
Tip: Use silicone baking mats on cookie sheets for easier cleanup and to prevent sticking or burning
You start by mixing together the egg whites and whipped topping.  This is easy with a hand mixer, and I feel a stand mixer is a bit too much for this recipe.  Next, you mix in the dry cake mix and then refrigerate the dough as directed.
To get the crinkle effect shown, you will roll the dough into balls an then dip those into the powdered sugar to coat before baking.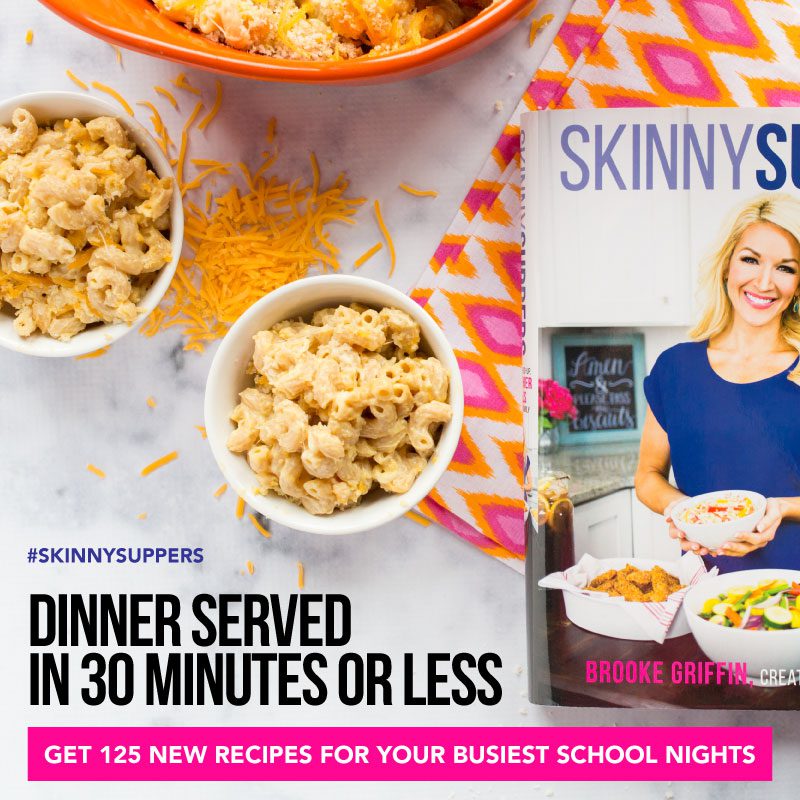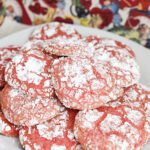 Print Recipe
Strawberry Cool Whip® Cookies
Strawberry Cool Whip® Cookies combine just a few ingredients to create a chewy, sweet, and easy cookie recipe that is ideal for a fast dessert!
Servings: 12
Calories: 194kcal
Cost: $3
Ingredients
1 strawberry cake mix dry mix only
8 oz Cool Whip® Lite
3 egg whites
1 cup powdered sugar
Instructions
In a large bowl, beat together egg whites and Cool Whip® Lite

Add in cake mix and stir together. The cookie dough will be wet and sticky.

Refrigerate for 20-30 minutes

Preheat oven to 350° when you pull the dough out to form cookies

Prepare baking sheet with silicone mat or parchment paper for easy removal after cookies are baked

Using a tablespoon or small scoop, make balls of cookie dough and drop into the powdered sugar to roll before placing on the prepared baking sheets

Leave 1/2"-1" between each cookie

Bake at 350°F for 9-11 minutes
Notes
Note: Nutrition calculation uses only 1/3 cup powdered sugar as the bulk of the powdered sugar is not used.  The sugar is only there to coat the outside of the cookie. 
Nutrition
Serving: 3cookies | Calories: 194kcal | Carbohydrates: 37g | Protein: 2g | Fat: 4g | Saturated Fat: 2g | Cholesterol: 3mg | Sodium: 269mg | Potassium: 33mg | Fiber: 1g | Sugar: 24g | Vitamin A: 33IU | Calcium: 87mg | Iron: 1mg