This Blueberry Smoothie recipe is loaded with protein to keep you satisfied for longer and tons of flavor from the bright fresh blueberries.  A simple and fast on the go breakfast has never been better!  The combination of yogurt, blueberries, and favorite protein powder makes this easy to create and delicious.
If you love smoothies, then you are going to adore this brownie batter chocolate smoothie recipe!
Blueberry Smoothie
Sometimes I just want a fast breakfast.  I know when I am headed to the church, to run errands, or even to workout, I may need a little pick me up that can be made in just a few minutes.  Smoothies are my go-to solution.  They are so versatile and can be loaded with nutrients and protein.  This blueberry smoothie is super simple, totally delicious, and a family favorite.
We love adding antioxidant-rich fruits to our smoothies.  The goal is to create something that is tasty but also fuels our bodies.  Some of my favorites so far have been the banana protein smoothie with chocolate and my strawberry pineapple smoothie.  I will keep experimenting with flavors so I can share more ideas with you here!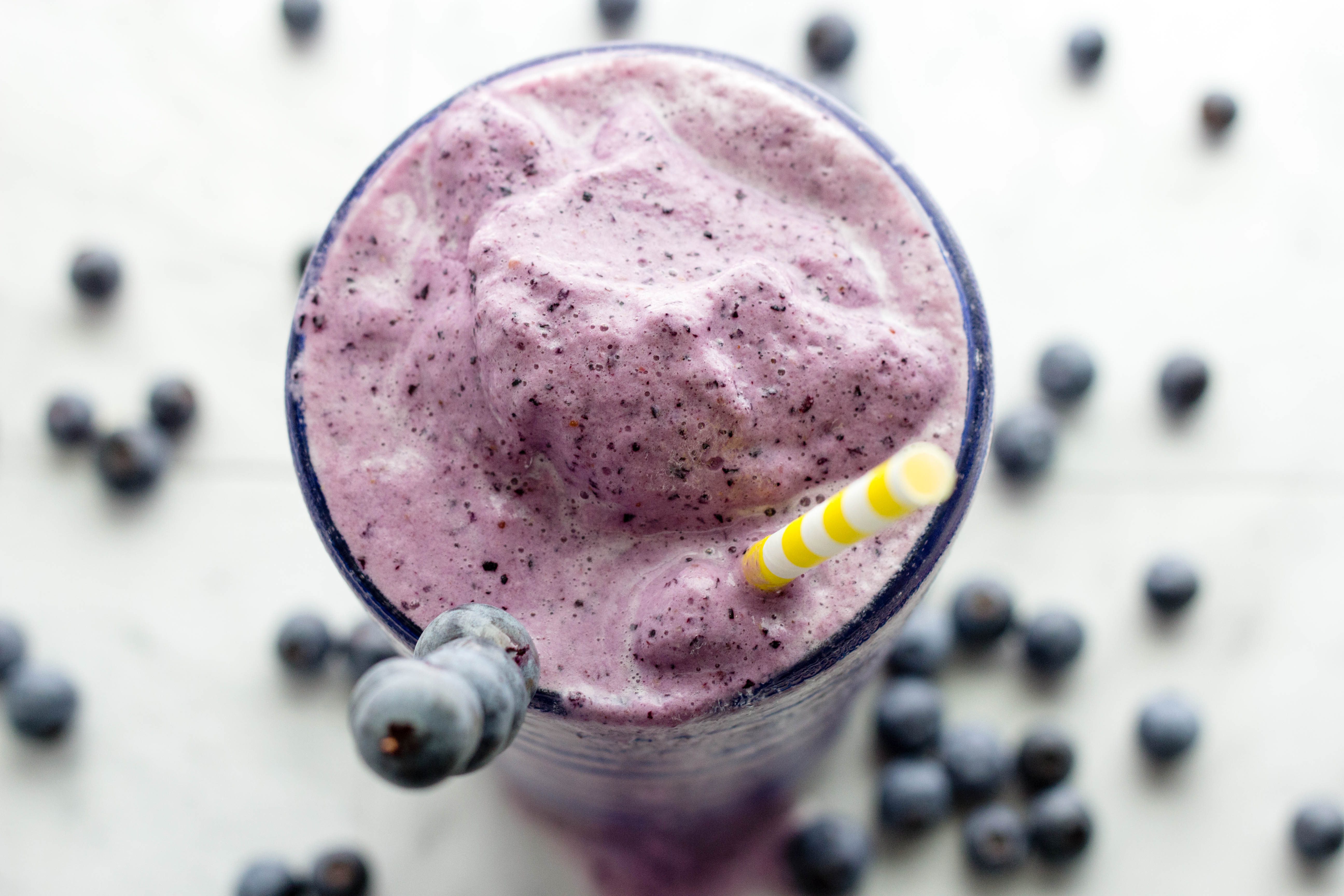 What are the Benefits of a Blueberry Smoothie? 
I am often asked why I love having smoothies on a regular basis.  My answer is typically because they are delicious and so easy to make, but that isn't all there is to it.  I love making smoothies with my favorite fruits because they are so full of vitamins and nutrients we need.  Blueberries are no different!
Blueberries are one of the best fruits to pack a large number of vitamins in just a small amount.  By adding them to my blueberry smoothie recipe, I am adding in fiber, B vitamins, Vitamin C, and tons of potassium to my day.  These are so necessary for a strong and healthy body.  The flavor is one of my favorites, but the real benefit is in knowing I am fueling my body with what it needs to run efficiently.
Plus, blueberries are known to help reduce cholesterol and prevent heart disease.  Why wouldn't I enjoy them in a smoothie?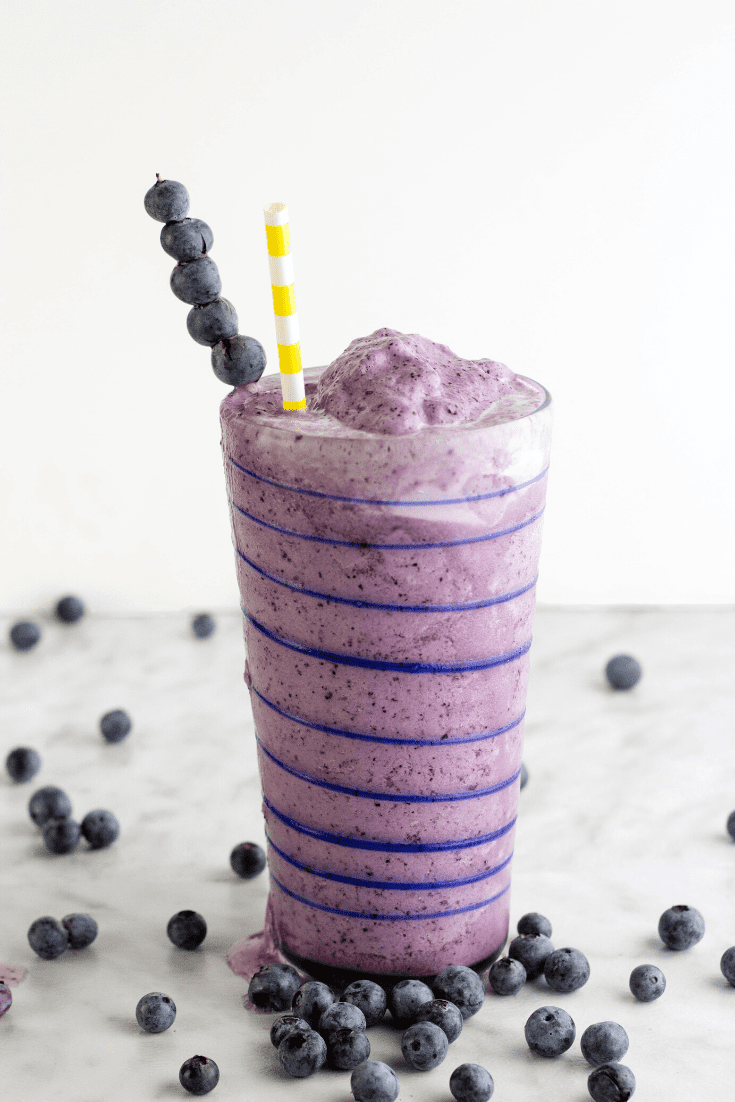 Can I Use Greek Yogurt in My Smoothies? 
While this recipe just says to use yogurt, you can definitely choose the type you prefer.  Greek yogurt can be a bit different in texture when eating by itself, but in a smoothie, it blends perfectly.  Plus, it adds even more protein to the mixture!
I like looking for yogurts that are fruit-sweetened or use stevia instead of sugar or other sugar substitutes.  I find they are not only healthier but have a better overall flavor without an aftertaste.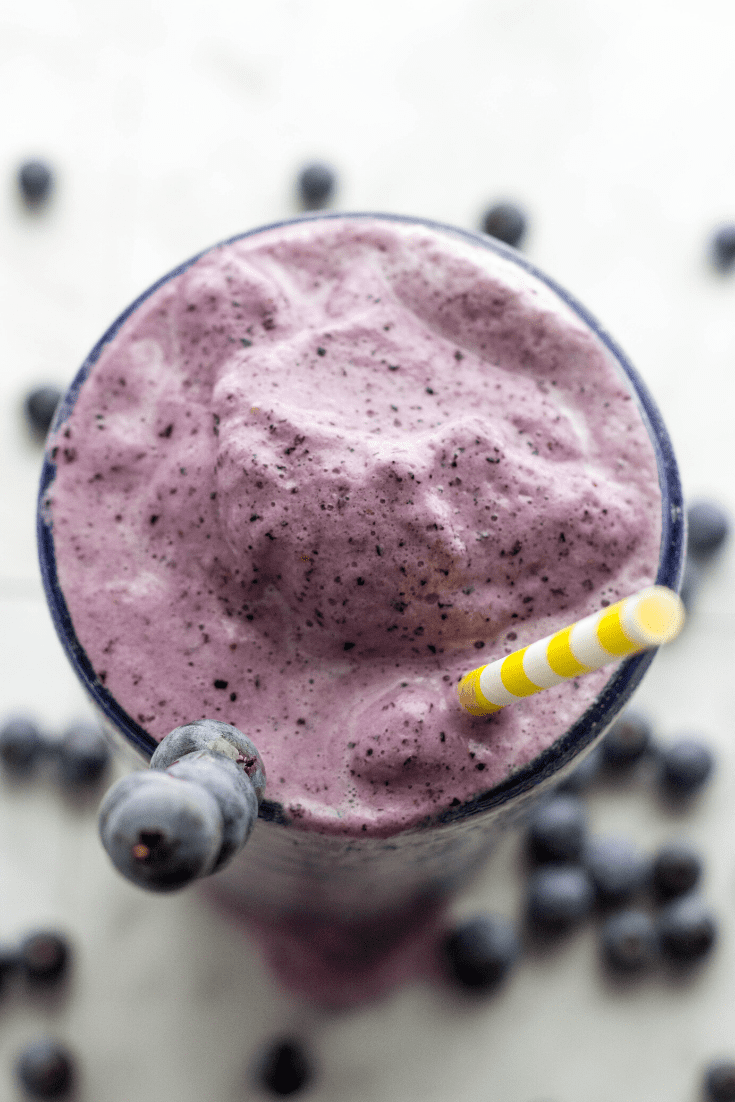 Do I Have to Use Protein Powder? 
While I love using protein powder in smoothies, you do not have to use it if you prefer not to do so.  Remember, however, protein powder is what gives this smoothie the higher protein count.  It is also what helps you stay full for longer.  So, I highly recommend you test out different protein powders until you find one that you really prefer.
Note:  When blended into smoothies like this, the sometimes off-putting texture or taste of a protein powder disappears.  Don't knock it until you've tried it!
Ingredients
Blueberries
Yogurt
Vanilla protein powder
Water/Ice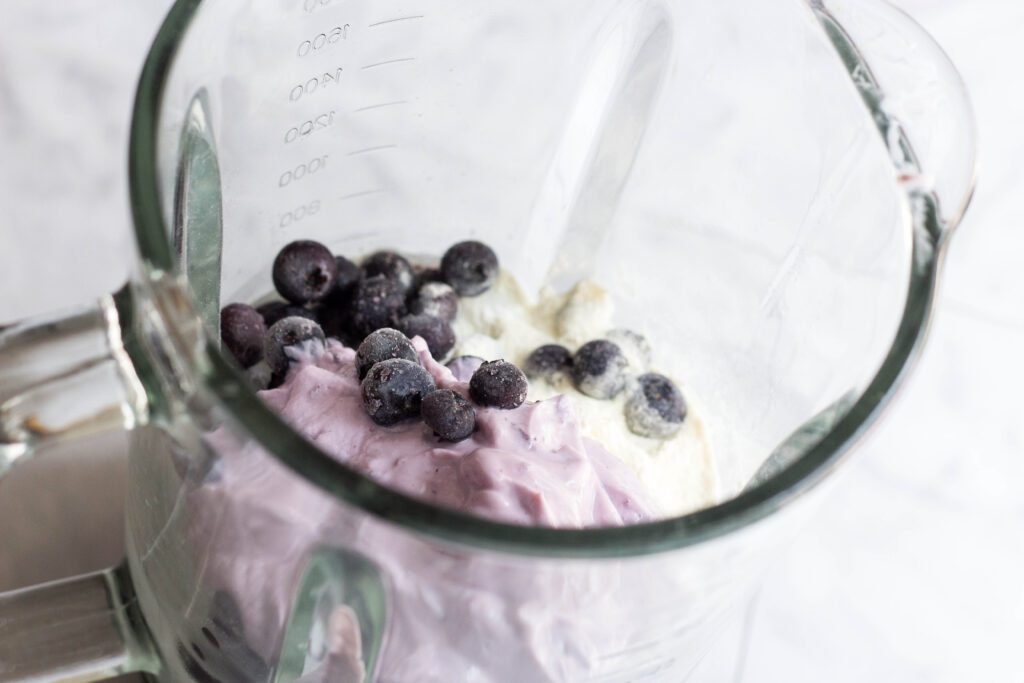 How to Make a Blueberry Smoothie
Add all of the ingredients to your blender and pulse until smooth.  When using fresh blueberries instead of frozen berries, you can add in a few ice cubes to help give more texture.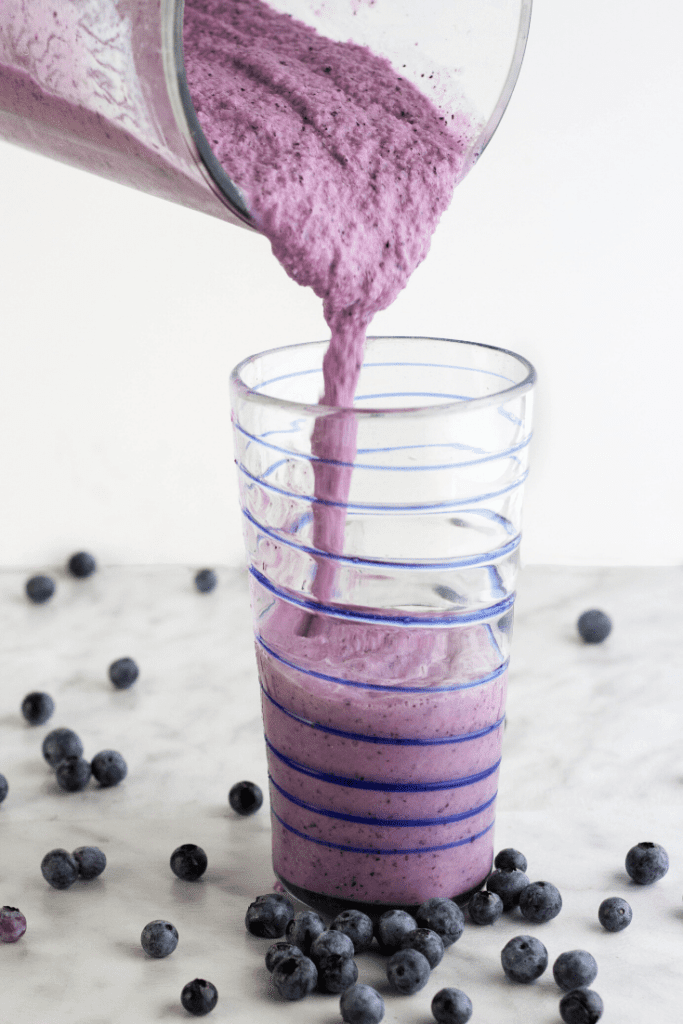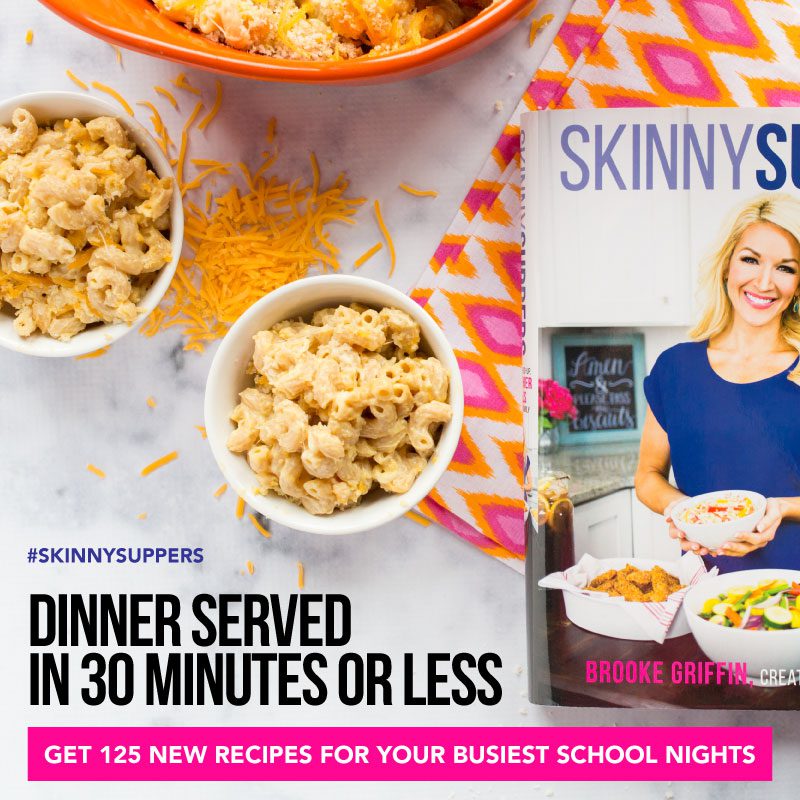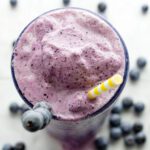 Print Recipe
Blueberry Smoothie Recipe Packed with Protein
A simple and healthy Blueberry Smoothie is a perfect way to start your day rich in antioxidants, calcium, and protein!
Servings: 1
Calories: 157.56kcal
Ingredients
1/2 cup blueberries frozen
6 oz blueberry yogurt
1 scoop vanilla protein powder
1/4 cup water
Instructions
Add all ingredients to the blender and pulse until smooth
Notes
If using fresh fruit instead of frozen, add a few ice cubes to the mixture for texture
Nutrition
Calories: 157.56kcal | Carbohydrates: 16.87g | Protein: 19.78g | Fat: 2.16g | Saturated Fat: 0.79g | Cholesterol: 61.54mg | Sodium: 80.79mg | Potassium: 180.06mg | Fiber: 1.78g | Sugar: 8.91g | Vitamin C: 7.18mg | Calcium: 153.84mg | Iron: 0.21mg