If you're looking for inspiration to get more organized this year, then these 14 beautiful pantry designs are sure to give you some great ideas for your next home remodeling project or new home build.  At the very least, after seeing some of the clever and perfect organization ideas, you'll l be motivated to clean up your existing pantry and get things in order.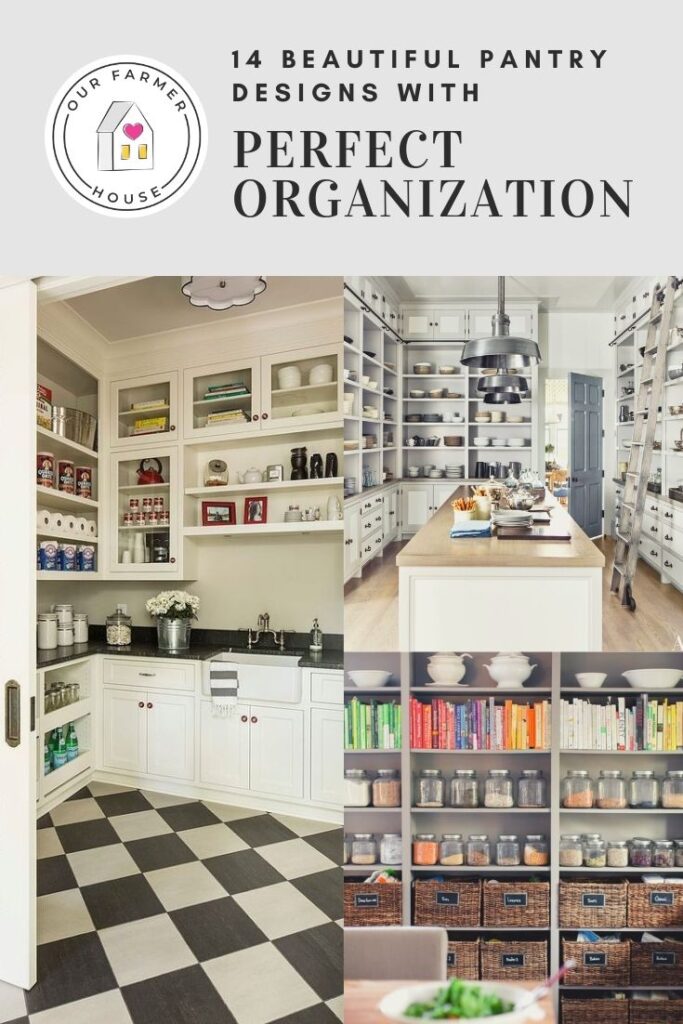 Beautiful Wood and White Modern Pantry
Tucked behind a pair of gorgeous glass wood doors is this well organized white and wood pantry.  The open shelves and lower cabinets make way for plenty of storage space for canned goods, drinks, and small appliances.  The pantry's focal point is the center wood built-in with gold-colored hardware and uniquely designed pull out drawers.  This is one of my favorite beautiful pantry designs!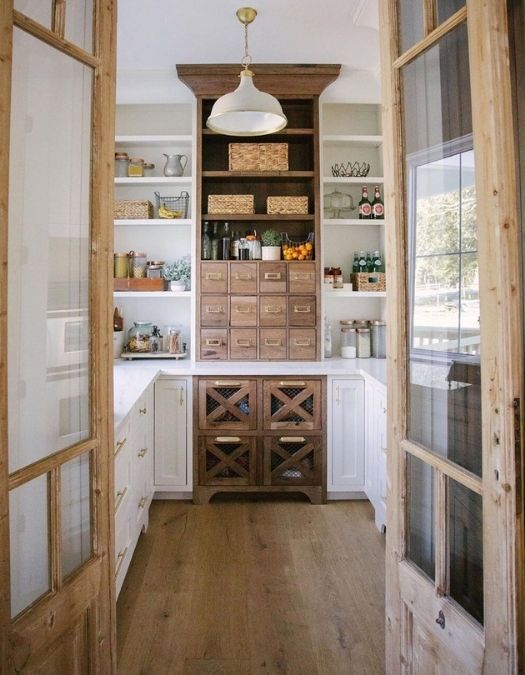 Source: The Cottage Journal
Home Cook's Dream Pantry
This beautiful pantry design is every home cook's dream!  With enough open shelf space for pantry staples, cookware, and dishes along with a wood top island for prep work, you would never have to leave the pantry except to cook.  I also love the wrap around the ladder, making even the high cabinets easily accessible.  Just amazing!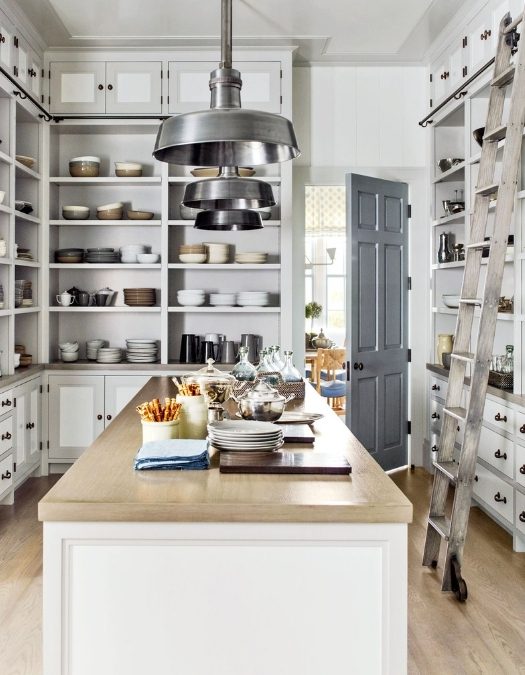 Perfect Organization
This open shelf pantry made this list because of the perfect organization!  From the pops of color from the cookbooks to the glass jars and wooden baskets, this pantry's neat shelves show off what a little organization can do to a simple space.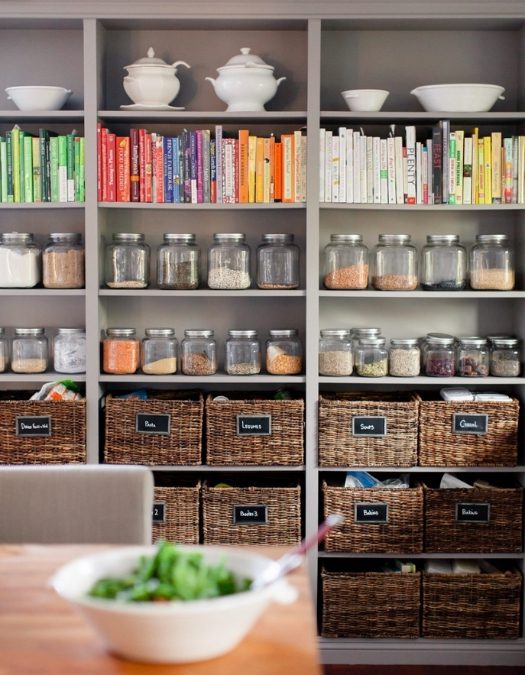 The Ultimate Farmhouse Pantry
This is the ultimate white Farmhouse Pantry!  I love the mini farmhouse sink, cabinets, and open shelves; this pantry has everything you could need for storage and food prep.  The large window adds an abundance of natural light to the space,  making it feel large and open.  This is my favorite design!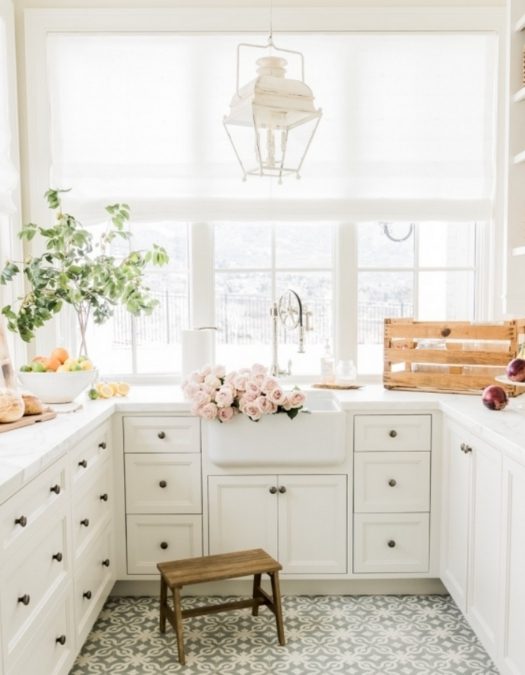 On-Trend Pantry/Laundry Room Combo
I saw this pantry in a new home build, and I fell in love!  The on-trend gray color cabinets with the coordinating wallpaper turn this pantry/laundry room into a beautiful space that would make anyone love doing meal prep and laundry!  The extra-large subzero fridge is a nice bonus as well.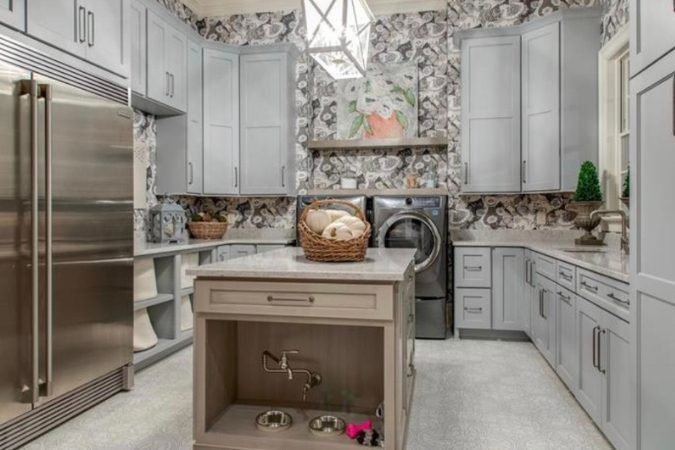 Classic Black and White Pocket Door Pantry
This pantry is beautifully designed behind clear glass pocket doors that open up to neatly organized open shelves, pull out drawers, and a mini farmhouse white sink.  One of the stand out features is the black and white tile floor.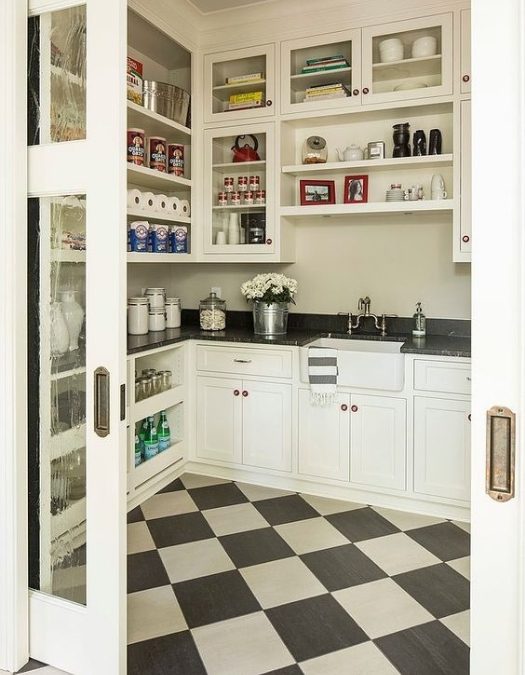 Source: Martha Ohara Interiors
Modern Black Pantry
If you prefer a darker cabinet style, this pantry is for you.  The rich black cabinets paired with the white countertop really makes this beautiful pantry stand out.  I especially like all of the labeled containers used to organize the open shelves and the pull-out drawers at the bottom that can store produce like onions and potatoes.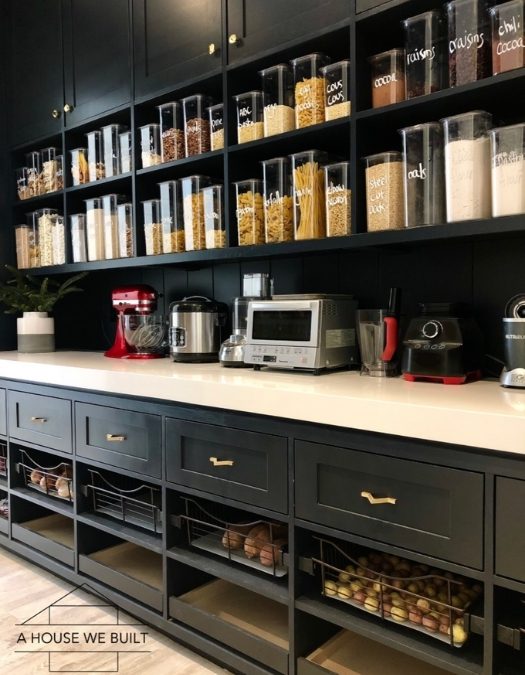 Classic and Functional Pantry
I really like the open shelves of this beautiful pantry, along with the neatly labeled drawers. This pantry has plenty of space, and the baskets on the counter help maximize room for storage.  My favorite addition to this is the chalkboard menu on that wall that can be used for meal planning and grocery lists.  Such a great idea!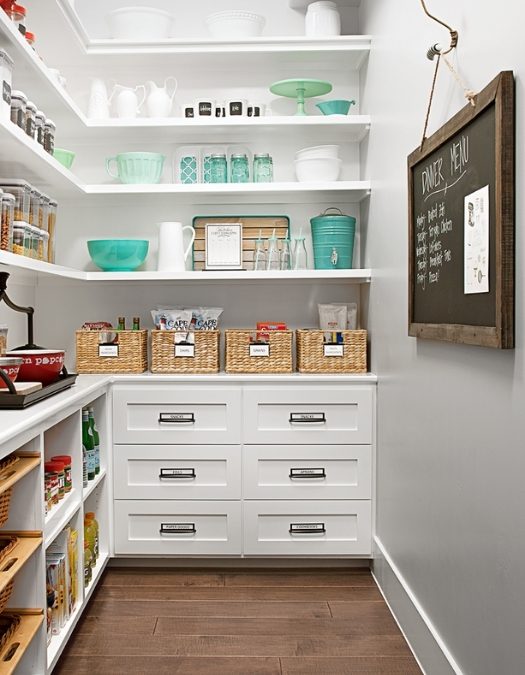 Source: Better Homes and Gardens
Modern Open Shelve Walk-In Pantry
The mix of subway tile on the walls mixed with the black and white floor tile is simply gorgeous!  I love that this walk-in pantry is large enough to need a moveable ladder while the baskets and glass jars add to the organization.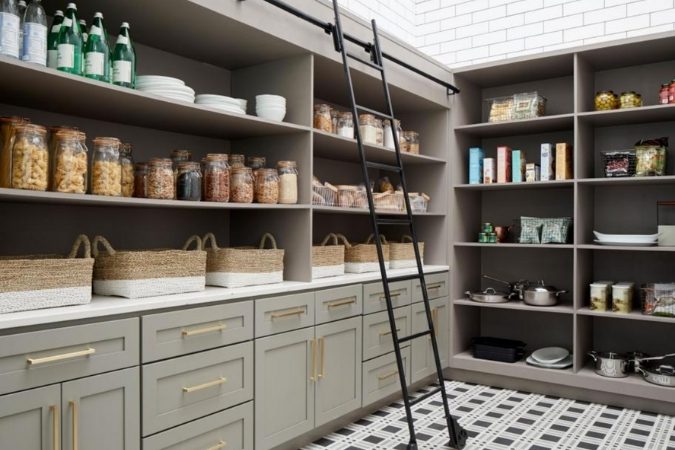 Elegant Glam Pantry
I love this pantry's round design as it's unique and gives the space an open feel.  The ladder makes it easy for hard to reach items and maximizes the storage space.  Of course, the crystal chandelier is my favorite accent as it adds instant glam and elegance to what would normally be a traditional pantry.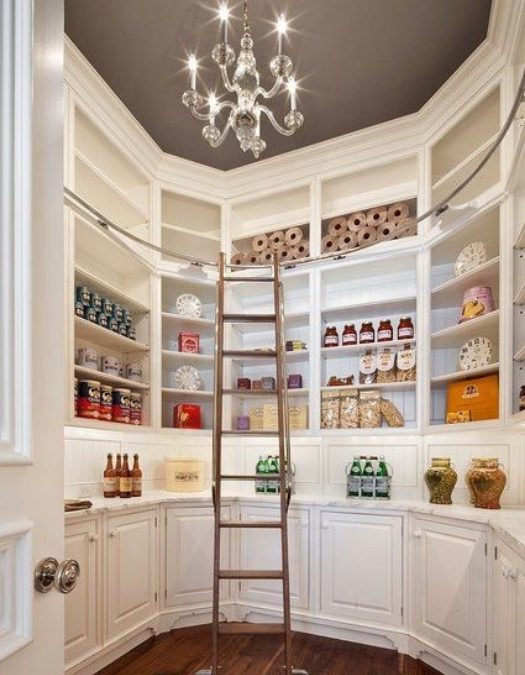 Source: Evan Joseph
Simple Open Shelf Pantry with Beautiful Organization
I shared this simple open shelf pantry because of the detailed organization.  From the clear containers to the wicker and wire baskets, I immediately was inspired to give my own pantry an overhaul and get better organized.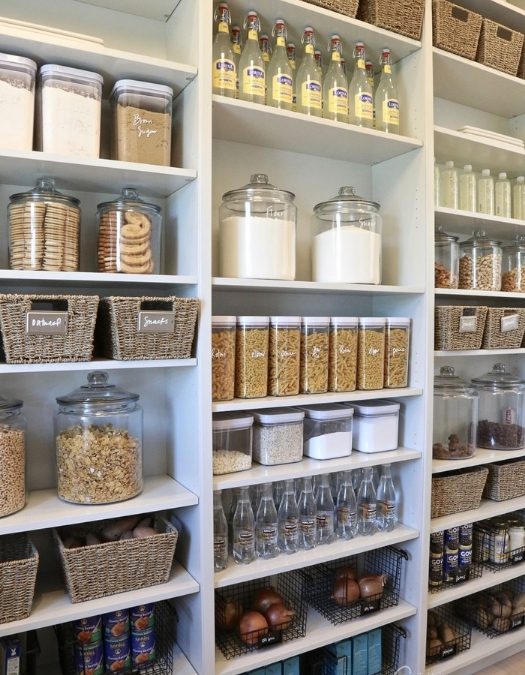 Source: Pinterest 
Barn Door Pantry
Like the Black and White Pocket Door Pantry, this Barn Door Pantry is located behind two white modern barn doors.  The white barn doors open up to a neatly designed open shelve pantry with ample storage space.  The white subway tiled walls and hardwood floors give the pantry a finished look that is simply farmhouse perfection.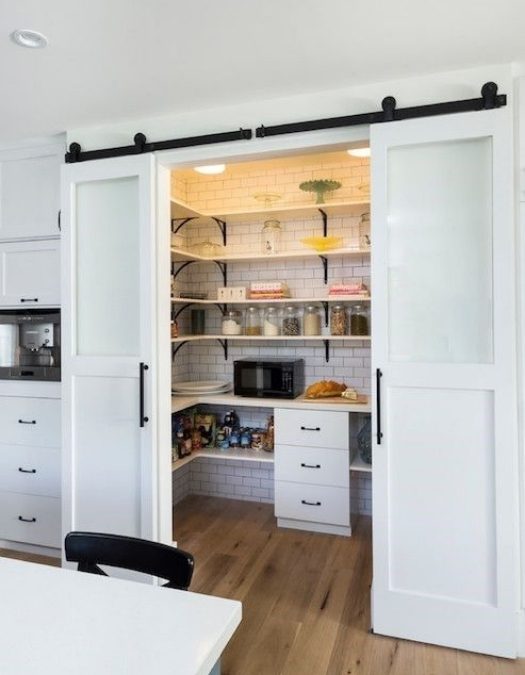 Source: Pinterest 
White Farmhouse Fantasy
From the glass doors to the ladder and the drawers with the file cabinet hardware. This is a beautiful and elegantly designed farmhouse pantry that I love.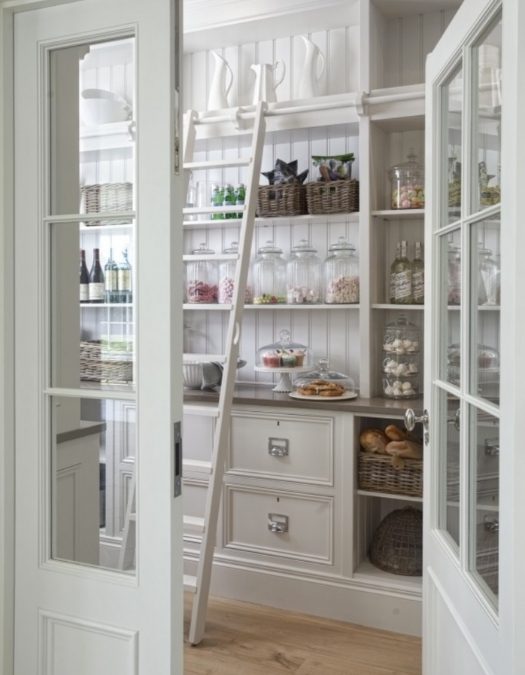 Source: Hayburn & Co
Black and White Pantry Remodel
This well-designed pantry is a great inspiration for anyone looking to remodel an existing pantry.  Here's a link to the before and after pictures from Simplicity in the South.  I really like the open shelves, black countertops, and of course, the hexagon black and white tile floor is gorgeous.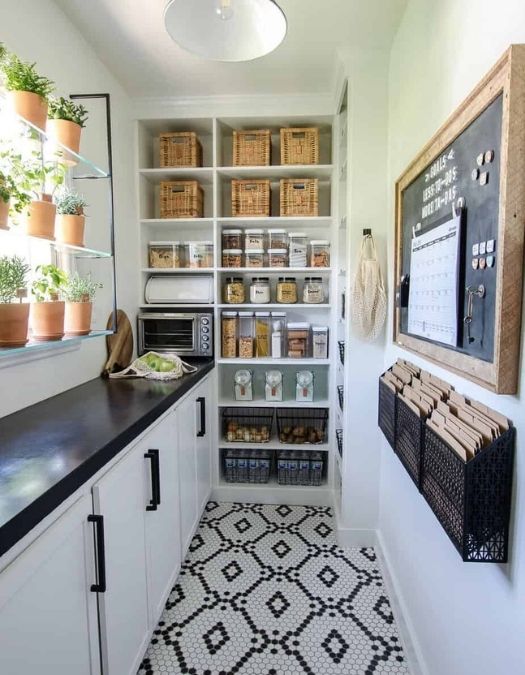 Source: Simplicity in the South
How gorgeous are these beautiful pantry designs?  I hope after seeing a few of these beautiful pantry designs; you're inspired to get busy organizing your existing pantry or maybe take on a pantry remodel project this Spring.  How fun would that be?! Also, I would love to hear which pantry design is your favorite?  Leave me a comment below:).
XOXO,