When Daron and I were first dreaming about building our home together, I knew I couldn't live without a breakfast nook.  A breakfast nook is basically a built-in eating space in your kitchen.  Some are modernized into a breakfast bar design, and some are tucked away into a corner like mine.  I could just imagine the Farmer Five spending Sunday mornings there with coffee and toast, enjoying one another's company.  If you're dreaming big about future family time, here are 12 Cozy Breakfast Nook Ideas For Your Home to consider.

Farmhouse Style with Bench Seating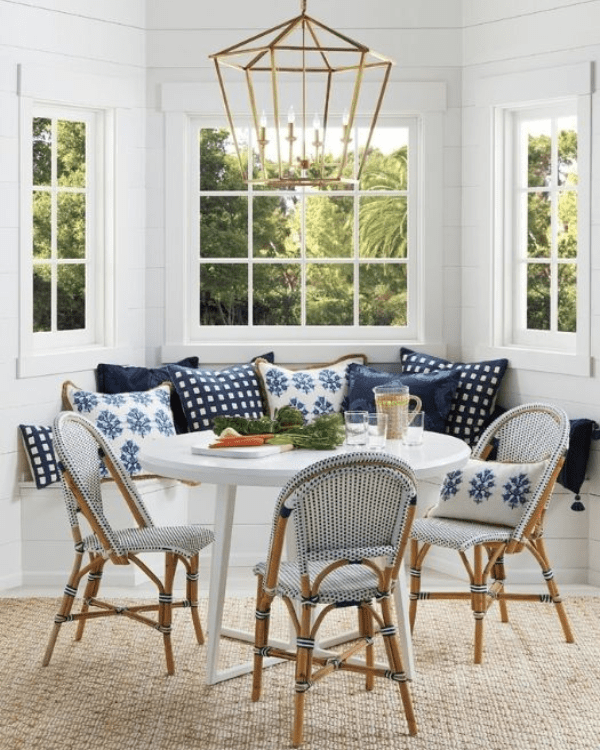 Image Source: serenaandlily.com
Everyone knows I love a good farmhouse design, and this is no exception.  This cozy breakfast nook looks so inviting and comfortable.  I love the built in banquette seating mixed with the wicker chairs and round table.  The color and pattern choices with the various blues and whites are also a personal favorite of mine.  Not to mention, the gold overhead light gives the space a hint of glam, which I am all about!
12 Cozy Breakfast Nook Ideas:  Soft and Sofa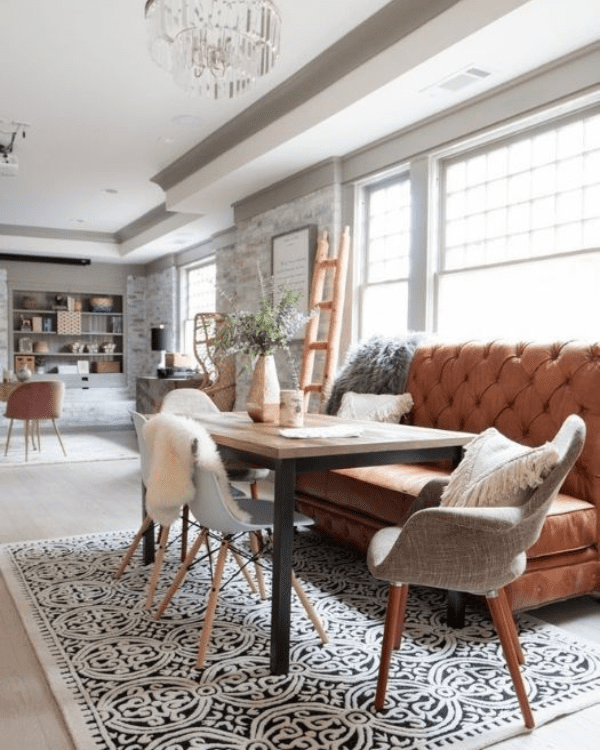 Source: addisonswonderland.com
I absolutely love the idea of using a sofa or loveseat as breakfast nook seating.  It really doesn't get much more comfortable than that!  Not only would this make a great eating space, but it's perfect for office and homework as well.  I also like the soft textures that the pillows and throw blankets provide.  This is a fun, cozy, and modern take on a breakfast nook.
Mixing Light and Dark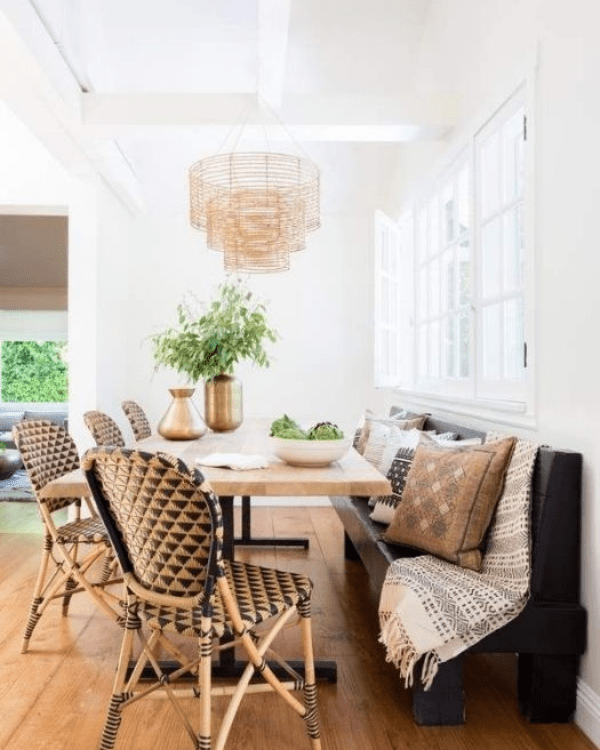 Image Source: luluandgeorgia.com
The contrast of light and dark in this breakfast nook is really appealing to me.  The dark freestanding bench and the complementary chairs with their black and wooden pattern are true standouts.  The earth tones of the seating and accessories really warm up an otherwise white space.
12 Cozy Breakfast Nook Ideas:  Blue Velvet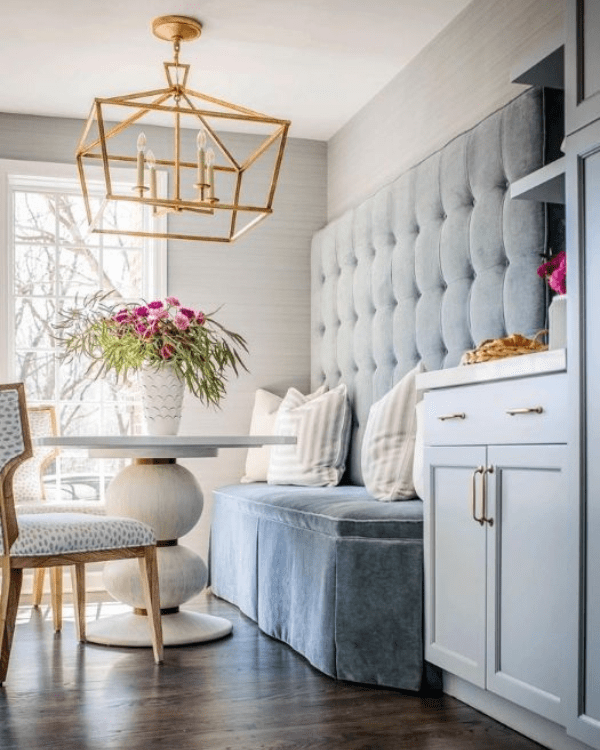 Source: circalighting.com
Blue velvet bench seating… Say that three times fast!  This style is pretty and feminine.  The built-in powder blue banquette looks plush and cushy – I'd love to curl up there with a good book and a cup of coffee.  The wooden accents in the dining chairs, table, and overhead light bring a warm, neutral undertone to the whole space.
Neutral Coastal Corner
Image Source: serenaandlily.com
The wraparound built-in benches in this breakfast nook are a great idea.  Not only do they provide seating, but I bet they provide storage underneath too!  The pendant light, round mirrors, and wicker chairs give this space a coastal vibe.  I also love the ship-lap detail on the built-ins.  It's subtle, but adds another texture and layer of design that completes the space.
Bay Window Built-In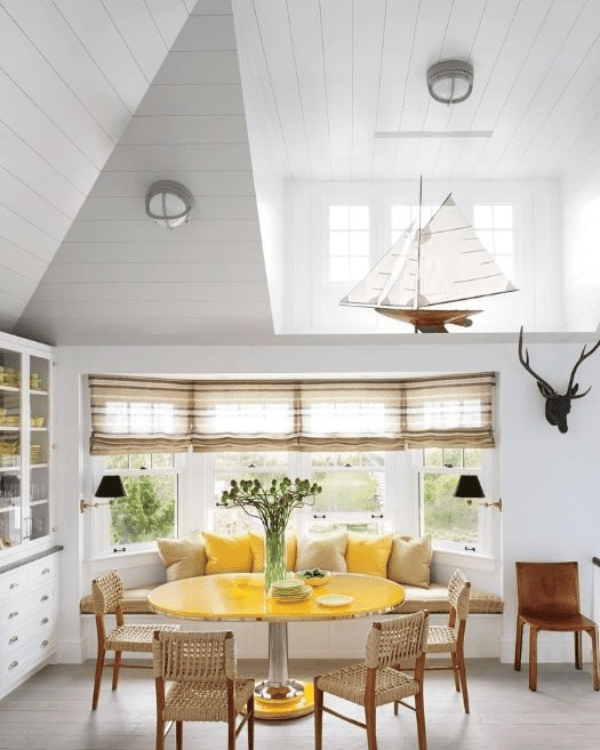 Image Source: Architectural Digest
This is truly a great use of a bay window.  The fresh, lemon yellow pops off the otherwise neutral white and wood-toned space showing off a little personality.  It also complements the greenery outside and the yellow dishes in the cupboard.  Designs like these push me to have more fun with color myself!  Also, the vaulted ceiling in this space is perfection.
12 Breakfast Nook Ideas:  Simple & Quaint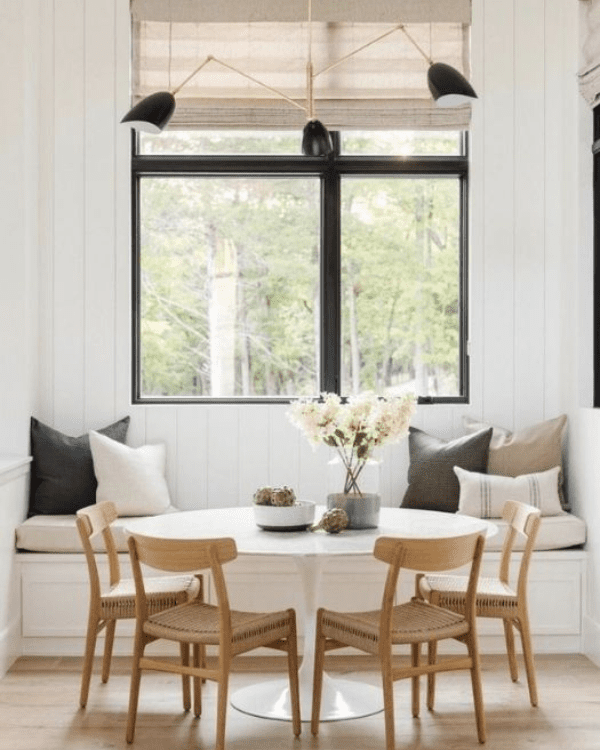 Source: Studio McGee
This cozy breakfast nook is another farmhouse-inspired design.  The ship-lap walls, the black framed windows, and the neutral tones are design details I absolutely love.  A theme that I've seen repeated in my favorite breakfast nook designs is the pairing of a rectangular bench with a round table.  The curves of the table and the round accents on top give this more masculine space a touch of femininity.
Stylish & Snug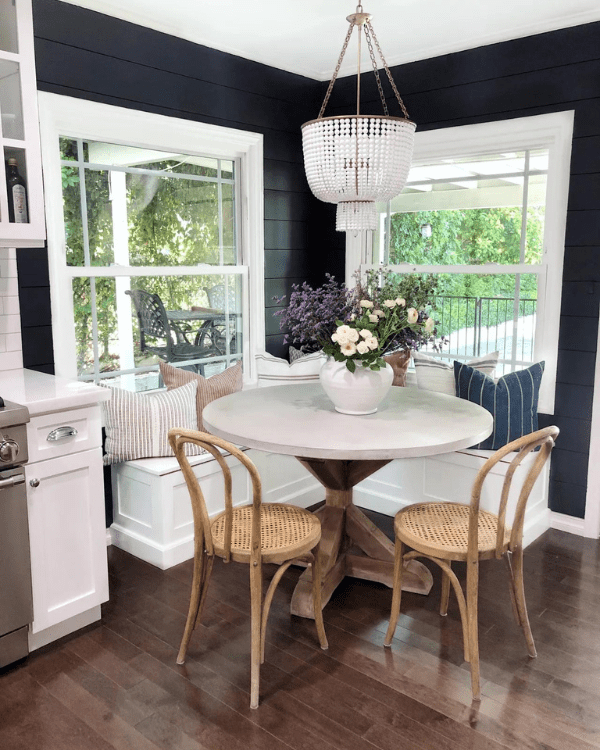 Image Source: The Heart & Haven
My favorite part about this breakfast nook is its size!  For a smaller family, or even a couple, I can just imagine the heartfelt conversations shared over brunch in this cozy alcove.  You really don't need a large space to fit an eat-in dining area.  Sometimes, less can truly be more.
12 Cozy Breakfast Nook Ideas:  Colorful Corners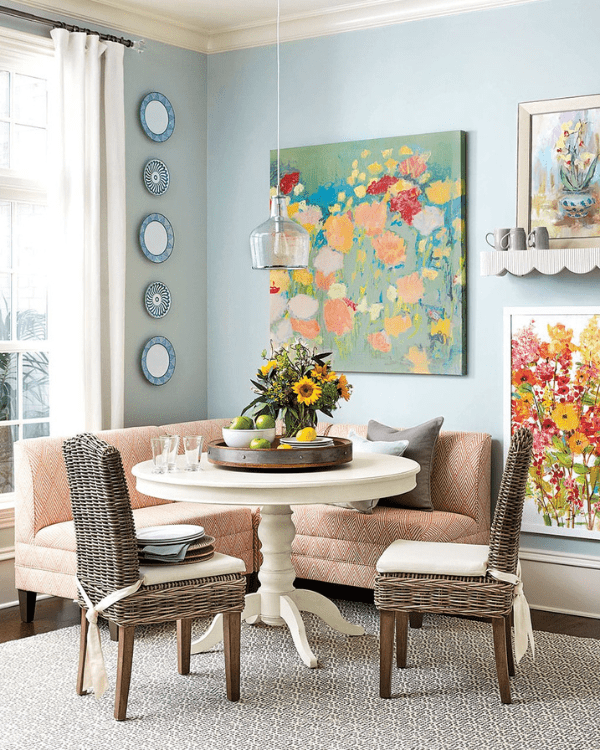 Image Source: ballarddesigns
The patterns in the cozy breakfast nook design idea are so fun!  I also love the mix of colors and textures, from the pinks and blues to the wicker and wooden chairs.  The classic and simple table with similar colored chair cushions help neutralize what some may consider a busy space.
Clean & Balanced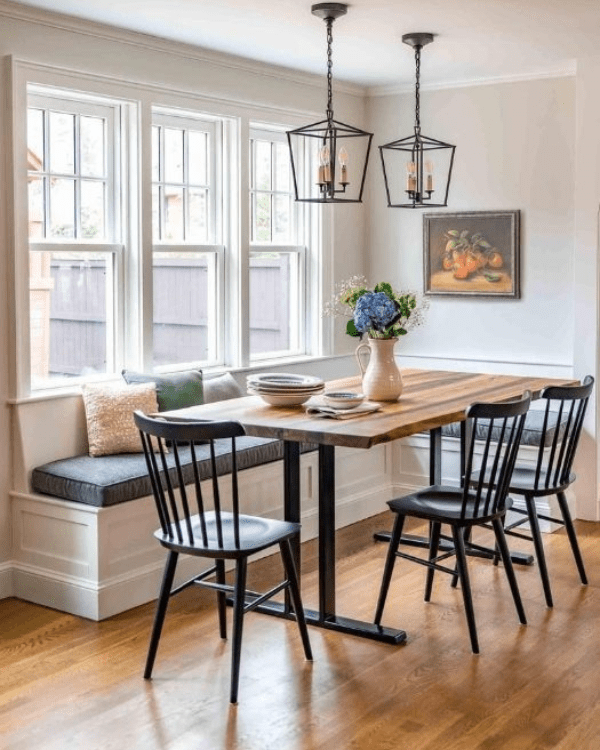 Source: serenaandlily.com
Cozy breakfast nooks obviously do not need to be complicated.  This one is clean and modern, with simple black chairs and complementary overhead lighting.  A nice art piece and a few pillows keep this look achievable and affordable.
12 Cozy Breakfast Nook Ideas:  Custom Cottage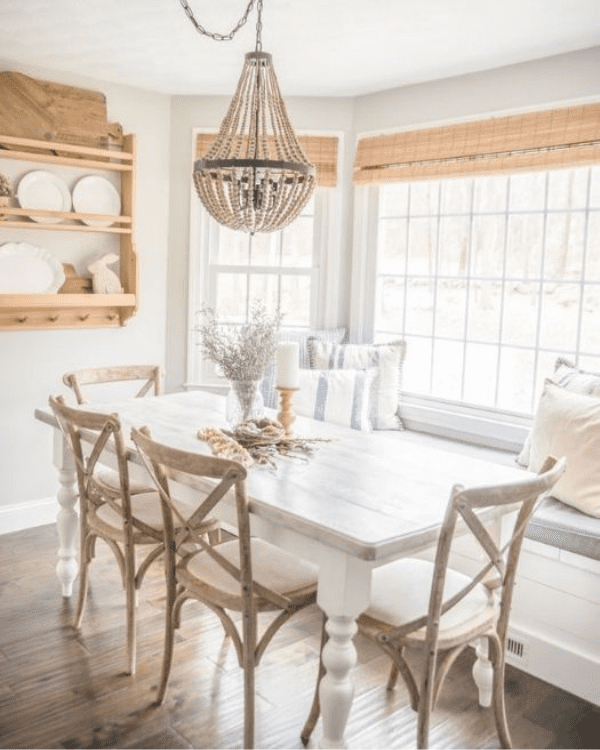 Image Source: ninahendrick.com
The amount of sunlight in this room is stunning.  It's no wonder the homeowner put a breakfast nook right here!  This is yet another neutral space where the room is warmed up with wooden accents, chairs, and an overhead light.  The blue-striped pillows bring in another color without distracting from the beautiful outside view.
Boho Breakfast Nook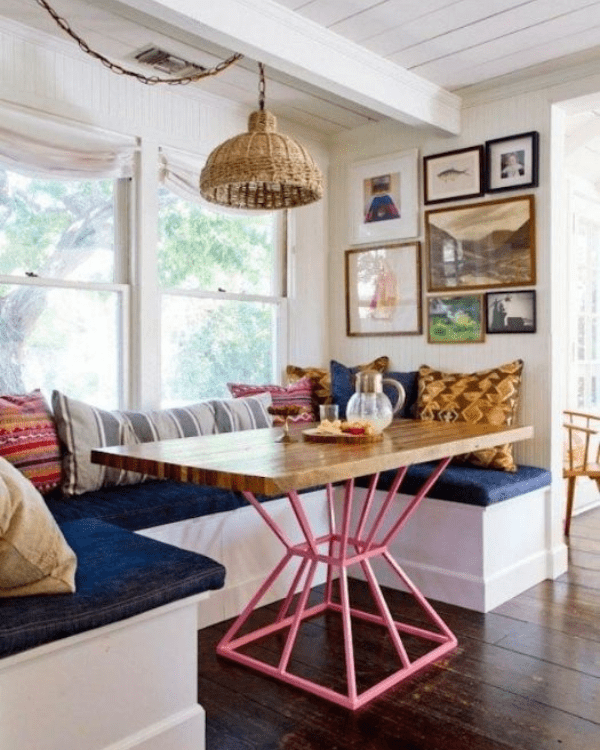 Source: homedit.com
If you've followed me at all the past couple of years, this last breakfast nook idea shouldn't surprise you… I love boho style!  The mixture of colors, patterns, ship-lap and eccentric accents make my heart sing.  While this style isn't for everyone, I do think it's a fun take on a classic built-in breakfast nook.  We should enjoy our home decor styles and design a space that we love to come home to.
What's your favorite from these 12 cozy breakfast nook ideas?  Are you super inspired to start renovating or building a home with your own?  Daron, the kids, and I have created countless memories at ours.  I highly encourage you to consider it if you've got the space or are looking to utilize every nook and cranny of your home.  If you're in the Cincinnati area, come build with Daron at Farmer Contracting!  We'd love to get to know you and create the space of your dreams.
XOXO,