Get excited! Not only are we officially in November, but if you're like me, you're wondering how did this year go by so fast? You're also probably starting to plan for the holidays. To help with your Holiday hosting this Thanksgiving, I'm sharing my Chinoiserie Tablescape and my inspiration to style for the Holidays.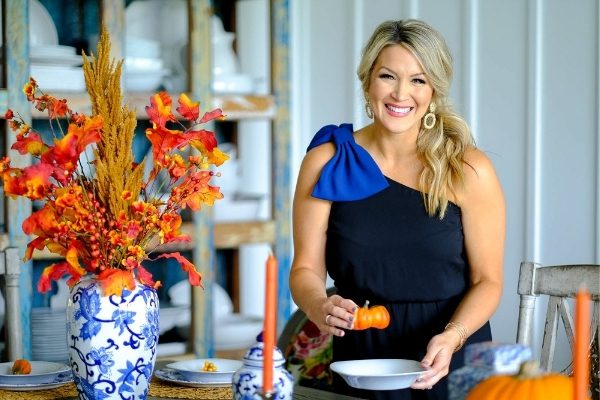 Chinoiserie Tablescape: My Inspiration to Style for the Holidays
Since moving into the new house, I recently become obsessed with all things blue and white, including Chinoiserie dishes, vases, ginger jars, dinnerware, and decor. While I didn't necessarily plan on using blue and white as part of my dining room color palette, once I began collecting all of the Chinoiserie decor items, I knew that I wanted to use them in the space.  Here's a link to some of my favorites in case you love them as much as I do.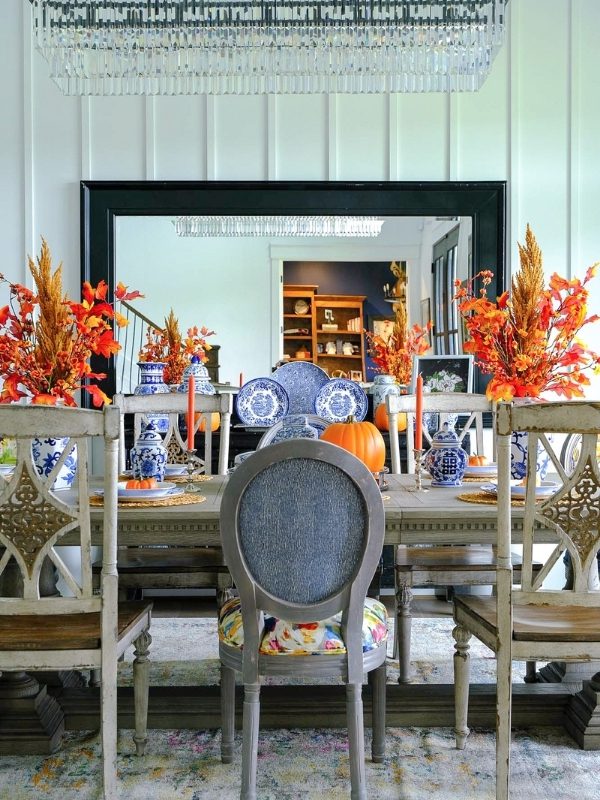 Usually, I have a few items of the Chinoiserie decor on my dining room table.  The rest is in a butler's cabinet in the dining room. However, now that the Holidays are here, I wanted to incorporate all of my Chinoiserie decor items and serving ware to bring out the rich blue and white colors with my Fall decor to make a beautiful tablescape.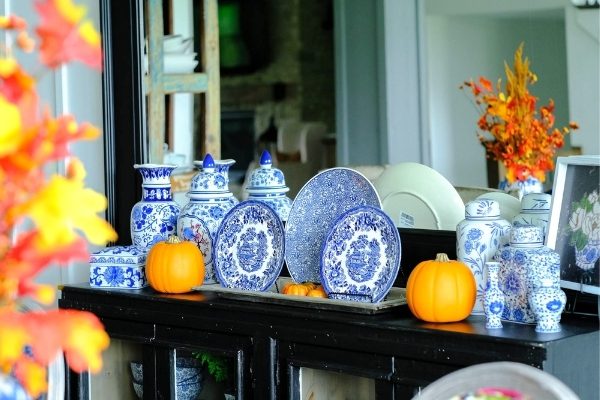 Looking for Holiday Recipes to Make?
Moist and Flavorful Thanksgiving Turkey Recipe
What is Chinoiserie Decor?
Some people might say that Chinoiserie is Chinese, but it isn't at all. It's an entirely European invention. I found this definition from someone who studies what and where it came from, "Chinoiserie was originally part of a desire for novelty and otherness in European design.  This had long followed the rules of classicism and elaborate design. Newly discovered cultures with brand new materials such as porcelain and lacquer naturally made a sensational splash," says Dr. Aldous Bertram, an interior designer with a doctorate in Chinoiserie from Cambridge University.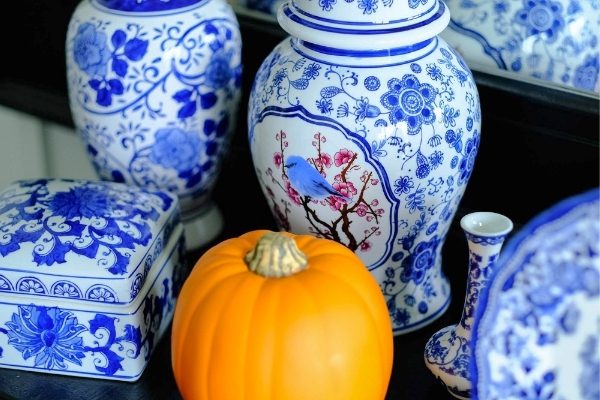 For me, Chinoiserie Decor is just a personal style preference.  I believe that it's like anything; you should decorate with items that you love and make you happy. Chinoiserie style reminds me a little of my Kentucky roots because of my love for blue and white, and my sweet granny. I also like that the pieces are eclectic enough to mix with my Boho Modern Farmhouse style.
How to Create a Tablescape Step-By-Step
Start by finding your inspiration!
It can be anything that you like.  You can be inspired by your favorite home decor items (like my chinoiserie tablescape decor), a place, a holiday, color, pattern, or season.  Look to find something that gets you excited, and you want to share with others as you host them in your dining space.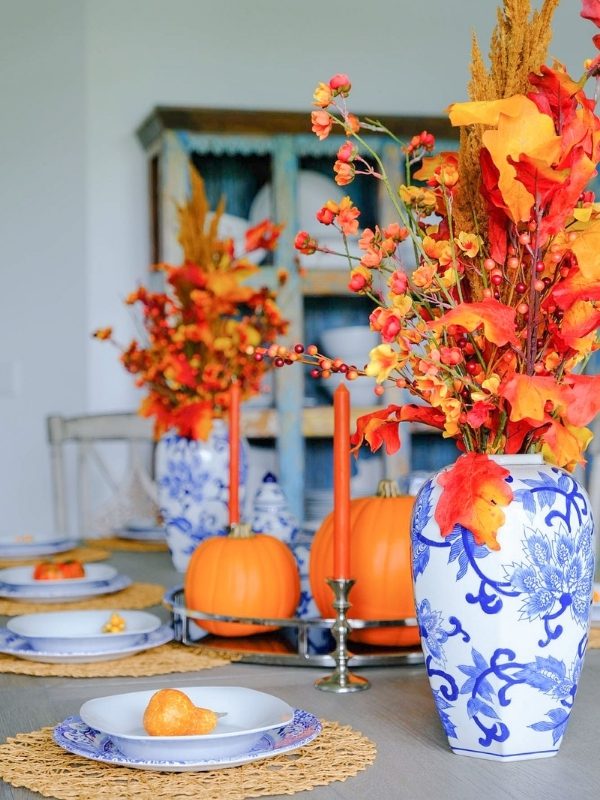 Next, round up everything you will need.
It's best to start by making a list of all the items you will need to put together in your tablescape.  I recommend trying to use items that you already have on hand and only buying necessary things that you don't have.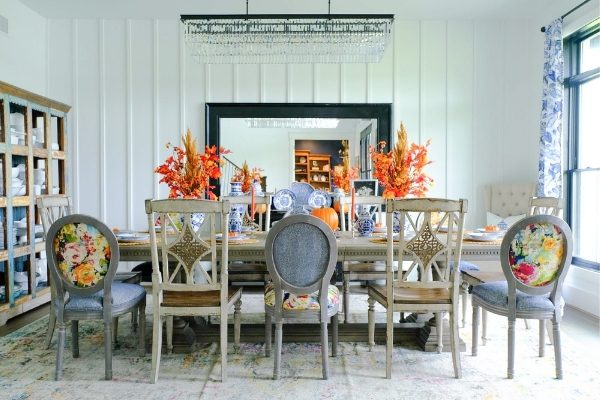 Here's a list of some of the basic things you might want to consider:
Basics: Dishes, Silverware, Glasses, Napkins, Runner/Tablecloth
Décor: Candlesticks, Candles, Glassware, Serveware
Flowers and or Branches: Can be Faux or Natural!
Personalized touches: name cards and favors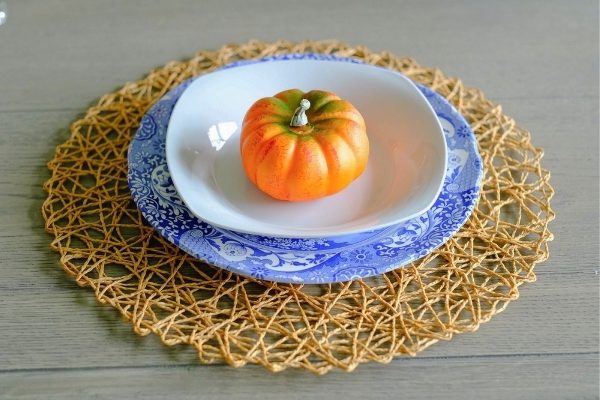 Start Decorating!
I like to start by putting together my centerpiece first. Next, I usually add a mix of short or tall vases with faux or natural flowers or branches. Then, I try to layer as much as possible using trays, candles, and table runners.  Lastly, I finish up the tablescape by setting each place setting.  Again, I try to layer as much as possible, starting with a placemat, followed by your dishes, napkins, and silverware. You can then add the final touch by placing your name cards and favors next to each place setting.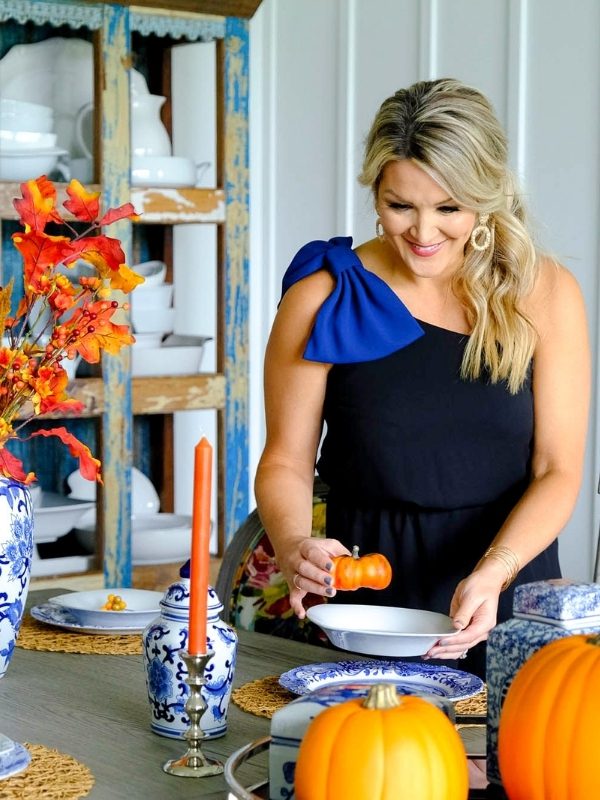 I hope that these tips are helpful, and you feel confident you now know how to create a beautiful holiday tablescape! You got this!  I also can't wait to see what this inspires you to create for your Thanksgiving or Christmas Dinner.  If you are hosting Thanksgiving or Christmas tag me or send me a message @ourfarmerhouse and share your pictures as I would love to repost them.
Sending lots of love and prayers,