Whether you're building your dream pantry, remodeling an existing pantry, or maybe you want to get your existing pantry organized, I'm sharing my 6 Best Ways to Organize Your Pantry.

When we designed and built our modern farmhouse, one of my must-haves was a big organized pantry! I love to cook and meal plan, and I spend lots of time in my pantry. So I knew I needed a practical and functional space that I enjoyed.
We've been in the new house for almost a year, and I love my pantry! It's probably one of my favorite areas in the house. So after designing and building out our pantry, here are some of my best ways to organize your pantry at home. Plus, many of the tips that I'm sharing are budget-friendly!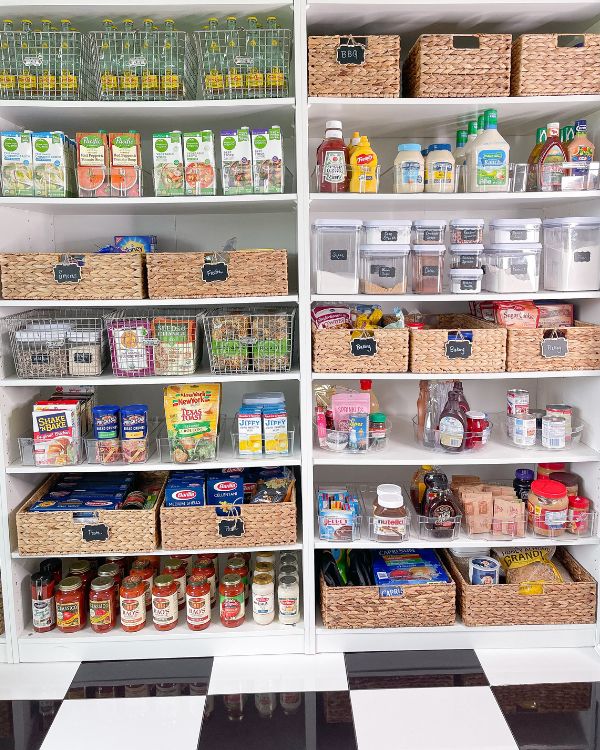 And if you're looking to build out or remodel your pantry, here's some additional inspiration to help, 15 Beautiful Pantry Designs with Perfect Organization.
Invest in a Shelving System
No matter how big or small your pantry area is, you want to invest in some sturdy shelves. If building or remodeling, I recommend measuring your space and drawing out precisely what you want your pantry to look like on paper. If you are working with an existing pantry, look for areas where you can add shelves or replace wire shelves with a new shelving system for an upgraded look.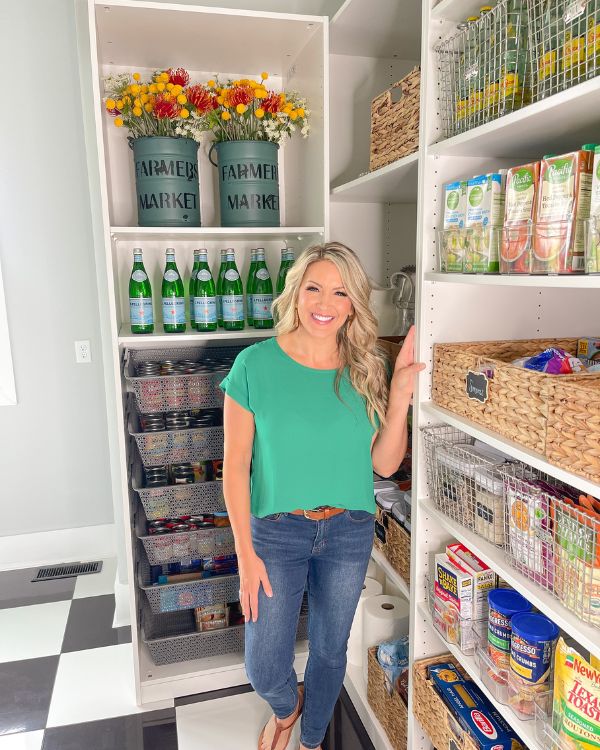 I purchased all of my shelves from Ikea. Yep, that's right. Ikea. And I love them. I designed and ordered them online and had someone come out and install them.
Other options for shelves include:
Using open bookshelves and mounting them to the wall.
Building out shelves.
Choose a more custom option from a cabinet maker or The Container Store.
Use Containers for Storage
Keep all of your pantry staples and food items organized in storage containers. I like to categorize my pantry items and use various storage containers.
Start by looking at different images of pantries that you love. I have a great list of 15 beautiful dream pantries that you can look at here. Next, identify the style and look of the containers that you like best. I combined wicker baskets, large wire baskets, and an assortment of clear bins and containers.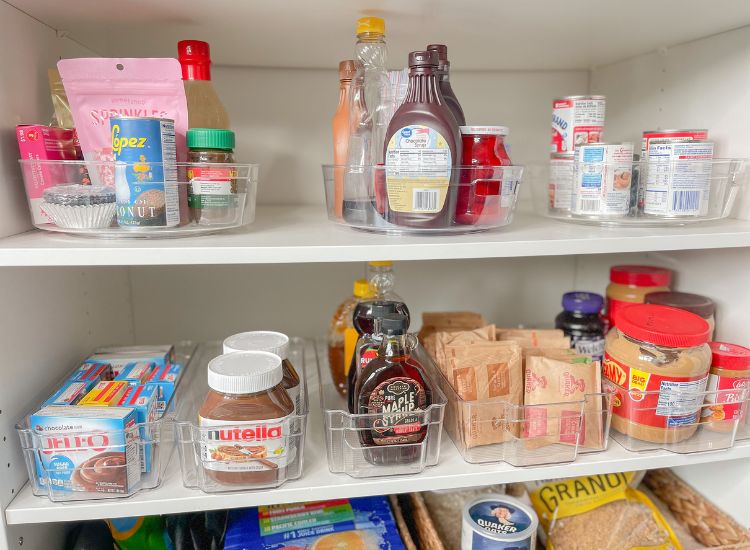 I like that the wicker baskets can hold some of my favorite food categories, such as Mexican, which I always make. Inside the basket, I store all the cans, boxes, and seasonings I use to cook Mexican.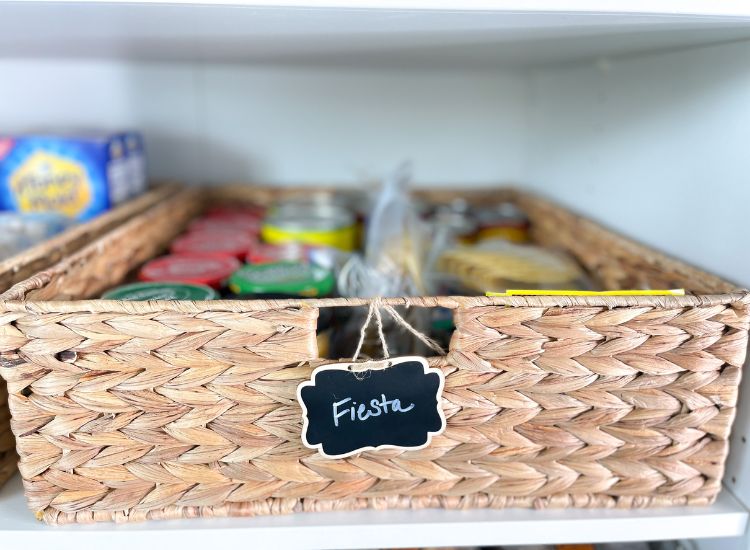 The wire baskets hold oversized and heavier items. Whereas the clear containers are great for everyday things. I use clear containers with lids for all my baking powders and basic pantry staples.
You can find a complete list of some of my favorite storage containers here at my Amazon store, Homegoods, or The Container Store.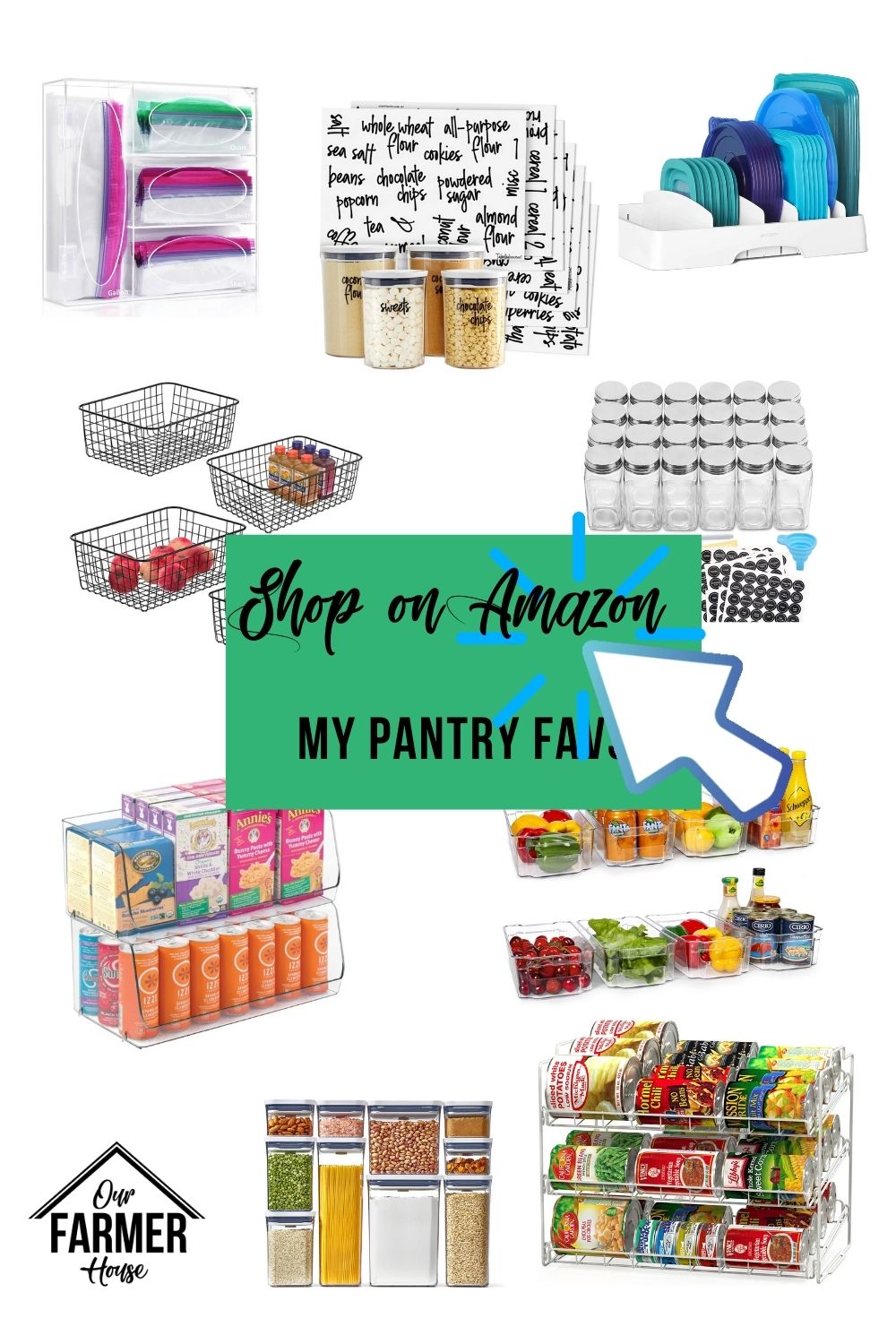 Stay Organized with Labels
Adding customizable labels to your containers will help you quickly identify your favorite snacks and pantry staples. I also love how cohesive the labels make everything look in my pantry.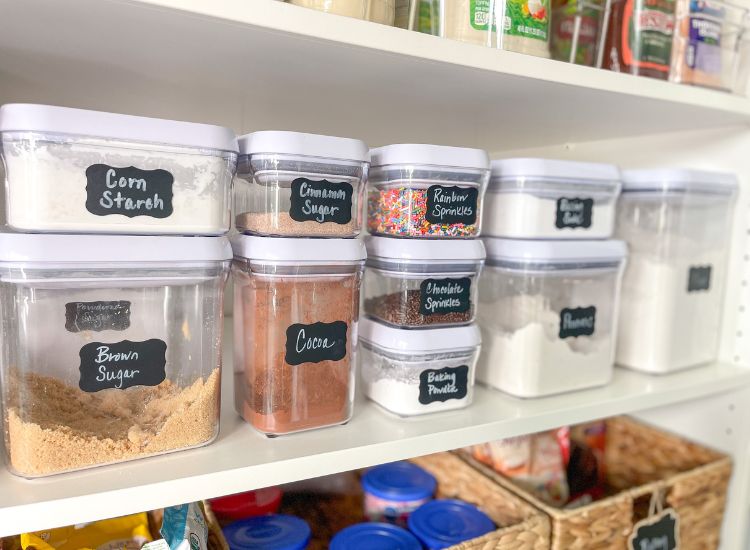 Labels come in various shapes and sizes and are easy to find online. Find your style and add them to your containers, baskets, and bins. Here's a link to my favorite labels available on Amazon.
Best Ways to Organize Your Pantry: Keep it Practical
When designing and organizing your pantry, you must keep your space practical to your everyday life. What that looked like for me was using my space to manage the items I use the most daily and weekly.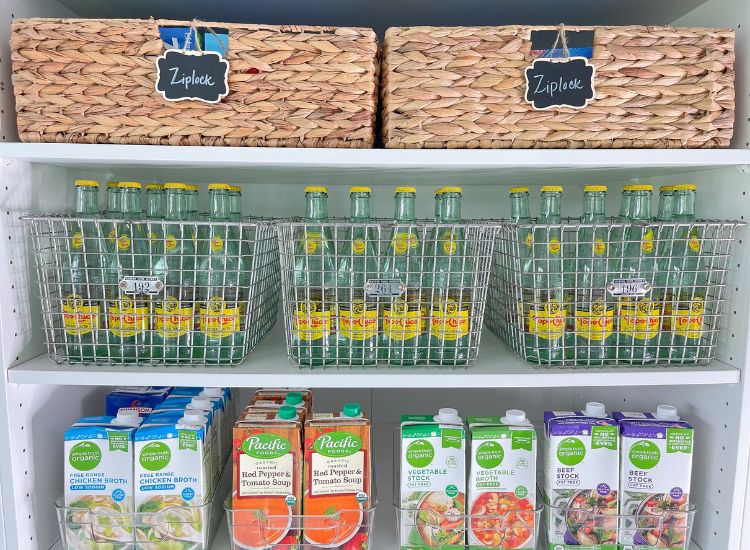 For example, my husband Daron loves Topo Chico seltzer water. I like San Pellegrino sparkling water, so instead of hiding these drinks in the back of the pantry, I chose to put them on display front and center. I also keep a lot of bulk paper towels on hand. Instead of hiding these in the basement downstairs, I made a space for the extra paper towels in my pantry. Another example is my family's love for Mexican food. I created a separate shelf and basket for all my Mexican pantry staples.
Decorate with Artwork and Decor You Love
Instead of considering your pantry as a storage area in your home, reimagine the space with artwork and decor you love. For example, in my pantry, I added a fun painting that my aunt Tammy painted and gave to me. It not only adds color to my pantry but also has a special meaning. Every time I see it, I think of my aunt Tammy and all the encouragement and help she's shown me over the years. An idea could be to showcase any artwork your kids have drawn over the years in a frame or if they have made unique pottery.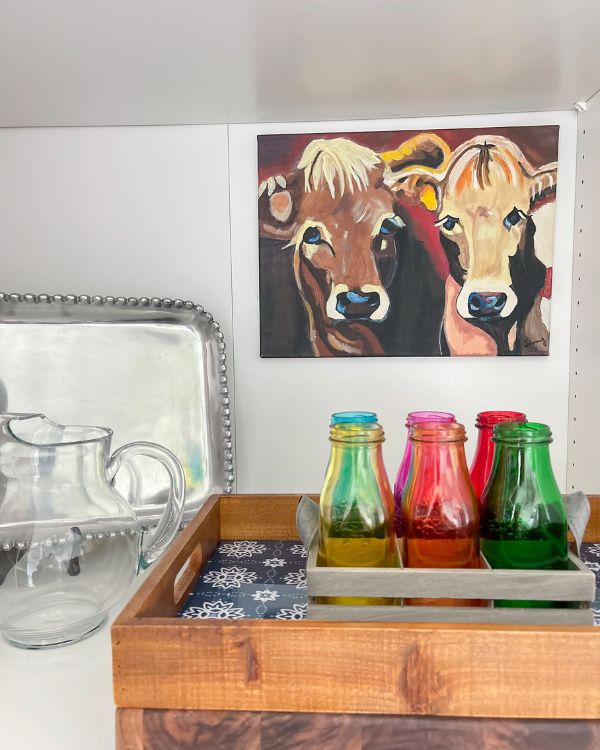 You can add color to your pantry area with flowers and containers, as shown below. Or put on display unique dishware, recipe cards, and or cookbooks.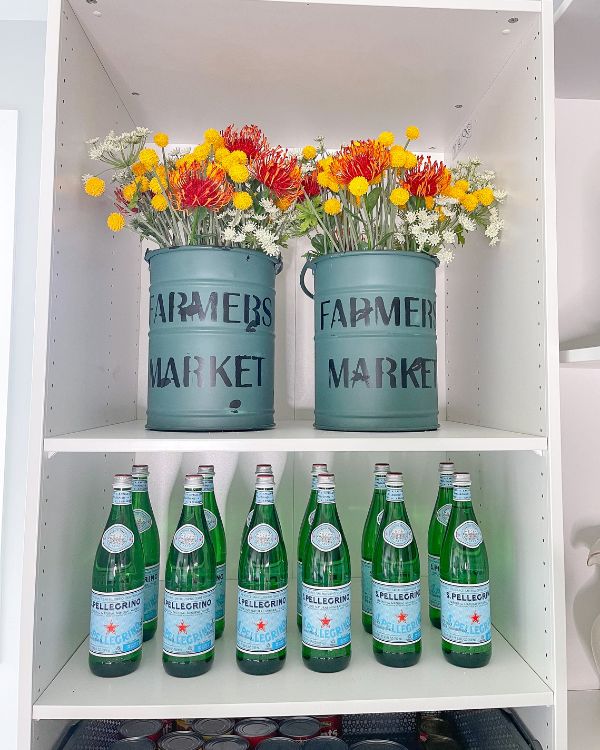 Ask for Help
Sometimes we are too busy or don't know where to start when tackling new home projects like a pantry makeover, and it's ok. However, since the popularity of shows like the "Home Edit, " professional resources in your area are most likely available for extra help and can share other best ways to organize your pantry.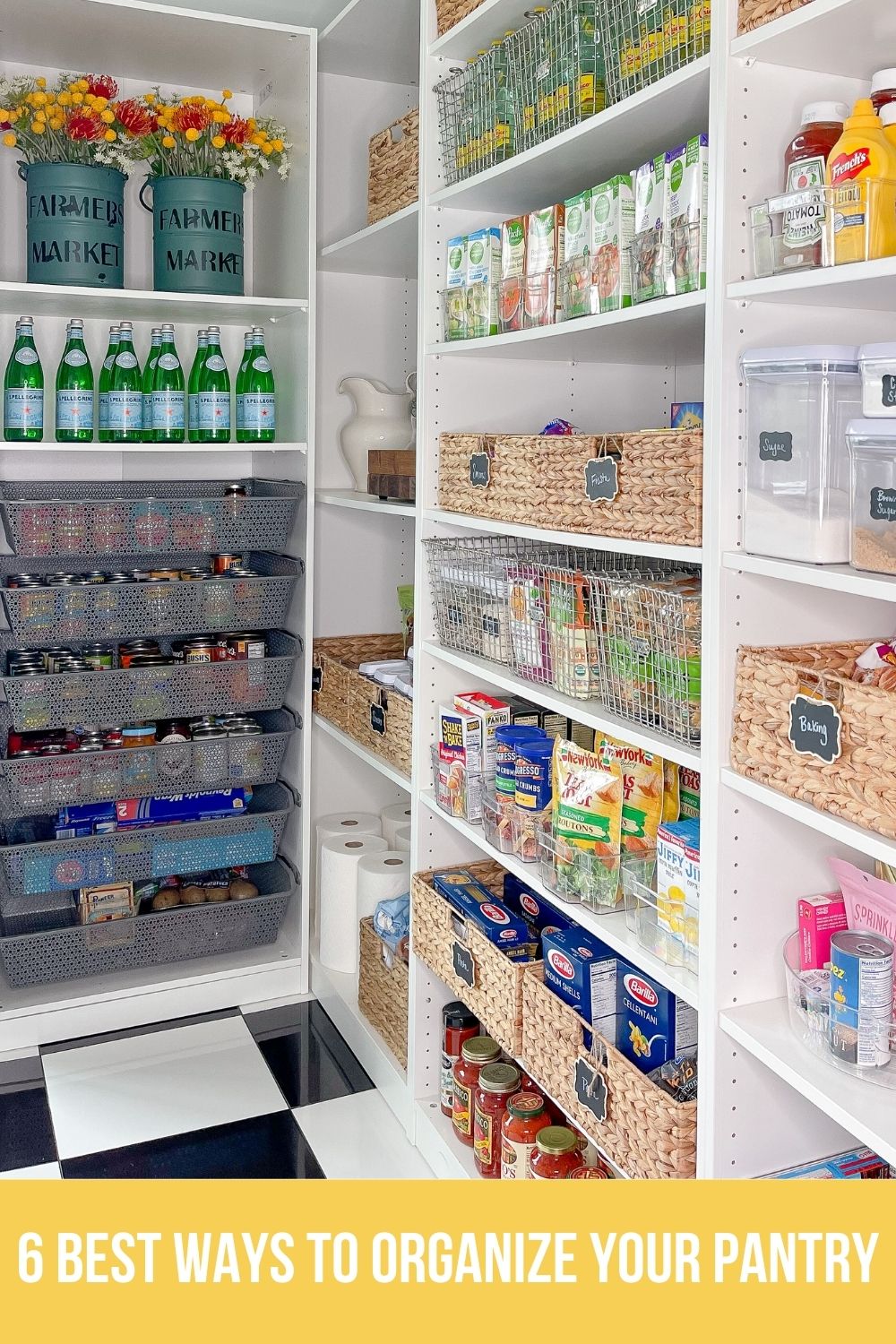 I would suggest asking friends or family if they know of anyone specializing in storage and organization projects. Building out your dream pantry is a project that perhaps your friend, children, or spouse wants to help you with, so don't be afraid to ask for help. For my pantry, I enlisted the support from my friend Linzi who specializes in organization and decor projects, and it made the process seamless. I think my pantry turned out beautiful!
XO,