Pumpkin Cream Cheese Bread, Yes, please! This classic pumpkin bread recipe is made better with a beautiful swirl of cheesecake filling throughout. It will become a new fall favorite! This recipe yields two loaves of delicious bread at 8 slices per loaf. Enjoy its swirly, creamy goodness! Is it calling your name yet?
Cream cheese and pumpkin seem to be a match made in delicious heaven.  If you love the combination as much as I do, you will also adore my pumpkin donuts with their light cream cheese glaze.
Pumpkin Cream Cheese Bread
If you are like me, the first hint of a cool breeze says it's time for all things pumpkin spice. This is undoubtedly one of the BEST pumpkin bread recipes I have ever made! This pumpkin cream cheese bread tastes like it has cheesecake baked right in the middle. You'll want a second slice, and I've given healthy swaps to reduce the number of calories and fat grams so that you won't feel bad about it, either!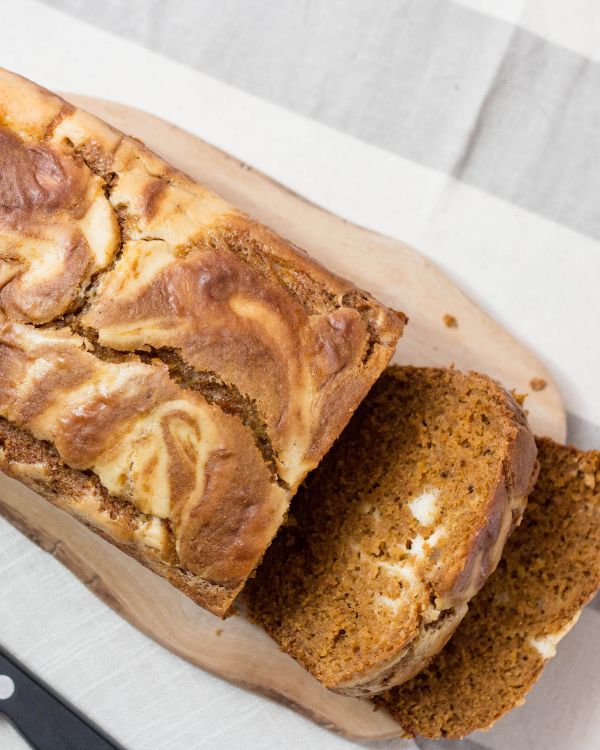 All of the nutrition info for this recipe was calculated using lightened-up substitutions; however, feel free to adjust the recipe based on your personal preferences.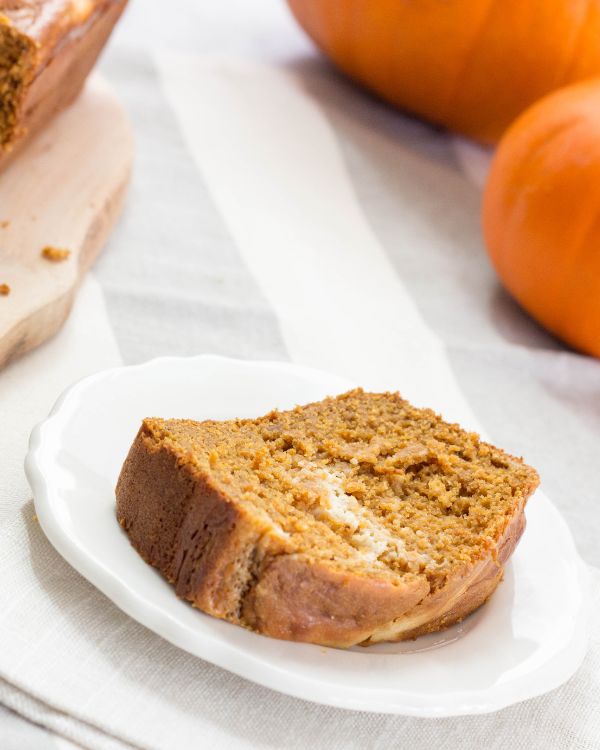 Can I freeze this moist pumpkin bread recipe?
Yes! One of my favorite things about this bread is how perfect it is to make in large batches and freeze for later. Since this recipe makes two loaves, you may benefit by freezing one of them anyway if you don't have a large family or group who will finish it within a few days.
The bread will stay good for 2-3 days when stored in an airtight container on the counter, 5-7 days when refrigerated, and up to 4 months when frozen.
To freeze this bread, first, allow it to cool completely, then wrap it in plastic wrap and place it inside a freezer storage bag that has been dated and labeled. If you would rather have single servings to grab from the freezer, just slice the loaf once cooled and wrap each slice in plastic wrap before adding them to the freezer bag.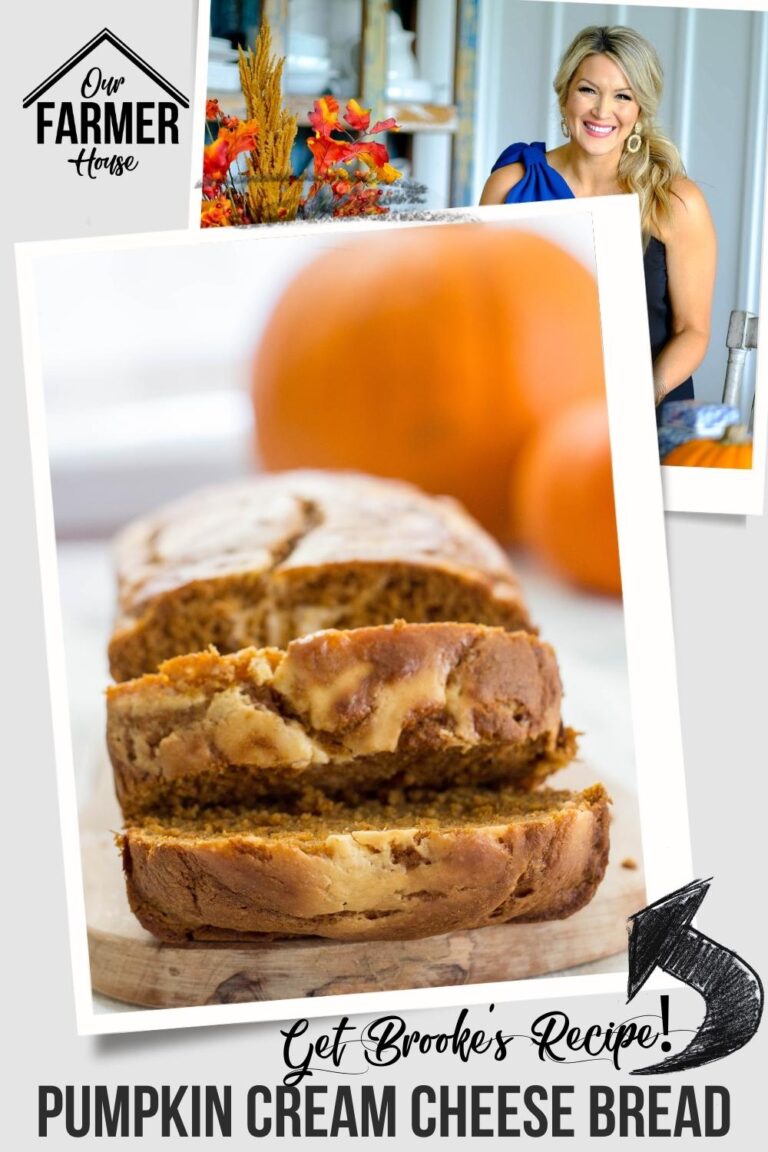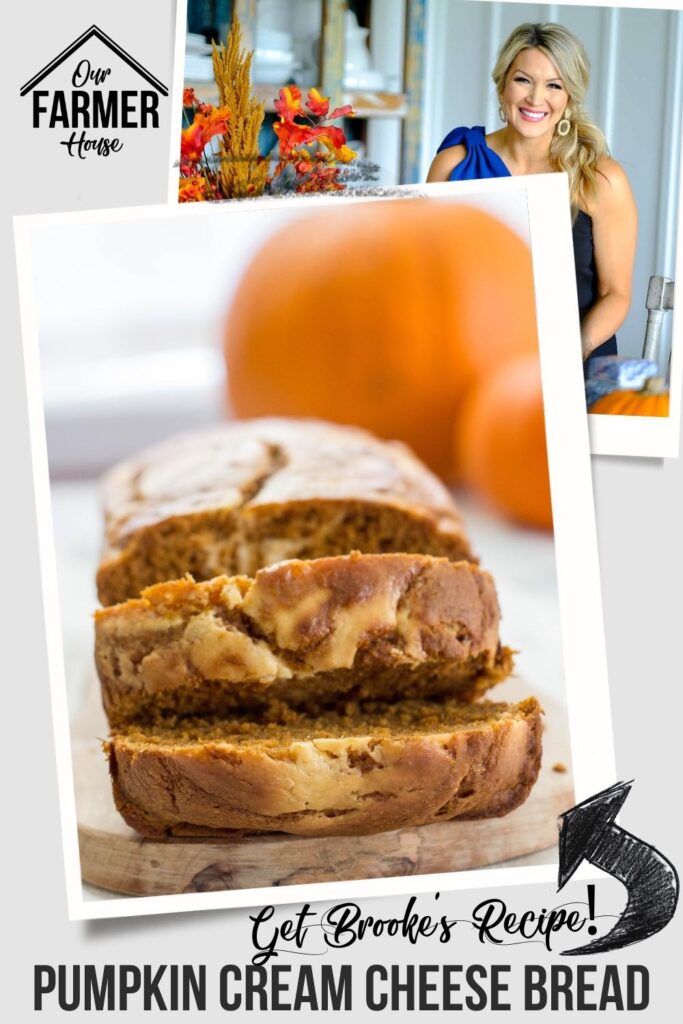 Can I turn this into pumpkin cream cheese muffins?
I love that this recipe aims to please and is versatile enough to make into single-serve muffins. It's a bit simpler to pour the batter into a loaf pan, but muffins are easier to share if you serve multiple guests. Just follow the same general directions of pouring half the batter into muffin cups, then place a spoonful of the cream cheese mixture on top of each muffin. Cap with a bit more of the pumpkin mixture and use a toothpick to swirl.
Want another fall-flavored muffin for your menu? Make my four-ingredient pumpkin spice muffins for a simple addition to your breakfast treat menu.
Can I Omit the Cream Cheese Filling?
I'm not sure why you'd want to miss out on the cheesecake filling, but you're welcome to omit it if desired. This delicious bread can stand on its own!
Tips for Making the Best Pumpkin Bread
I like to use pumpkin pie puree in this recipe, not pumpkin pie filling. Pumpkin pie filling is sweetened and spiced, and I think it affects the texture and flavor of this bread. Be sure to look for pumpkin puree when making this recipe.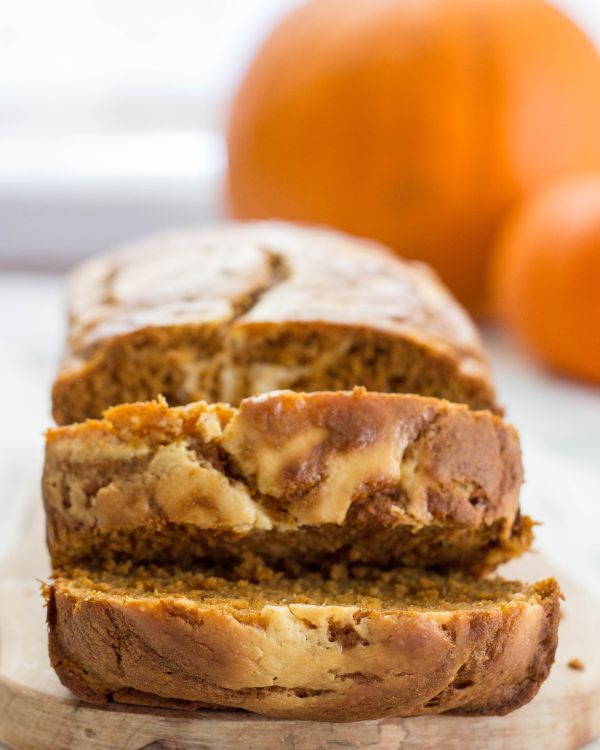 Also, note that you need to use brick-style cream cheese, not the kind that comes in a tub. Cream cheese in a tub is often moister than brick-style cream cheese, which can turn the filling into a runny mess. No one has time for that!
Finally, feel free to add more or fewer spices to this pumpkin bread to taste. I like my pumpkin bread to be well-flavored, but I know not everyone wants cinnamon as much as I do.
Ingredients for pumpkin bread with cream cheese filling
Pumpkin puree
softened coconut oil or Skinny Swap with Unsweetened applesauce
Eggs
Spice cake mix or yellow cake mix
Brown sugar
Baking soda
Cinnamon
Pumpkin Pie Spice
Nutmeg
regular cream cheese or lighten it up with reduced-fat
Sugar, or lighten it up with stevia, or agave nectar
White flour or whole wheat flour
Sour Cream or lighten it up with reduced-fat sour cream
Vanilla
How to make pumpkin cream cheese bread
Start by gathering and measuring all your ingredients. Having everything ready makes it much easier to manage as you follow the steps. You will also want to prepare your loaf pans with nonstick spray and preheat your oven as directed.
You will need two bowls, as the batter and the cream cheese filling are made separately. While mixing the batter, ensure your cream cheese is on the counter to soften. This makes it easier to blend for a smooth mixture. I like to leave mine out for about 20 minutes, so it's nice and soft.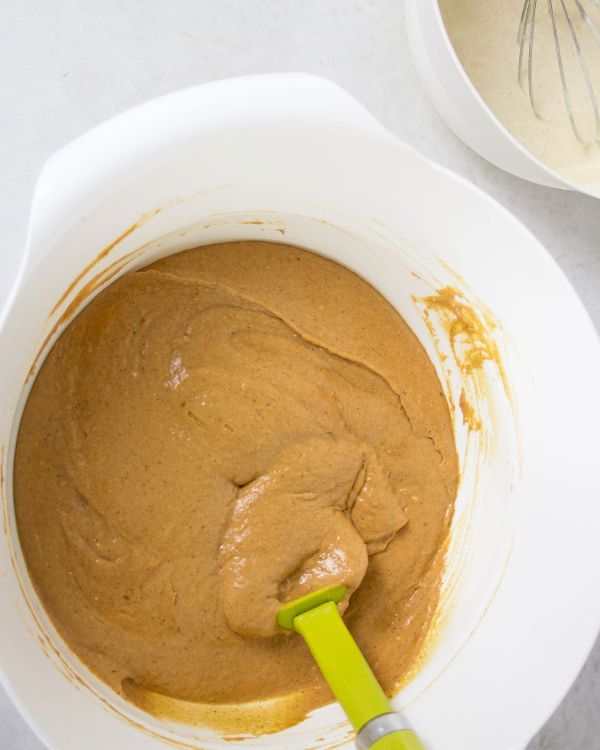 Combine the ingredients for your pumpkin bread and mix with a hand or stand mixer until smooth. Then pour half of the batter into each prepared loaf pan. Next, mix the cream cheese filling and pour half on top of the pumpkin batter in each loaf pan.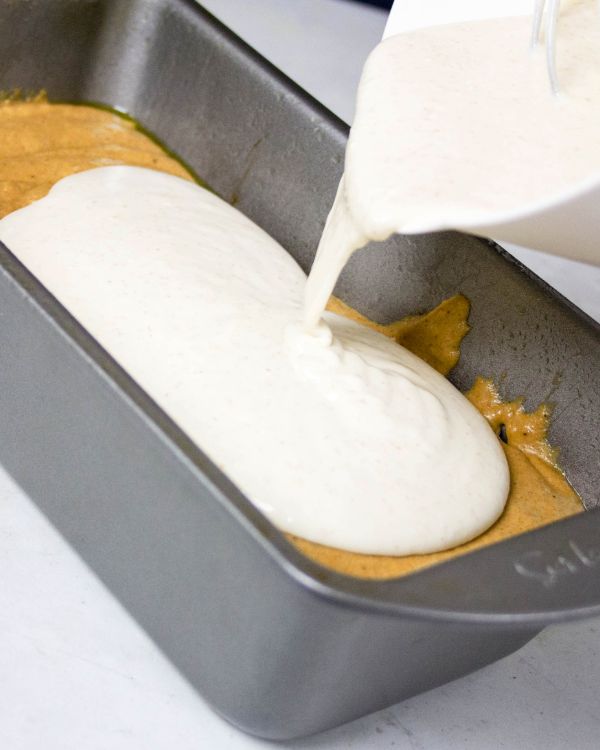 Use a knife or toothpick to swirl the mixture into the pumpkin bread batter and then bake as directed.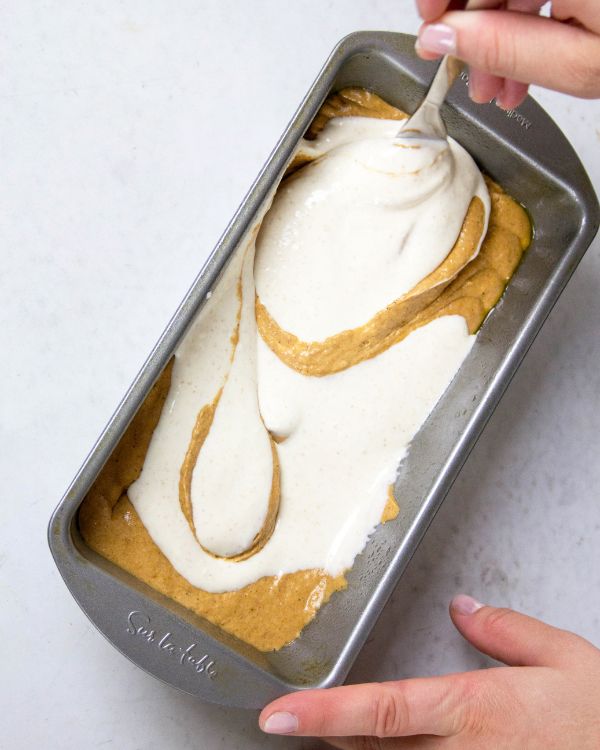 Want a more traditional pumpkin dessert? Make my Pumpkin Pie Recipe!
Other Pumpkin Recipes You Might Like:
Recipe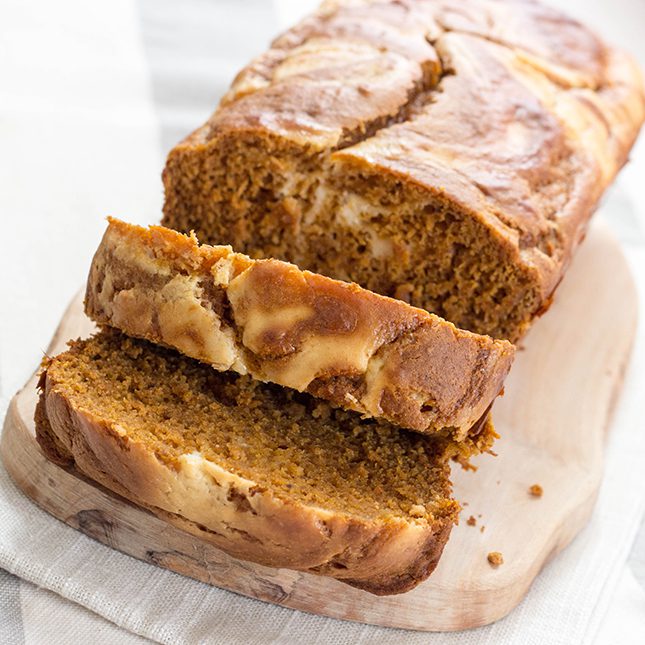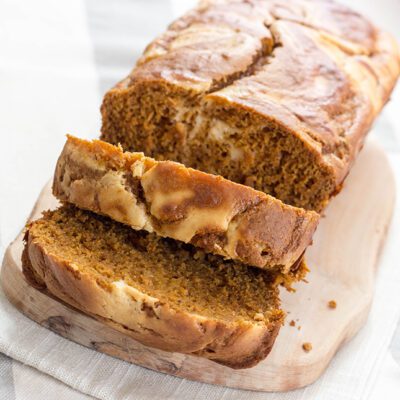 Recipe
click the stars to rate!
Pumpkin Cream Cheese Bread
A delicious combination of pumpkin spice and cheesecake makes my Pumpkin Cream Cheese Bread the ideal fall breakfast or dessert bread recipe!
Ingredients
Pumpkin Bread Batter
1

15 ounce-can

pumpkin

1/2

cup

oil

or substitute with unsweetened applesauce as a Skinny Swap

2

eggs

1

box

spice cake mix or yellow cake mix

dry mix only

1/2

cup

brown sugar

dark

1

tsp

baking soda

1/2

tsp

cinnamon

1

tsp

pumpkin pie spice

ground

1/2

tsp

nutmeg

ground
Cream Cheese Filling
8

oz

regular cream cheese

or substitute with 1/3 less fat cream cheese

1/2

cup

sugar

or (substitute with 3 tbsp agave nectar, stevia, or sweetener of choice)

1

tbsp

white flour

or (substitute with whole wheat flour)

1

egg

1/3

cup

sour cream

or substitute with reduced-fat sour cream

1

tsp

vanilla extract
Instructions
Pumpkin Bread Batter Directions
With an electric mixer, beat the pumpkin, oil or applesauce, and eggs, on medium speed until smooth. In a separate bowl, combine the dry cake mix, sugar, baking soda, cinnamon, pumpkin pie spice, and nutmeg. Slowly mix the dry mixture into the pumpkin mixture.
Cream Cheese Filling Directions
Beat the cream cheese, sugar (or agave, stevia, or other sweeteners), flour, egg, sour cream, and vanilla until creamy and smooth.
How to prepare for the oven
Lightly grease two 9-inch loaf pans. Divide half of the cake batter between the two pans. Pour half of the cream filling in one pan and the other half in the second pan and smooth with the back of a spoon.

Using a knife, swirl the filling around the pan.

Bake until a toothpick inserted comes out clean, about 35-40 minutes. Don't over-bake or your bread will be dry on the edges. Cool and remove from pans. Cut each loaf into 8 slices. Store in the refrigerator in an airtight container.
Notes
Per Serving: (1 slice) calculated using lightened-up substitutions and Skinny Swaps
Calories: 150
Calories from fat: 12
Fat: 2g
Saturated Fat: 1g
Cholesterol: 12mg
Sodium: 393mg
Carbohydrates: 32g
Fiber: 2g
Sugar 18g
Protein: 6g
WWP+: 4
SmartPoints: 6
Nutrition
Serving:
1
slice
|
Calories:
209
kcal
|
Carbohydrates:
33
g
|
Protein:
4
g
|
Fat:
7
g
|
Saturated Fat:
3
g
|
Cholesterol:
18
mg
|
Sodium:
379
mg
|
Potassium:
220
mg
|
Fiber:
1
g
|
Sugar:
21
g
|
Vitamin A:
3668
IU
|
Vitamin C:
1
mg
|
Calcium:
62
mg
|
Iron:
2
mg