There is nothing more iconic in the fall than my healthy pumpkin pie recipe.  This delicious pie is creamy, spiced perfectly, and has all the sweetness you expect in a pie without the guilt.  The combination of a homemade flaky pie crust and the lightly sweetened pumpkin filling will have your mouth watering.
Pumpkin isn't only for dessert. Make sure to make our pumpkin pie overnight oats for a healthy and yummy breakfast!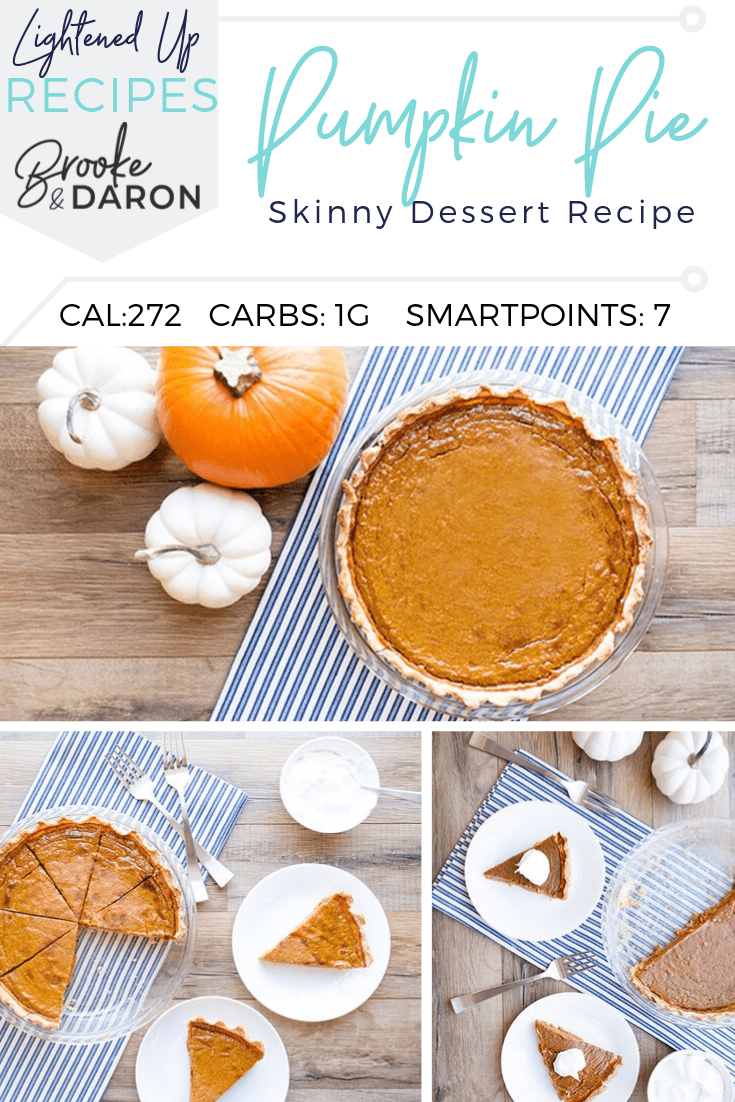 Healthy Pumpkin Pie Recipe
I grew up eating slice after slice of almost sickeningly sweet pumpkin pie around the holidays.  There is no denying I loved that pie.  Perhaps that is why I have continued to enjoy pumpkin spice flavored desserts for the rest of my life.  My problem came when I realized just how much extra sugar was in that pie.  I knew I had to revamp it to make a healthier option that is satisfying without all of the guilt.
This healthy pumpkin pie recipe eliminates some of the added sugar without sacrificing the flavor.  In fact, it is still a sweet pie, but the pumpkin flavor can now stand out more – as it should!
Can I make this a sugar free pumpkin pie? 
While I include a small amount of brown sugar in the recipe below, it would be simple to update the recipe with your preferred sugar substitute.  I think in baking recipes, monk fruit sweeteners work best.  They don't leave that bitter aftertaste, and you have the original flavor intact.
Sugar substitutes can work wonderfully to make this healthy pumpkin pie even better for you! Just remember that some sugar substitutes have harsh side effects for select individuals.  Make sure you let others know what is in the recipe before serving just in case they are sensitive.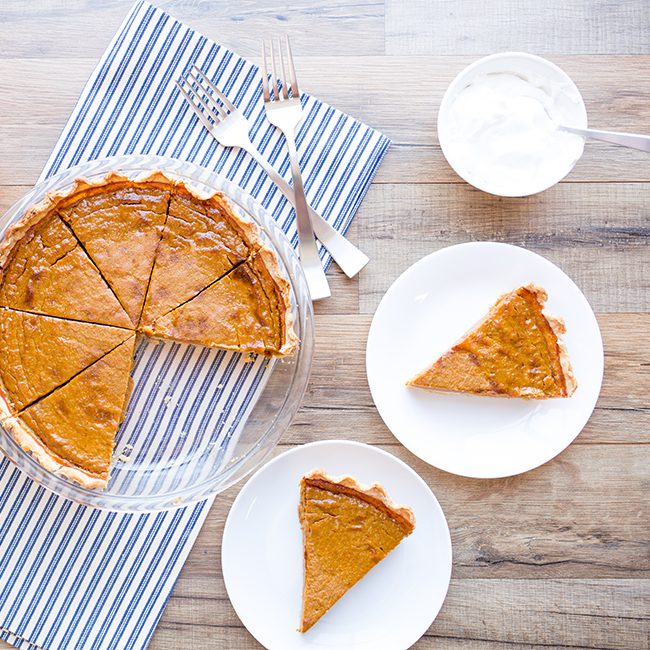 Does this pumpkin pie have to be refrigerated? 
One thing I love about this healthy pumpkin pie is that once it has baked, it does not have to be refrigerated.  That means I have a bit more room in my refrigerator for those other side dishes and desserts we serve at the holidays.
Note:  If you are not going to eat the pie within a few days, you will want to go ahead and refrigerate it so it lasts longer.  It's also a great recipe that can be made in advance to freeze!.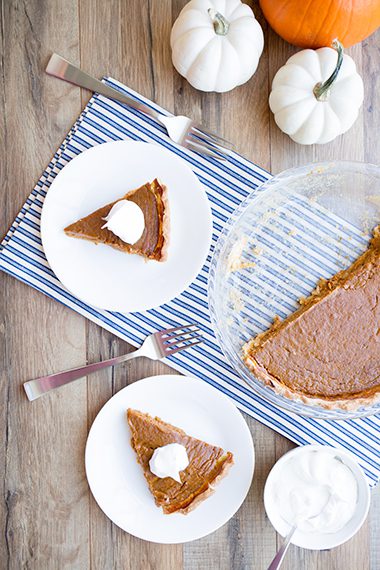 Make sure to add these apple pie healthy oatmeal bars and cranberry apple chutney relish to your Thanksgiving menu this year!
Ingredients for pumpkin pie with almond milk
All-purpose flour
sugar
baking powder
salt
canola oil
water
pumpkin puree
unsweetened almond milk
egg whites
brown sugar
vanilla extract
cinnamon
allspice
clove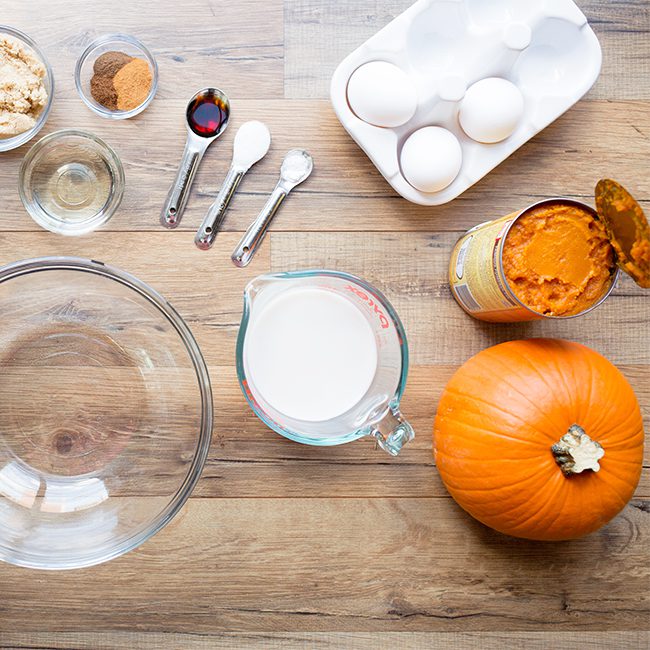 How to make a homemade pie crust
A pie crust is one of the hardest things to make when you are baking a healthy pumpkin pie.  Attention to detail is a must, and this recipe makes that easy to manage.  Just a few ingredients and careful attention when mixing and you'll have a pie crust to rival your local bakery.
You will begin by mixing your dry ingredients together as directed.  Next, you will mix in the wet ingredients until just blended.  If the dough feels too dry, you can add more water in small increments.
The key to this dough is to actually press it directly into the pie plate rather than rolling it out first.  Be careful to press it thinly across the pie plate, before adding your filling.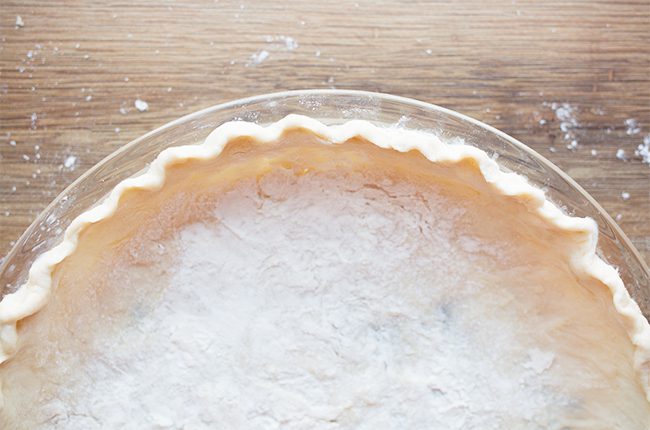 cranberry apple chutney relish
How to make a healthy pumpkin pie filling
Once your crust has been readied, you will go ahead and preheat your oven then mix your filling ingredients together.  This is usually easy to do by hand, but a hand mixer can be used.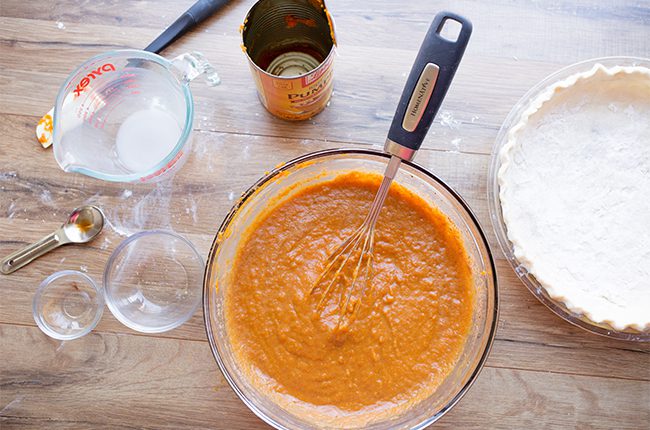 Pour into the crust and bake as directed.  I prefer pumpkin pie fresh from the oven when still hot, but if you prefer it cold, set aside and let it cool before serving.
Top with whipped cream, whipped topping, sugar-free vanilla ice cream, or vanilla yogurt.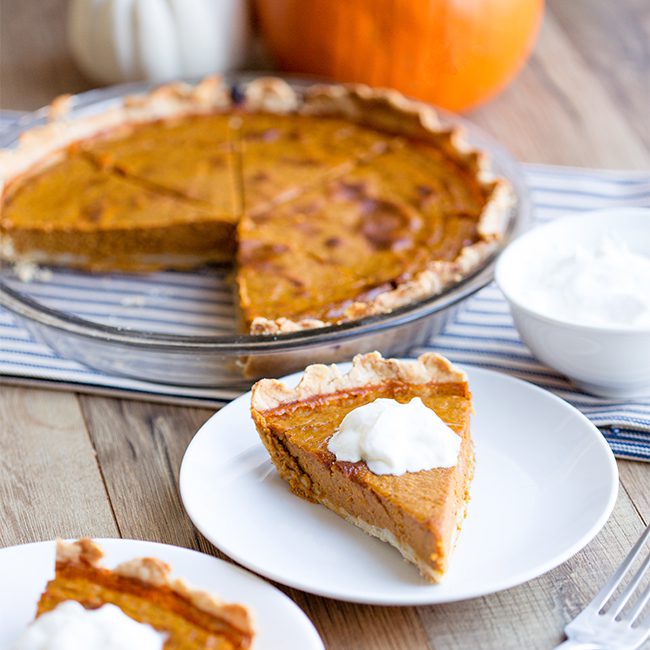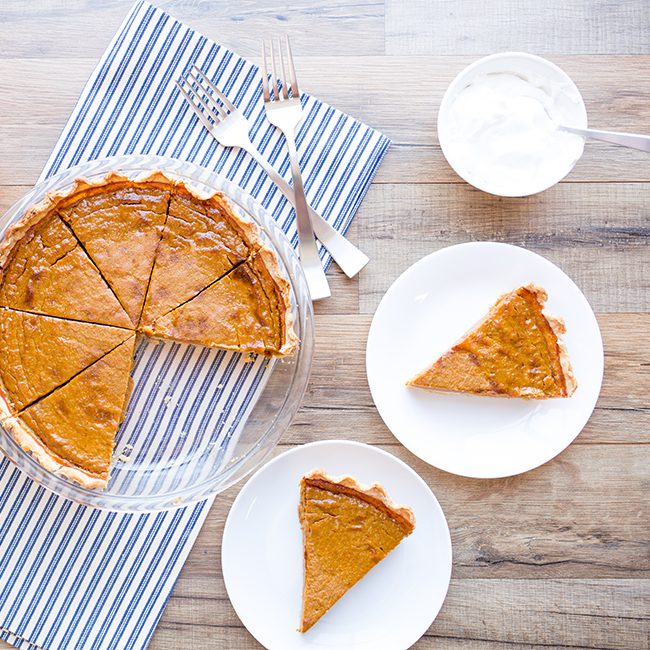 Print Recipe
Healthy Pumpkin Pie Recipe
Make my Healthy Pumpkin Pie using classic pureed pumpkin, homemade pie crust, and a homemade blend of spices for the best flavor!
Ingredients
Pie Crust Ingredients
1

cup

all-purpose flour

1/2

tsp

sugar

1/8

tsp

baking powder

1/8

tsp

salt

3 1/2

tbsp

canola oil

3

tbsp

cold water
Pie Filling Ingredients
15

oz

pumpkin puree

(1 can)

1

cup

almond milk

unsweetened

3

egg whites

beaten

1/3

cup

brown sugar

1

tsp

vanilla extract

1

tsp

cinnamon

1/4

tsp

allspice

1/4

tsp

clove
Instructions
In a medium mixing bowl, whisk together the flour, sugar, baking powder, and salt.

In a small mixing bowl or measuring cup, stir together the oil and water with a fork to combine.

Pour the oil and water mixture into the dry ingredients and stir together with a fork until evenly moistened. Add more cold water 1 teaspoon at a time if needed, until moistened.

Transfer the dough to a 9-inch pie dish and press the dough evenly along the bottom and sides of the pie dish. The crust is going to be very thin, so be careful not to tear holes in it.

Crimp the edges, or press with the tines of a fork as desired, then set aside until ready to fill.

Preheat the oven to 400°F.

In a large mixing bowl, stir all of the ingredients together until thoroughly combined.

Pour the filling in the set-aside pie shell and place the pie on a cookie sheet to put into the oven.

Bake for 15 minutes, then lower the oven temperature to 350° F, and continue baking until the center is set, 1½ hours.

Allow the pie to come up to room temperature on a cooling rack for at least an hour before serving.
Nutrition
Calories:
178
kcal
|
Carbohydrates:
26
g
|
Protein:
4
g
|
Fat:
7
g
|
Saturated Fat:
1
g
|
Sodium:
101
mg
|
Potassium:
165
mg
|
Fiber:
2
g
|
Sugar:
11
g
|
Vitamin A:
8273
IU
|
Vitamin C:
2
mg
|
Calcium:
68
mg
|
Iron:
2
mg